THE ROGER "Ollie" SPENCER, HISTORY:
Born . , 1957, x, England.
The core of the group, rhythm guitarist Dave Pritchard, bass guitarist Greg Masters and drummer Roger Spencer, was relatively unchanged from 1959 until February 1972. The band went through several incarnations, names, lead guitarists and lead singers: first Billy King and later, more successfully, with Mike Sheridan, with whom they first rose to prominence and, in 1964, to a record deal with EMI.
While Mike Sheridan and The Nightriders failed to crack the charts, the band's lineup during this period included a young lead guitarist and composer named Roy Wood, whose first commercial song "Make Them Understand," appeared on one of the band's B-sides in 1965.
Roy Wood jumped ship to join the then Brum 'supergroup' The Move in December 1965. Sheridan left shortly thereafter.
The Nightriders soldiered on with a new lead guitarist, Johnny Mann, for a few months. When they placed an advert in May 1966 for a younger replacement, the winning applicant was Jeff Lynne, then a relatively unknown guitar prodigy from the Birmingham district of Shard End. The Nightriders recorded one single for Polydor, "It's Only The Dog/Your Friend", released in November 1966 with Jeff Lynne on lead guitar. Spencer sang lead on the former; the latter was written and sung by Dave Pritchard.
Eager to showcase Jeff Lynne's vocal and guitar skills as well as his growing cache of catchy Beatlesque songs, the group changed its name, first to Idyll Race, then Idle Race. Roy Wood, now a major star as The Move became a successful chart act, helped arrange a partnership with pop producers Eddie Offord and Gerald Chevin for his old bandmates. In 1967, Idle Race were the first major signing by the new British arm of Liberty Records. Interesting, only their first single (not issued in the UK) and their first album got released in the US on Liberty. (Liberty would later merge with United Artists.)
The group were well received by the music press for their melodies, whimsical lyrics, and inventive production. They often appeared on the same bill with such bands as The Spencer Davis Group, The Who, The Small Faces, Pink Floyd, The Moody Blues, Status Quo, Tyrannosaurus Rex, Yes, Free, and The Move.
During this period, Idle Race was also, as one member later termed it, a very "schizophrenic" band. While their records were awash in melodic hooks, paisley-pop backdrops and lilting harmonies, they were a much heavier act in a live setting. Jeff Lynne's early trademark around the clubs and colleges was his ability to coax an unusual "violin" sound out of his guitar, while Masters would occasionally take a bow to his Hofner bass. In addition to original material, their set list included extended covers of Steppenwolf's "Born to Be Wild", The Jimi Hendrix Experience's "Purple Haze", Moby Grape's "Hey Grandma," The Lemon Pipers' "Blueberry Blue," The Doors' "Love Me Two Times", and an electric version of "Debora" by Tyrannosaurus Rex.
Influential BBC disc jockeys such as John Peel and Kenny Everett were big boosters of the group. But despite critical respect and famous admirers such as The Beatles and Marc Bolan, Idle Race failed to catch fire with the public.
Bad luck sabotaged efforts from the start. Their debut single on Liberty, a cover of Roy Wood's "Here We Go 'Round the Lemon Tree", was scheduled for release and heavily promoted in September 1967. When The Move's version began getting national in airplay around the UK as the B-side of the hit "Flowers In The Rain", Liberty abruptly pulled the single in the UK (although it was still released by Liberty in the US). The record company replaced it with Jeff Lynne's crunching "Impostors of Life's Magazine" in October. With no promotion, "Impostors" received critical praise but this did not result in strong sales.
"The Skeleton and the Roundabout" (February 1968) and "The End of the Road" (June 1968) suffered similar fates. Work continued throughout the year on the Idle Race's debut album, the group commuting in from Birmingham to London on Sundays, when they were granted free studio time at Advision. The resulting "The Birthday Party" was released in October of that year to strong reviews but tepid sales. (Surprisingly, it was issued in the US on Liberty with a modified cover).
Jeff Lynne and Roy Wood's mutual respect and friendship deepened. The demo for The Move hit "Blackberry Way" was recorded in Jeff Lynne's front room and borrowed motifs from the Idle Race; the chorus of Jeff Lynne's 1969 rocker "Days of the Broken Arrows" lifted part of a riff from the The Move's "Wild Tiger Woman". Roy Wood and Jeff Lynne often spoke of working together on a project that would integrate classical instruments within a pop/rock idiom.
Jeff Lynne received an offer to replace Trevor Burton in The Move in February 1969 but declined with hopes of steering Idle Race to commercial success — and producing the band's second LP for Liberty.
The self-titled Idle Race was eventually released in November 1969 (in the UK but not in the US). When the two Jeff Lynne-penned, Jeff Lynne-produced singles that preceded the LP, "Days of the Broken Arrows" (April 1969) and "Come With Me" (July 1969) also failed to chart, their composer's frustration mounted.
Despite more good reviews, Idle Race, the first album to be produced by Jeff Lynne, flopped.
In January 1970, Jeff Lynne accepted a second offer by Roy Wood to join The Move, on condition that they would eventually retire that band and concentrate on a new venture, Electric Light Orchestra.
Meanwhile, Mike Hopkins (guitar) and Dave Walker (vocals) were hired to replace Jeff Lynne in Idle Race. A cover of Mungo Jerry's "In the Summertime" on Liberty in 1970 finally got them into the top 10—in Argentina. A cover of Hotlegs' "Neanderthal Man" didn't fare as well.
In 1971 the band produced their final album, Time Is for Regal Zonophone (UK only). Dave Pritchard and Spencer, later to become comic "Ollie" Spencer, left shortly thereafter.
After Greg Masters and Mike Hopkins quit the group in 1972, the remnants became the Steve Gibbons Band.
In 1996 EMI realeses a Idle Race dobb. CD "Back to the story" wich is the hole back catalougue plus bonus tracks.
In the early days I very rarely said a word to the audience and relied entirely on Roger at the back to do all the chat.  He was the 'master' and still is in my opinion.  He has a silver tongue and chats with such ease and humour and it is thanks to him that they now can't shut me up.  He has a great sense of humour, on the same wave length as myself, he always makes me laugh.  He works much too hard these days, as a comedian, and I hope to see him starting to take things easier.  Rog loves performing and is still a good drummer and I would love to see him back behind the kit.
Meet the Spencers – Birmingham's most showbizzy family. Mum Olga, dad Roger and children Bonnie, 41, Oliver, 36, and Holly, 29, could each write a book about their collective mission to entertain the nation.
The Spencer family - Roger, Olga, Holly, OIiver and Bonnie
Mum Olga, dad Roger and children Bonnie, 41, Oliver, 36, and Holly, 29, could each write a book about their collective mission to entertain the nation.
The Spencers can even claim some of the credit for Oscar-nominated hit movie Les Misérables.
When Trevor Nunn opened the original musical at The Barbican in London in October 1985, Gavroche was played by Oliver Spencer, an unknown ten-year-old schoolboy from Sutton Coldfield.
Twenty-five years later, kid sister Holly Dale Spencer is appearing alongside Anne Hathaway in the all-star film version of Les Misérables, as well as playing the lead in the West End's Kiss Me Kate.
Elder daughter Bonnie starred in Joseph and the Amazing Technicolor Dreamcoat with Phillip Schofield. She's still singing and married to Dave Reilly, former drummer with China Crisis.
Dad Roger Spencer used to be the drummer in Brumbeat bands such as Mike Sheridan and The Nightriders and The Idle Race, playing alongside the likes of Roy Wood and Jeff Lynne.
Mum Olga was a dancer with some of Britain's biggest stars including Morecambe & Wise, Tommy Cooper, Des O'Connor and Harry Worth.
Dad Roger
The son of Freddie Spencer, a Melody Maker award-winning dance band drummer, Roger grew up on Sladefield Road in Ward End and started work as an aerial fitter with Sweeney Radio.
He joined Mike Sheridan and the Nightriders as drummer, and saw Roy Wood go to The Move, then Mike Sheridan replaced by Jeff Lynne, who would go on to found supergroup ELO.
The band changed their name from Nightriders to The Idle Race and Roger says: "We went from having a line-up like Cliff Richard and the Shadows to being like The Beatles.
"Jeff Lynne was soon running the show musically but he was never a speaker on stage, so I was the frontman. Eventually Jeff Lynne ended up going to The Move as well, any my final years were with the Steve Gibbons Band.
"I'm still great friends with Jeff Lynne. I took him out for a curry in Sutton Coldfield only last autumn when he was over here. I've been over to Jeff Lynne's house in Beverly Hills, too.
"When I was there I bumped into an old friend called Pete Conway – and discovered he was Robbie Williams' dad!
"That's a bit like my life. I know everyone, but things haven't always quite worked out for me, Still, I've had a great life, I've got a lovely family and I couldn't want any more."
Roger re-invented himself as comic Ollie Spencer and appeared in 1970s' TV hit The Comedians, later becoming warm-up man for Tiswas.
"I used to appear onscreen with characters like Barbara Woodhouse, and knew everyone like John Lodge while they waited in the wings, but I never became an integral part of the show."
Ollie is currently organising his 70th birthday party for next month, while still doing 'bits and bobs' like after-dinner comedy and entertaining on cruise ships. And in March he'll play Spike in Malcolm Stent's Go And Play Further Up Your Own End.
"It will be my first stage musical... at the age of 70!"
Mum Olga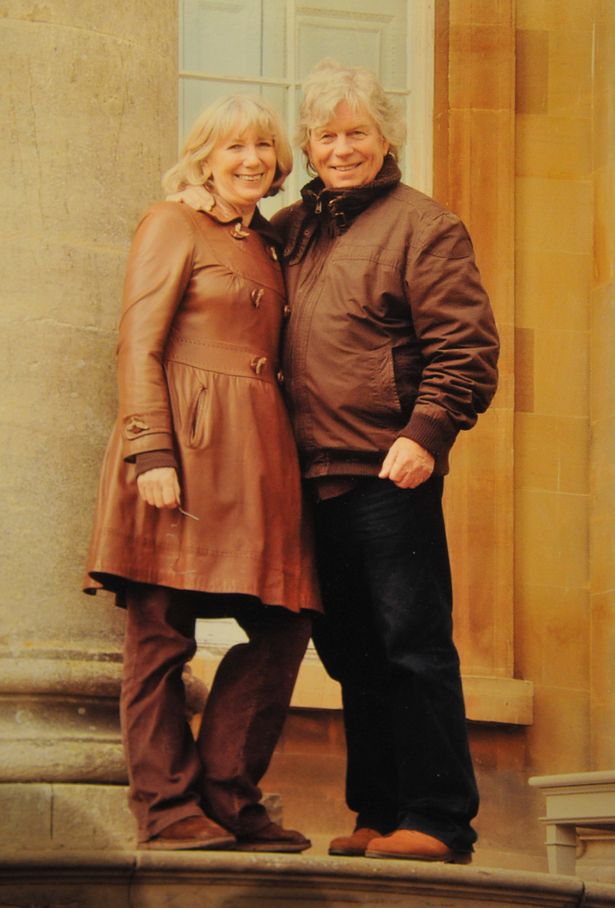 Not many mothers can claim to have been sidekicks for stars like Morecambe & Wise but that's the calibre of act the Acocks Green dancer-turned-teacher was working with in the 1960s.
"I was in six pantos at the Birmingham Hippodrome and I knew everybody from that era," says Olga, now 63. "I was in shows with Morecambe & Wise, Des O'Connor and Harry Worth.
"Eric Morecambe was amazing, full of fun. He would make me laugh unintentionally every night on stage. Tears would be rolling down my face.
"Ernie was the opposite. He would be very quiet. He'd have his wife with him the whole time, even accompanying him to the stage and back to the dressing room."
As well as working with Tom Jones in cabaret and being part of a Pan's People-style dance act in the early 70s, Olga also recalls working a summer season on Blackpool Pier in 1965.
"Freddie and the Dreamers were top of the bill, and Tommy Cooper was second. We used to do an Eastern dance with Tommy, all wearing baggy pants. To see him live was hilarious."
Although both from Birmingham, Olga and Roger first met in York, marrying in 1969, and showbiz soon rubbed off on their children.
"Our first child Bonnie was always very, very musical and is an excellent singer and dancer," she says. "After Les Misérables, Oliver went on to Marti Caine's New Faces as a singer-comedian and did well.
"Holly did all the main parts in shows when she was at Arthur Terry School before going off to Arts Ed in London.
"Now she has the lead in Kiss Me Kate and is in Les Misérables. Going to see that was very emotional for me. When Oliver was in the first stage version, I was his chaperone."
Named after her own mother, Olga Darby, who ran away from home to be a singer, Olga now privately teaches dancing, singing and drama.
Daughter Holly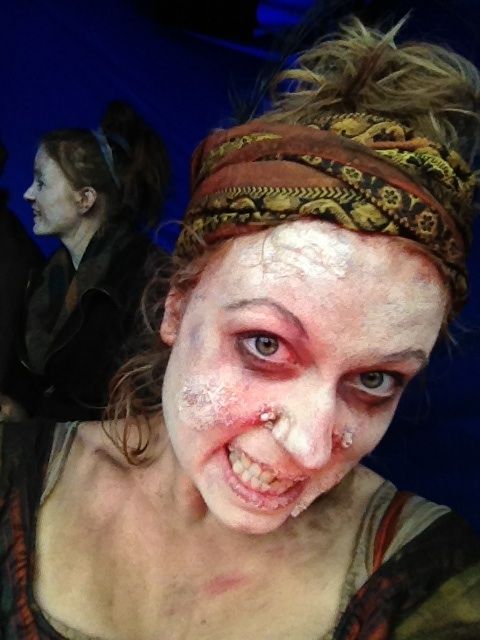 "I think I've had madness dust sprinkled all over me," chuckles Holly. "I grew up surrounded by big personalities and music – and just thought that was kind of normal."
Her journey to starring in the Les Misérables movie began on the set of the original stage musical at The Barbican.
After director Trevor Nunn gave brother Oliver the part of Gavroche, toddler Holly would be taken along by her mother.
"I remember being backstage, even though I was tiny at the time," she says. "I've had lots of friends in Les Misérables – but I haven't seen the film yet because I want to see it with a particular friend.
"Looking out for friends on screen will be a laugh, like playing 'Where's Wally?
"In Les Misérables, I'm in the scene where Anne Hathaway becomes a prostitute. She was so lovely and normal, talking to everyone and being very complimentary about our singing.
"I was a foot away from Anne when she was having her hair cut off for real and I could see that she's an incredible actress. You could hear a pin drop. It really was a difficult scene for her to do."
One of Holly's first steps to success was learning ballet – but it almost ended in tears.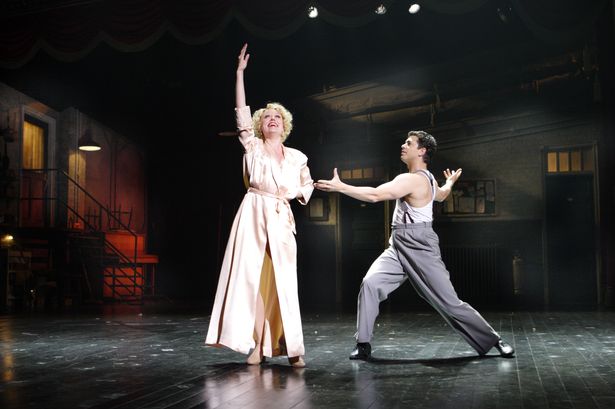 "I cried the first time I was taken when I was two or three," she admits. "But I tried a third time and loved it. That was that. I was never pushed, I just naturally wanted to do it and used to look up to my sister Bonnie.
"Since I left college, with a BA in performing arts, I have worked constantly. I thought I was auditioning for the stand-in role on Kiss Me Kate, but then director Sir Trevor Nunn gave me the lead.
"He couldn't believe it when I told him I was Oliver's sister!"
What's next for Holly? She hasn't a clue – but she's not worried: "Kiss Me Kate ends on March 2 and, after that, I don't know what I'll be doing," she says. "If nothing comes in for a while, I'll just revert to gigs, dancing and teaching."
Son Oliver
As the first boy in the original production of Les Misérables, Oliver had the world at his feet – but quit showbiz 20 years ago and has no regrets.
He is now working in computer sales for Midland video games company Centresoft.
Oliver was accepted for a place at Guildford School of Acting, but after Government grants were withdrawn he baulked at the cost which would have been 'tens of thousands of pounds for three years'.
"Looking back, I had some wonderful experiences as a child actor," he says. "To get the role of Gavroche I had to survive four auditions – not least because I was a ten-year-old kid going to school more than 100 miles away.
"My final audition was just me on stage with Trevor Nunn. He gave me random stuff to test me and it was very hard.
"I was at a dancing school having lessons when my mum found out I'd got the part. She was ecstatic.
"I didn't know how big the show was until I got into the theatre. Everything looks bigger when you're 4ft tall – I'm 5ft 9in now!
"I'd be nervous beforehand and it could make you feel sick.
"But once you were there with the first song, you felt euphoric and then you realised why you did it."
Every night Oliver would get the bullet.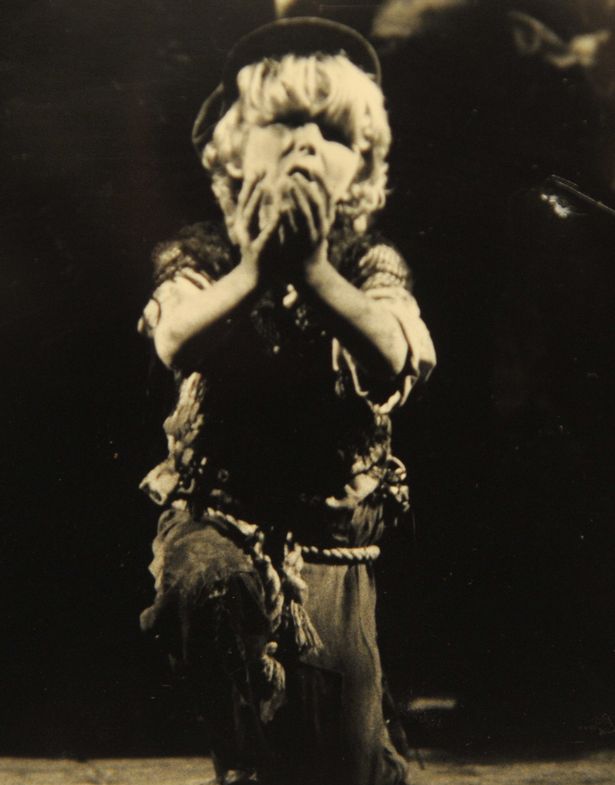 "I would be shot!" he laughs. "I'd be singing a song while I was being killed. That was the hardest bit to do, and you could see people in the audience being emotional. There was one time when I cried while I was doing it.
"Two years ago Cameron Mackintosh invited me to take part in the 25th anniversary show of Les Mis the 02 Arena. That was THE most amazing experience of my life. I've got it on DVD!"
Even that didn't make Oliver want to return to the stage – although he admits he'll 'never say never'.
He has one final, amazing, confession to make. "Do you know," he tells me. "I've never seen Les Misérables in the theatre, only in segmented rehearsals."
Daughter Bonnie
Like mother like daughter – Bonnie was a dancer who married a drummer and then returned home to the Midlands.
But not before she'd appeared in shows galore, including playing Zebulun's wife in Phillip Schofield's touring and West End version of Joseph.
Now a zumba, singing and dancing teacher in Atherstone, Bonnie says: "I never see films that I know will make me cry, like Titanic. But I know I've got to see Les Misérables. I'm very proud of both Oliver and Holly. She's a better singer and dancer than me, and has done everything the right way. I just took a different path and will soon be working with Sooty at Cadbury World!"
At 41, she is happy with husband Dave – now working with The Backbeat Beatles.