THE MICHAEL KELLY GROUCUTT HISTORY:
Born Sep. 8, 1945, Cosely, England, sadly passed away Feb. 19, 2009.
Michael left school at age 14 and got his first job at the local metal factory, where he worked in a very noisy environment and day long he sang very loudly on the last pop hits on the radio. The destiny did that the son of one of the owners of the factory had listened to Michael's voice / singing and explained to him that some of his friends played guitar and drums and that they would start a rock and roll band and therefore they needed a singer. Michael took the stage name Rikki Storm and the band became Rlkki Storm & the Falcons. The band did not exist for a long time, but was very important to Michael. Then he joined a new band named Rikki Burns & the Vibras.
Kelly was just 17 when he had his professional debut at Coseley Town Hall.
In Rick Price's era was Sight'n'sound a Cabaret group who had specialized in vocale events (Lettermen, 4 Freshmen and likely.) And comedy parodies and imitations. Mike Sheridan (Mike Sheridan & The Night Riders) were their main lyricist. The members of the band changed greatly over the years, but this line up was in 1965-68 (Grant Kierney bass / vocal (later Terry Webster's Dictionary), Bob Doyle bass / vocal (later PA Co.), Pete Smith vocal (leaving later music industry), Geoff Turton vocal (later Rockin 'Berries), Joe Dignam drums / vocals (later Light Fantastic), Rick Price guitar / vocal (later The Move, Mongrel, Wizzard, Wizzo Band)) Kelly Groucutt bass / vocal (later The Electric Light Orchestra) was with the group in the early 70s.

Oct. 1974 -: ELO's 4 line up .: (Hugh Mc Dowell cello, Bev Bevan drums / vocals, Jeff Lynne guitar / vocals, Richard Tandy bass / vocals, Mik Kaminski violin, Kelly Groucutt bass / vocal, Melvyn Gale cello). In came Kelly Groucutt (one week he played in Sight'n'sound few uninterested and the next he played for thousands of wild fans in some of America's ampfiteatre) and Melvyn Gale (formerly London & National Youth Orchestra).
In the following 5 years, ELO one of the major bands in the world. "Face the Music" was certified gold after only a few weeks after the release, "A new world record" was on the US charts for over a year and "Out of the blue" was pre-booked at a value of over 47 million dollars. Their next album "Discovery" was a top 5 record worldwide. I wonder if Jeff Lynne in May 1966 had an idea of what he wanted to achieve?
In 1981, Kelly recorded his solo album "Kelly" with great help from ELO members namely Bev Bevan drums, Richard Tandy synth, piano, guitar, Louis Clark, Mik Kaminski violin and with Vlado Meller as engineer.
1981 Kelly lives private near Dudley with his wife and three young sons.
After ELO was dissolved in 1986, the band was taken on as Electric Light Orchestra, Part Two, with former members (Bev Bevan and Mik Kaminski) later also comes Kelly Groucott with, but in 2000-01 jumps Bev Bevan from the band and when he was the only member who had been in ELO from the beginning, demanded Jeff Lynne via lawsuit name back. The former Part Two goes back so name to The Orkestra.
In 1986, Jack Green recorded the album "Latest Game" and on this album played Kelly Groucutt synth. bass, Jim Capaldi percussion, Jack Green bass, vocal & guitar, Snowy White guitar, John Boundrick keyboards, Boz Burrell bass, John Canham guitar, Simon Kirke drums.
Kelly played with Black Sabbath "Under Wheels of Confusion" and on Earth, Wind & Fire "That's the way of the world".
Further he should have played with in Barefoot and Carpenters!
More about this at a later date.
In 2006, Kelly married with his second wife and longtime girlfriend Anna-Maria Bialaga.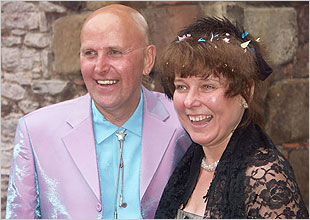 Kelly died after a cardiac arrest on Wednesday. 18-02-2009, where he was admitted to Worcestershire Royal Hospital but did not come to consciousness after cardiac arrest and died Thursday. 19/02/2009.
He will be missed enormously since he was the one who kept the ELO flame and always had a large surplus with the fans where he always took time for autographs. A great loss for ELO fans.
Kondulation to Anna-Maria Bialaga, his 4 children (Christopher, Steven, Robin and Jennifer) and 2 grandchildren.
Kelly was buried d. 09-06-2009 in Christ Church, Church Road, Coseley to 12.15pm, followed by private cremation to Gornal Wood Crematorium.
"I want to stay with you a while
I want to stay forever
Replace reality
When I fall asleep tonight"
Sad news about the Groucutt family :-(
Son of Kelly, Christopher (Chris) Groucutt born 16-09-1970, has sadly passed away monday morning 2nd January 2017, age 46, he is leaving whife Gwenfys and 2 children. It came as a complete shock to the family.
With all my love, respect and sincere condolences to Chris's family