THE STEVE WOOLAM HISTORY:
Born maj. ?, 1946, Bilston in the Black Country, England.
He was The Electric Light Orchestra's Violinist in 1971.
Steve went to Birmingham University in the late 60's. He was an excellent violinist and he had quite good friends. He quit the course at the end of his second year in Summer 1969 and moved away.
He came originally from Bilston (in the Black Country) and that would certainly make sense of his association with Roy Wood whom, wich was living near Stourbridge at the time. In fact Roy Wood was driving down Stourbridge High Street in a brown Rolls Royce a couple of years later.
After graduation Steve was working near Dudley.
Steve Woolam played violin in the first The Electric Light Orchestra album. But only on Jeff Lynne tracks ! It's Nellie Takes Her Bow, Mr. Radio, Manhattan Rumble and Queen of the Hours. It is easy to hear the violin on those tracks. Steve Woolam was never really a part of The Electric Light Orchestra. He was a studio musician. The tracks of Roy Wood seemed like his own solo project, except maybe the First Movement, which was his best track in that album.
Steve Woolam's nephew tells:
"I may be able to fill in some of the blanks and give you some extra info".
"You are correct, he did commit suicide by jumping in 1971, a fact that my family have struggled to deal with even to this day. It was'nt wholly to do with him leaving the group, he met the wrong women unfortunately, that drained him financially and led him onto drugs. Also a major fall out with Roy Wood we think was a factor in him taking his own life. On his death, my grandfather and father had to identify the body. A comment above about him not really being a member of the The Electric Light Orchestra and that he was just a studio violinist is completely inaccurate. He indeed co-wrote alot of the tracks on the first album, a fact I think Roy Wood would agree with."
My Uncle then wrote music for a certain Mr. Jagger, that he did not get paid for and left him in a huge amount of debt.
Our family were big musicians, my Grandfather Joe was self taught on the violin and taught my Uncle.
My mother, Lesley Hilda Woolam was a professional Opera Singer and studied at the Guildhall School of Music. Steven was awarded the Gold Medal for the Violin aged 11 with the highest ever marks for grade 8!
My sister Sally, has written music for Aphex Twin.
If there is any more info you guys want, please let me know... Would like to keep his memory alive.
Mail from old friend Roger
Today the 16-1-2016, I got a mail from Roger, that was a good friend to Steve for about 12 months, while they were on Birmingham University and he tells me that Steve was a very good violinist. Roger had no idea that Steve was goin' to leve university and he was therefor surprised that Steve didn't return in the autum term of 1969. No-one seemed to know why he didn't return, apart from rumours, that he'd joined a new group. He and Roger lost touch.
A couple of years later, he heard that he'd died.
"When I graduated, I worked in Dudley, and was browsing through vinyl in a shop and saw his name on the first ELO album; I still have it".
"I still have happy memories of chatting in his very dodgy bedsit in Edgbaston, which was just an outhouse of a big Victorian house - his bed was simply a platform suspended by chains from the ceiling!"
"I remember replying to a blog by someone enquiring about Steve, and I was the one whom Roy Wood nearly ran over in Stourbridge High St. in about 1972!"
"My other memory of him was that his thumb on his left hand had grown at an unusual angle - it obviously helped his violin playing!"
03-08-2017
Got a question about if I could confirm that it is Steve Woolam on my picture collage of this page, and I sent a mail to Roger Grainer again, and here is his answer.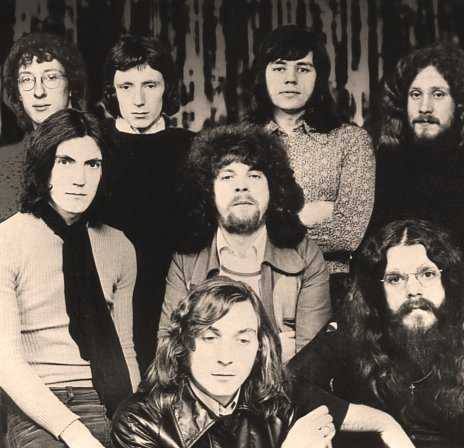 Hi, Ken,
It's good to hear from you again.  When I opened your email this morning, I only read the first couple of lines and my eye was immediately attracted to the photo - before I read the next line I recognised Steve as the person identified as you say. The thin face and wire-framed glasses drew my attention to hime straight away.  These photos must have been taken around the time of the first ELO album.  When I knew Steve at university, his hair was straight, but by this time, permed  curly hair was obviously in fashion!!
On the inner part of the album cover of that first album it shows a violinist who isn't Steve - photo is similar to the album cover of "Early Years" - maybe that was an actor or another violinist they used.
Very best wishes for your continued research and support for your website.
Kind regards,
Roger