ELO CD: Out of the blue.
Released: 1977
Produced by: Jeff Lynne
Engineered by: Marc
Recorded in: Musicland Studios, Munich
Jeff Lynne: Vocals, backing vocals, lead guitar, slide guitar, rhythm guitar, Gibson EDS 1275, Les Paul Custom, Marauder, Ovation 1615/4, 1619/4, Wurlitzer E.P. 200, mini Moog, percussion.
Bev Bevan: Slingerland drums, remo Roto Toms, Avedis Cymbals, Slingerland Bev Bevan drumsticks, Remo drum heads, gong, various percussion instruments, backing vocals.
Richard Tandy: Polymoog, Mini-moog, ARP 2600, Odyssey, Omni, Sequencer, minus noise mixer, Wurlitzer E.P. 200, Yamaha C7B piano, SLM concert spectrum, mellotron M400, Hohner clavinet, Gibson S.G. custom guitar.
Kelly Groucutt: Vocals, backing vocals, Gibson G3 bass guitar, percussion.
Mik Kaminski: Barcus Berry violin.
Hugh McDowell: William Lewis cello.
Melvyn Gale: William Lewis cello.
Louis Clark: Orchestra and choral arrangements.
This album were pre-ordered in 4.000.000 copies before publication and achieves a 4 place in the UK and obtains (Jan. 1978) a 4 place in the United States.
While the album climbed the charts in the United States changed its distributor for Jet Records for CBS / Columbia and the band claims a lawsuit against United Artists to have allowed millions of copies to come to the US market.
The single Turn to stone (Feb. 1978) achieves a 13 place in the United States.
2 single release Mr. Blue Sky achieves a 6 place in the UK and (Aug. 1978) a 35 place in the United States.
3 single release Sweet talkin' woman (Apr. 1978) achieves a 17 place in the US and (Oct. 1978), a 6 place in the UK, which is the 4 top 10 hit in the UK from this album.
4 single release Wild West Hero (June. 1978) achieves a 6 place in England.
5 single release It´s over (Nov. 1978) achieves a 75 place in the United States.
In the United States, 8 months after its release, the album achieves a 6 place!
About the artwork of OOTB: The large spaceship on the album's cover (by now symbolic of the group) was designed by Kosh with art by Shusei Nagaoka. It was based on the logo Kosh designed for ELO's previous album, A New World Record, which connected with Star Wars and Close Encounters of the Third Kind fever. It also looks like a space station with a docking shuttle from 2001: A Space Odyssey (1968). The number JTLA 823 L2 which is featured on the shuttle arriving at the space station is the original catalogue number for the album. The album also included an insert of a cardboard cutout of the space station as well as a fold-out poster of the band members. The space theme was carried onto the live stage in the form of a huge glowing flying saucer stage set, inside which the band performed.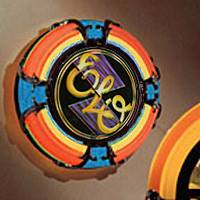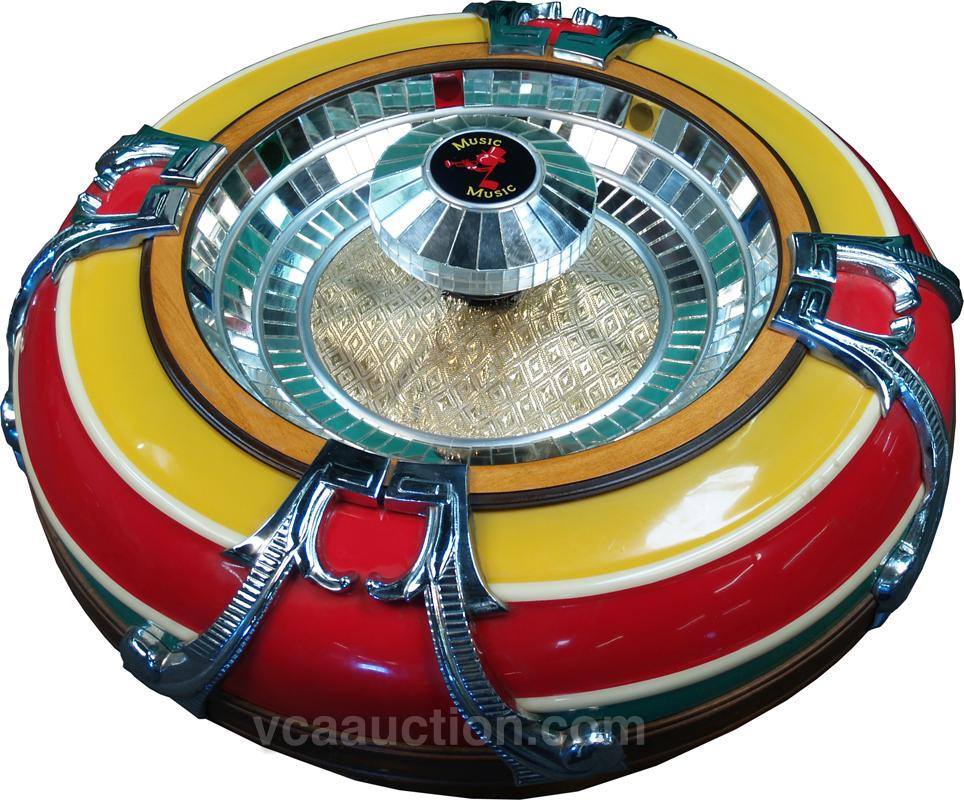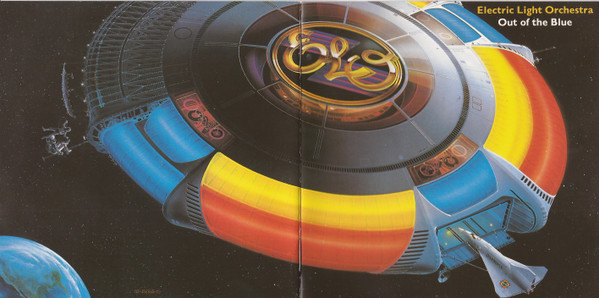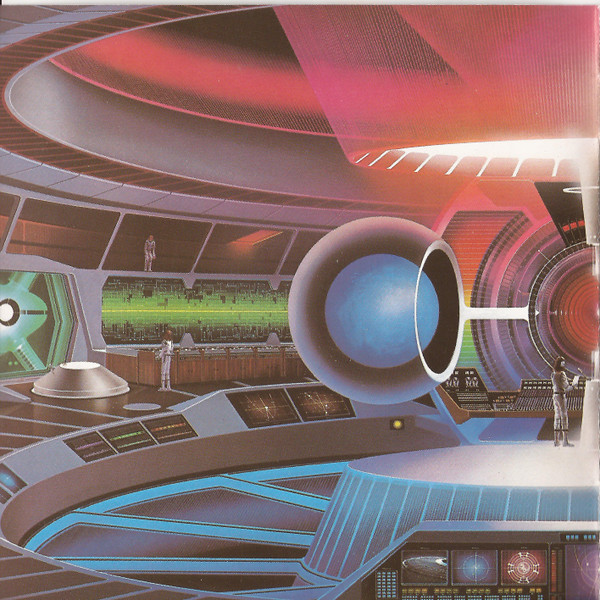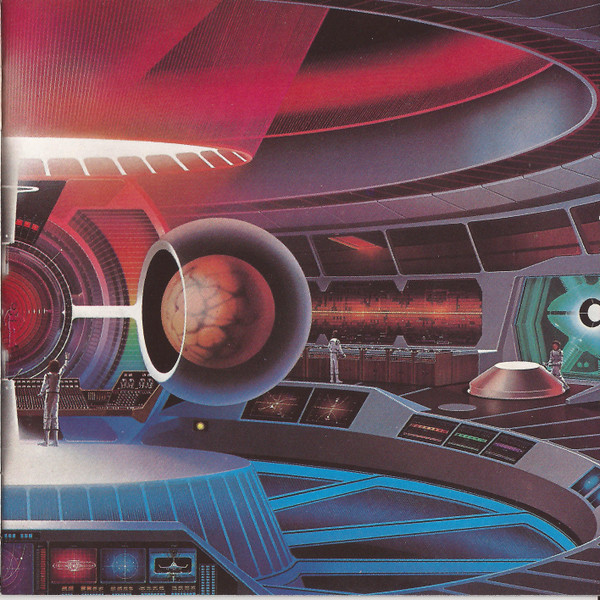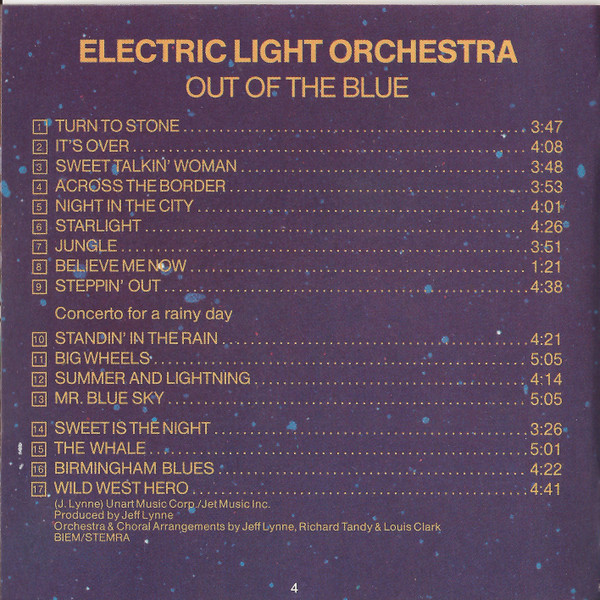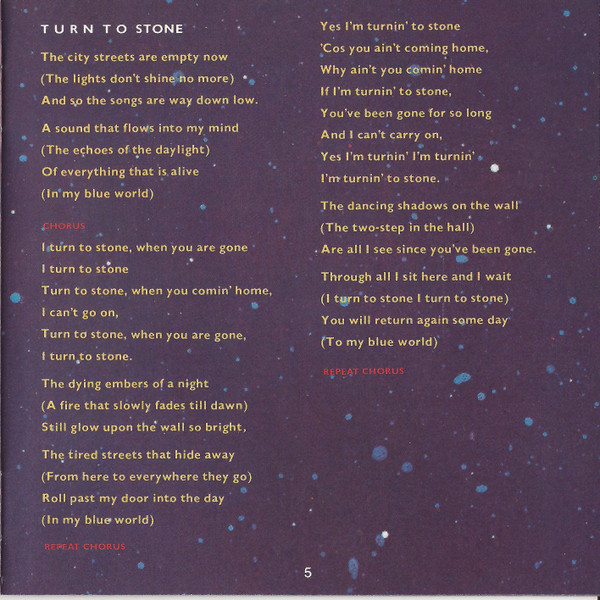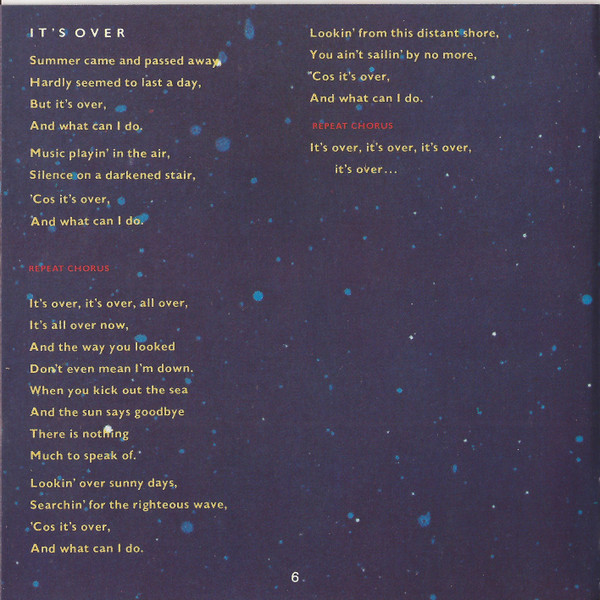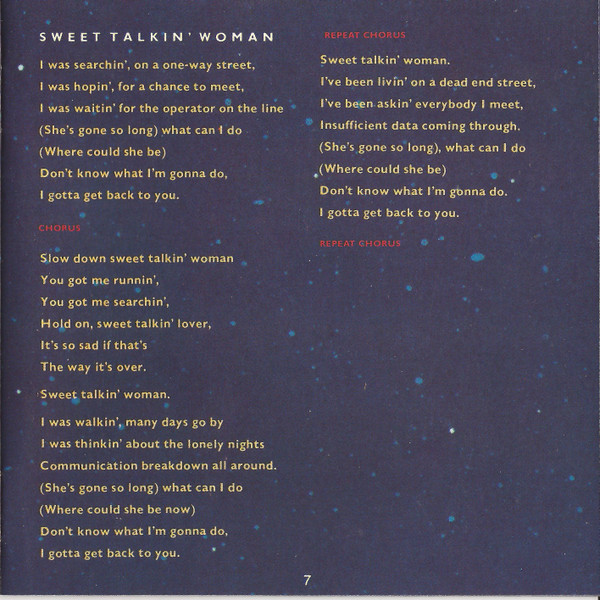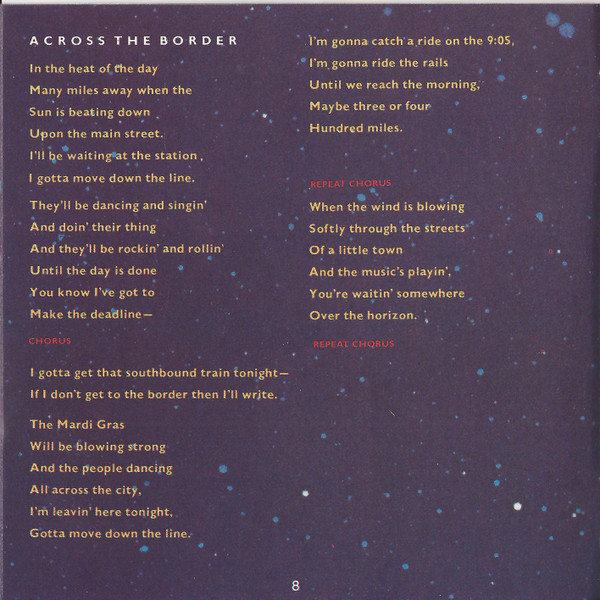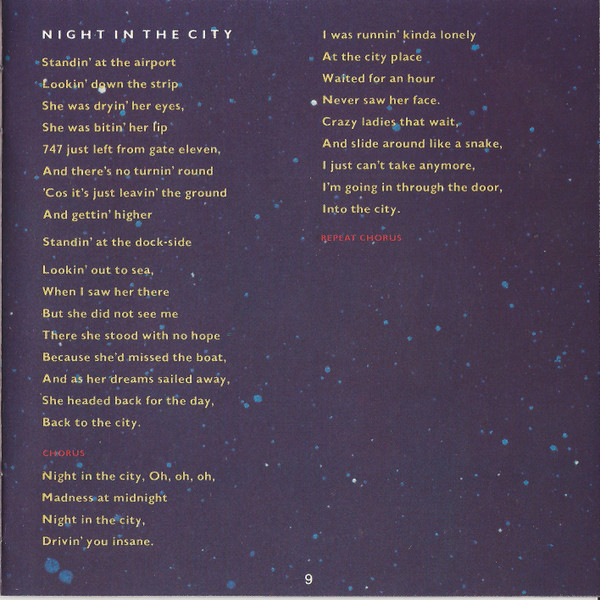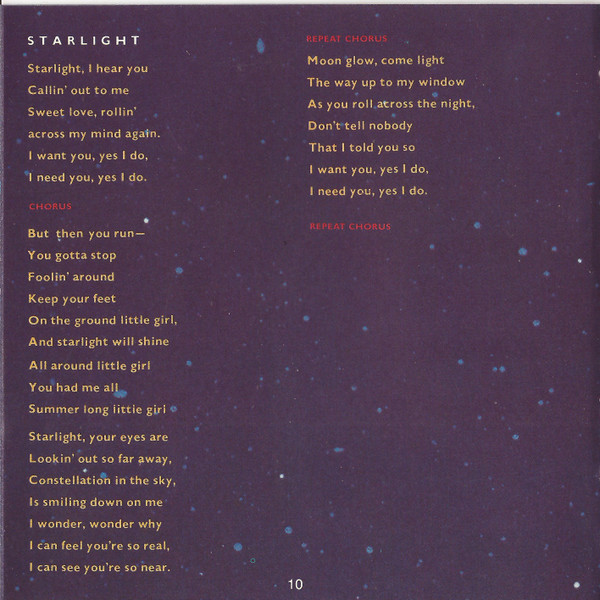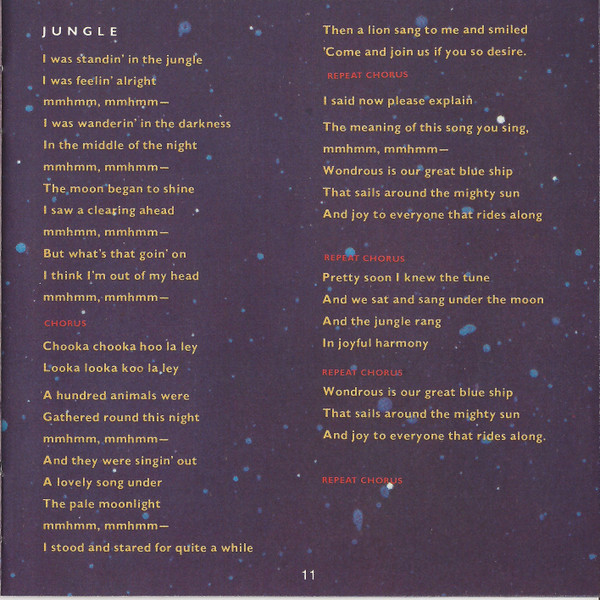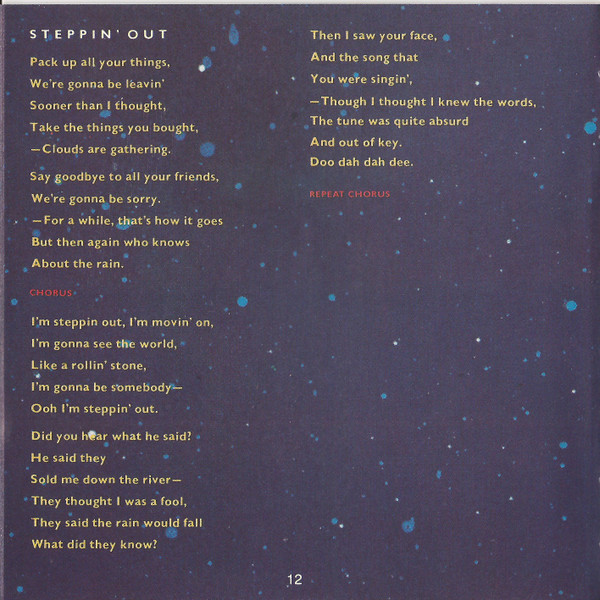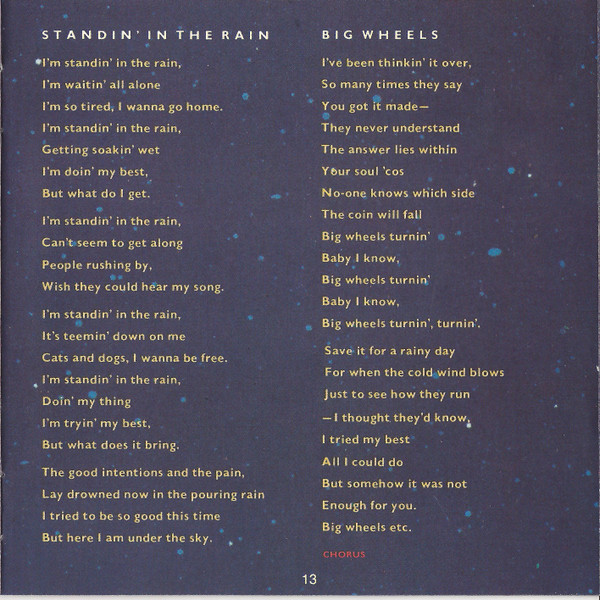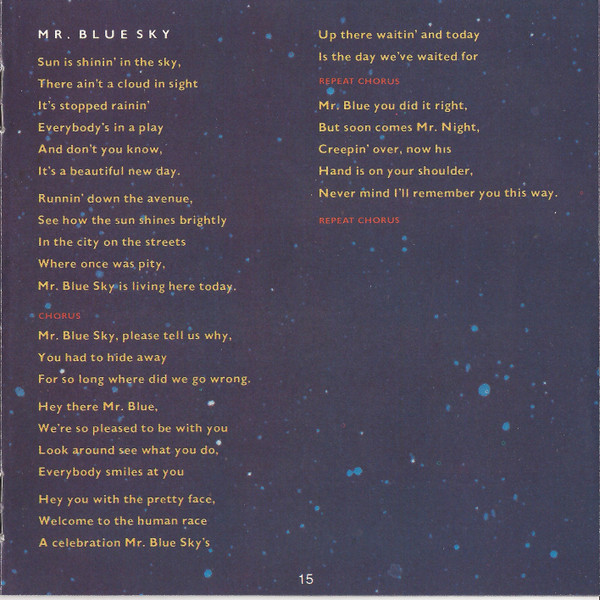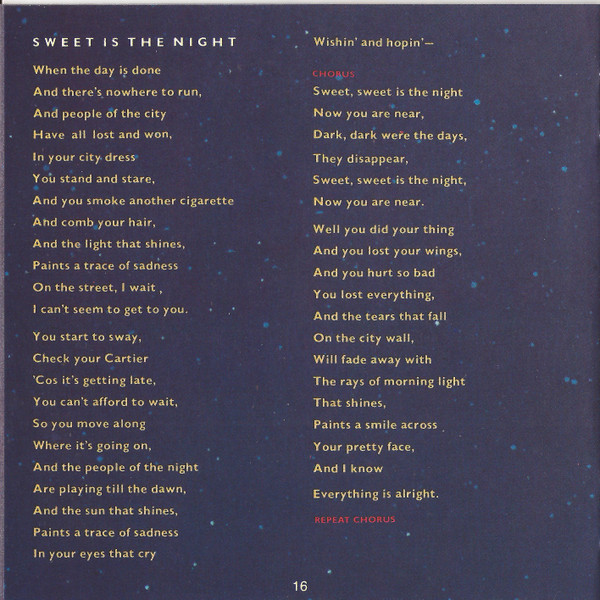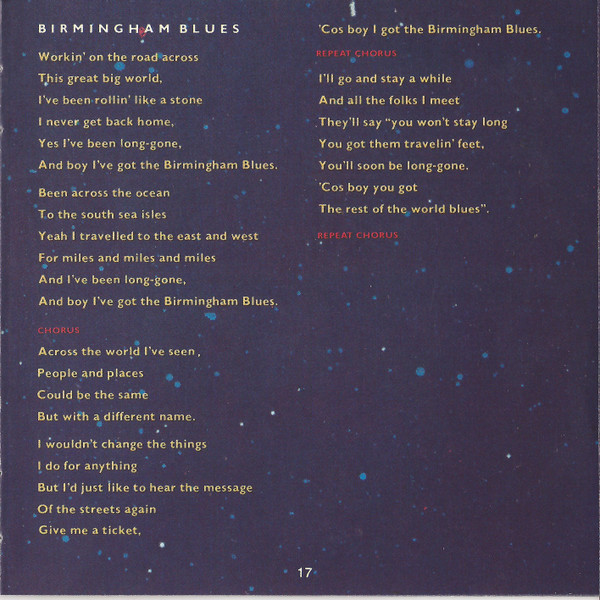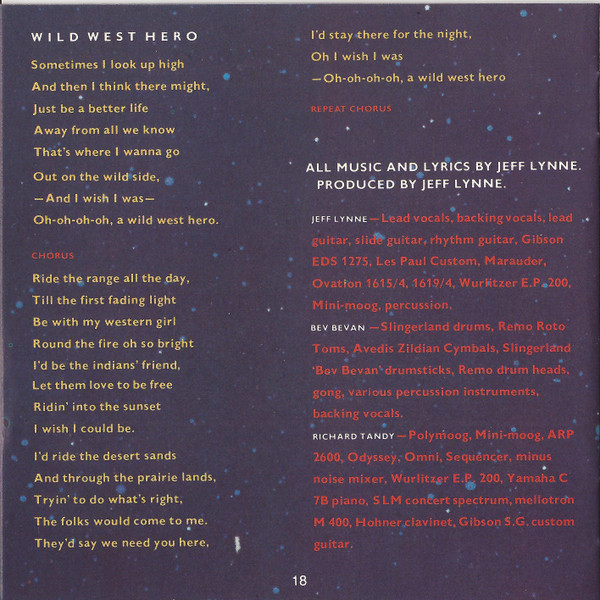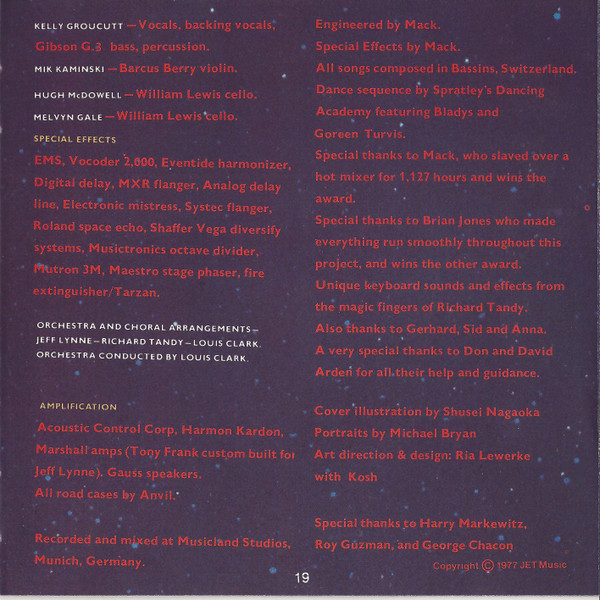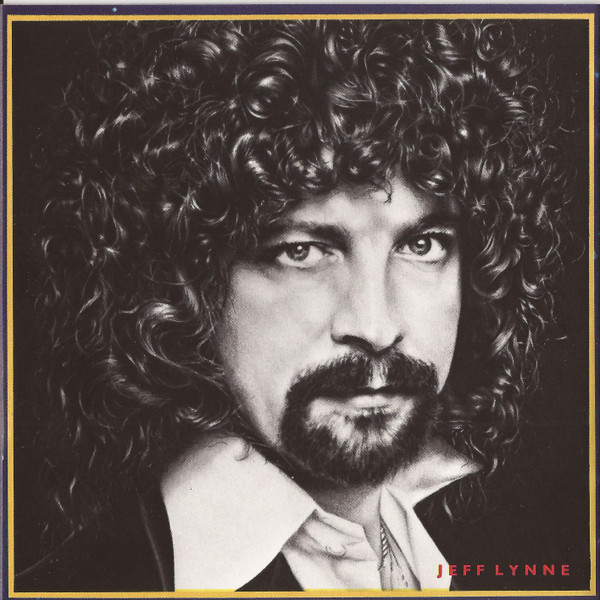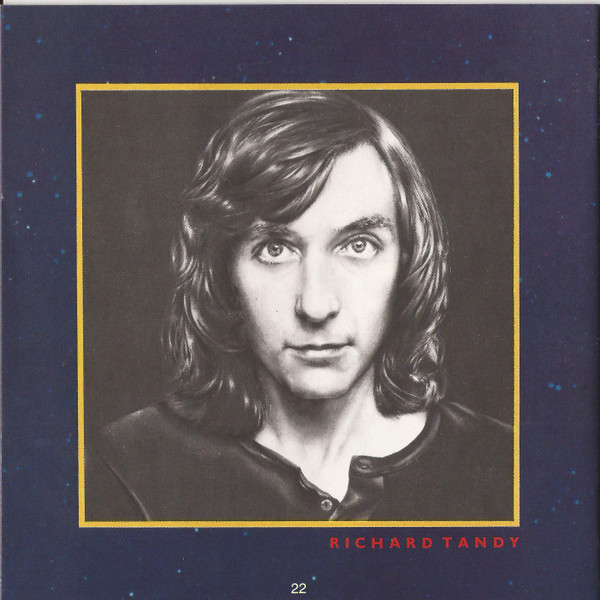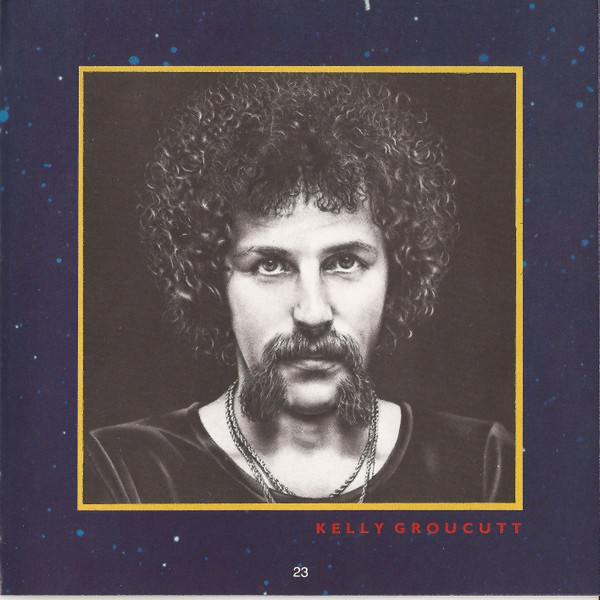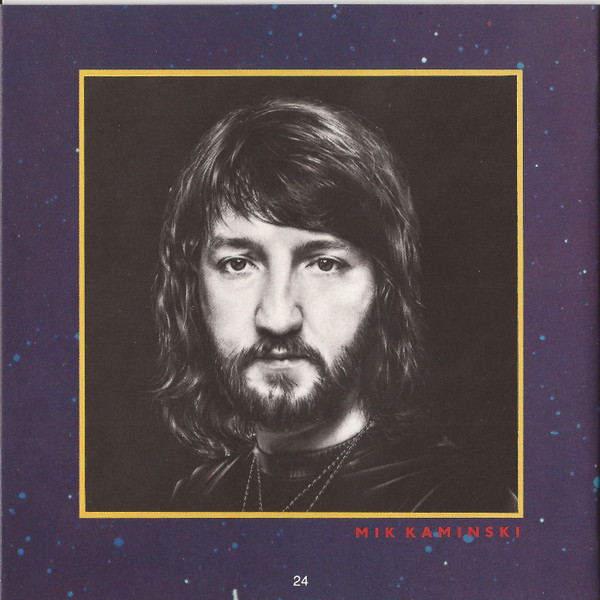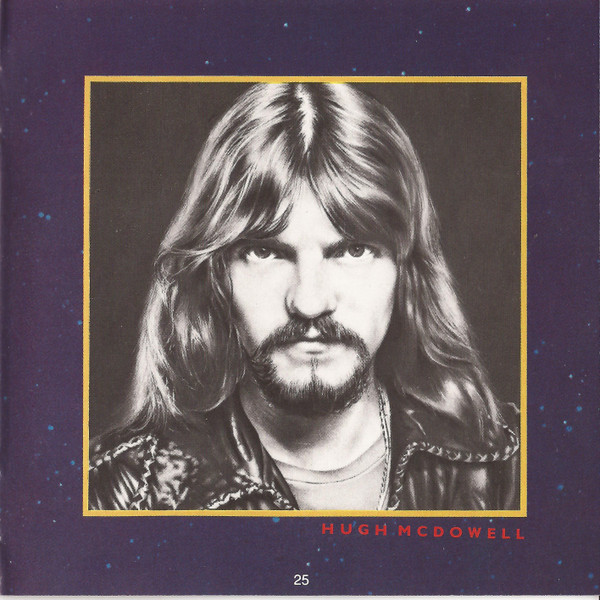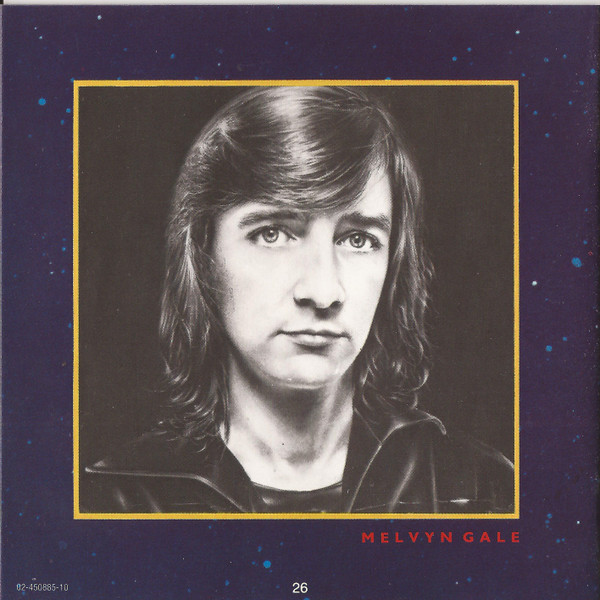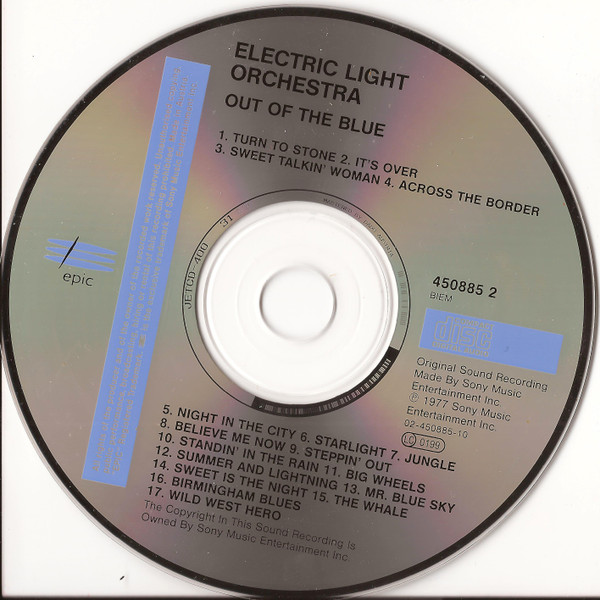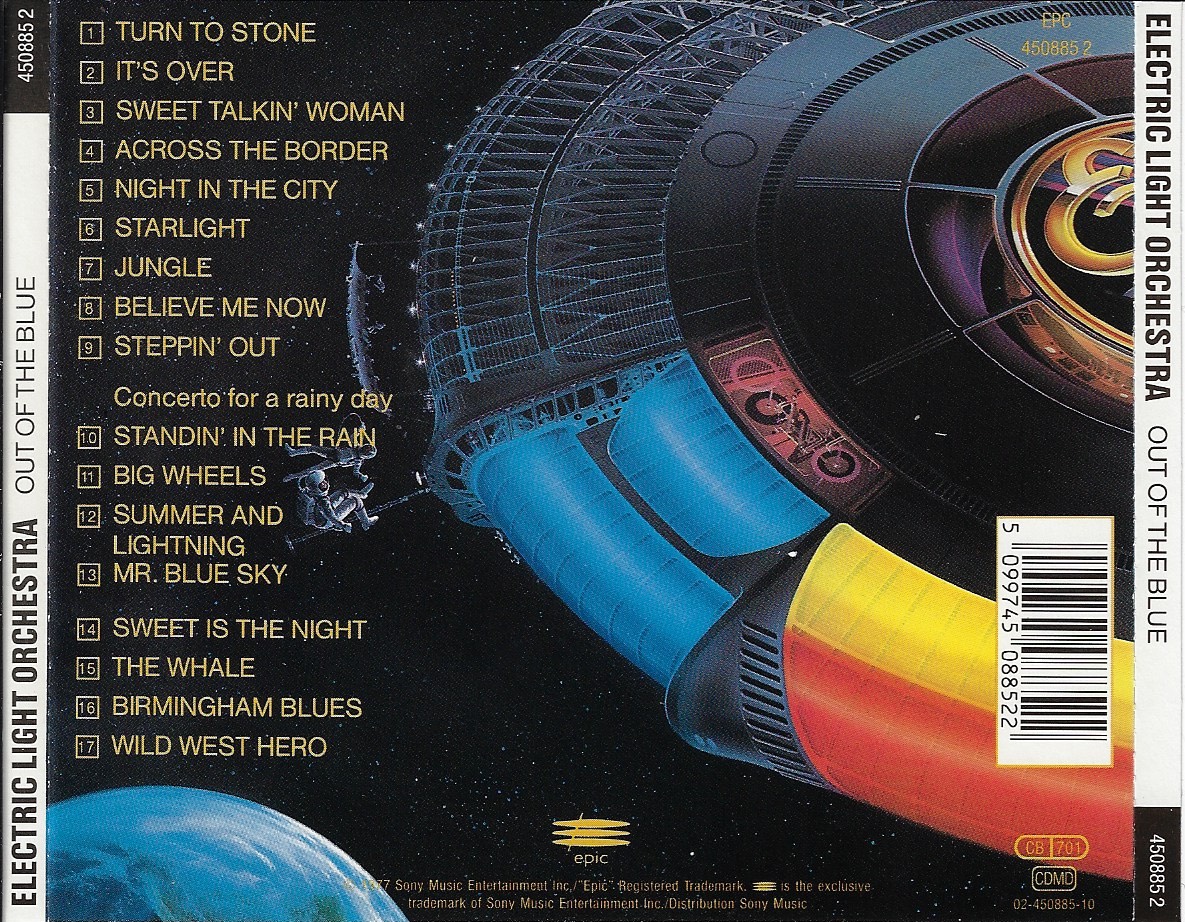 Cover design by: Kosh/Ria Lewerke
Label: Epic, 450885 2
Barcode: 5099745088522
Country: EEC
Item: 543
Discogs: https://www.discogs.com/release/4594292-Electric-Light-Orchestra-Out-Of-The-Blue
Runout A: JETCD-400 31 C1 MASTERED BY DADC AUSTRIA

A1: Turn to stone (Jeff Lynne) (3:47)
A2: It's over (Jeff Lynne) (4:08)
A3: Sweet talkin' woman (Jeff Lynne) (3:48)
A4: Across the border (Jeff Lynne) (3:53)
A5: Night in the city (Jeff Lynne) (4:01)
A6: Starlight (Jeff Lynne) (4:26)
A7: Jungle (Jeff Lynne) (3:51)
A8: Believe me now (Jeff Lynne) (1:21)
A9: Steppin' out (Jeff Lynne) (4:38)
A10: Standin' in the rain (Jeff Lynne) (4:21)
A11: Big wheels (Jeff Lynne) (5:05)
A12: Summer and lightning (Jeff Lynne) (4:14)
A13: Mr. Blue Sky (Jeff Lynne) (5:05)
A14: Sweet is the night (Jeff Lynne) (3:26)
A15: The Whale (Jeff Lynne) (5:01)
A16: Birmingham blues (Jeff Lynne) (4:22)
A17: Wild west hero (Jeff Lynne) (4:41)
________________________________________________________________________________________________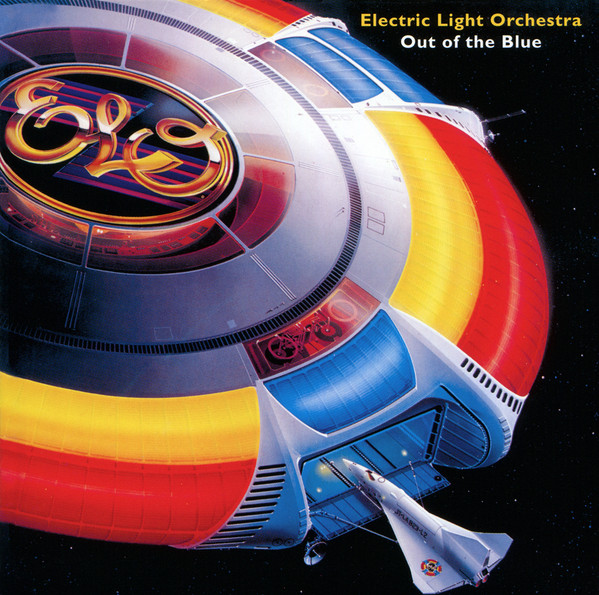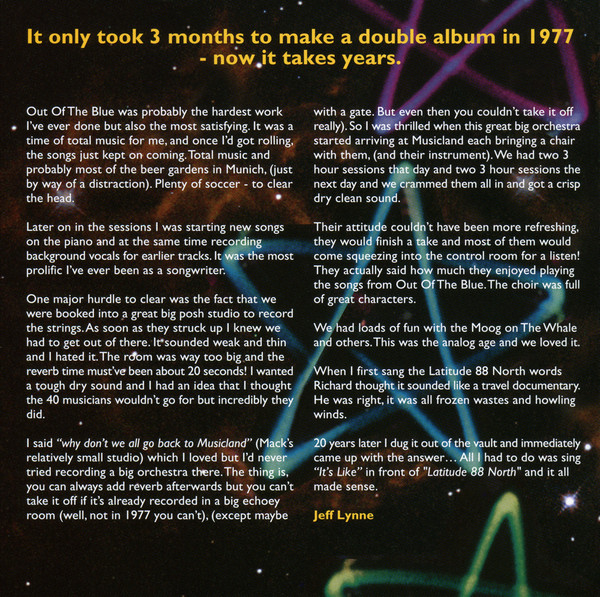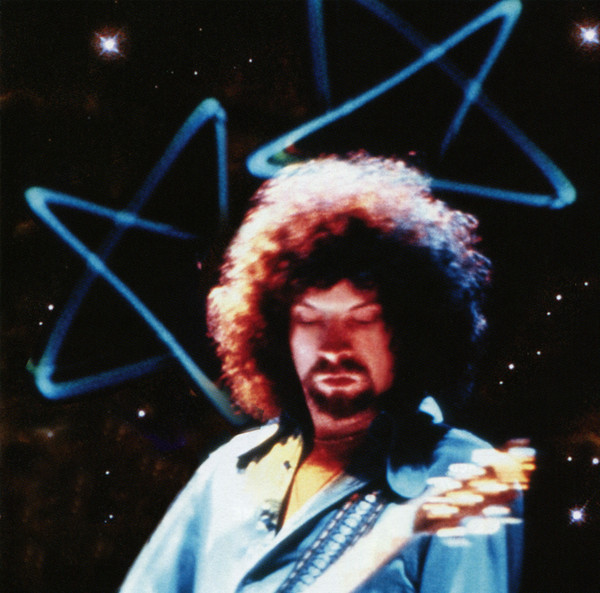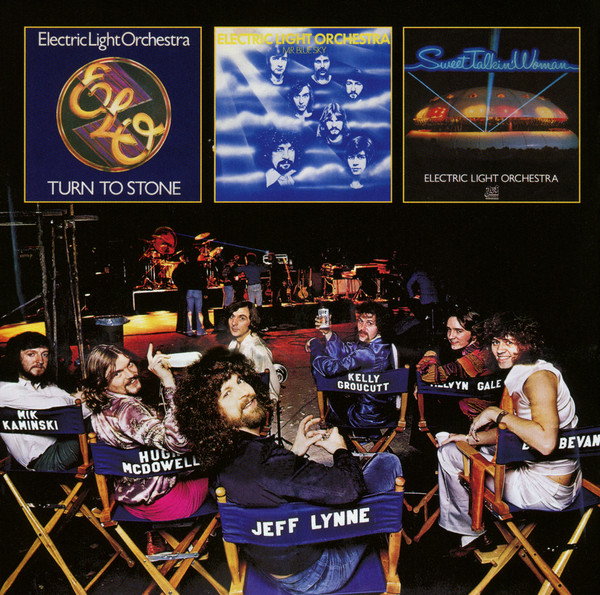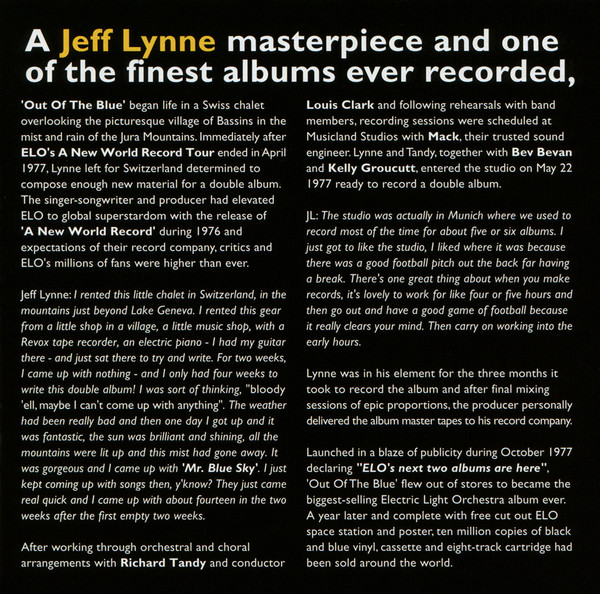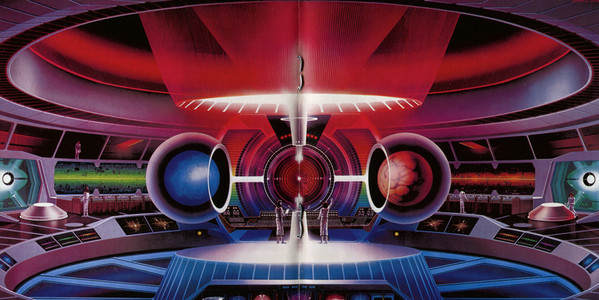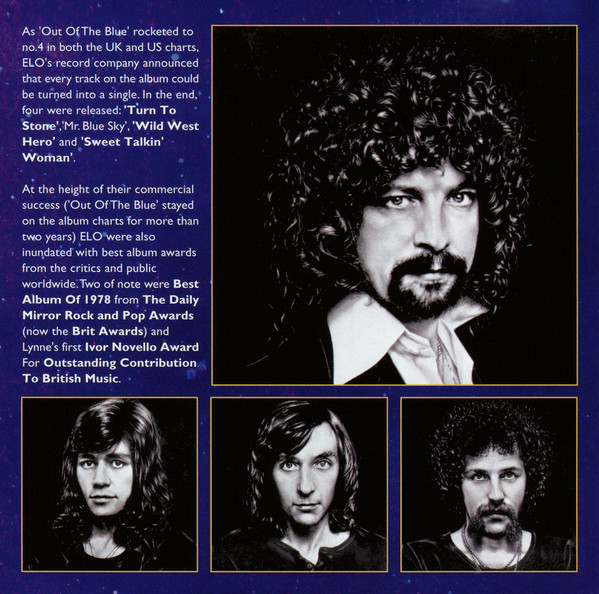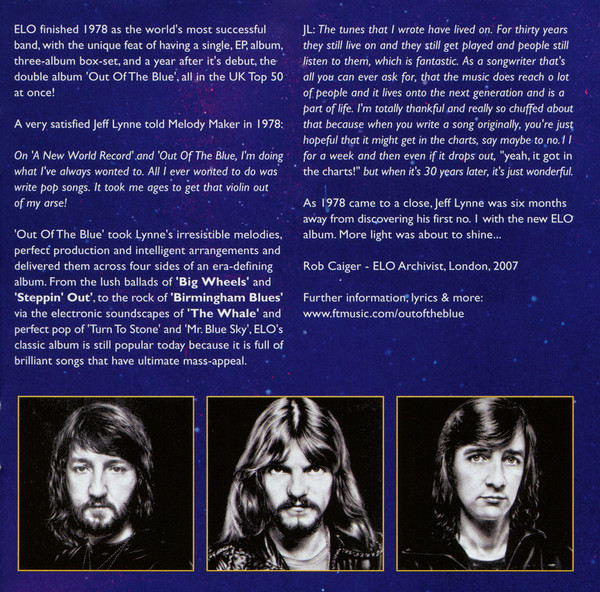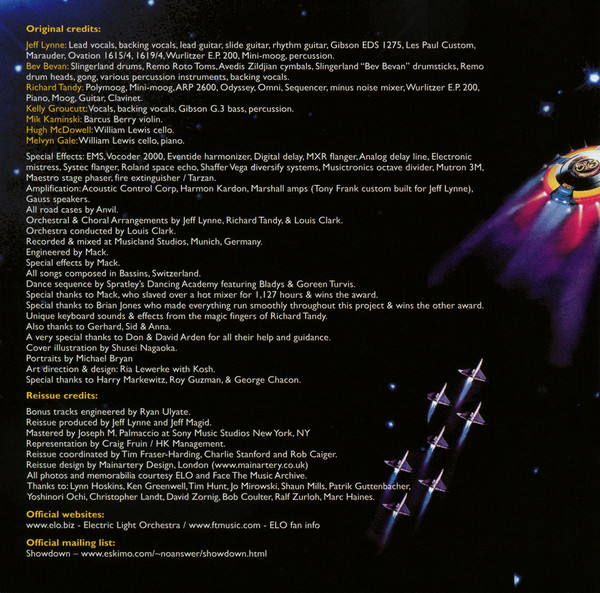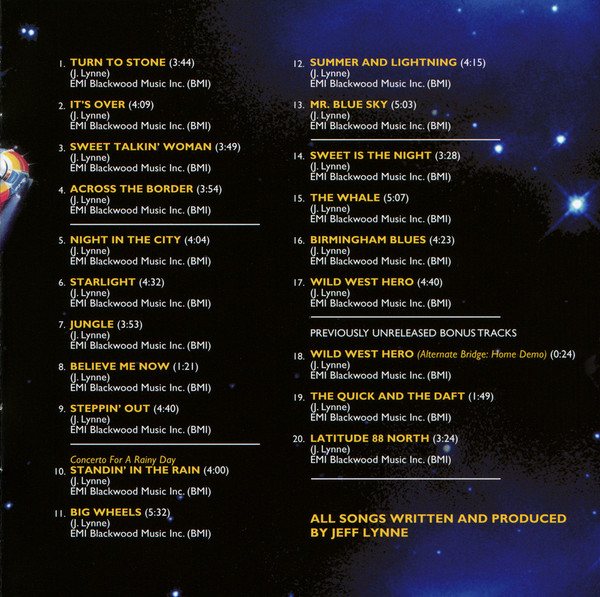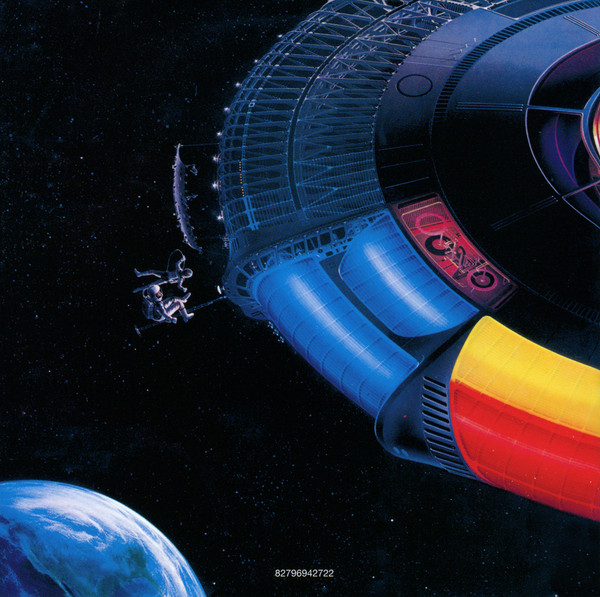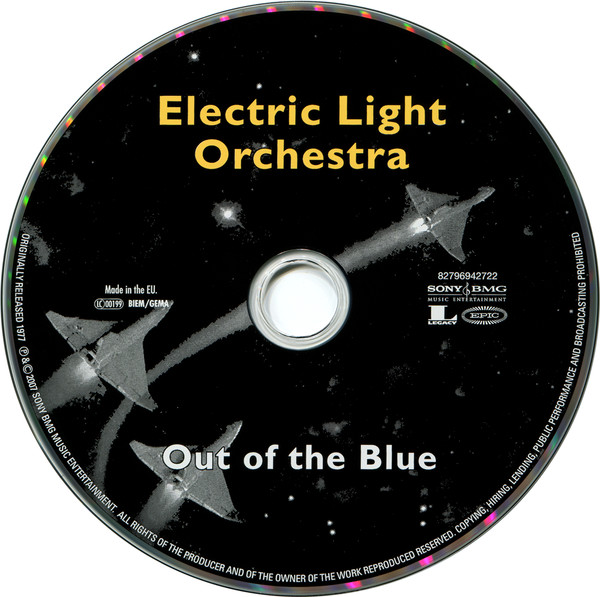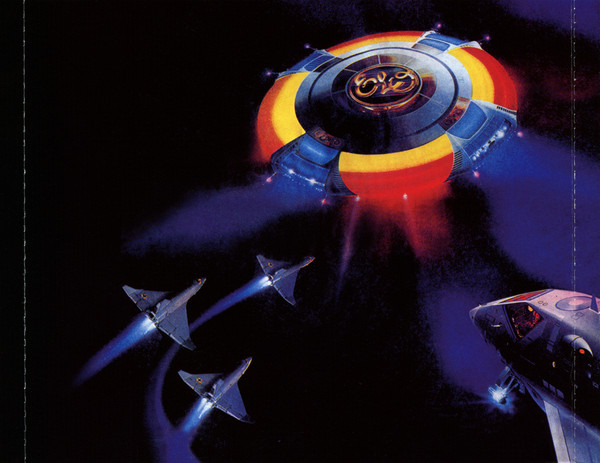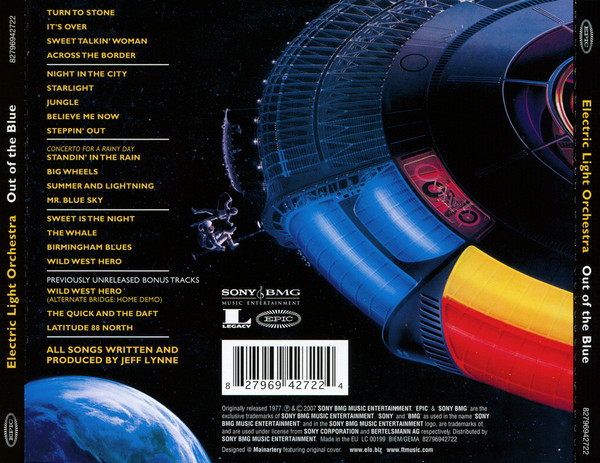 Cover design by: Kosh/Ria Lewerke
Label: Epic, 8276942722. (30'th anniversary edition)
Barcode: 827969427224
Country: EEC
Item: 318
Discogs: https://www.discogs.com/release/2068737-Electric-Light-Orchestra-Out-Of-The-Blue
Runout A: [Sony BMG Music Entertainment logo] 52112692/82796942722 21

A1: Turn to stone (Jeff Lynne) (3:44)
A2: It's over (Jeff Lynne) (4:09)
A3: Sweet talkin' woman (Jeff Lynne) (3:49)
A4: Across the border (Jeff Lynne) (3:54)
A5: Night in the city (Jeff Lynne) (4:04)
A6: Starlight (Jeff Lynne) (4:32)
A7: Jungle (Jeff Lynne) (3:53)
A8: Believe me now (Jeff Lynne) (1:21)
A9: Steppin' out (Jeff Lynne) (4:40)
A10: Standin' in the rain (Jeff Lynne) (4:00)
A11: Big wheels (Jeff Lynne) (5:32)
A12: Summer and lightning (Jeff Lynne) (4:15)
A13: Mr. Blue Sky (Jeff Lynne) (5:03)
A14: Sweet is the night (Jeff Lynne) (3:28)
A15: The Whale (Jeff Lynne) (5:07)
A16: Birmingham blues (Jeff Lynne) (4:23)
A17: Wild west hero (Jeff Lynne) (4:40)
A18: Wild west hero (Jeff Lynne) (0:24) (alternative bridge home demo)
A19: The Quick and the Draft (Jeff Lynne) (1:49)
A20: Latitude 88 north (Jeff Lynne) (3:24)
________________________________________________________________________________________________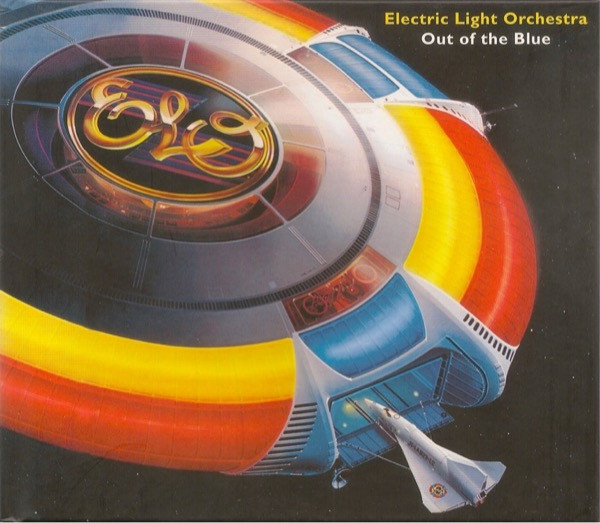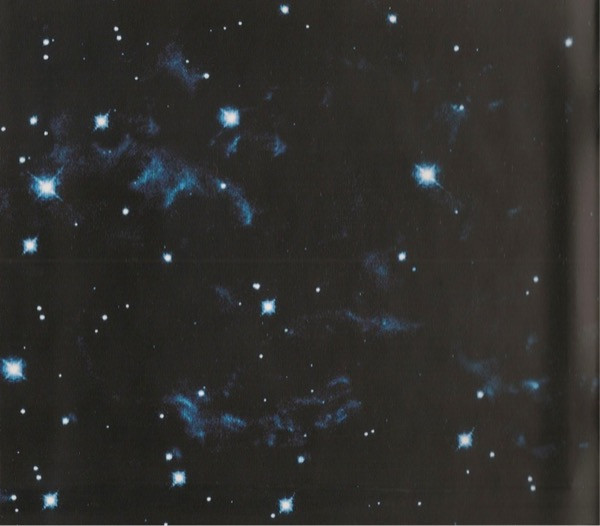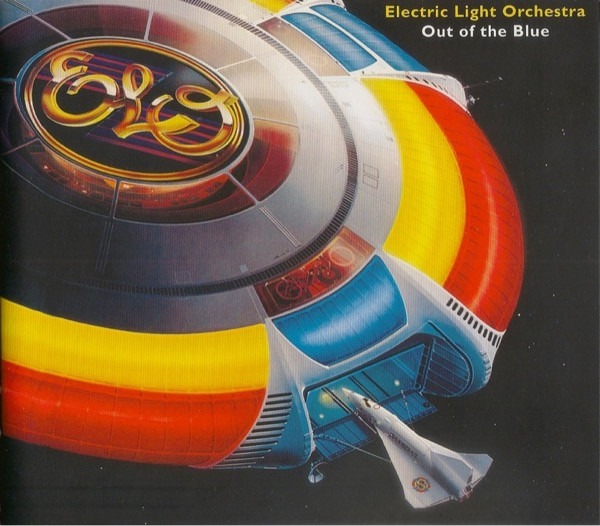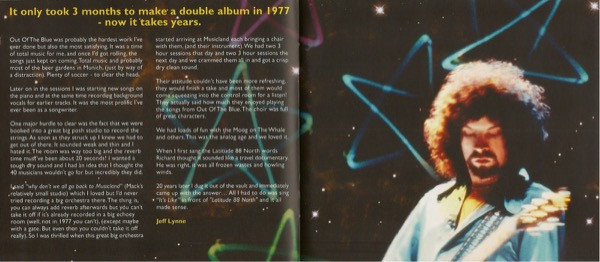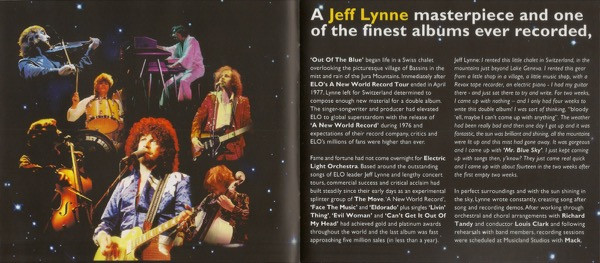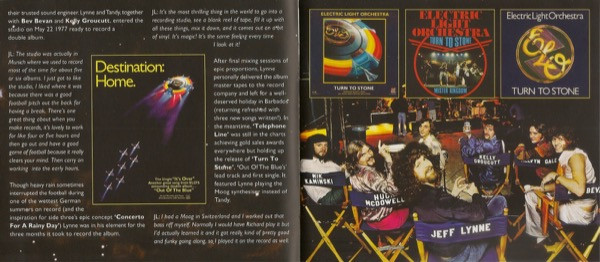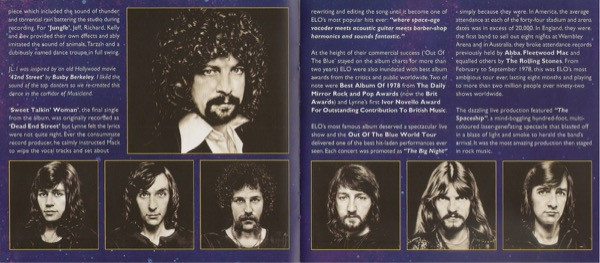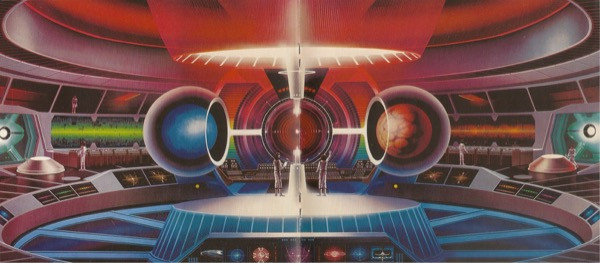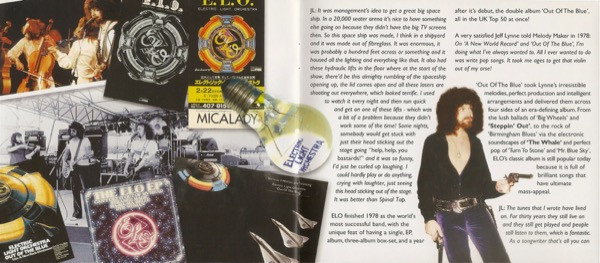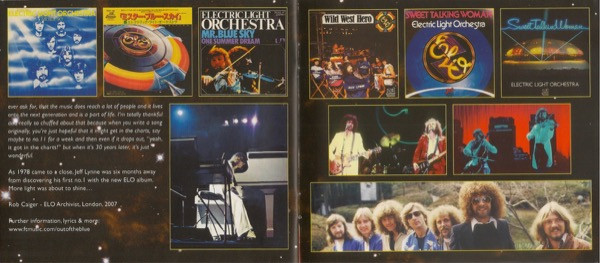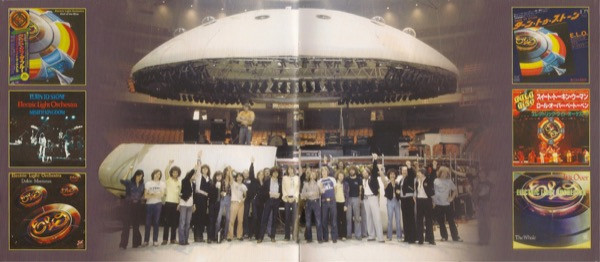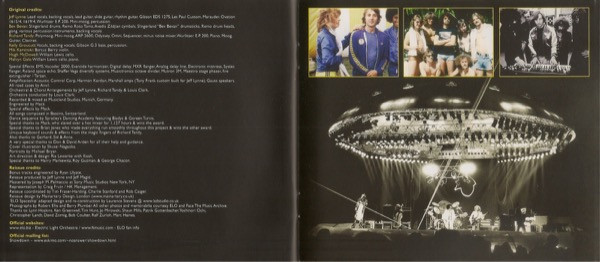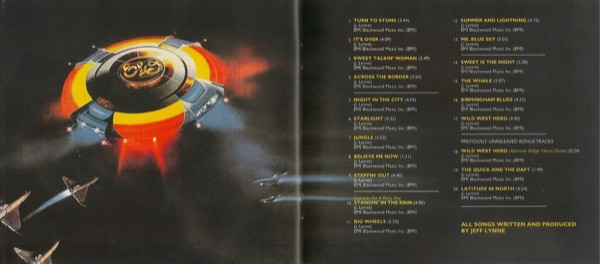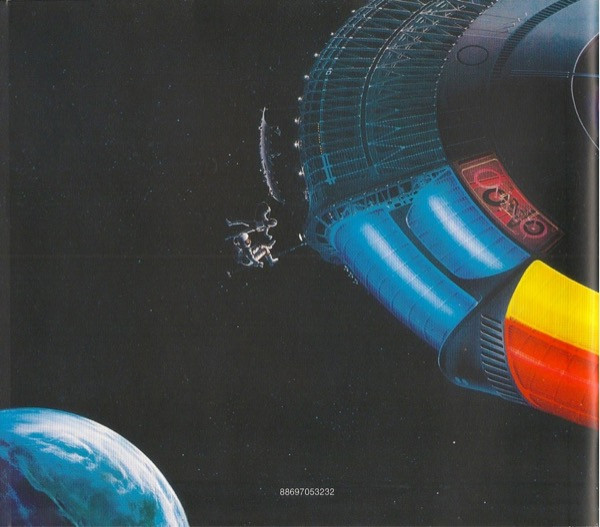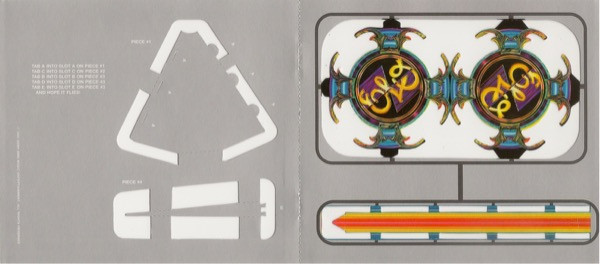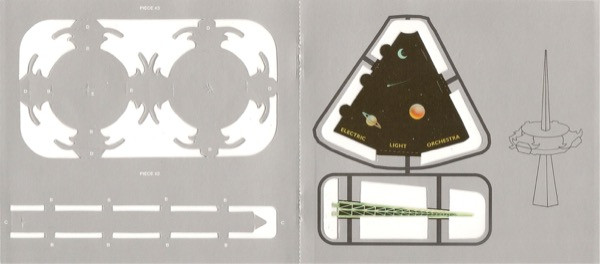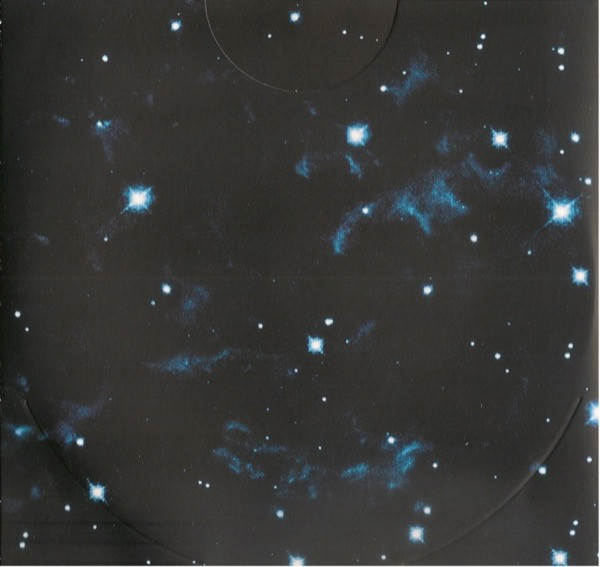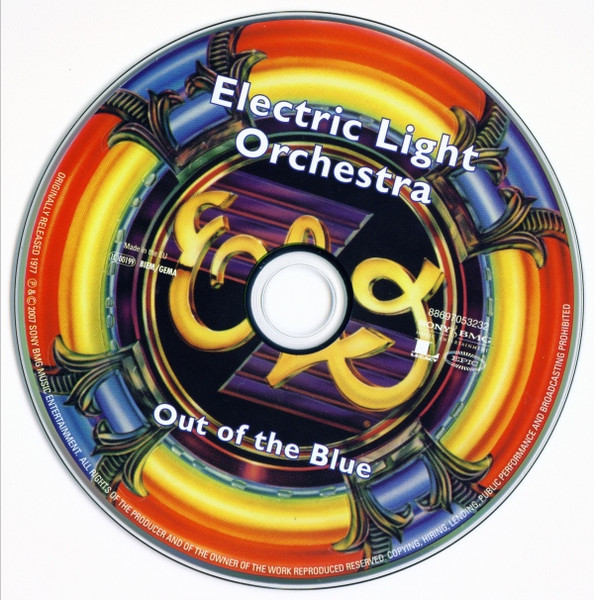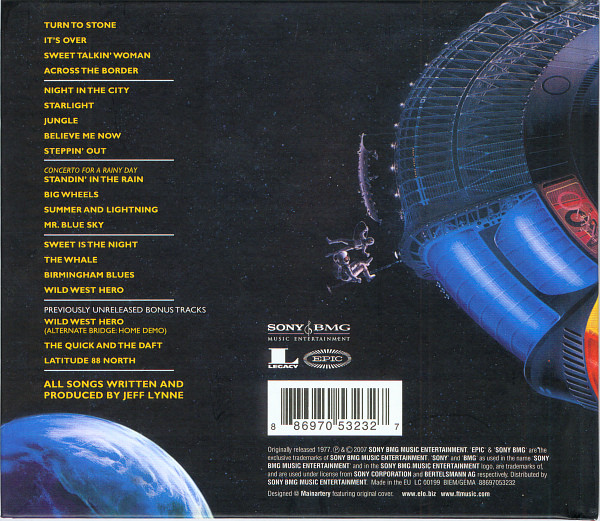 Cover design by: Kosh/Ria Lewerke
Label: Epic, 88697053232. (30'th anniversary edition)(hard box)
Barcode: 886970532327
Country: EEC
Item: 319
Discogs: https://www.discogs.com/release/1524544-Electric-Light-Orchestra-Out-Of-The-Blue
Runout A: IFPI LB 50 IFPI 0786 [Sony BMG Music Entertainment logo] 52112692/82796942722 21

A1: Turn to stone (Jeff Lynne) (3:44)
A2: It's over (Jeff Lynne) (4:09)
A3: Sweet talkin' woman (Jeff Lynne) (3:49)
A4: Across the border (Jeff Lynne) (3:54)
A5: Night in the city (Jeff Lynne) (4:04)
A6: Starlight (Jeff Lynne) (4:32)
A7: Jungle (Jeff Lynne) (3:53)
A8: Believe me now (Jeff Lynne) (1:21)
A9: Steppin' out (Jeff Lynne) (4:40)
A10: Standin' in the rain (Jeff Lynne) (4:00)
A11: Big wheels (Jeff Lynne) (5:32)
A12: Summer and lightning (Jeff Lynne) (4:15)
A13: Mr. Blue Sky (Jeff Lynne) (5:03)
A14: Sweet is the night (Jeff Lynne) (3:28)
A15: The Whale (Jeff Lynne) (5:07)
A16: Birmingham blues (Jeff Lynne) (4:23)
A17: Wild west hero (Jeff Lynne) (4:40)
A18: Wild west hero (Jeff Lynne) (0:24) (alternative bridge home demo)
A19: The Quick and the Draft (Jeff Lynne) (1:49)
A20: Latitude 88 north (Jeff Lynne) (3:24)
________________________________________________________________________________________________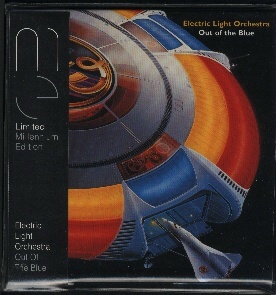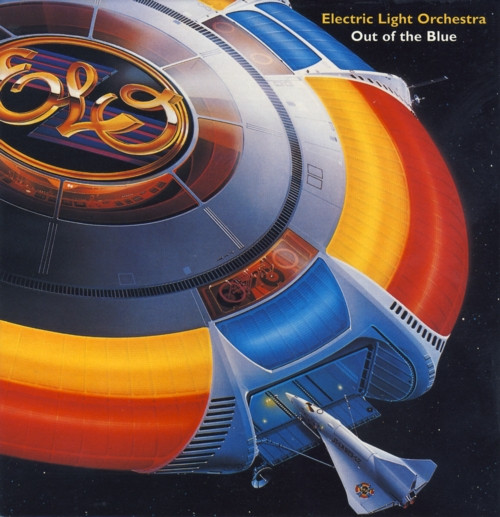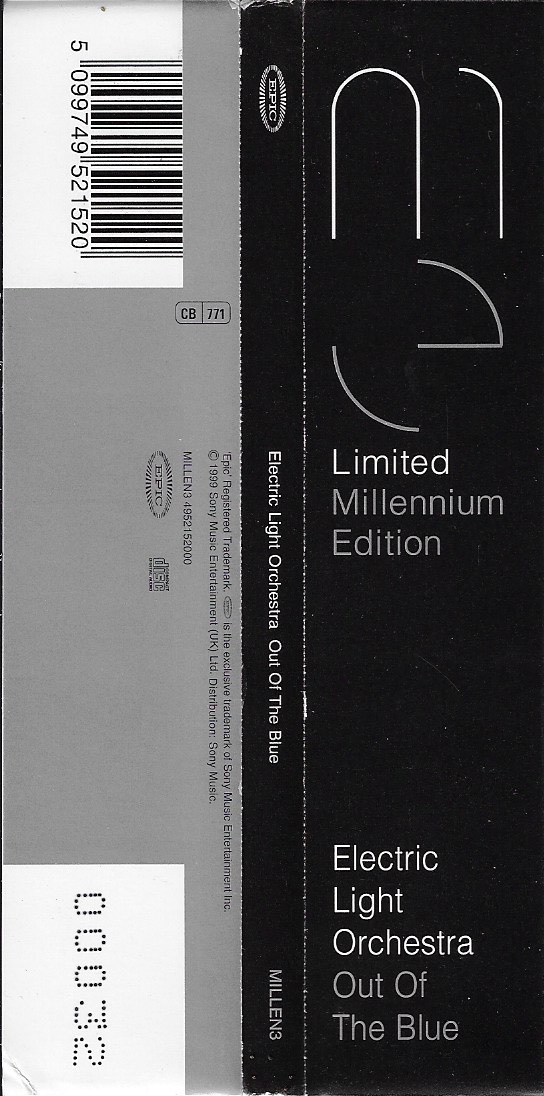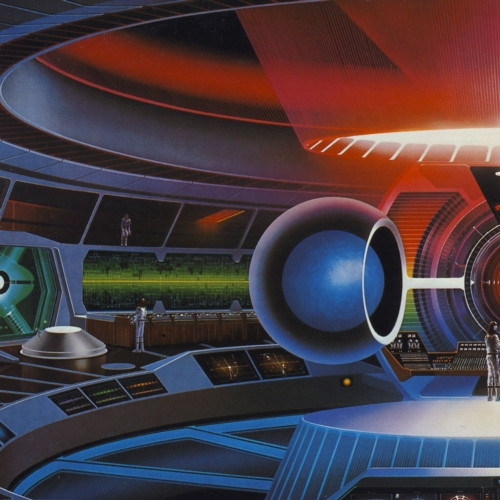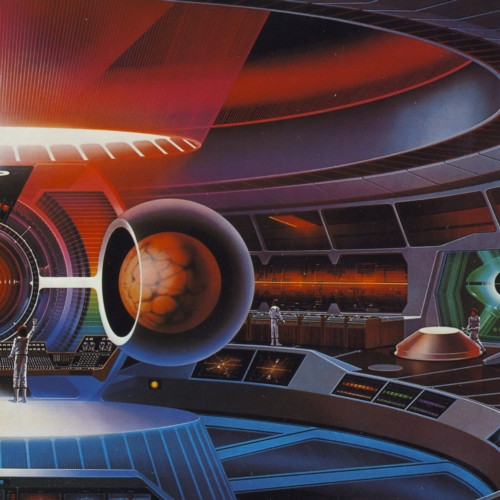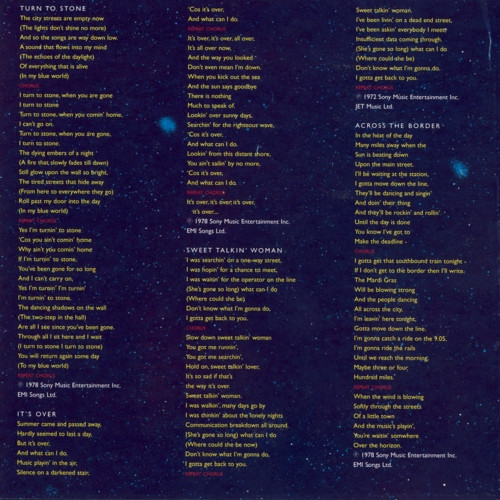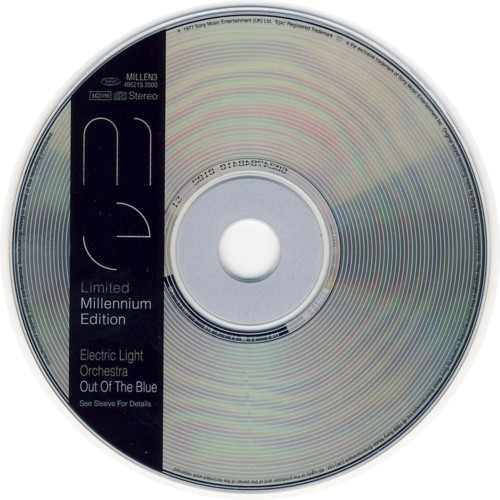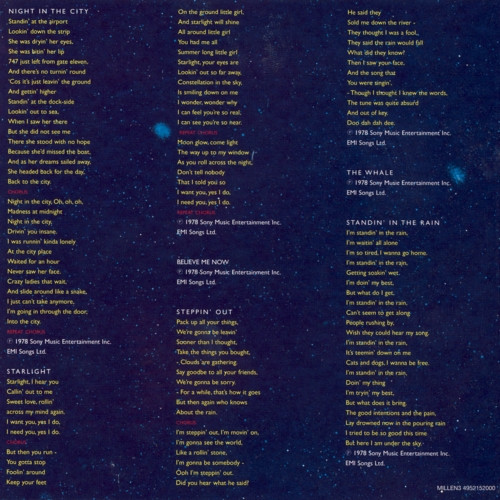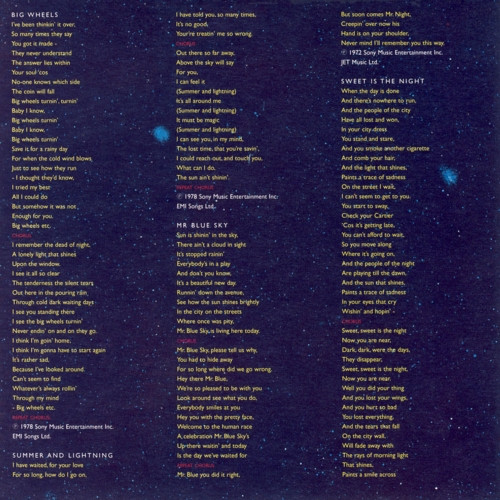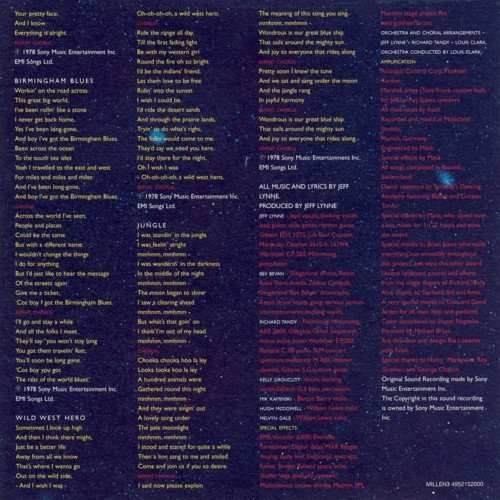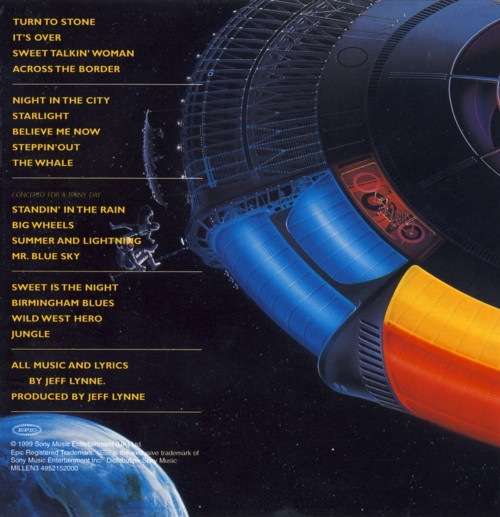 Cover design by: Kosh/Ria Lewerke
Label: Epic, MILLEN3. (Limited Millennium edition 00032)
Barcode: 5099749521520
Country: UK
Item: 320
Discogs: https://www.discogs.com/release/4509035-Electric-Light-Orchestra-Out-Of-The-Blue
Runout A: IFPI L551 S0247848410-0102 51 C3

A1: Turn to stone (Jeff Lynne) (3:47)
A2: It's over (Jeff Lynne) (4:08)
A3: Sweet talkin' woman (Jeff Lynne) (3:48)
A4: Across the border (Jeff Lynne) (3:53)
A5: Night in the city (Jeff Lynne) (4:01)
A6: Starlight (Jeff Lynne) (4:26)
A7: Believe me now (Jeff Lynne) (1:21)
A8: Steppin' out (Jeff Lynne) (4:38)
A9: The Whale (Jeff Lynne) (5:01)
A10: Standin' in the rain (Jeff Lynne) (4:21)
A11: Big wheels (Jeff Lynne) (5:05)
A12: Summer and lightning (Jeff Lynne) (4:14)
A13: Mr. Blue Sky (Jeff Lynne) (5:05)
A14: Sweet is the night (Jeff Lynne) (3:26)
A15: Birmingham blues (Jeff Lynne) (4:22)
A16: Wild west hero (Jeff Lynne) (4:41)
A17: Jungle (Jeff Lynne) (3:51)
________________________________________________________________________________________________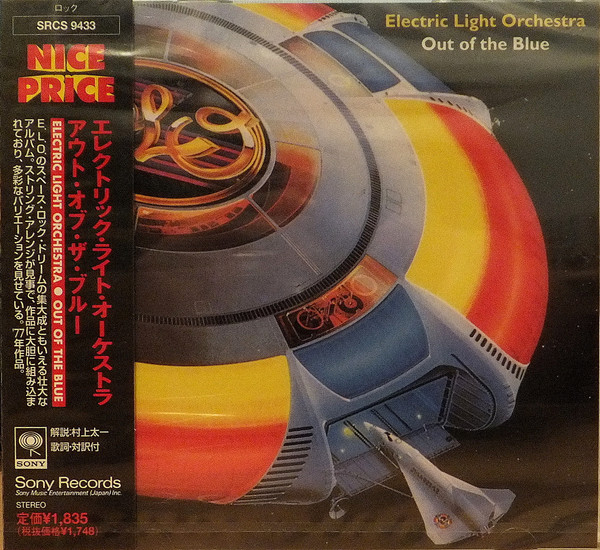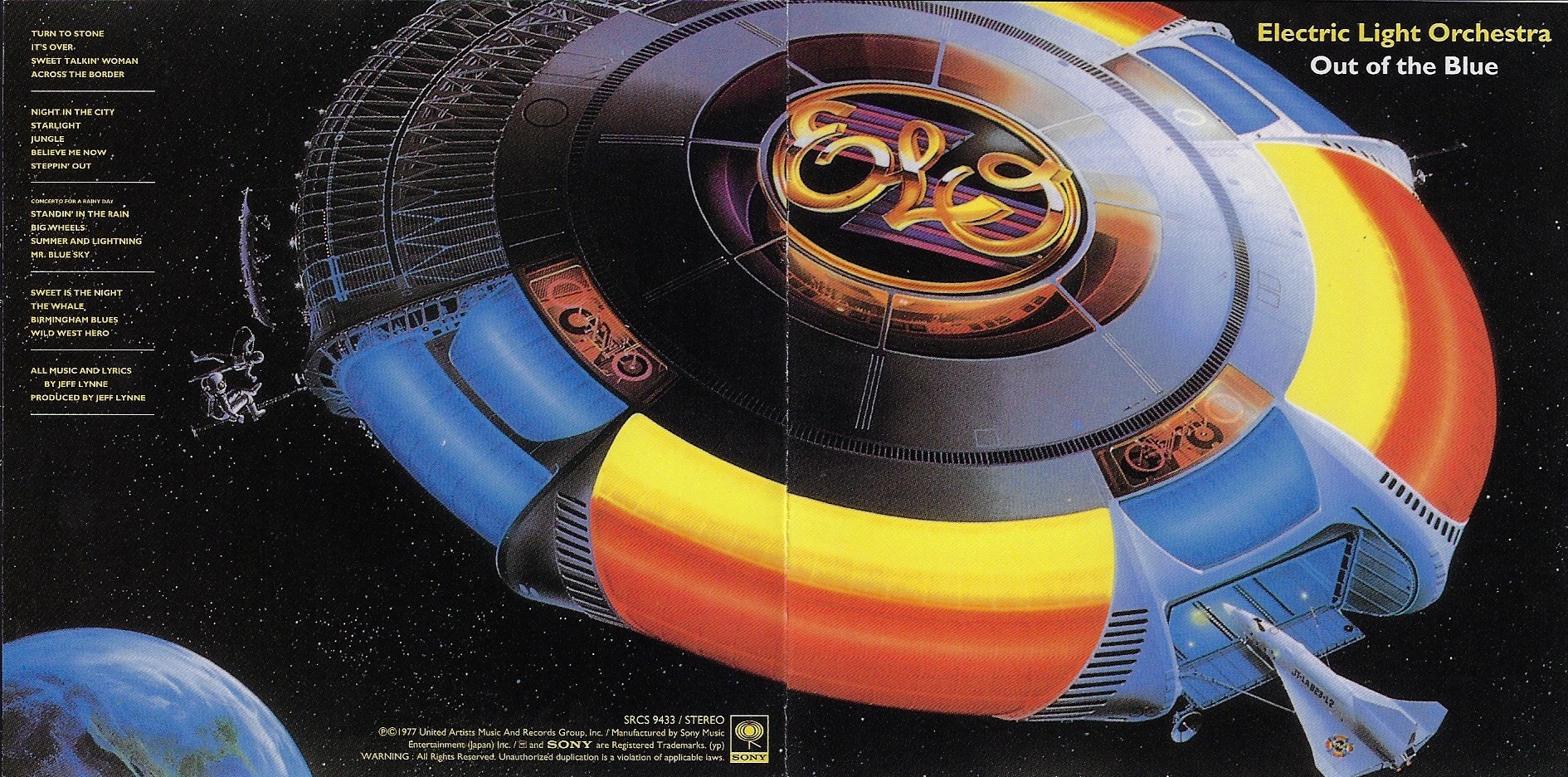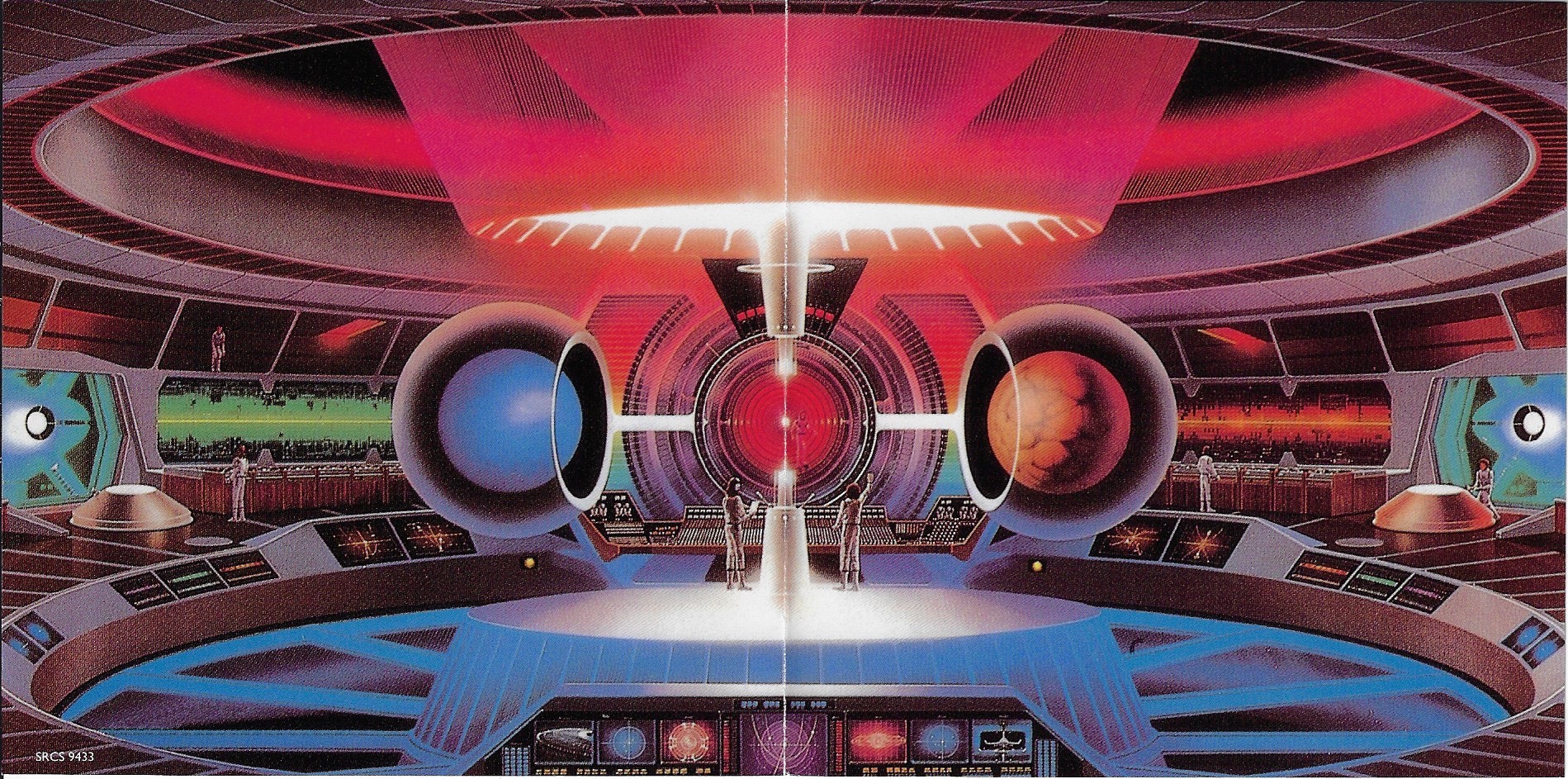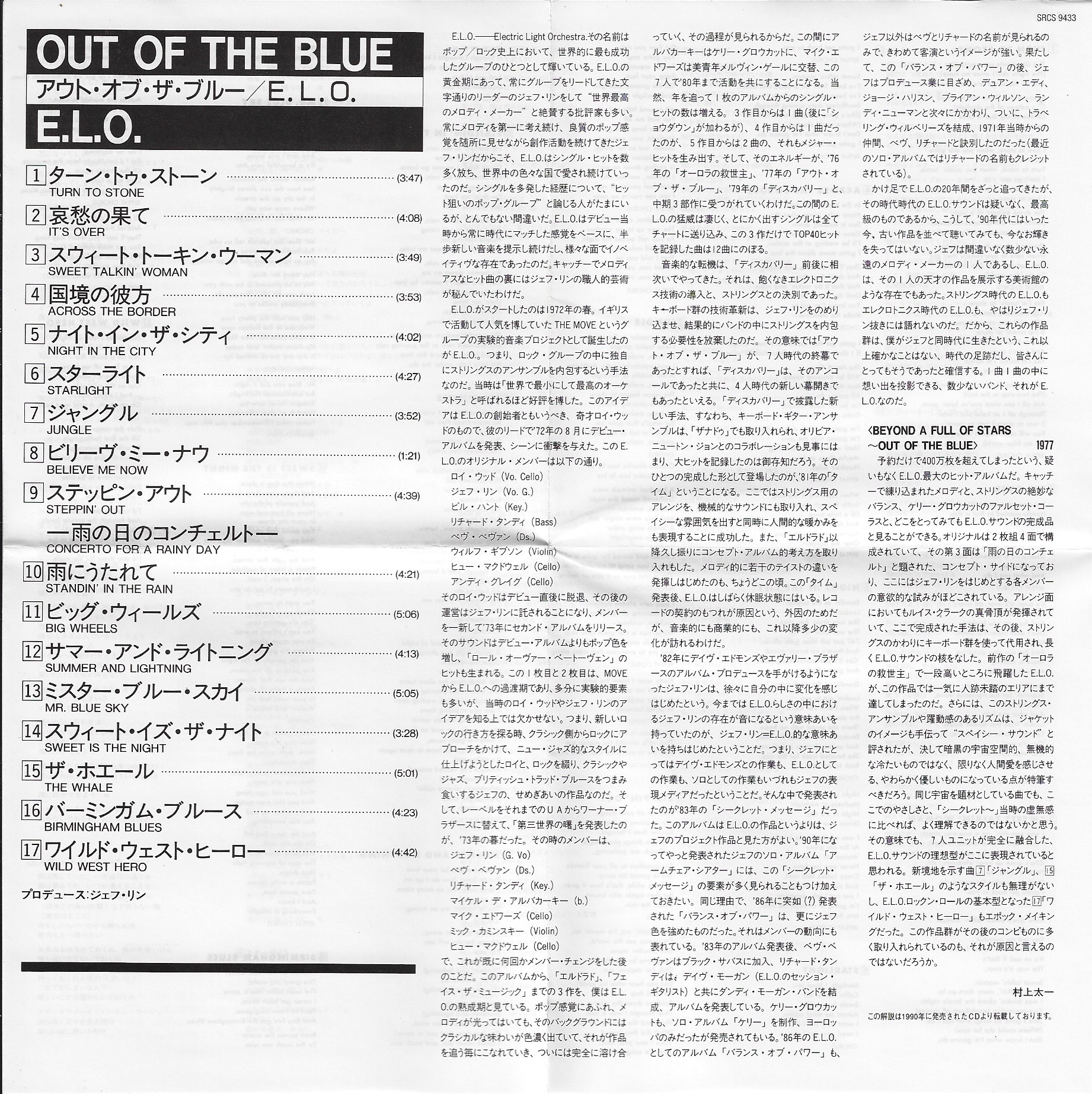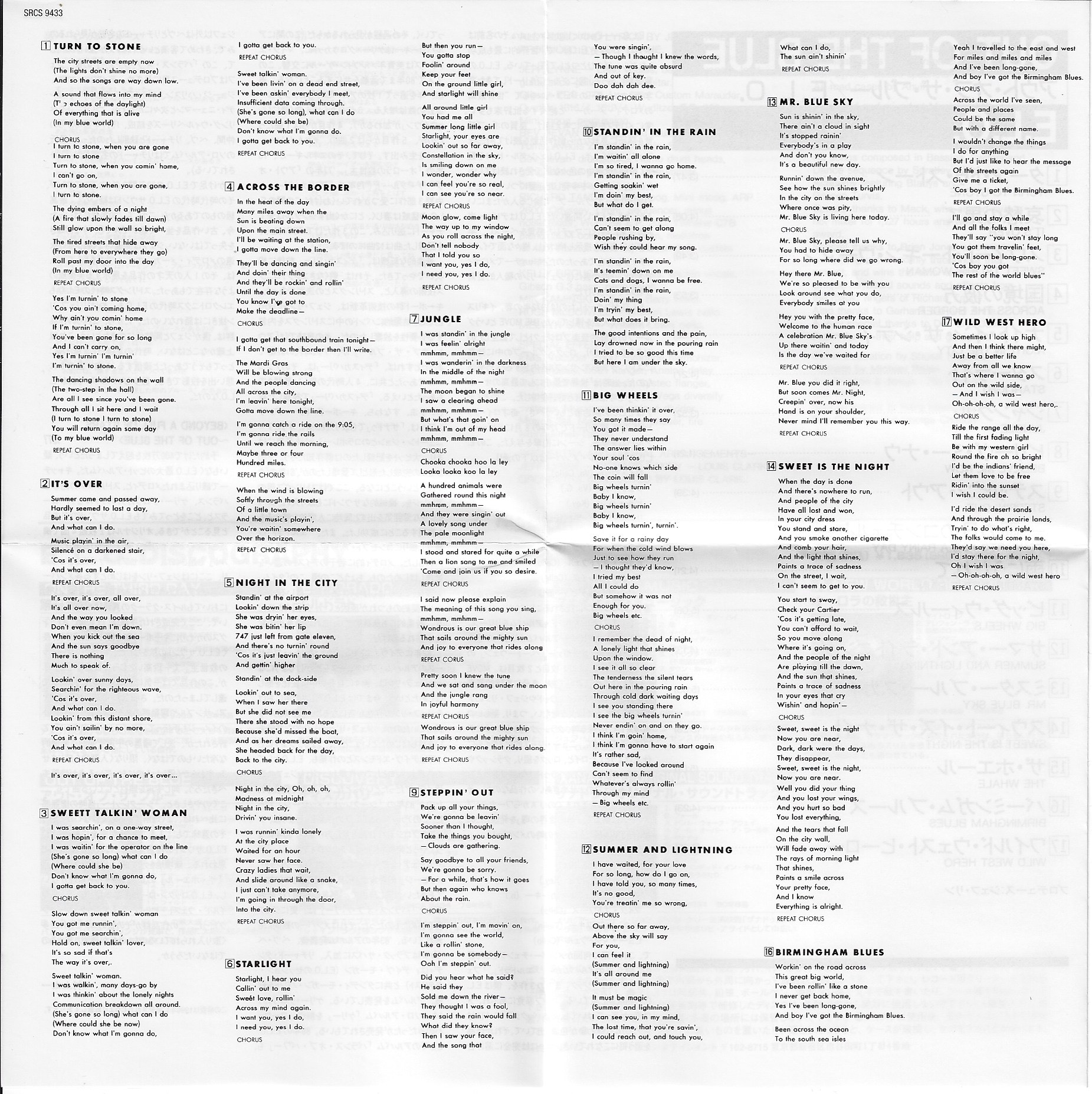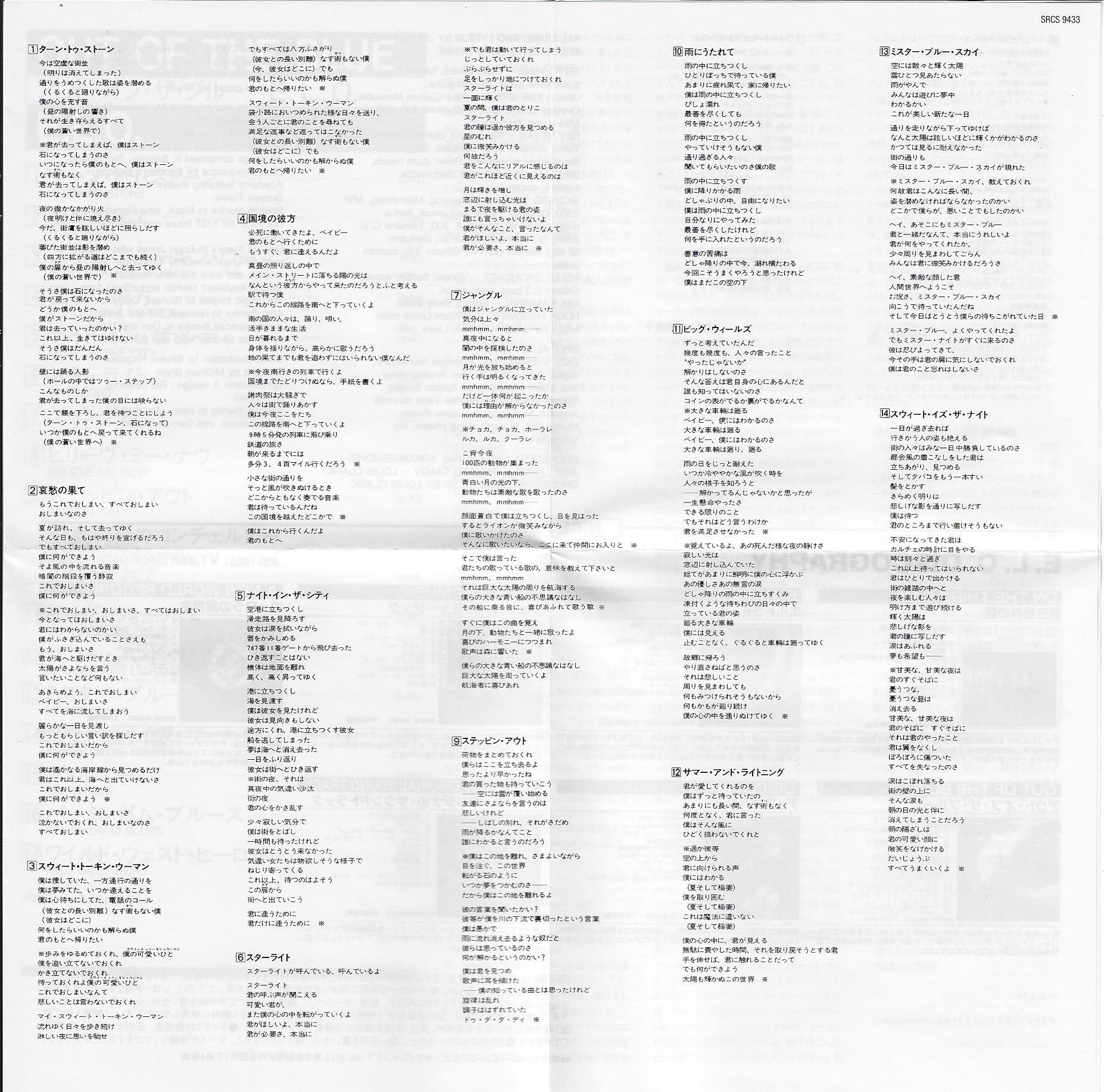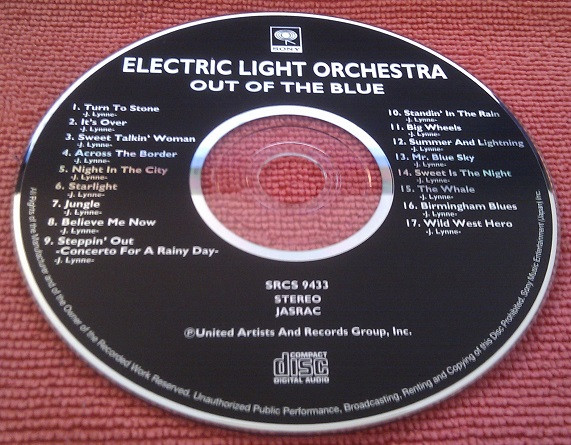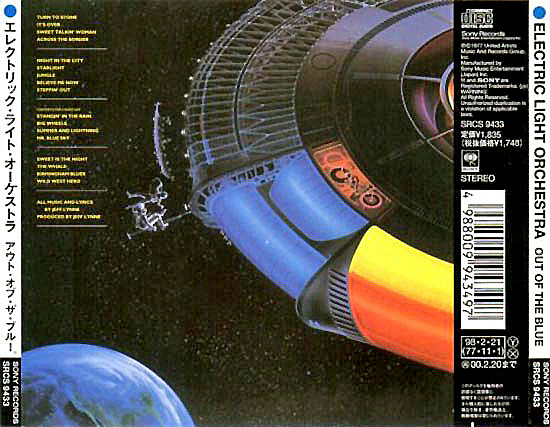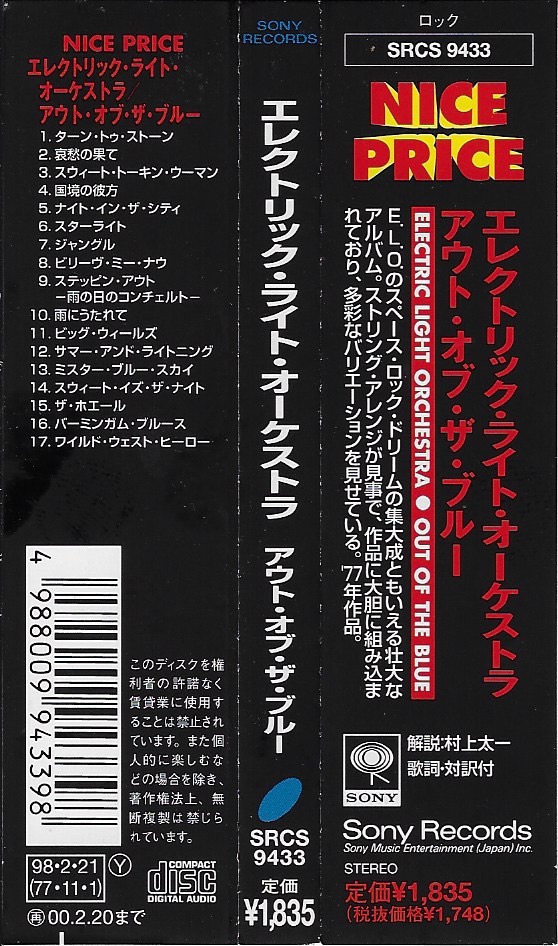 Cover design by: Kosh/Ria Lewerke
Label: Sony Records, SRCS 9433
Barcode: 4988009943497
Country: Japan
Item: 321
Discogs: https://www.discogs.com/release/7467351-Electric-Light-Orchestra-Out-Of-The-Blue
Runout A: IFPI L275 DPA-213 3

A1: Turn to stone (Jeff Lynne) (3:47)
A2: It's over (Jeff Lynne) (4:08)
A3: Sweet talkin' woman (Jeff Lynne) (3:48)
A4: Across the border (Jeff Lynne) (3:53)
A5: Night in the city (Jeff Lynne) (4:01)
A6: Starlight (Jeff Lynne) (4:26)
A7: Jungle (Jeff Lynne) (3:51)
A8: Believe me now (Jeff Lynne) (1:21)
A9: Steppin' out (Jeff Lynne) (4:38)
A10: Standin' in the rain (Jeff Lynne) (4:21)
A11: Big wheels (Jeff Lynne) (5:05)
A12: Summer and lightning (Jeff Lynne) (4:14)
A13: Mr. Blue Sky (Jeff Lynne) (5:05)
A14: Sweet is the night (Jeff Lynne) (3:26)
A15: The Whale (Jeff Lynne) (5:01)
A16: Birmingham blues (Jeff Lynne) (4:22)
A17: Wild west hero (Jeff Lynne) (4:41)
________________________________________________________________________________________________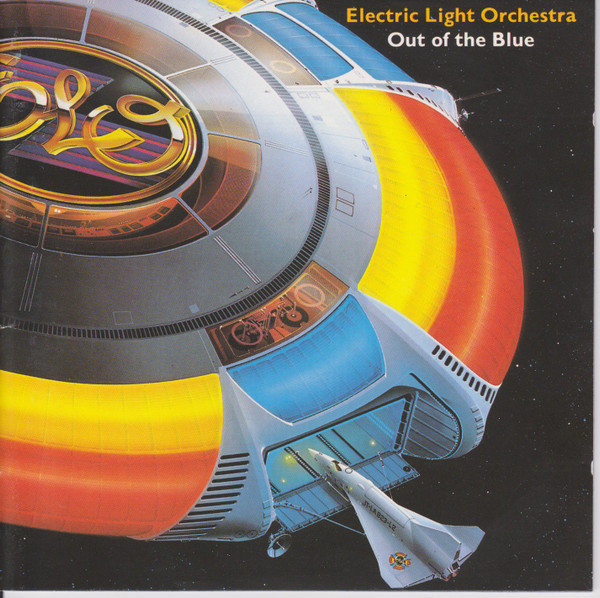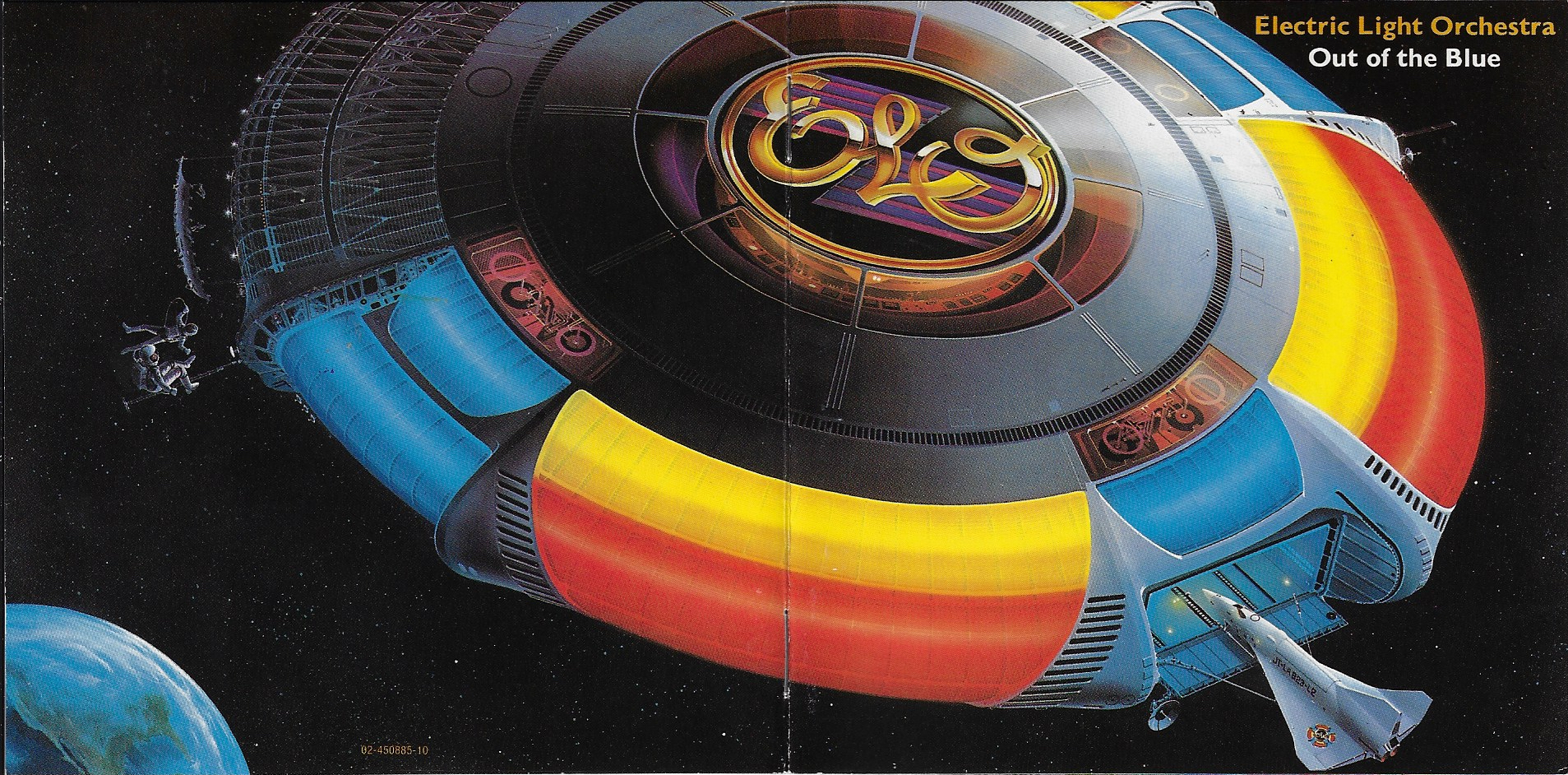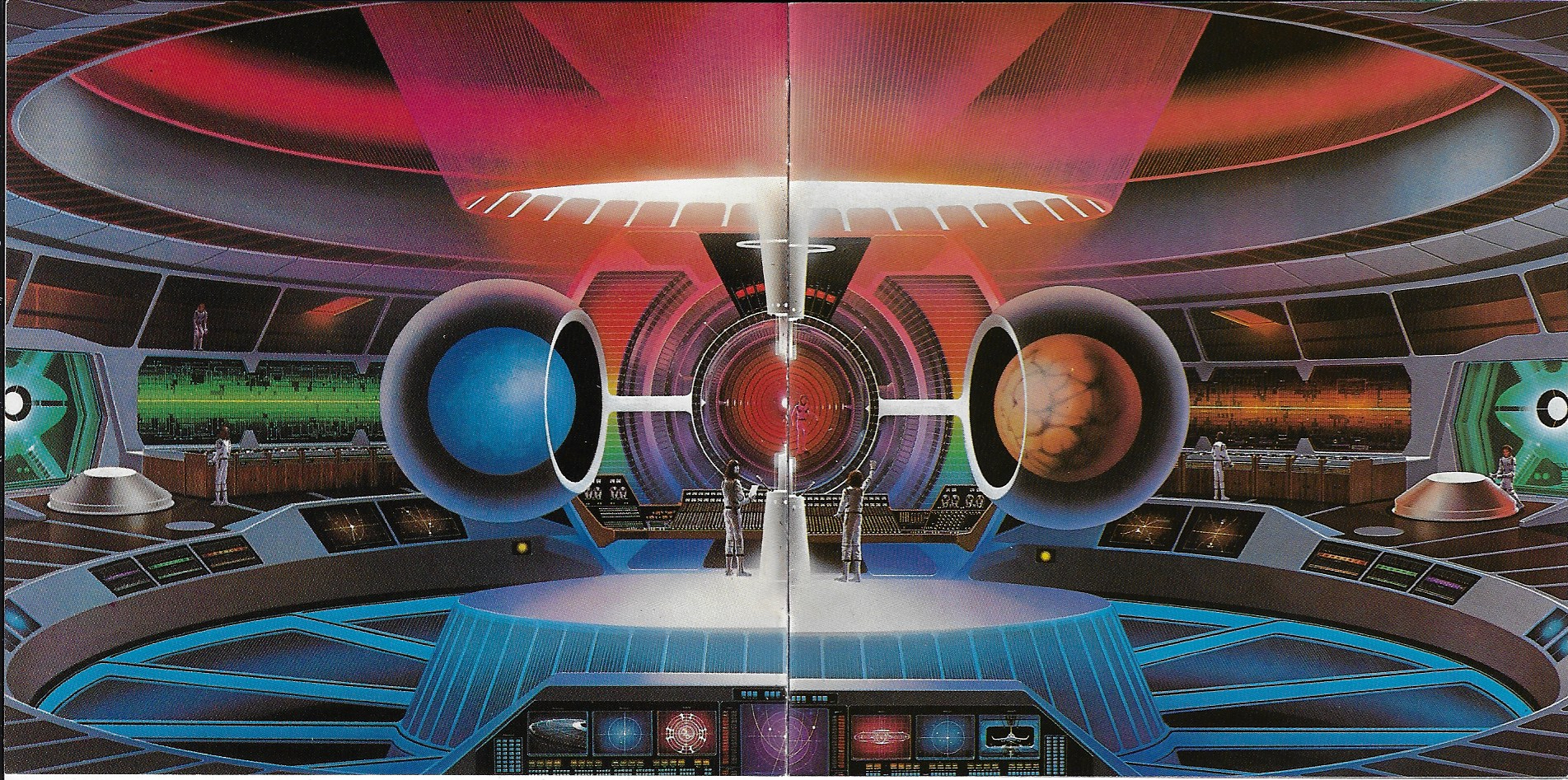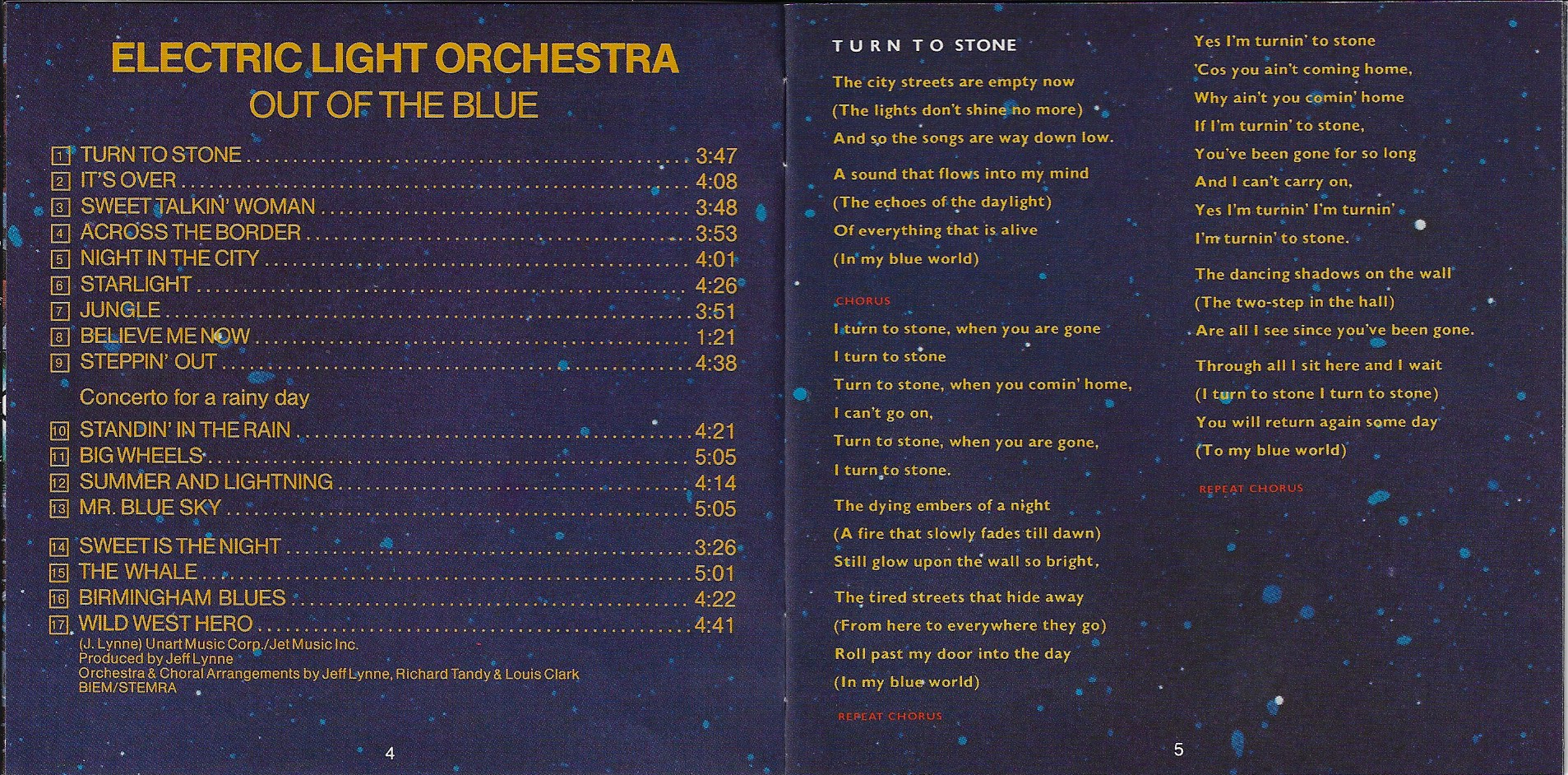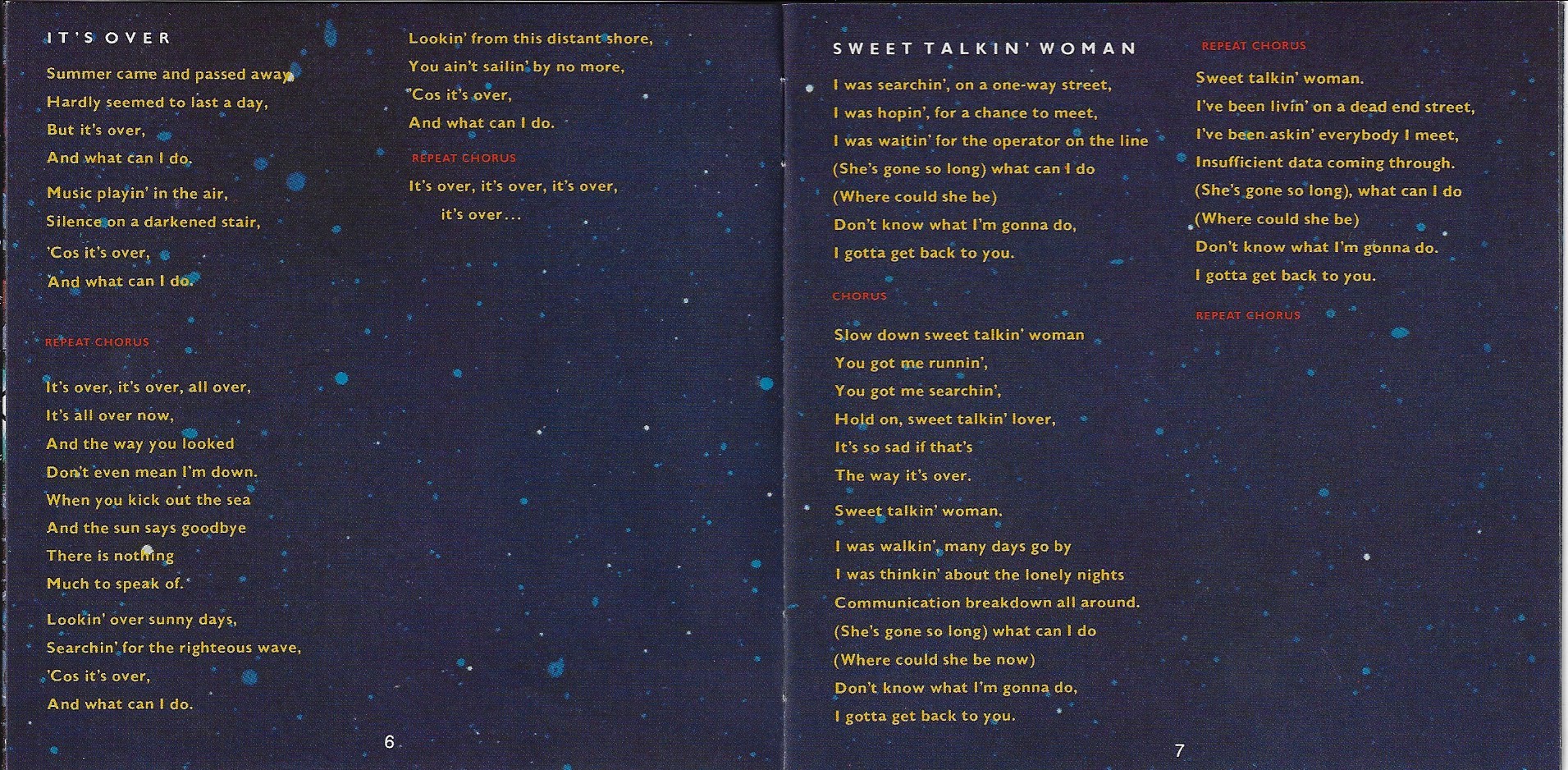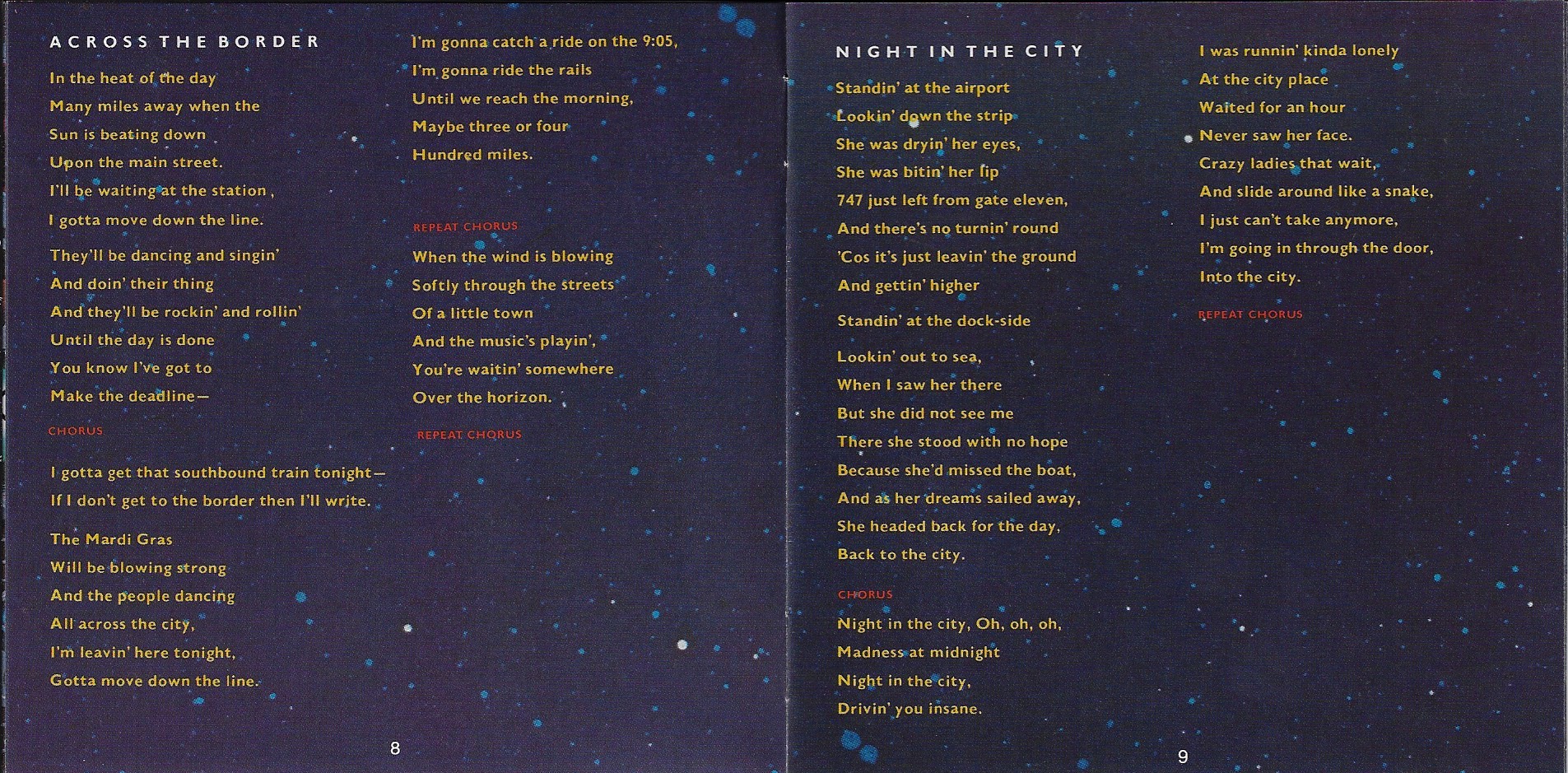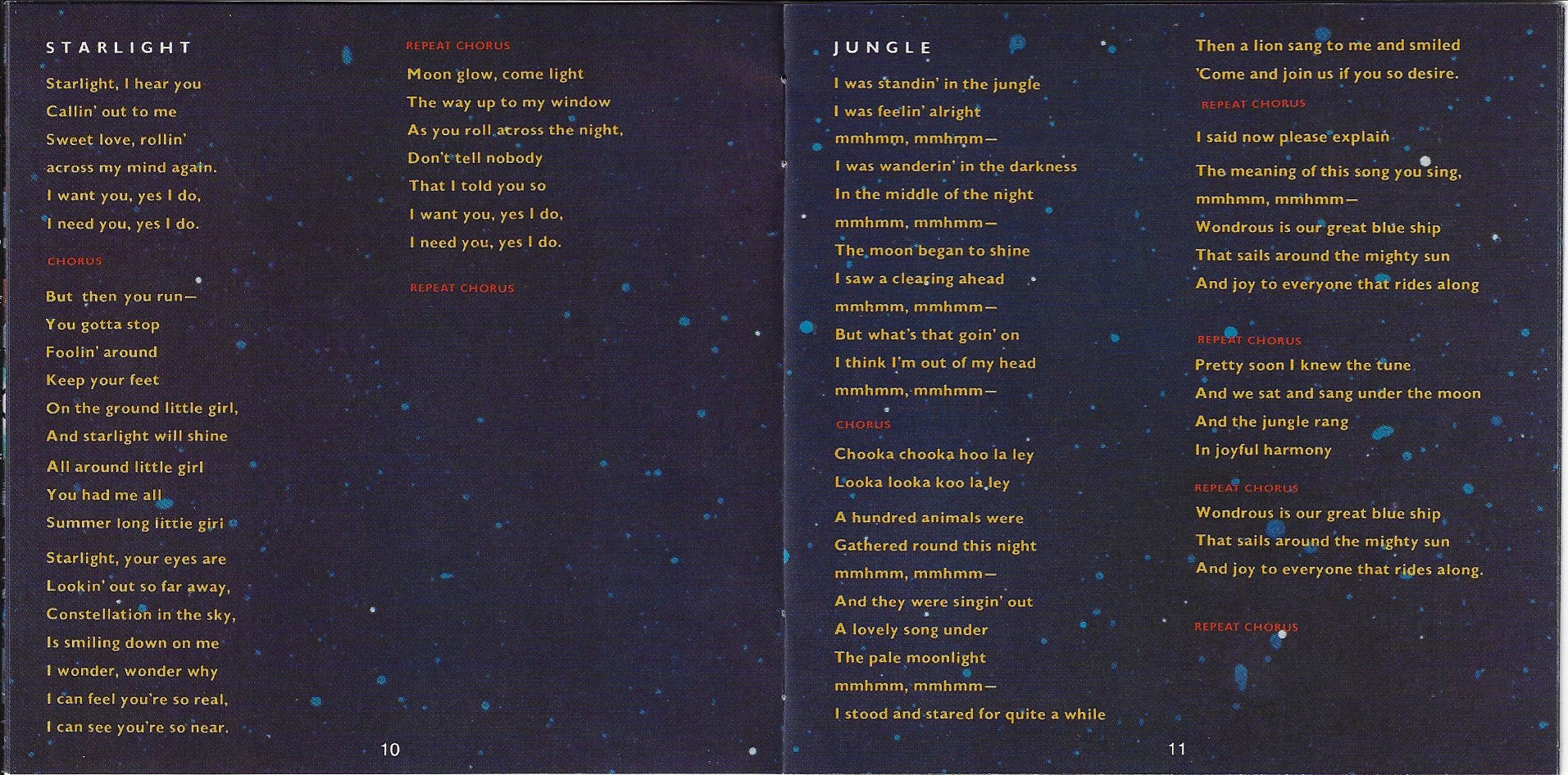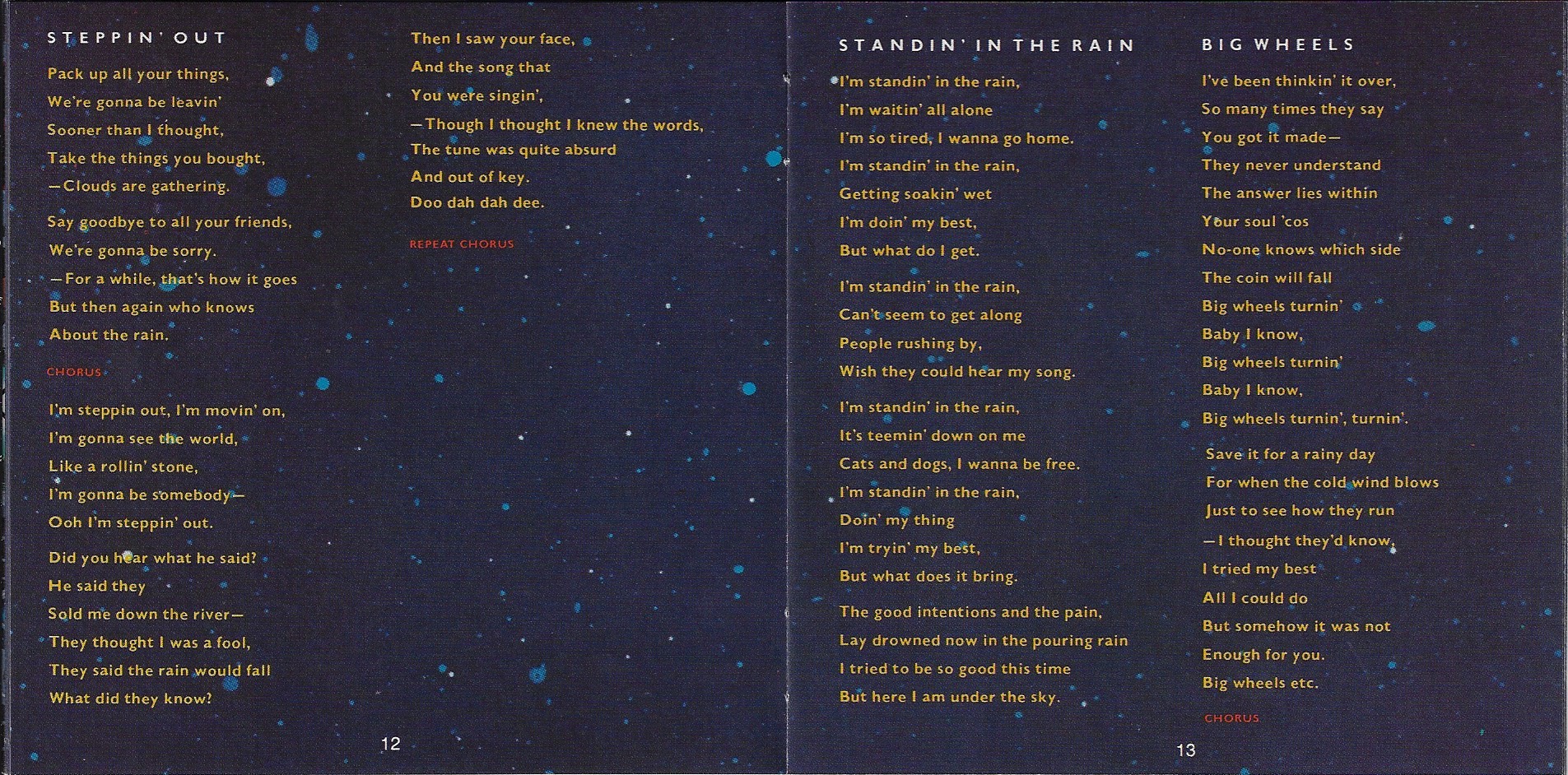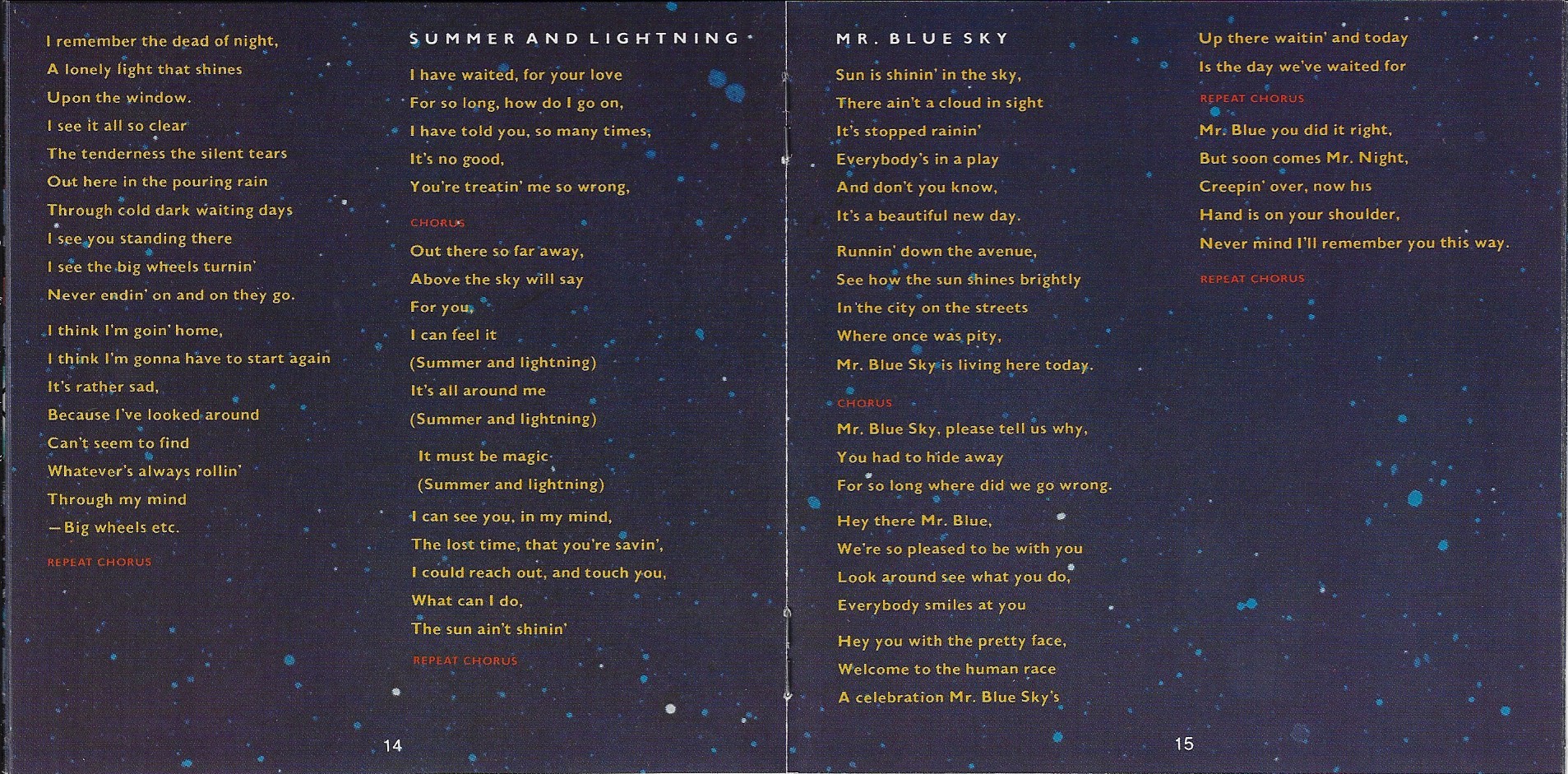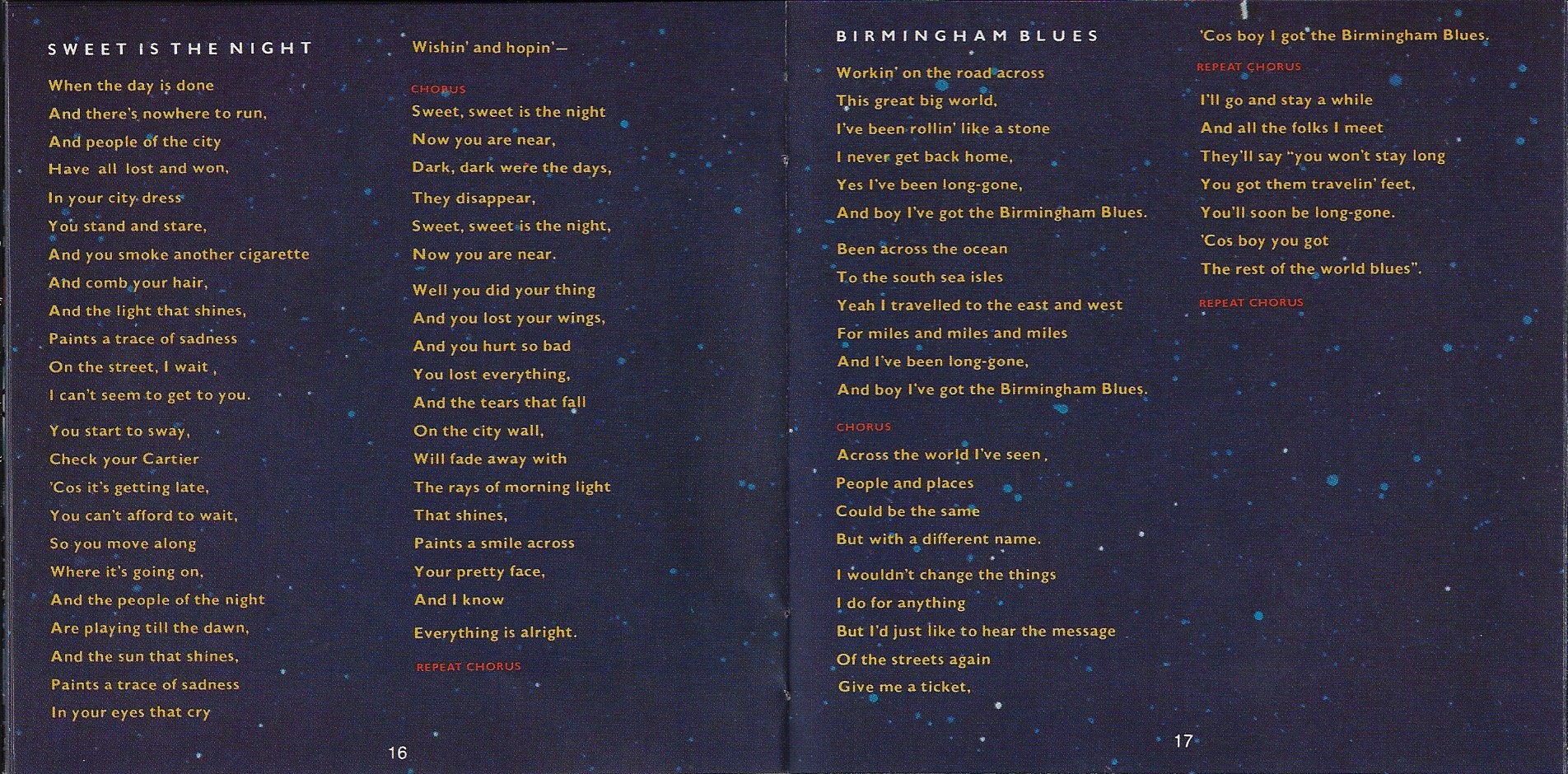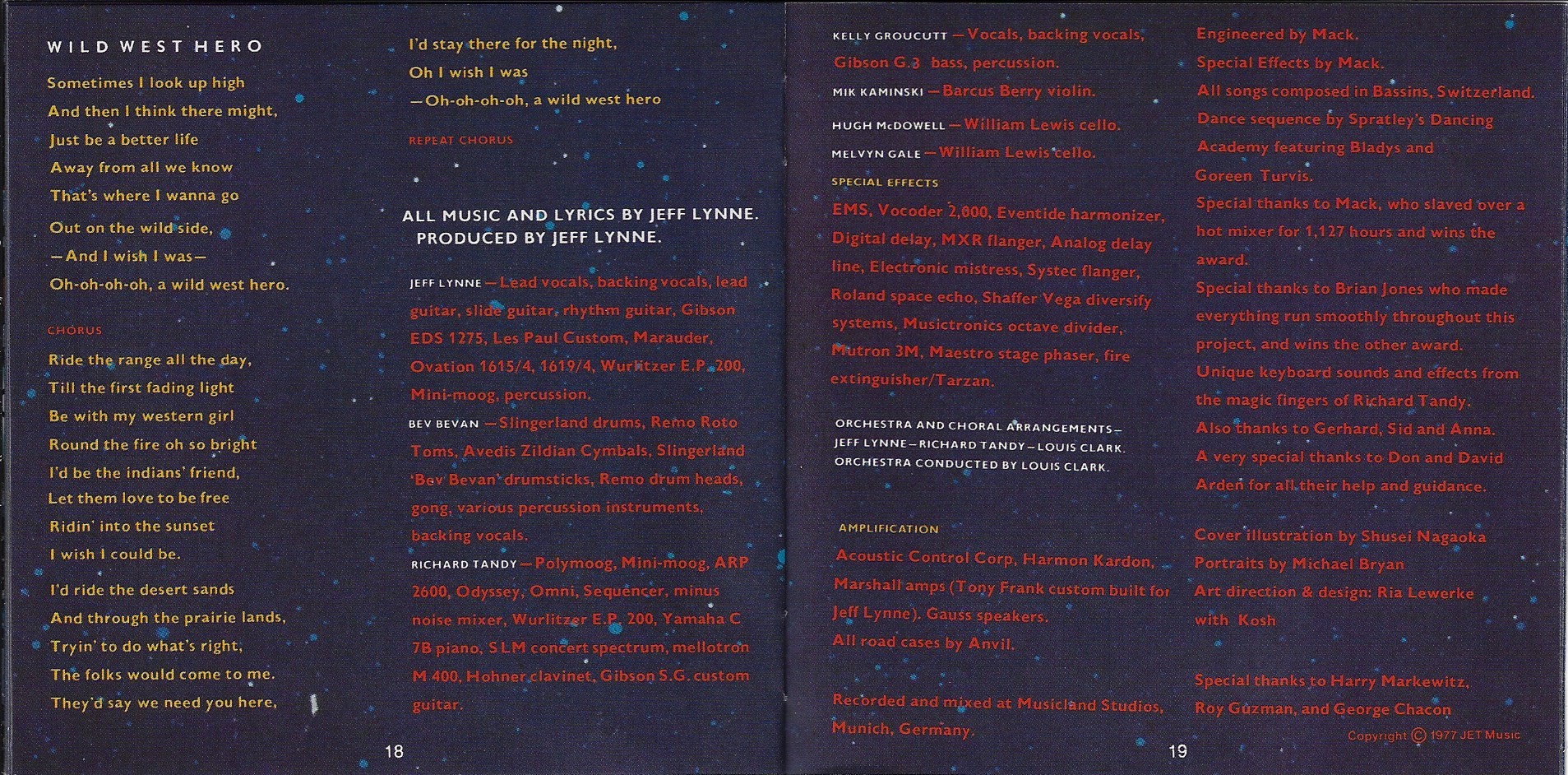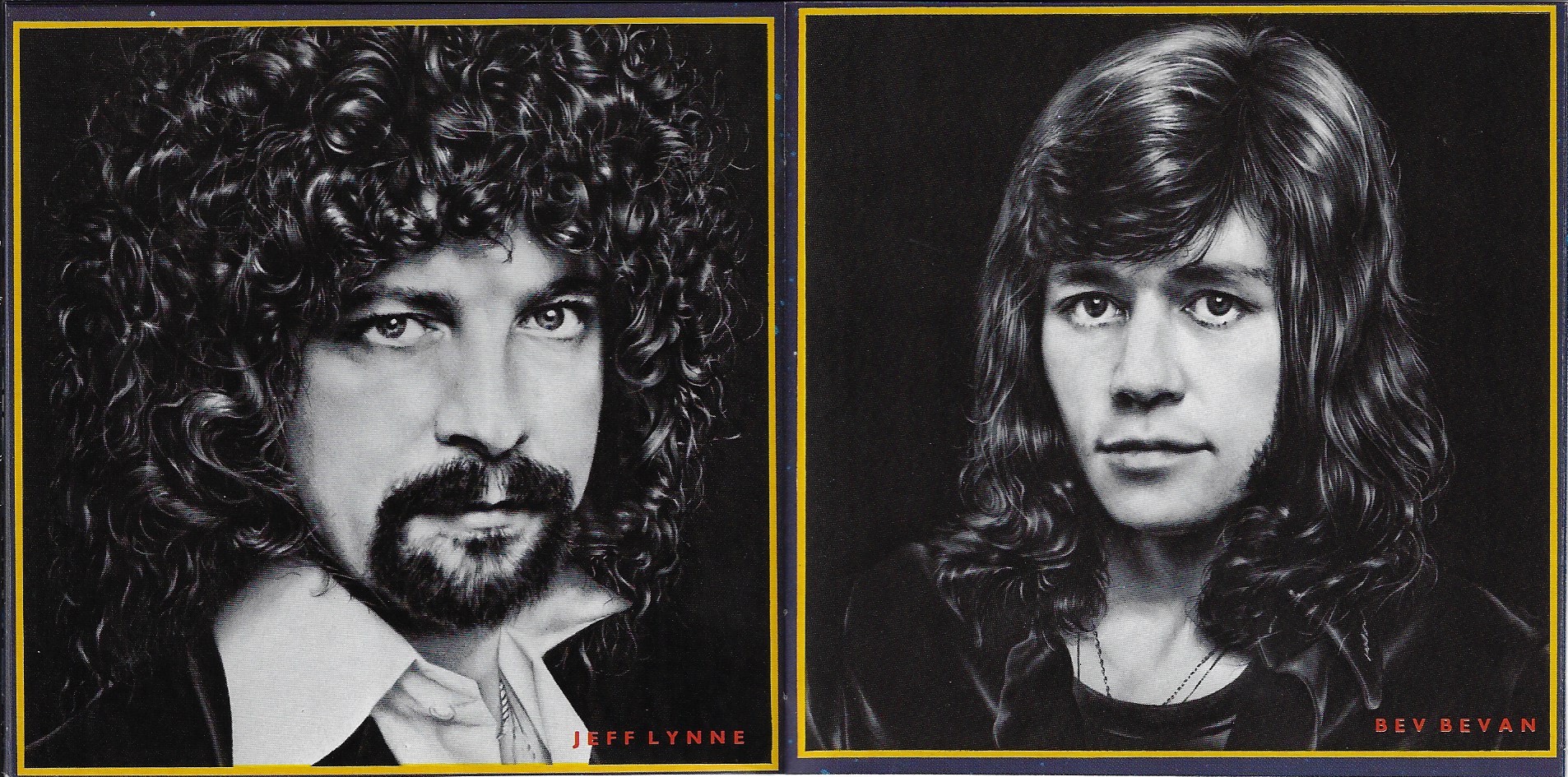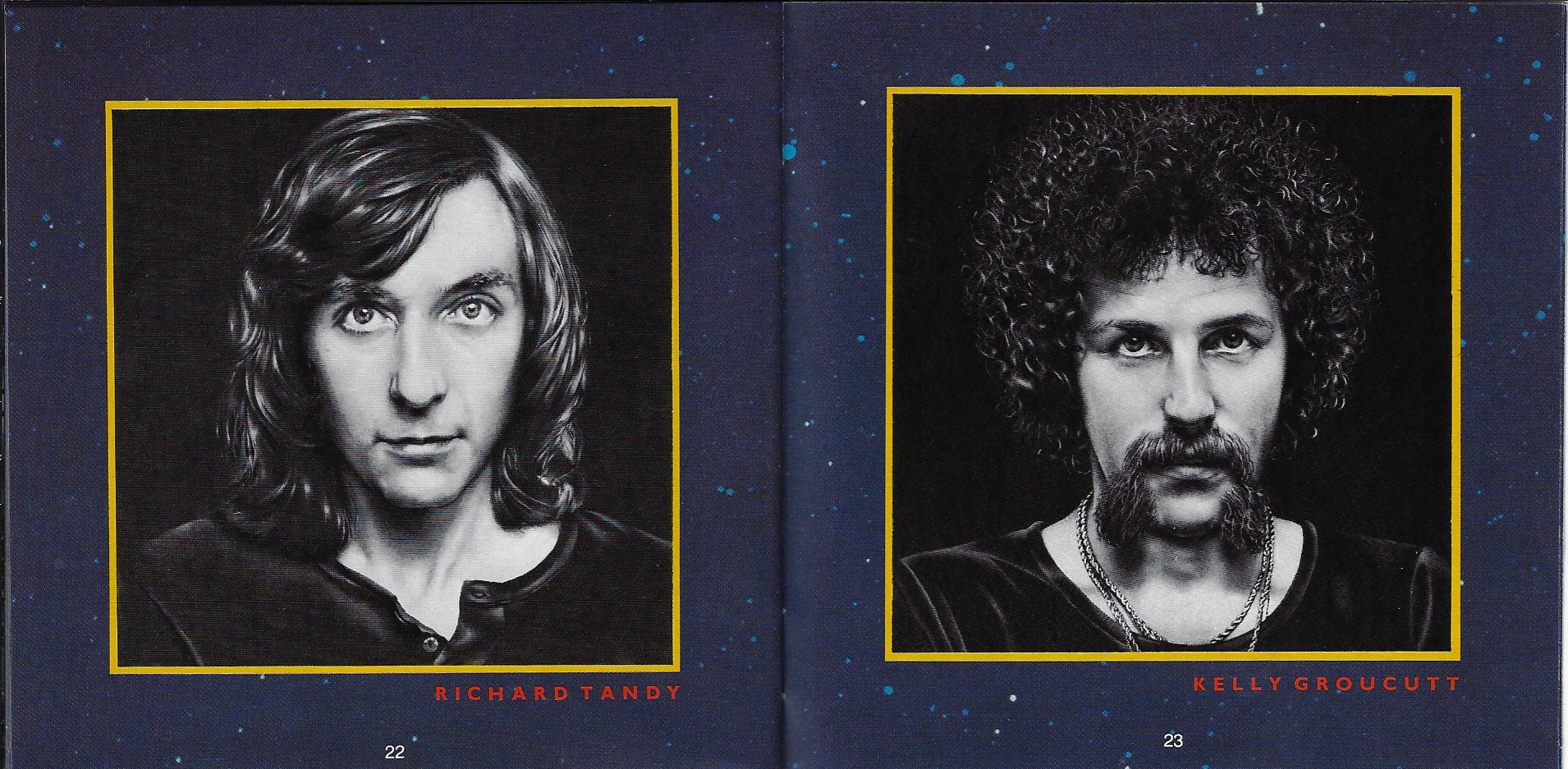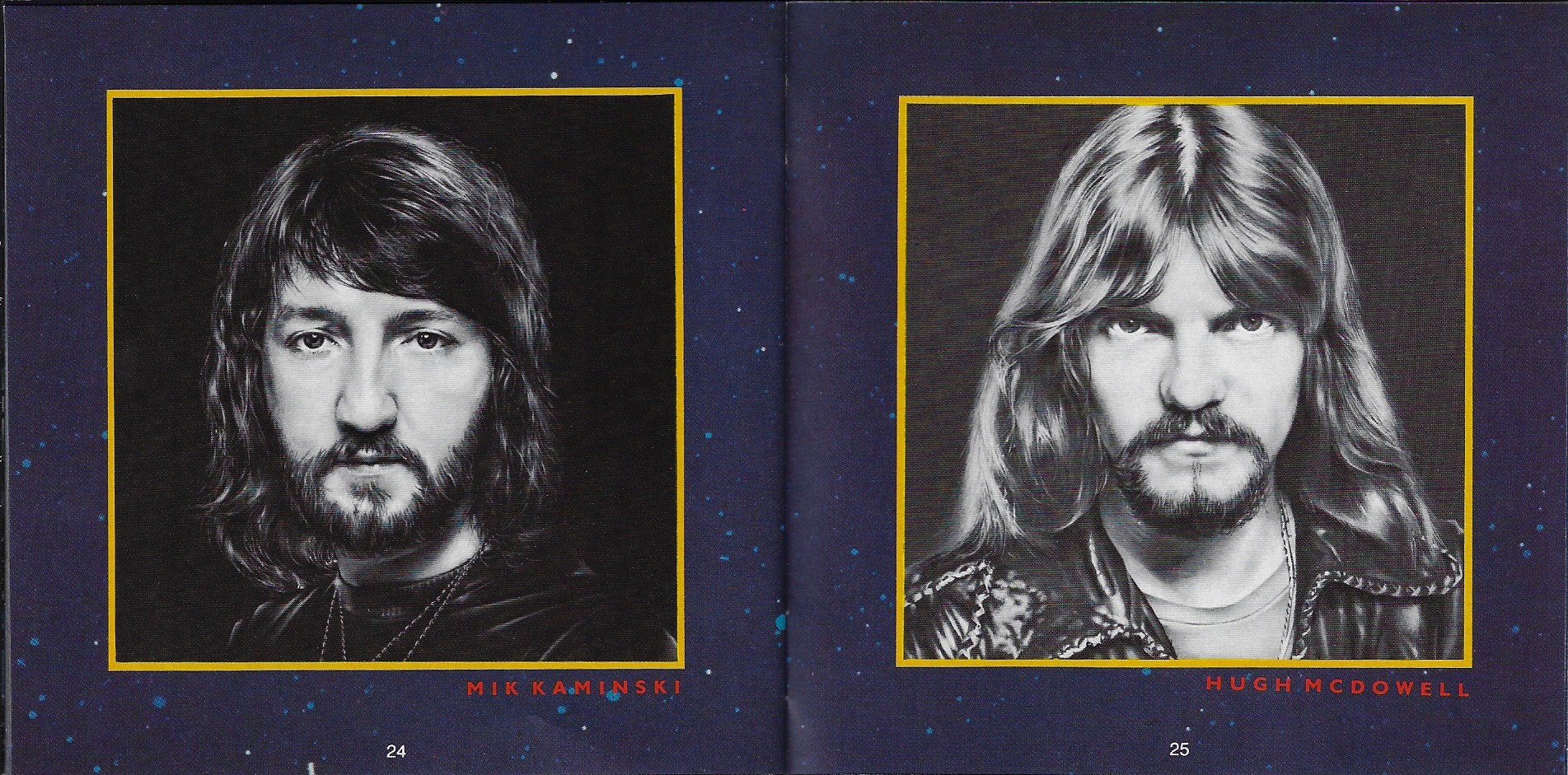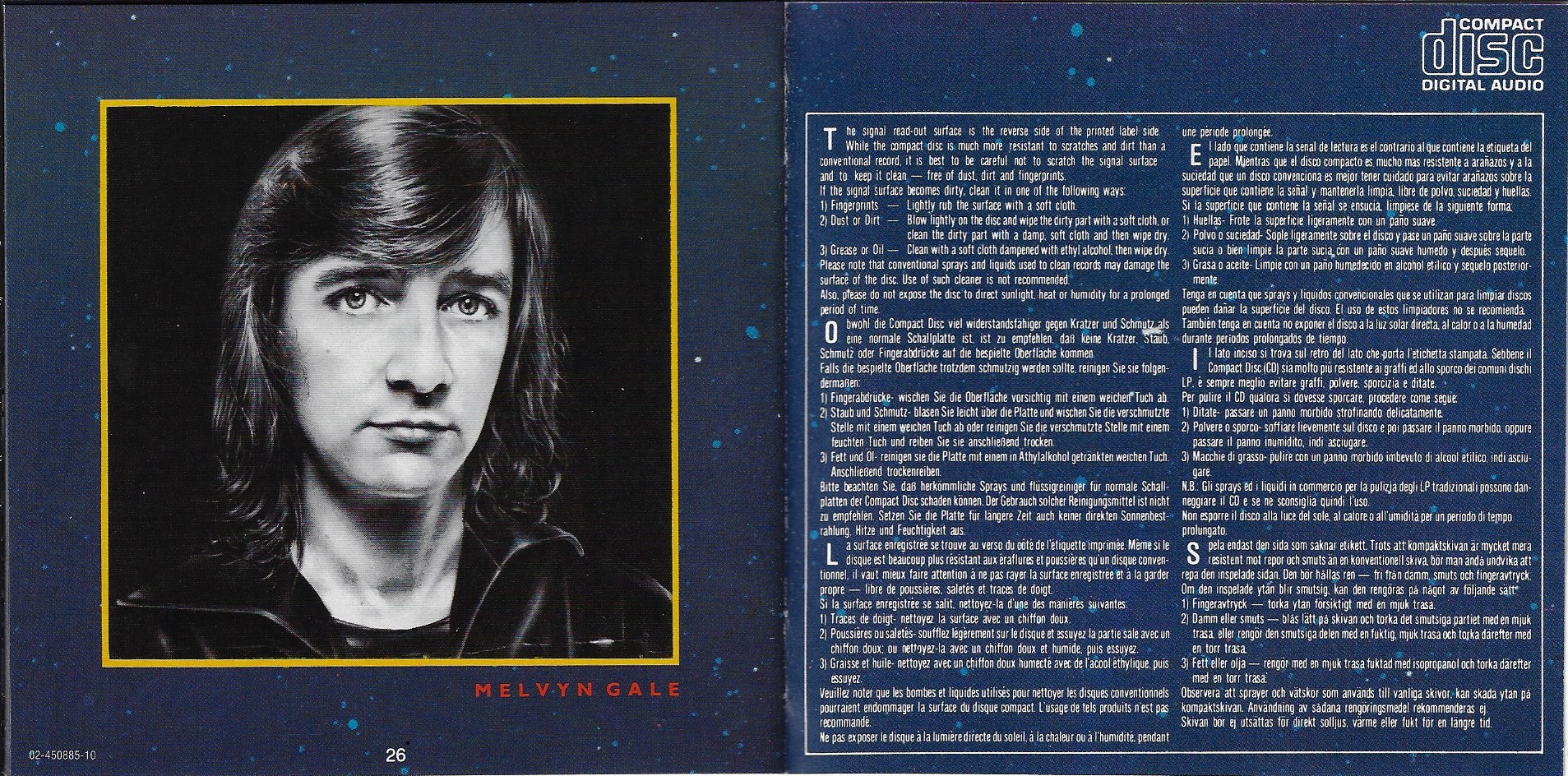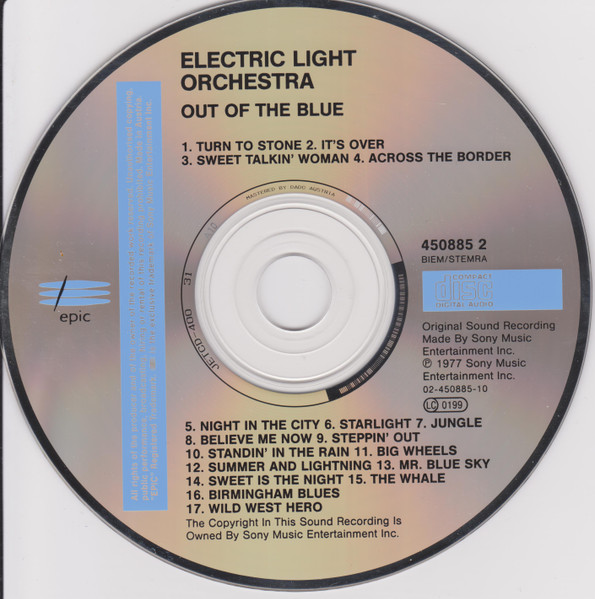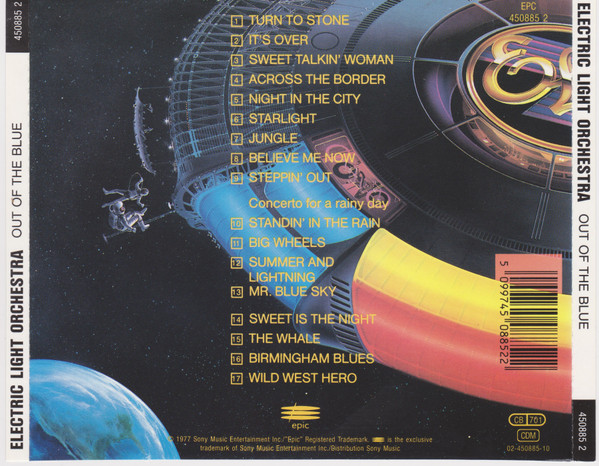 Cover design by: Kosh/Ria Lewerke
Label: Epic, 450885 2
Barcode: 5099745088522
Country: EEC
Item: 317
Discogs: https://www.discogs.com/release/9152798-Electric-Light-Orchestra-Out-Of-The-Blue
Runout A: JETCD-400 31 A10 MASTERED BY DADC AUSTRIA

A1: Turn to stone (Jeff Lynne) (3:47)
A2: It's over (Jeff Lynne) (4:08)
A3: Sweet talkin' woman (Jeff Lynne) (3:48)
A4: Across the border (Jeff Lynne) (3:53)
A5: Night in the city (Jeff Lynne) (4:01)
A6: Starlight (Jeff Lynne) (4:26)
A7: Jungle (Jeff Lynne) (3:51)
A8: Believe me now (Jeff Lynne) (1:21)
A9: Steppin' out (Jeff Lynne) (4:38)
A10: Standin' in the rain (Jeff Lynne) (4:21)
A11: Big wheels (Jeff Lynne) (5:05)
A12: Summer and lightning (Jeff Lynne) (4:14)
A13: Mr. Blue Sky (Jeff Lynne) (5:05)
A14: Sweet is the night (Jeff Lynne) (3:26)
A15: The Whale (Jeff Lynne) (5:01)
A16: Birmingham blues (Jeff Lynne) (4:22)
A17: Wild west hero (Jeff Lynne) (4:41)