ELO CD: Balance of power.
Released: 1986
Produced by: Jeff Lynne
Engineered by: Mack, Bill Bottrell
Recorded in: Musicland Studios, Munich
Jeff Lynne: Lead vocals, backing vocals, guitars, bass guitars, keyboards & piano.
Bev Bevan: Drums & percussion.
Richard Tandy: Keyboards, piano & sequence programming.
Christian Shnieder: Saxophone.

This album achieved (Apr. 1986) a 9 place in United Kingdom and a 49 place in the United States.
The single Calling America (15 Mar. 1986) achieves a 28 place in England and (5 Apr. 1986) obtains the an 18 place in the United States.
2 & 3 single release So serious / Getting to the point, do not achieve chart success.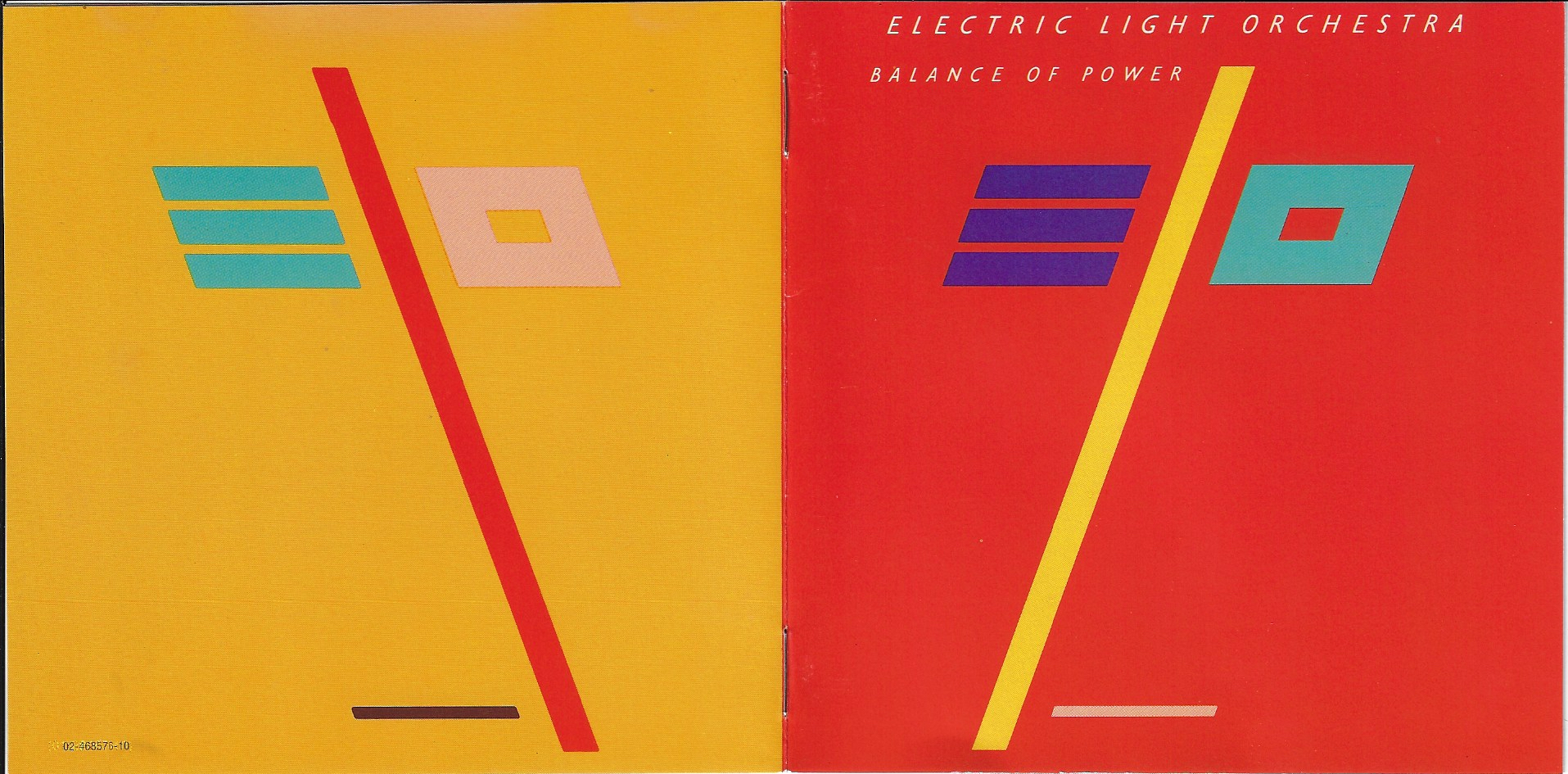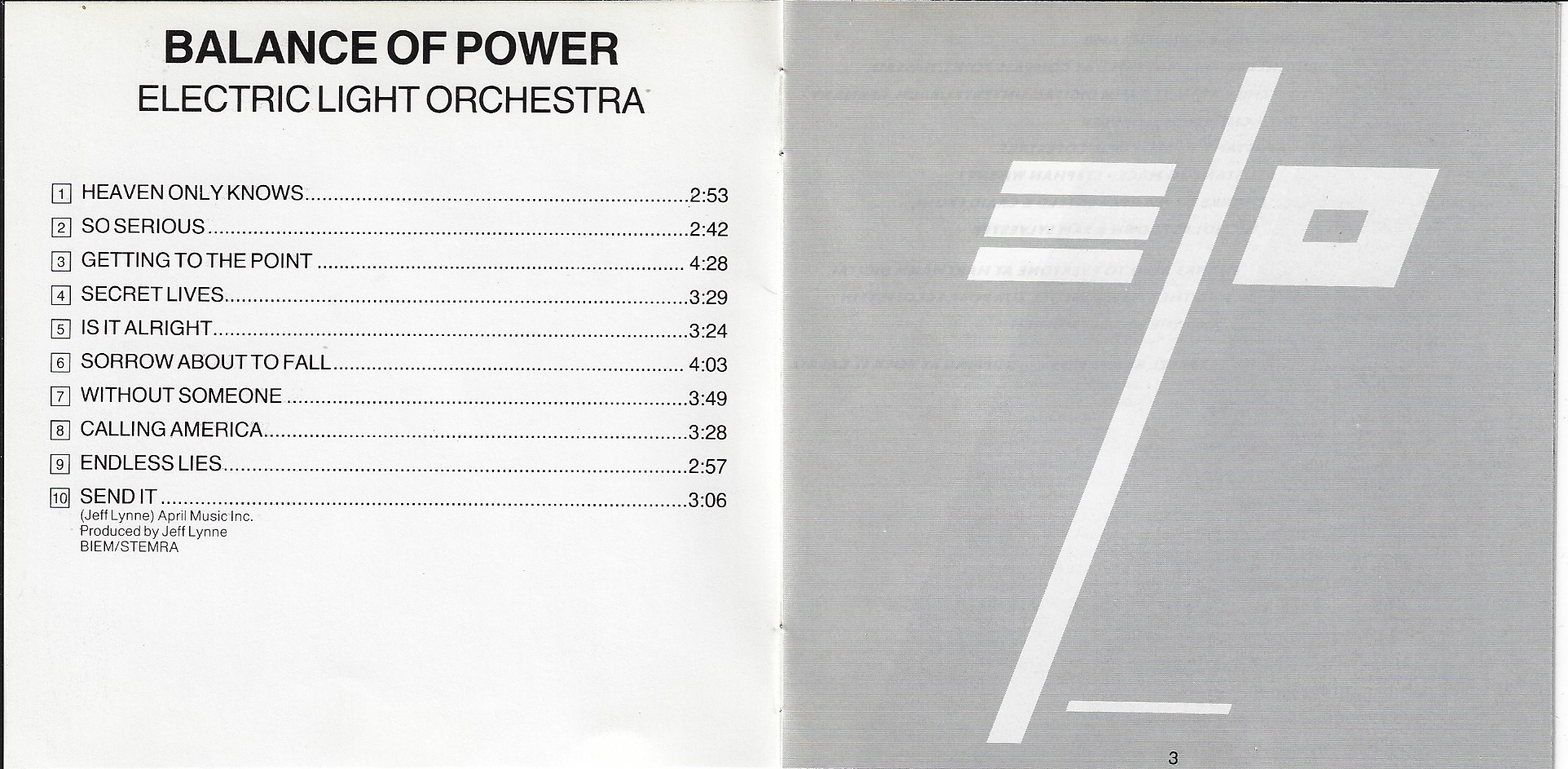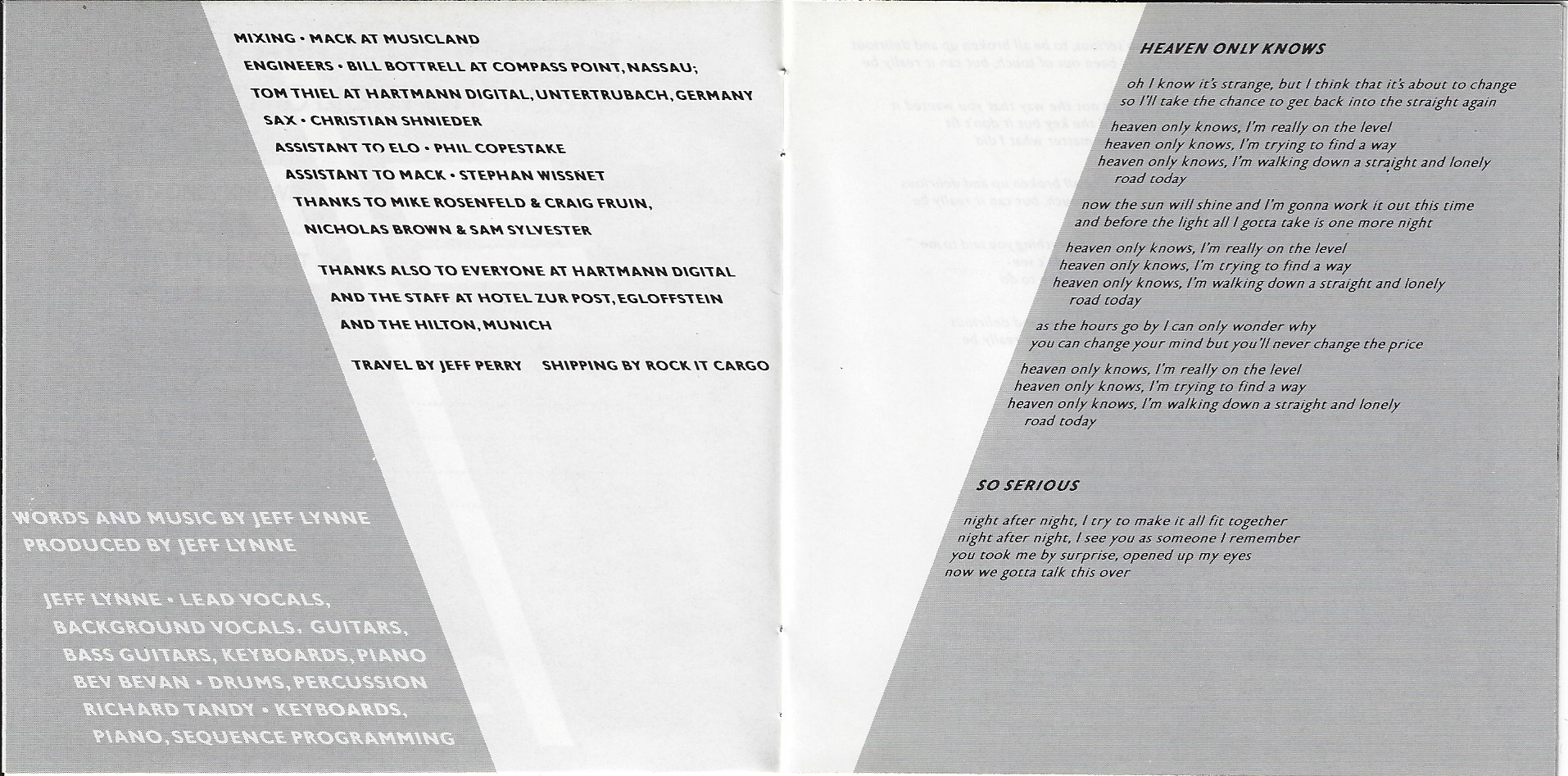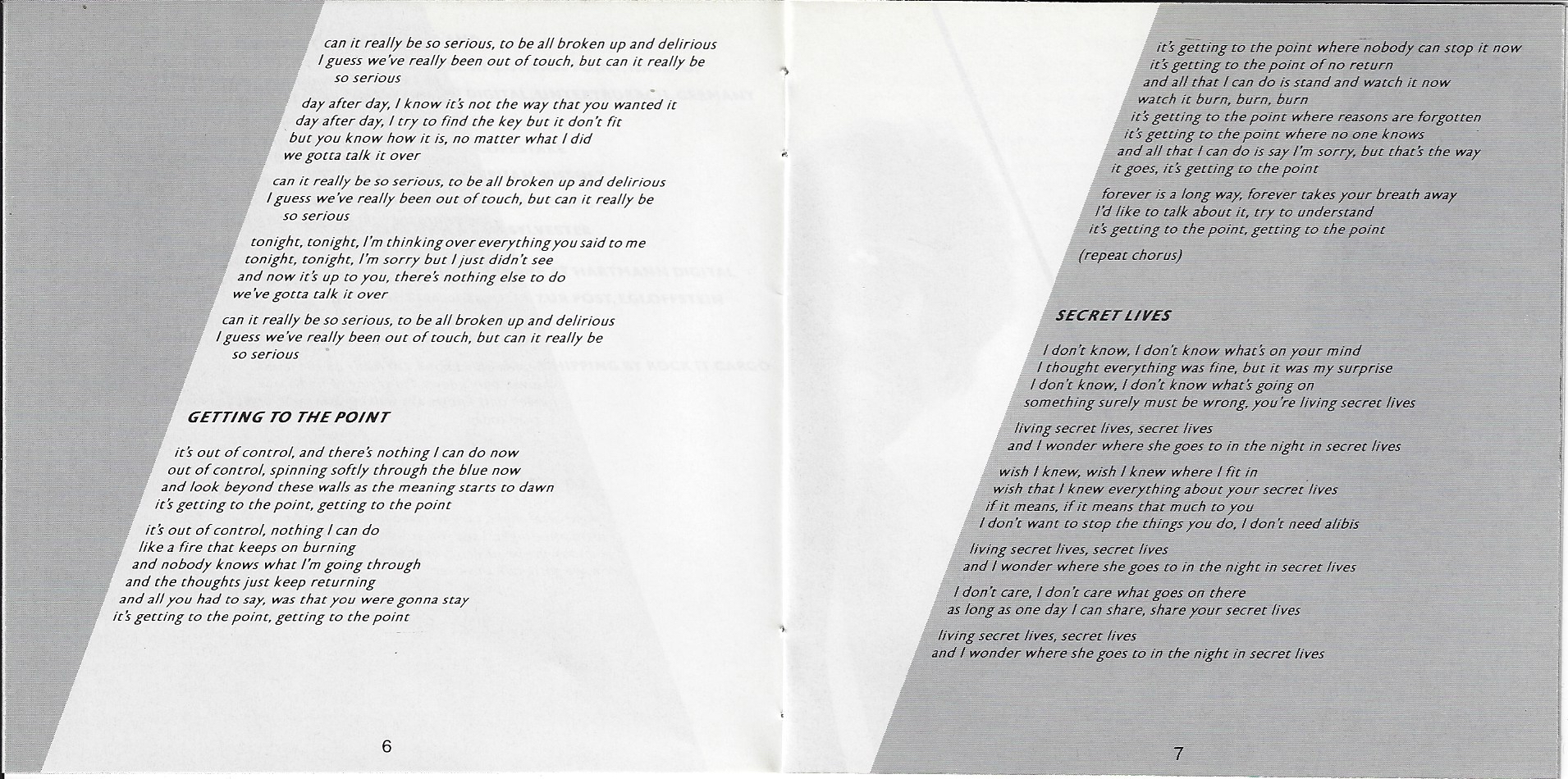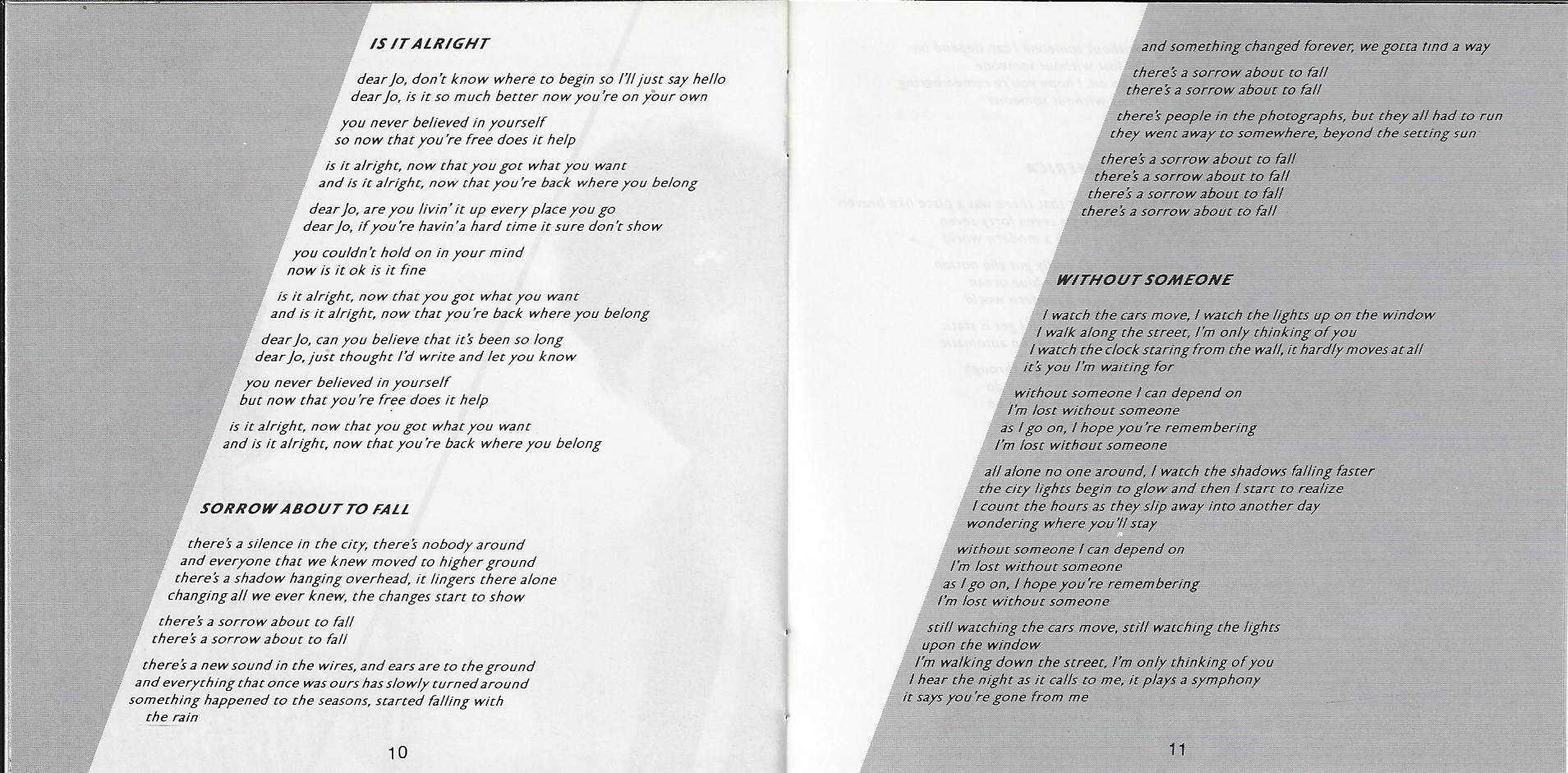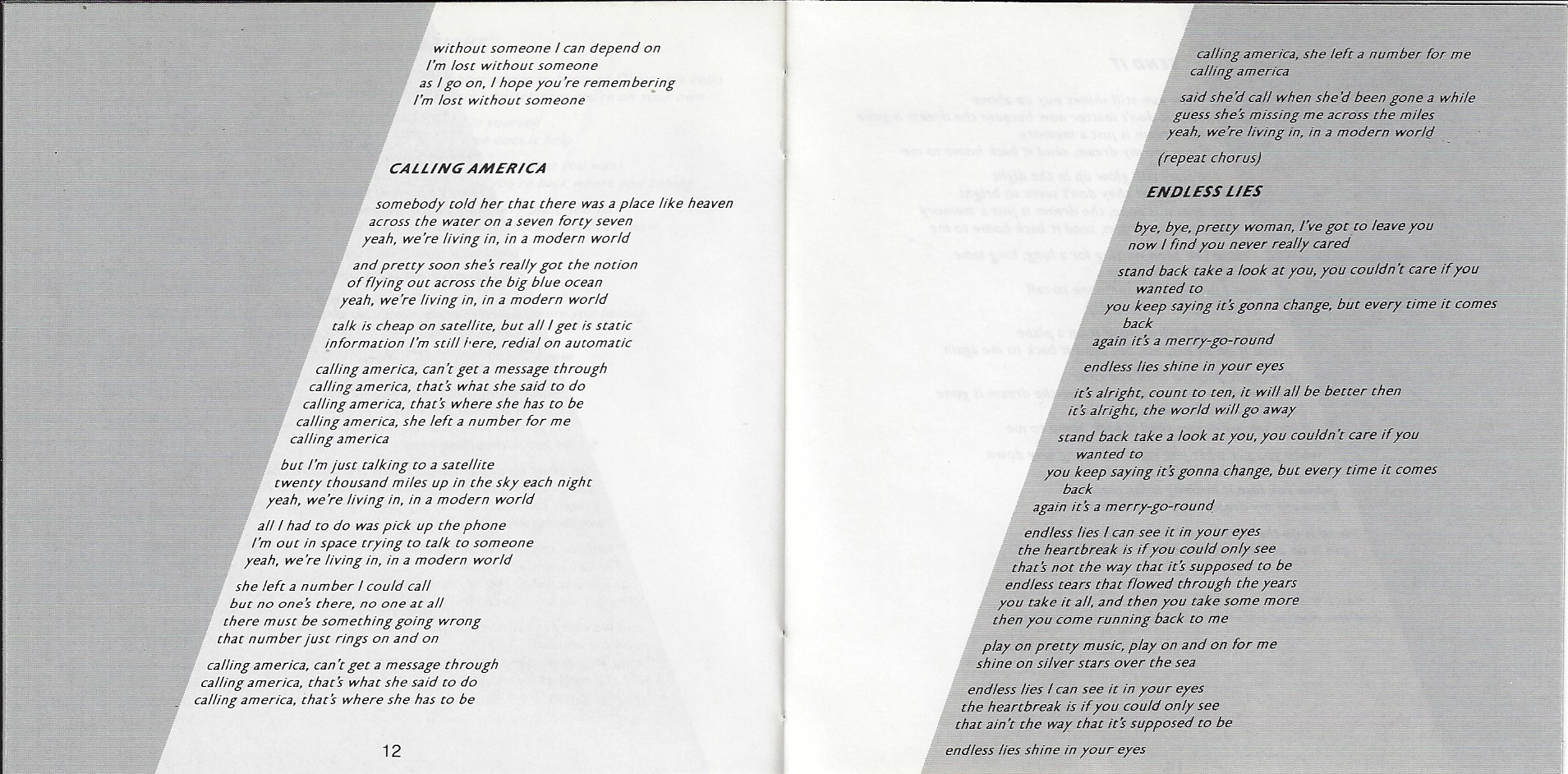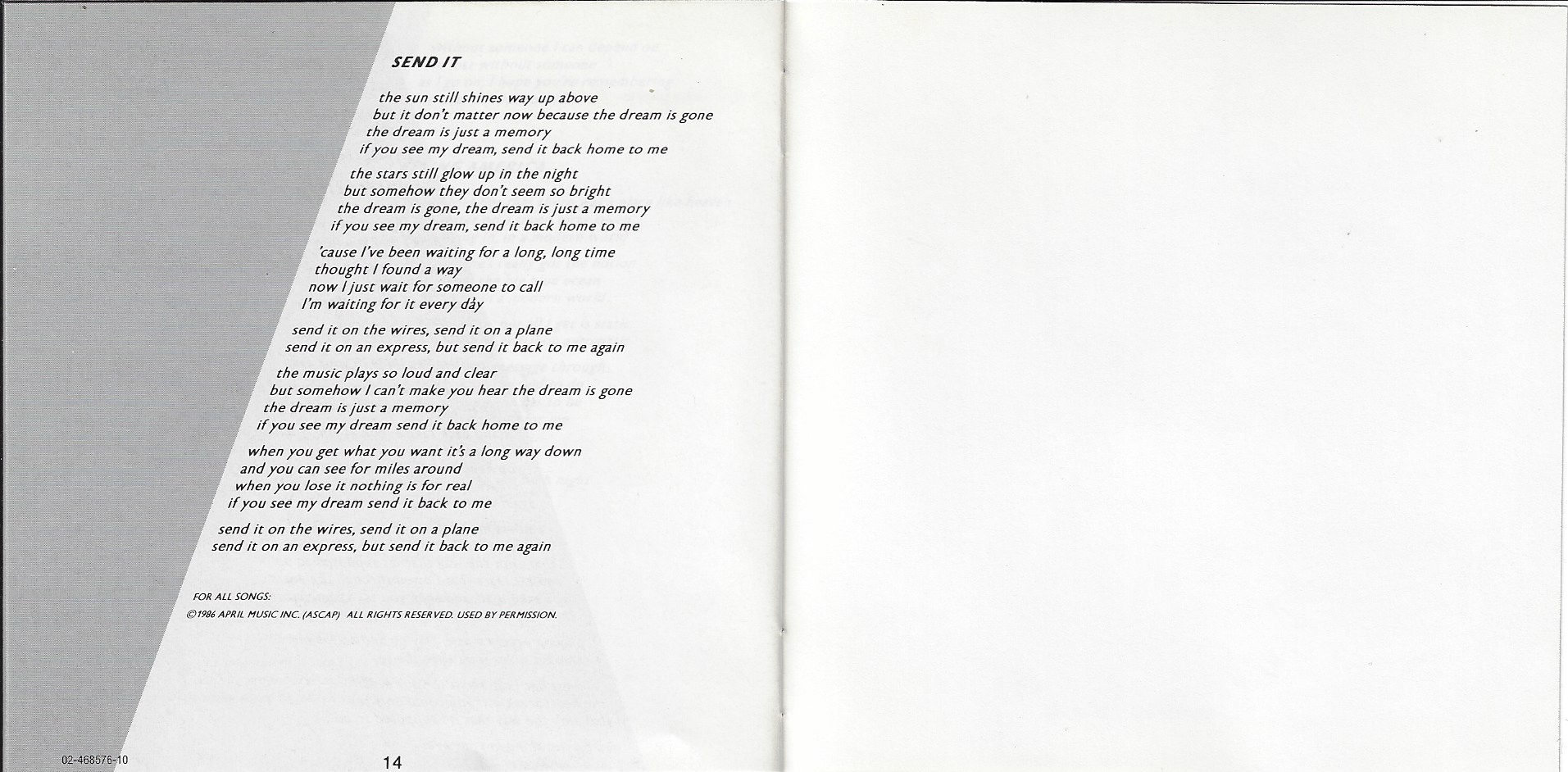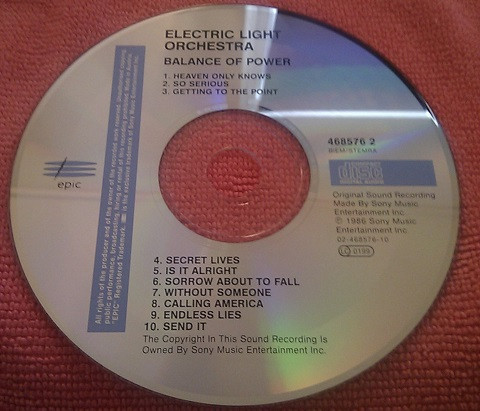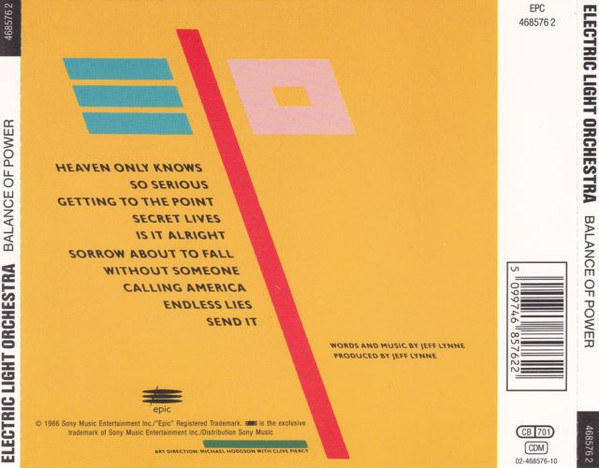 Cover design by: Mainartery
Label: EPIC, 468576 2
Barcode: 5099746857622
Country: EEC
Item: 276
Discogs: https://www.discogs.com/release/852955-Electric-Light-Orchestra-Balance-Of-Power
Runout A: CDEPC-26467 11 C1 MASTERED BY DADC AUSTRIA
A1: Heaven only knows (Jeff Lynne) (2:53)
A2: So serious (Jeff Lynne) (2:42)
A3: Getting to the point (Jeff Lynne) (4:28)
A4: Secret lives (Jeff Lynne) (3:29)
A5: Is it alright (Jeff Lynne) (3:24)
A6: Sorrow about to fall (Jeff Lynne) (4:03)
A7: Without someone (Jeff Lynne) (3:49)
A8. Calling America (Jeff Lynne) (3:28)
A9. Endless lies (Jeff Lynne) (2:57)
A10. Send it (Jeff Lynne) (3:06)
________________________________________________________________________________________________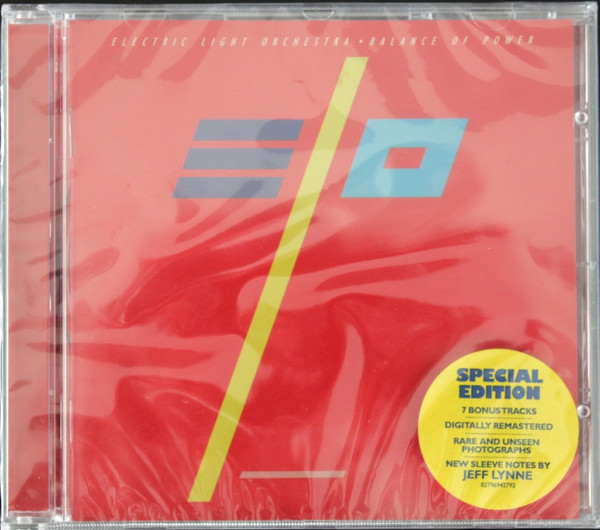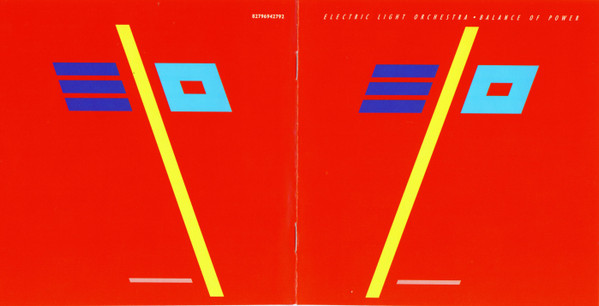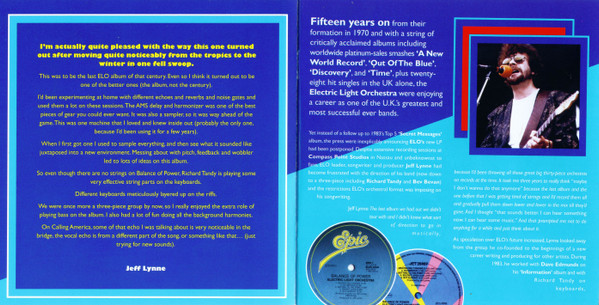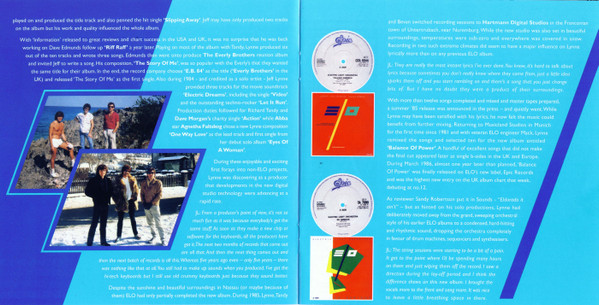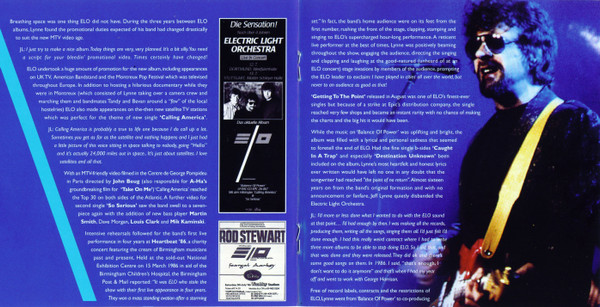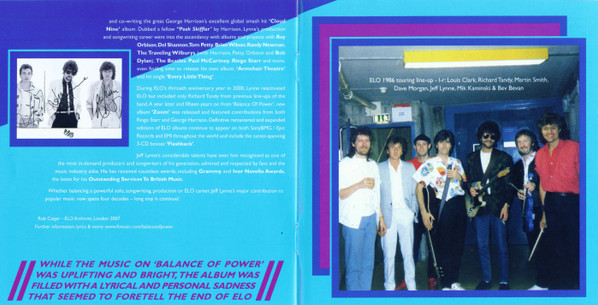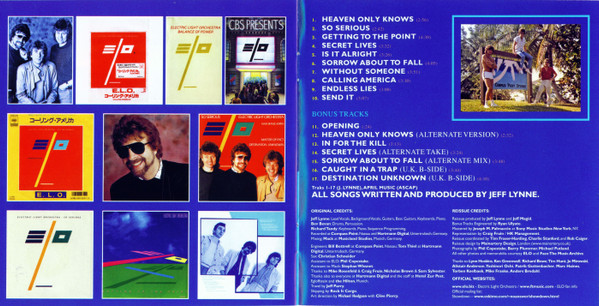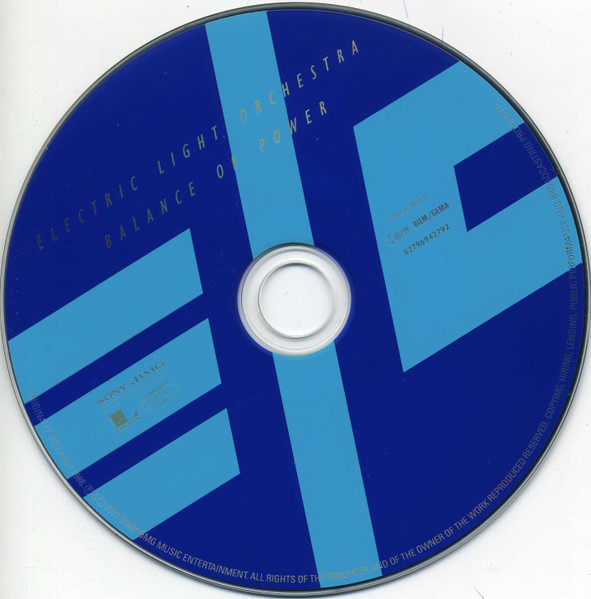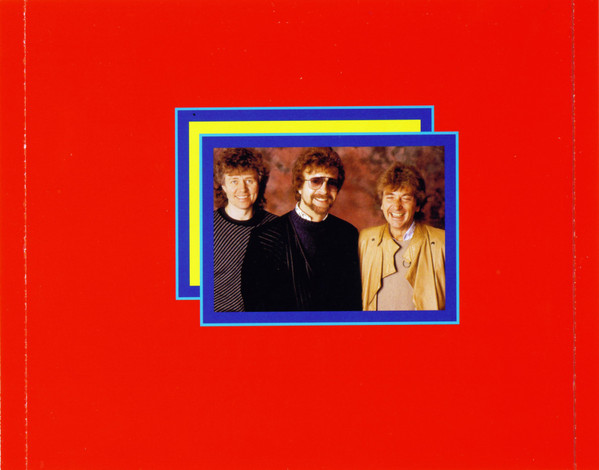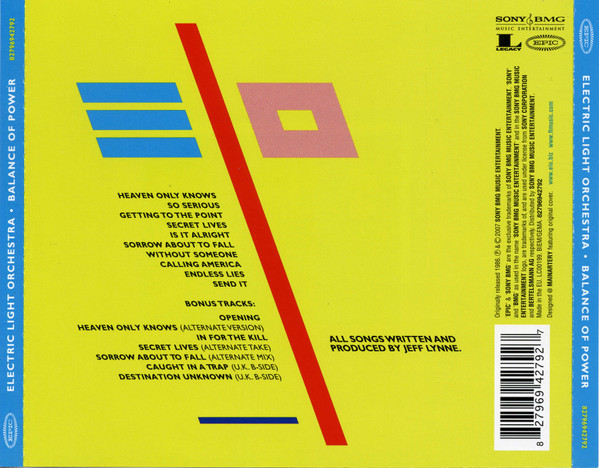 Cover design by: Mainartery
Label: EPIC, 82796942792 (special edition)
Barcode: 82796942792
Country: EEC
Item: 277
Discogs: https://www.discogs.com/release/1211289-Electric-Light-Orchestra-Balance-Of-Power
Runout A: Sony & BMG Music Entertainment 52112705/82796942792 21
A1: Heaven only knows (Jeff Lynne) (2:56)
A2: So serious (Jeff Lynne) (2:42)
A3: Getting to the point (Jeff Lynne) (4:30)
A4: Secret lives (Jeff Lynne) (3:32)
A5: Is it alright (Jeff Lynne) (3:26)
A6: Sorrow about to fall (Jeff Lynne) (4:05)
A7: Without someone (Jeff Lynne) (3:51)
A8: Calling America (Jeff Lynne) (3:30)
A9: Endless lies (Jeff Lynne) (3:00)
A10: Send it (Jeff Lynne) (3:07)
A11: Heaven only knows (Jeff Lynne) (2:32) (alternative version)
A12: Opening (Jeff Lynne) (0:24)
A13: In for the kill (Jeff Lynne) (3:13)
A14: Secret lives (Jeff Lynne) (3:24) (alternative take)
A15: Sorrow about to fall (Jeff Lynne) (3:48) (alternative mix)
A16: Caught in a trap (Jeff Lynne) (3:44) (UK B-side)
A17: Destination unknown (Jeff Lynne) (4:10) (UK B-side)
________________________________________________________________________________________________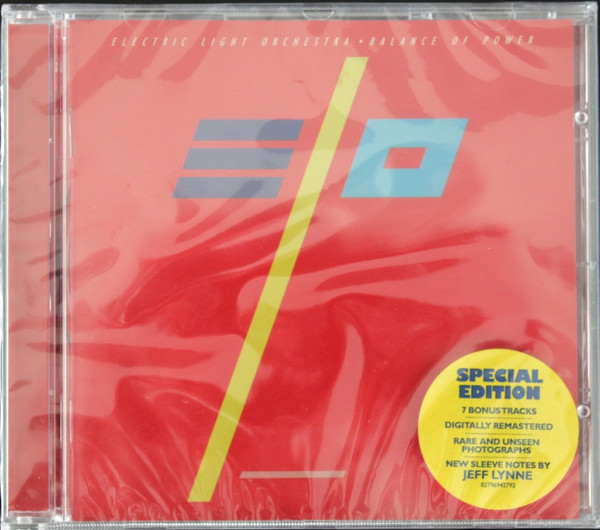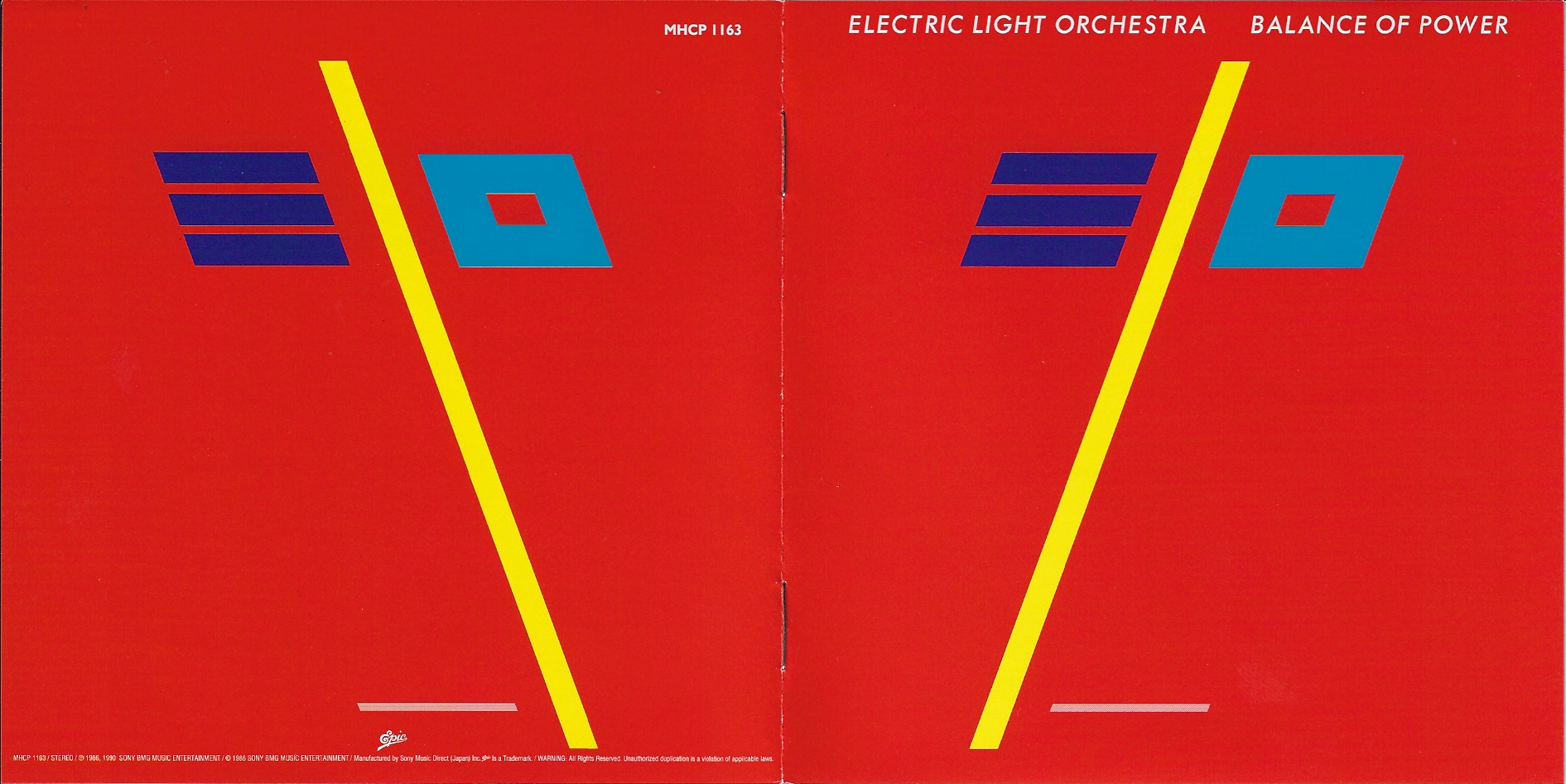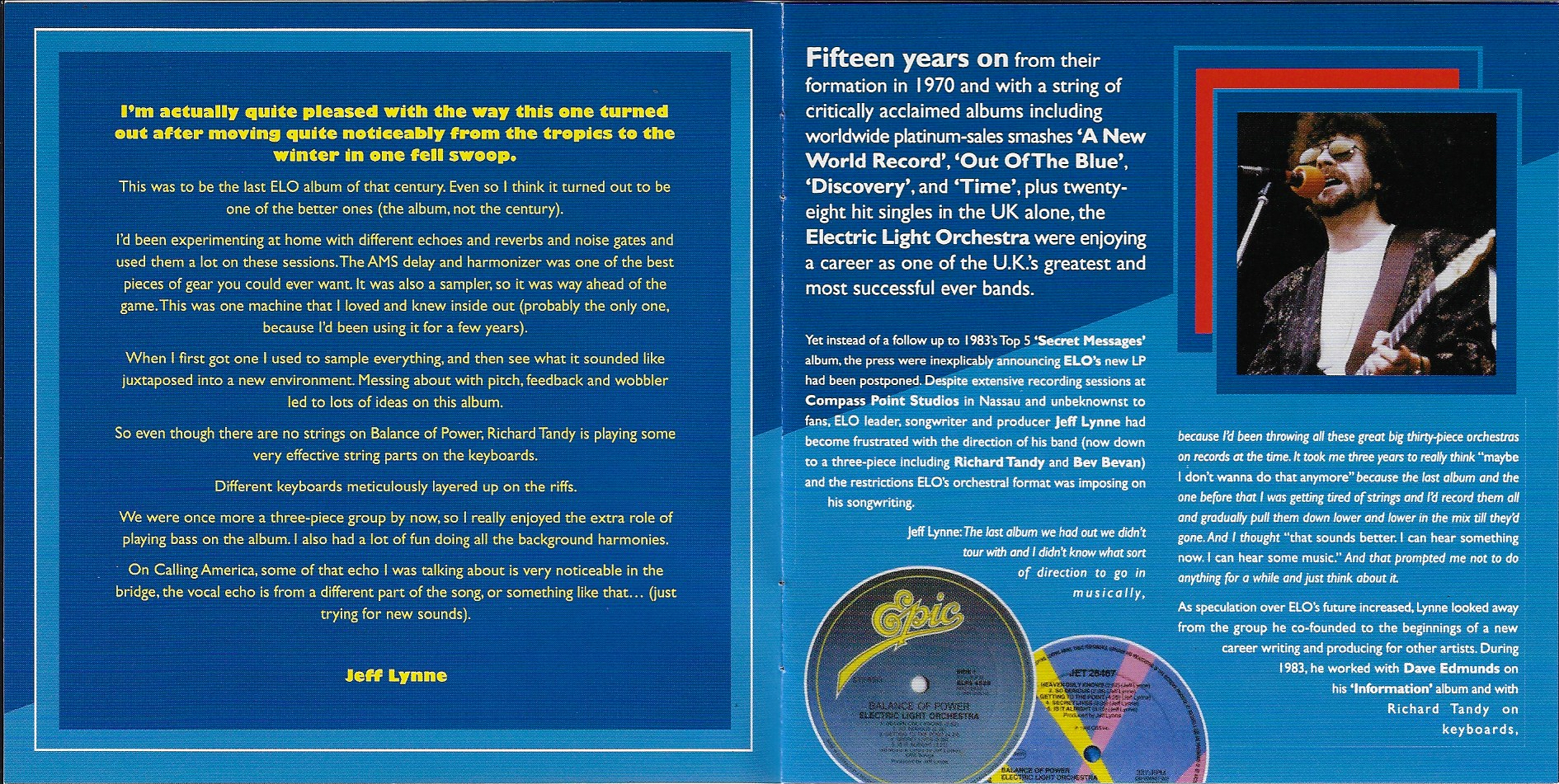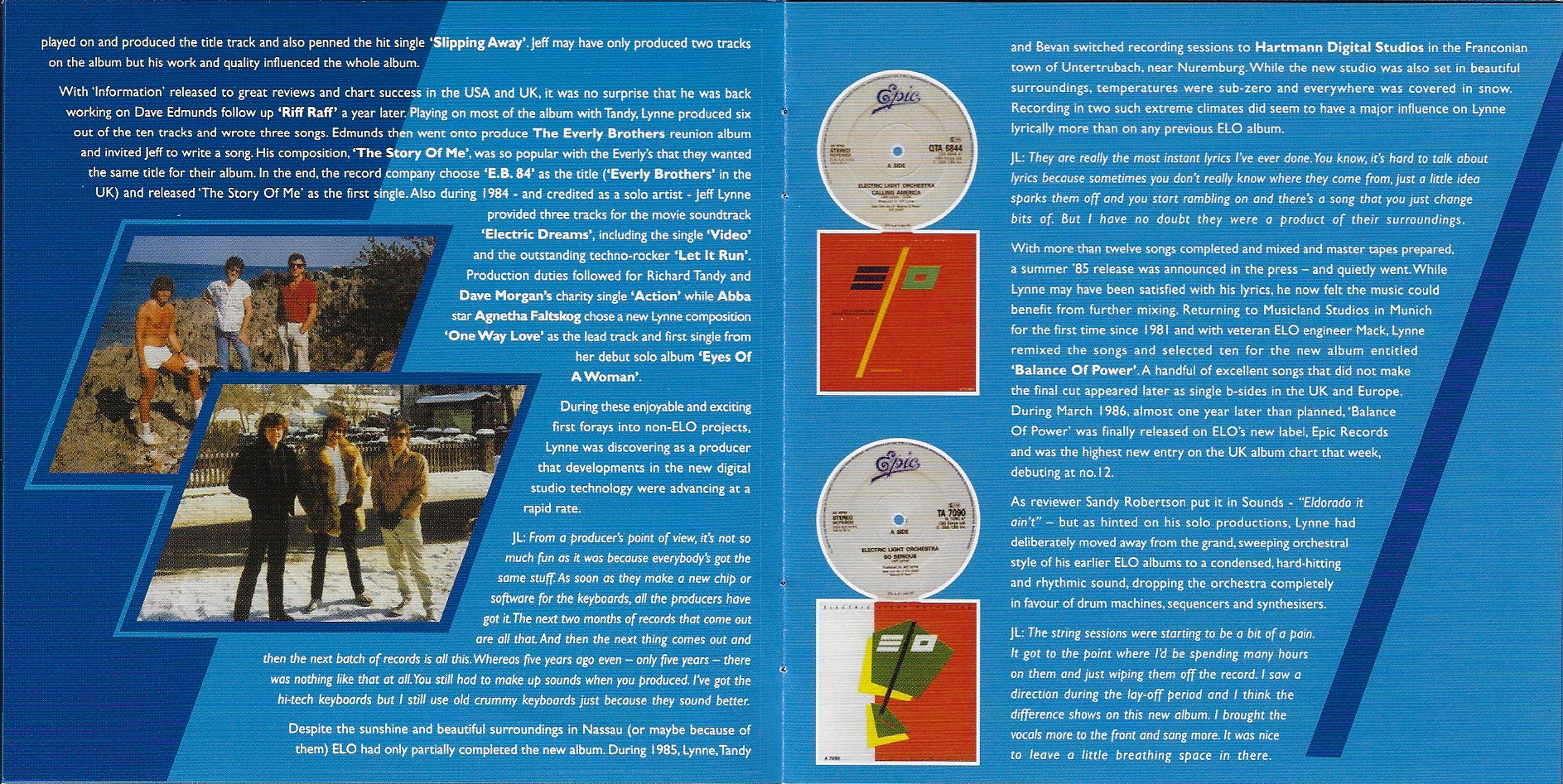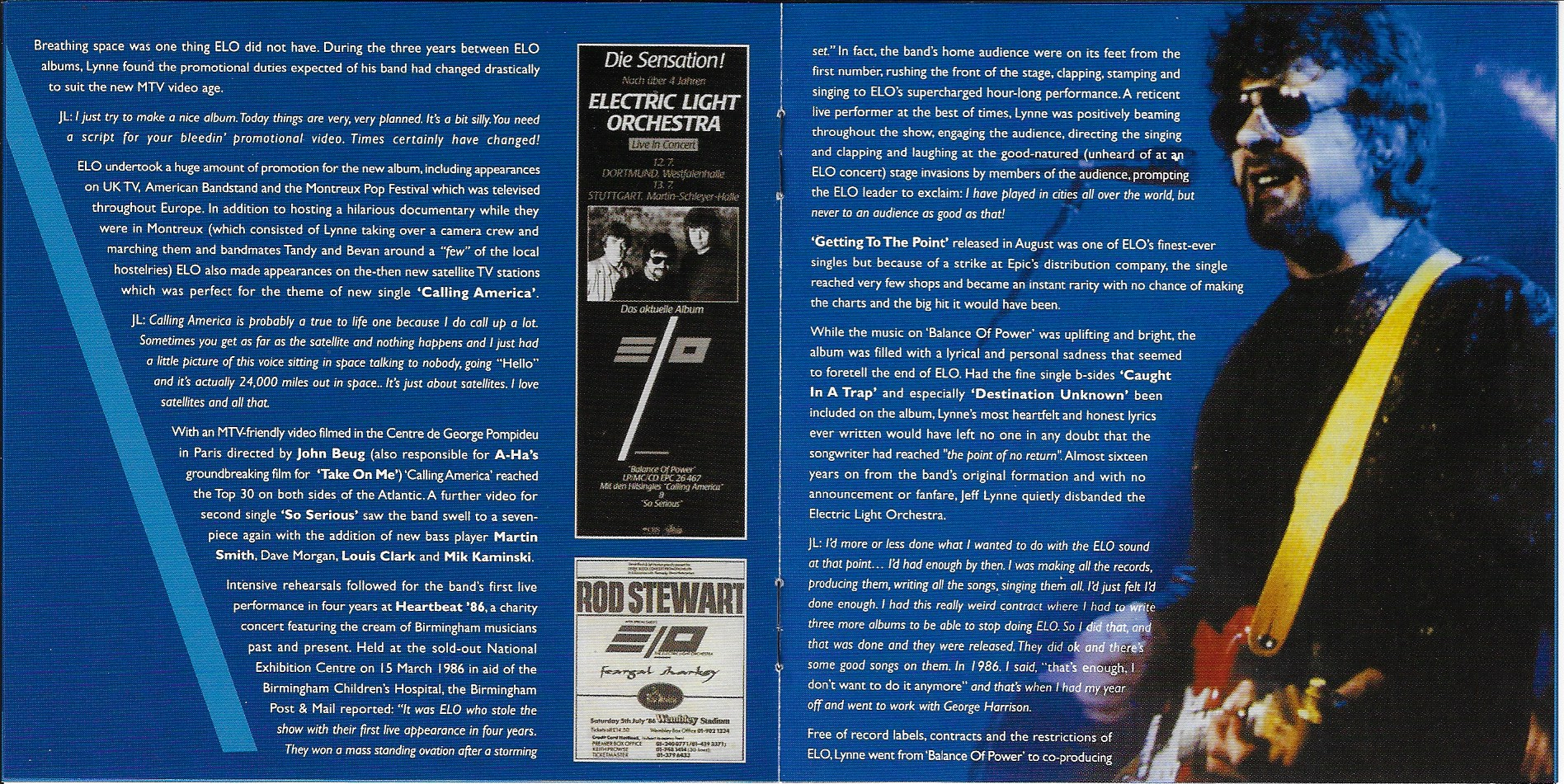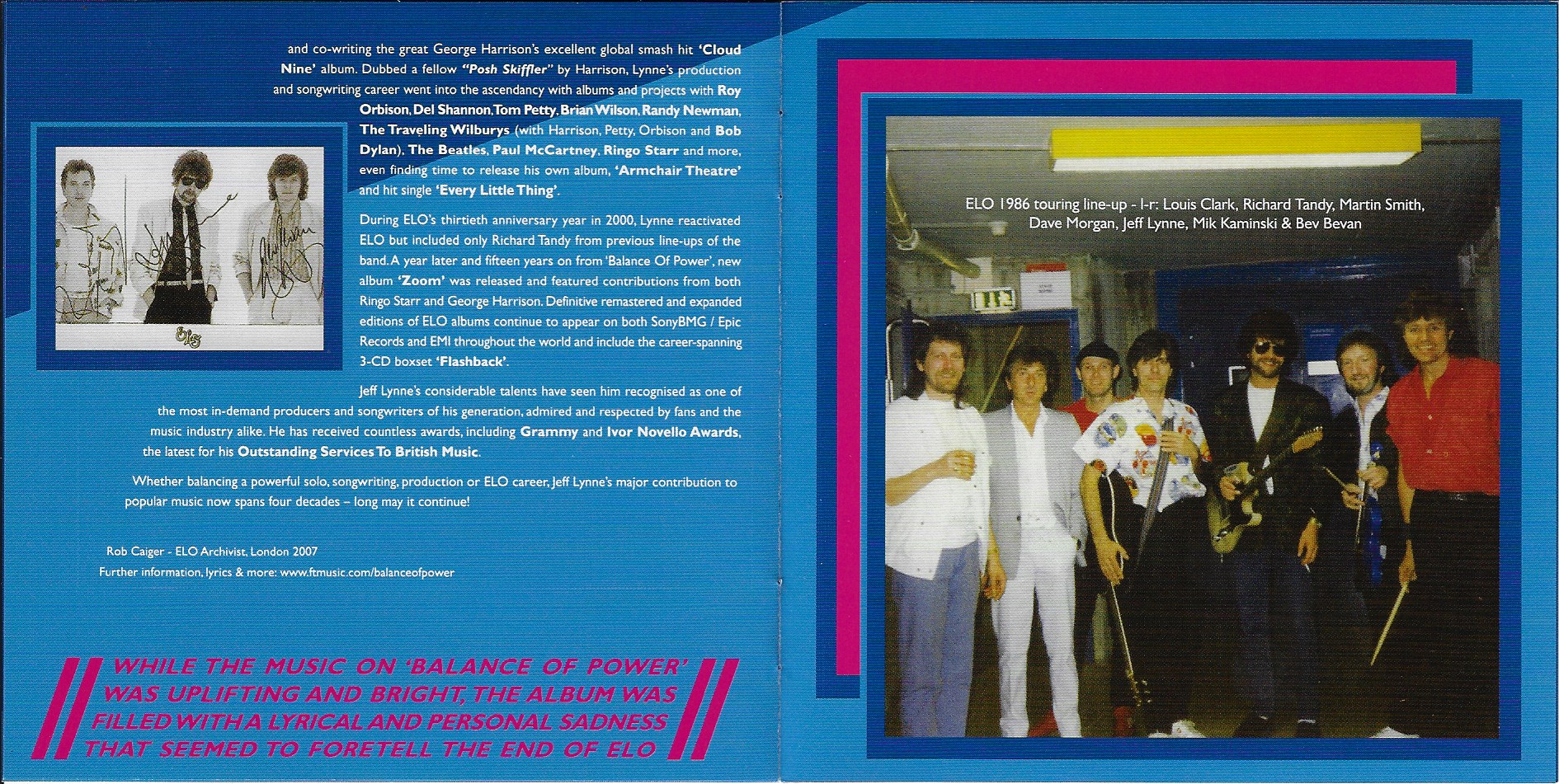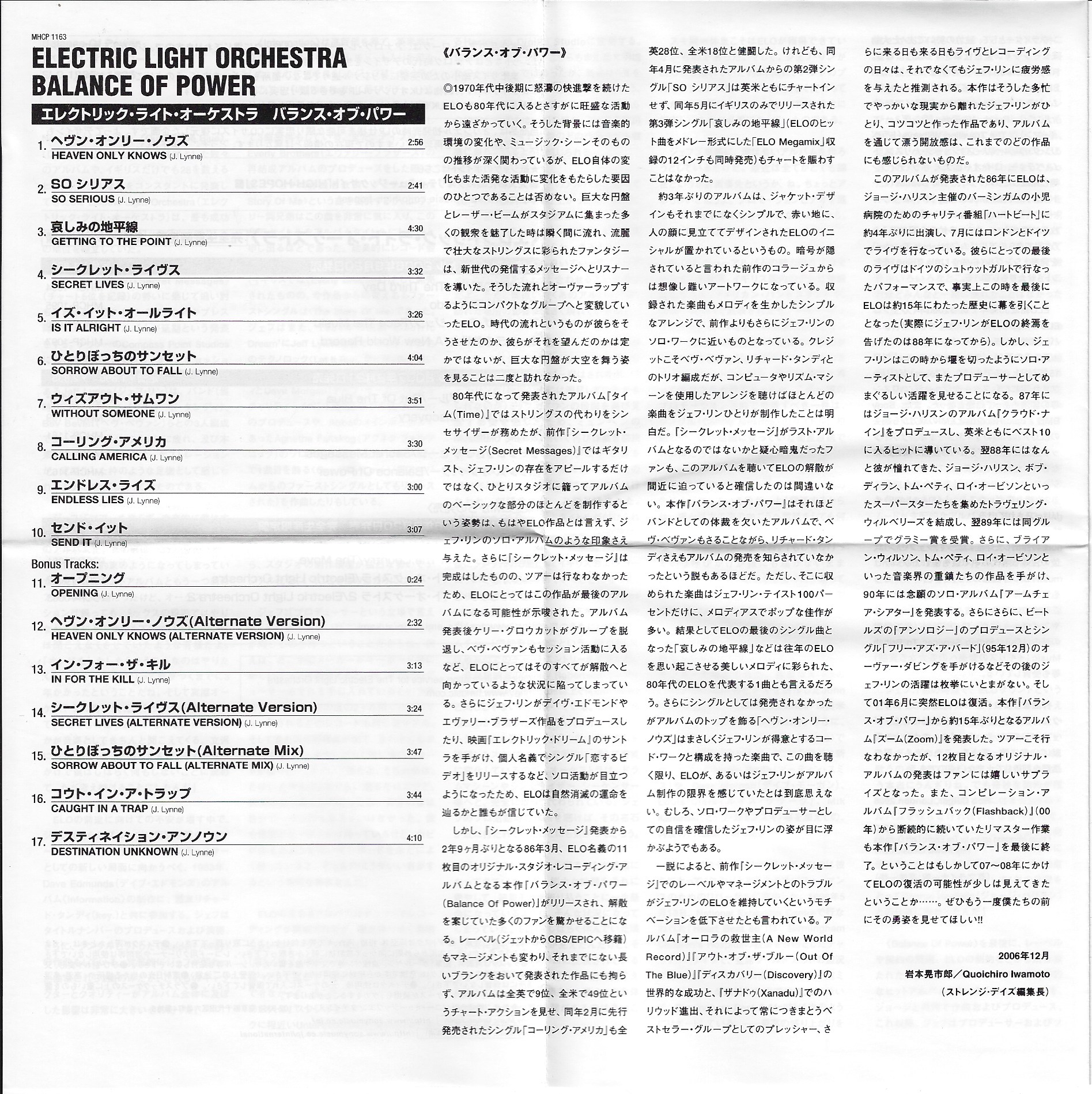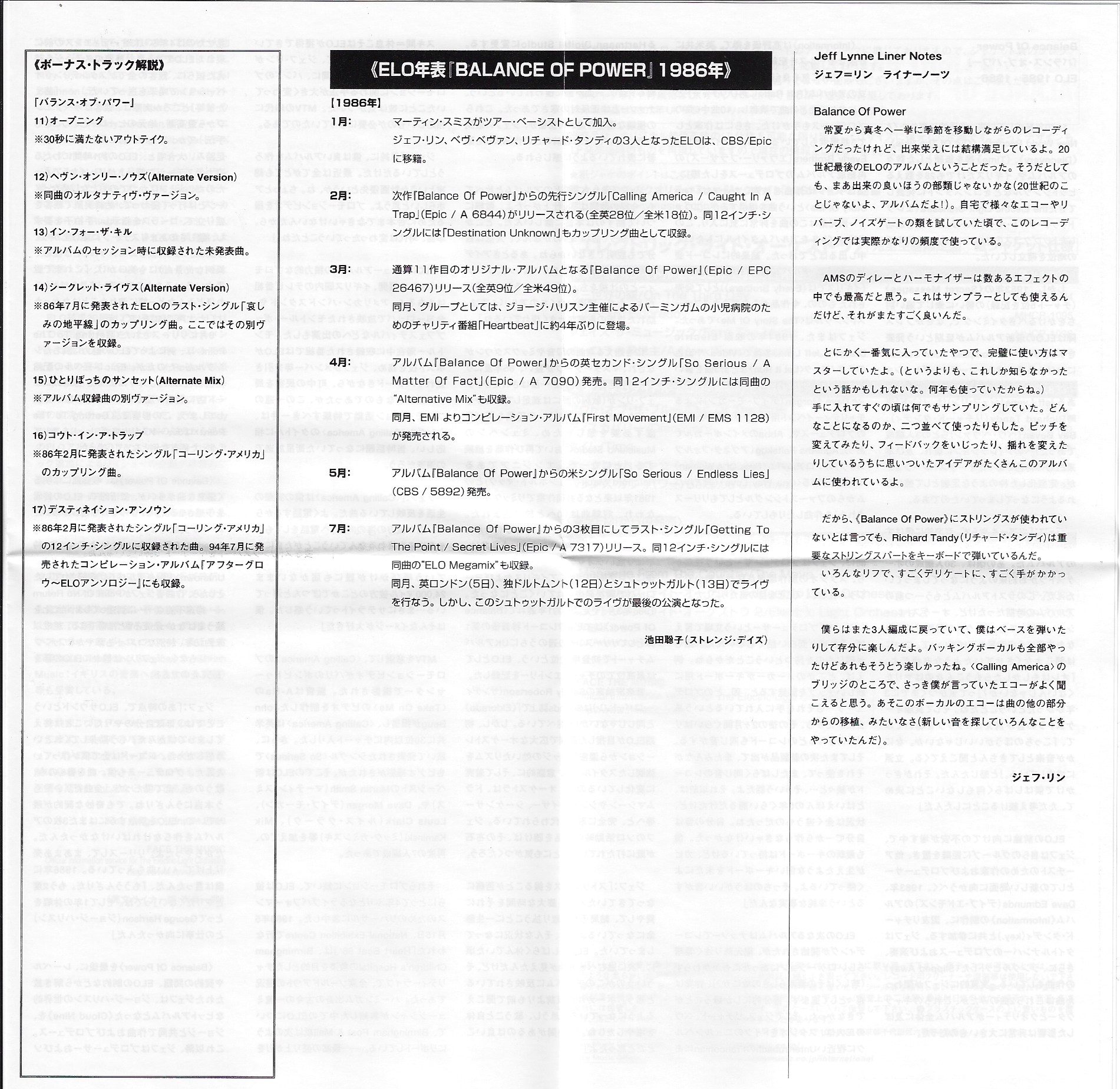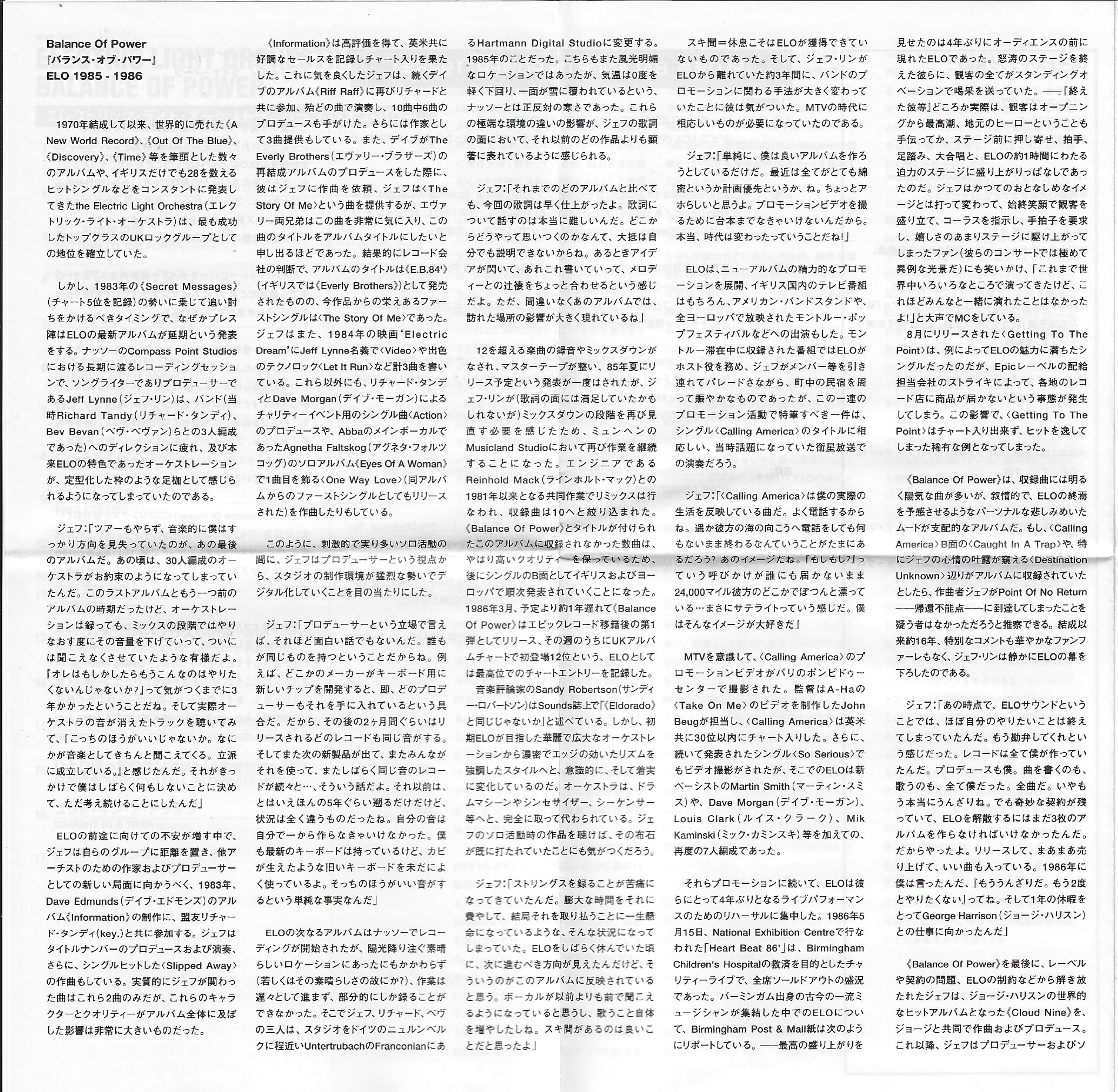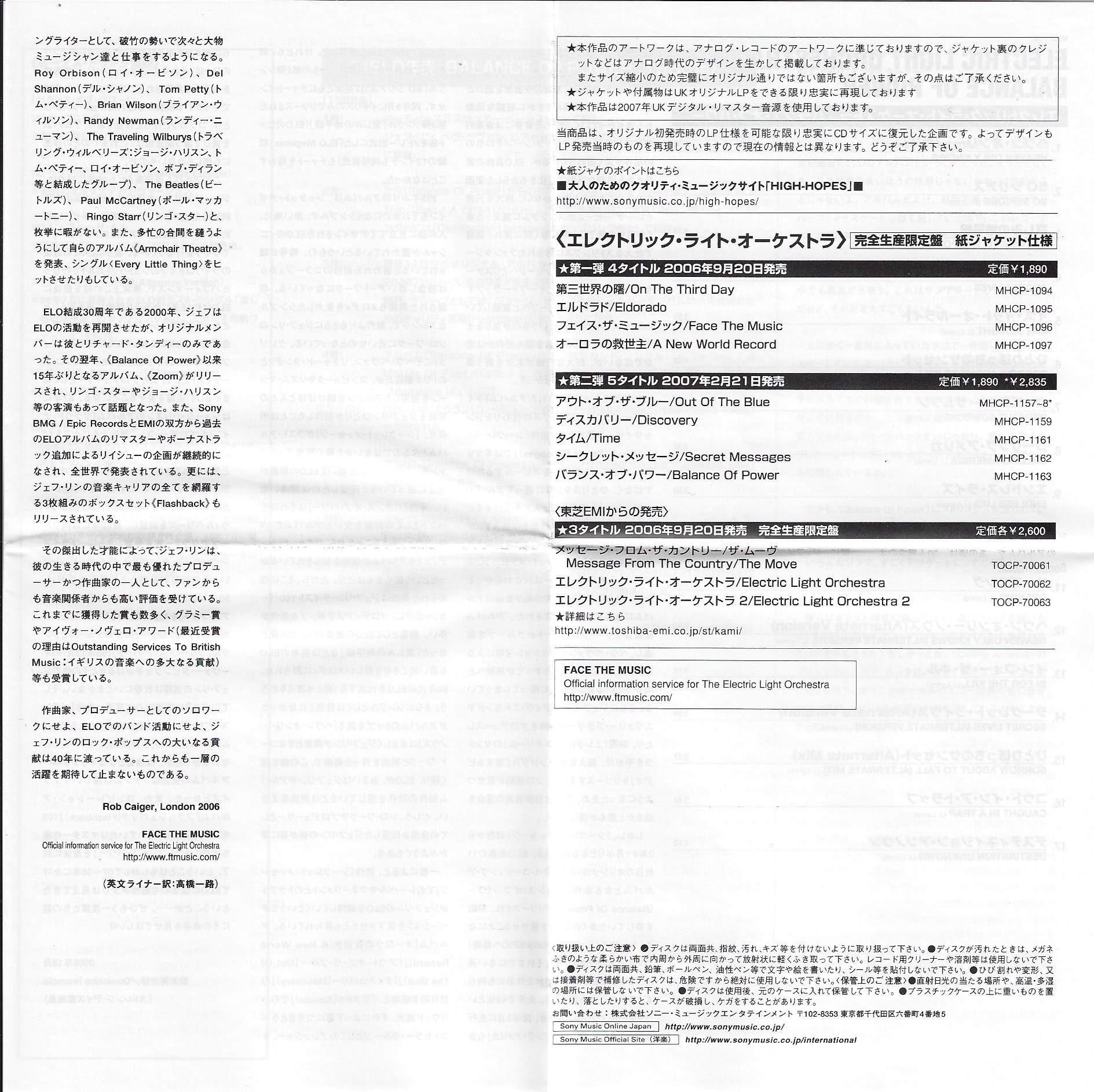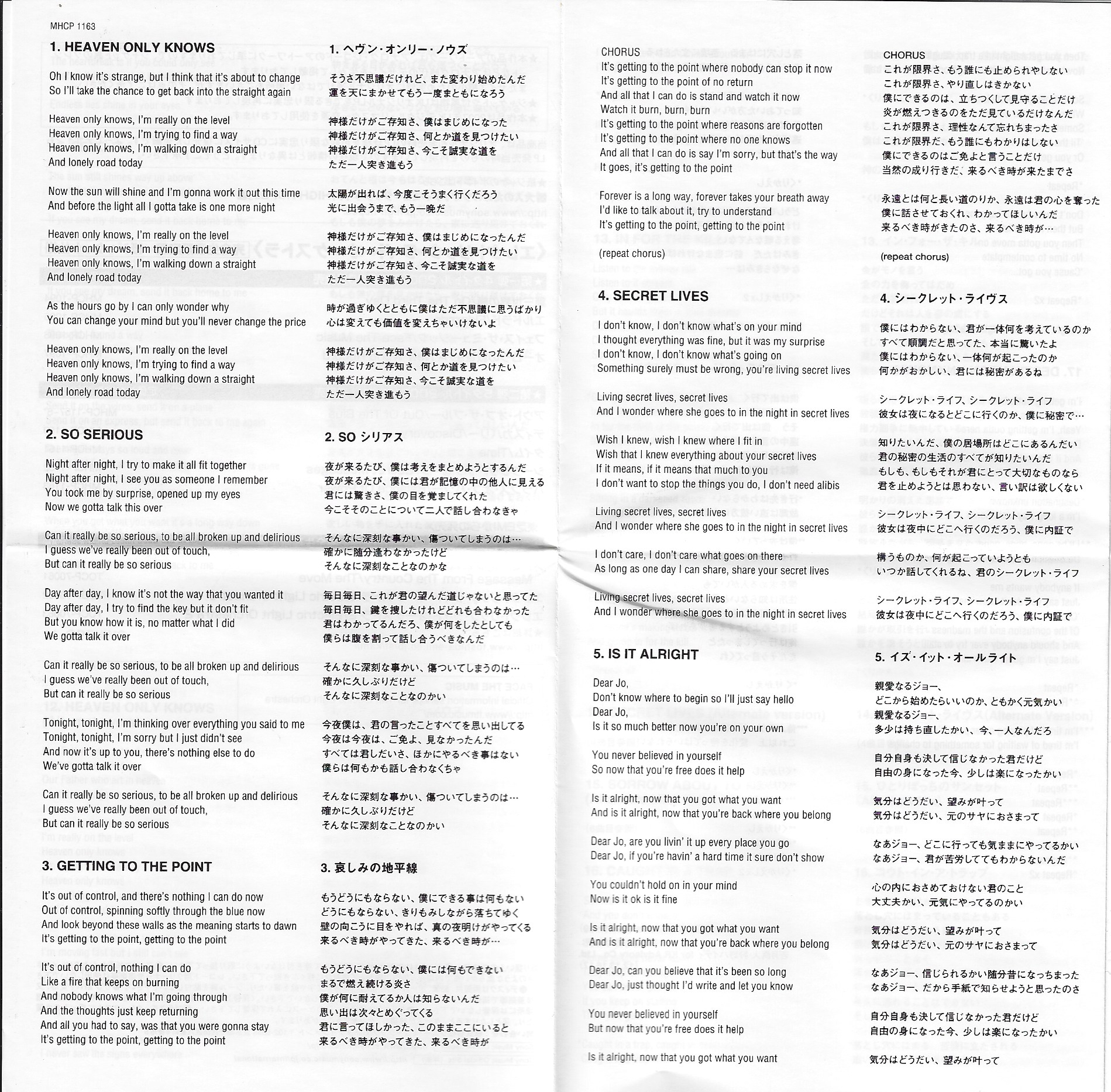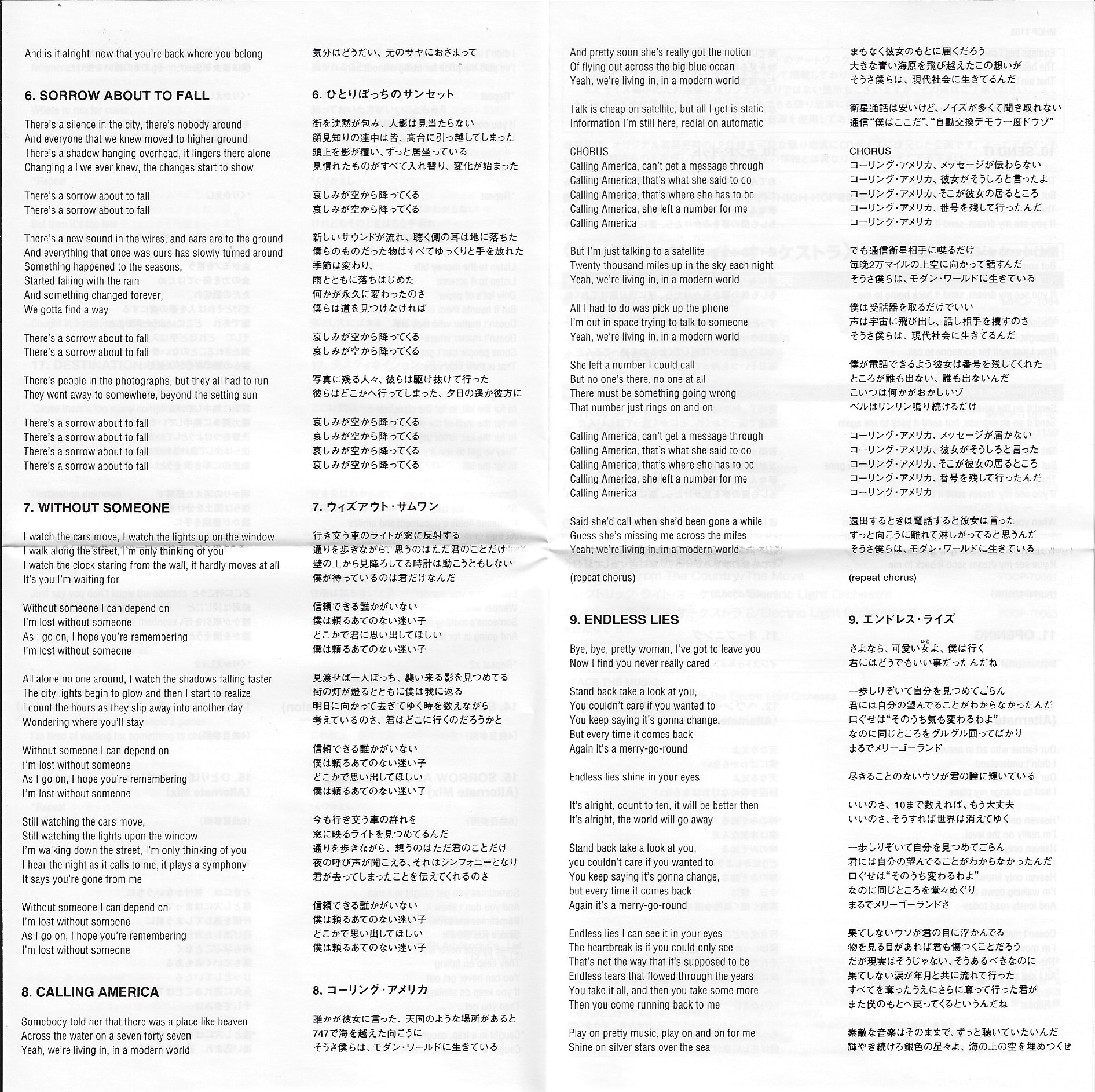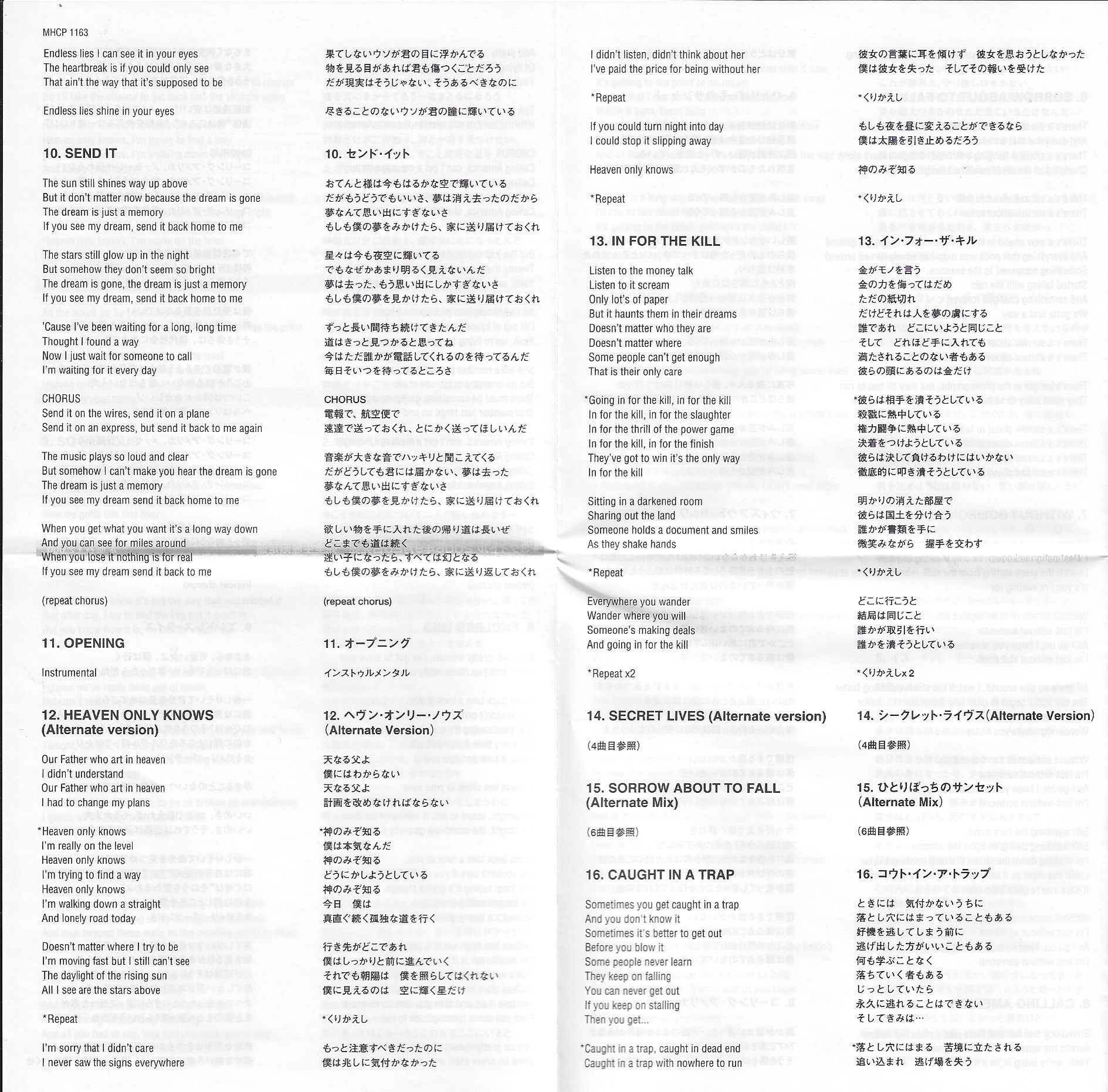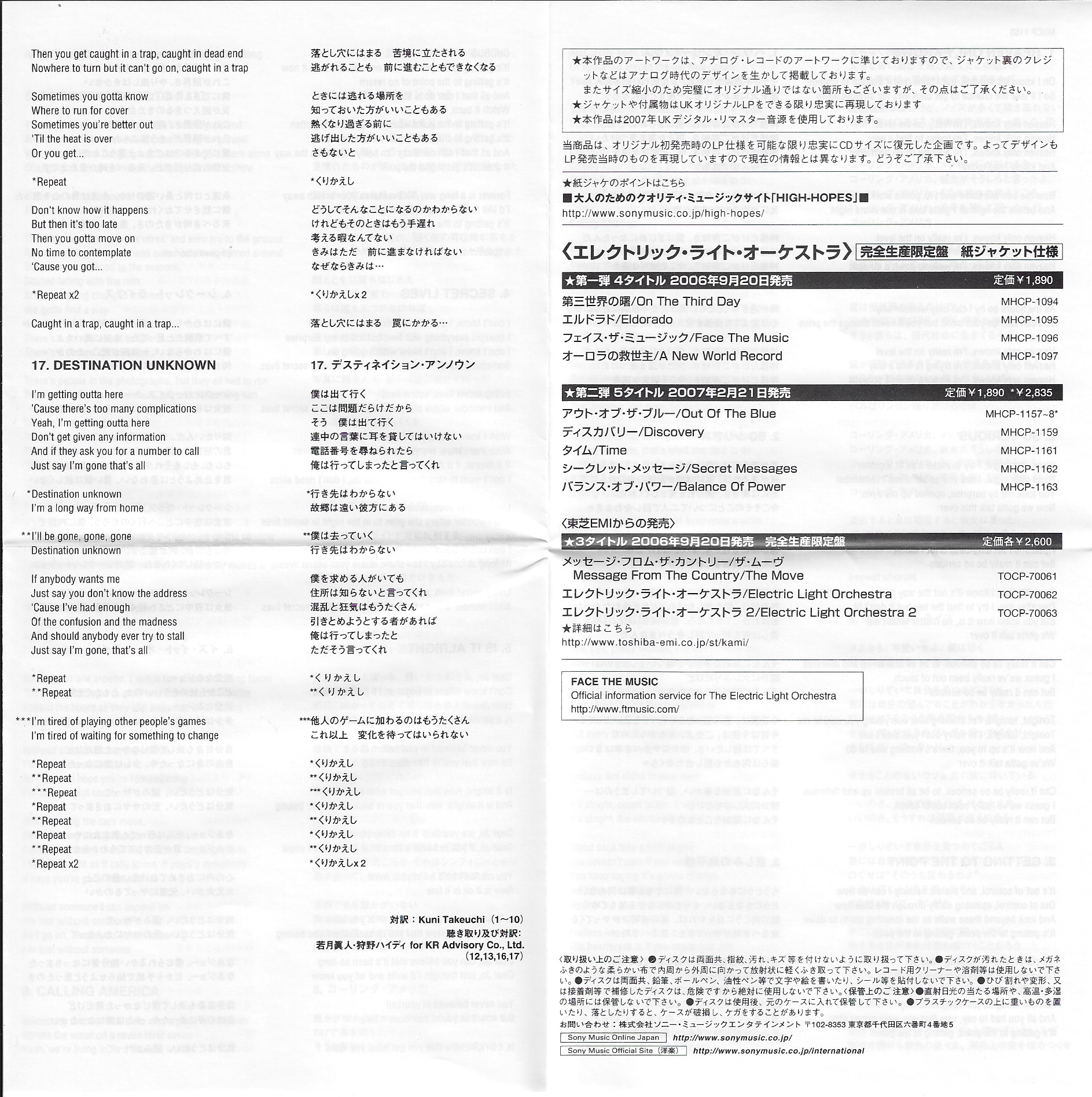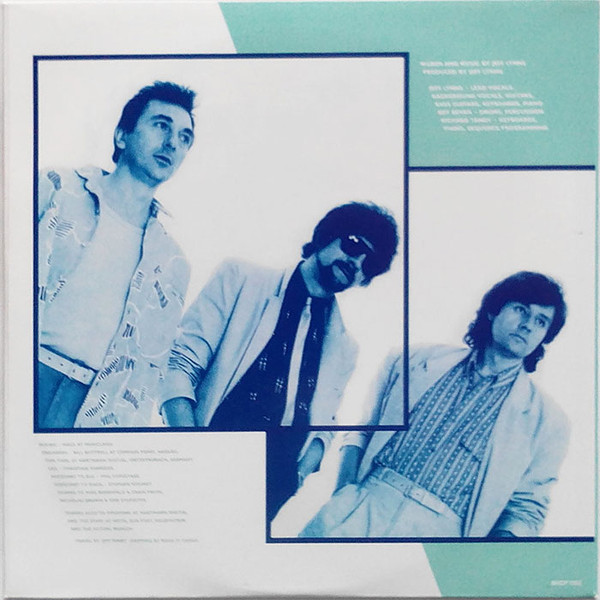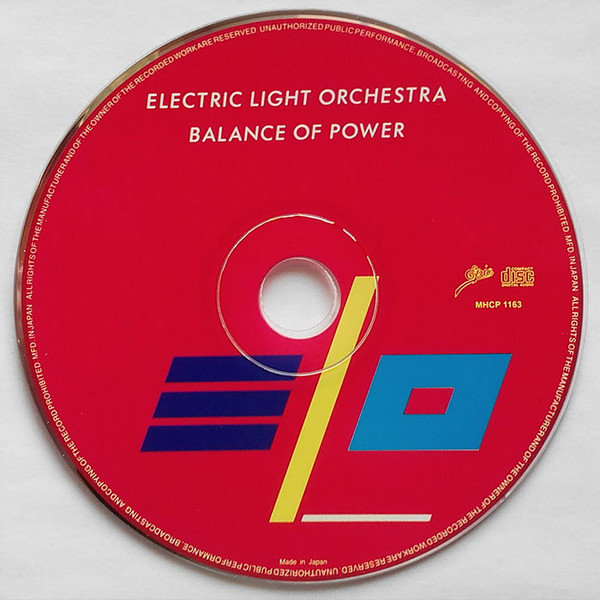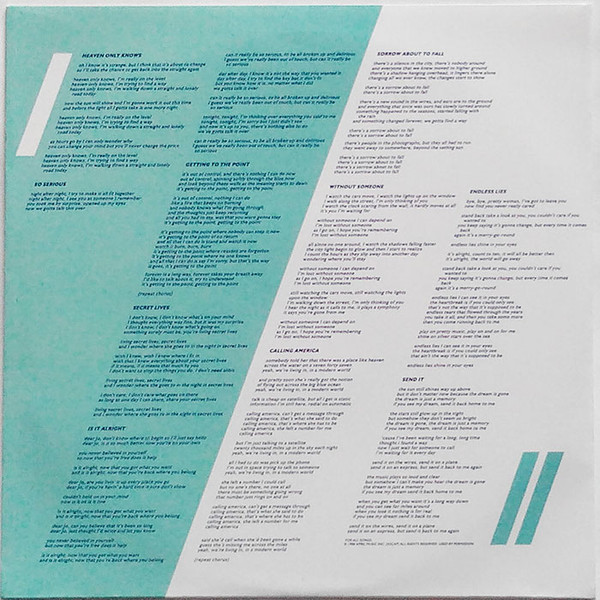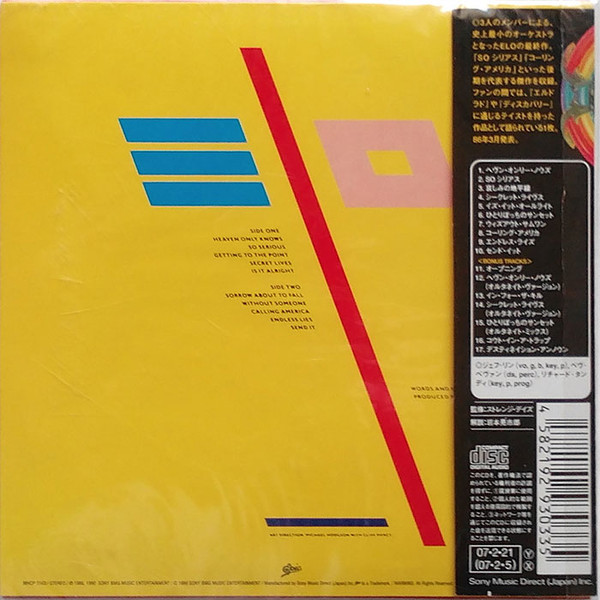 Cover design by: Mainartery
Label: EPIC, MHCP 1163
Barcode: 582192930335
Country: Russia
Item: 278
Discogs: https://www.discogs.com/release/8495849-Electric-Light-Orchestra-Balance-Of-Power
Runout A: CDDA-116-07
A1: Heaven only knows (Jeff Lynne) (2:56)
A2: So serious (Jeff Lynne) (2:42)
A3: Getting to the point (Jeff Lynne) (4:30)
A4: Secret lives (Jeff Lynne) (3:32)
A5: Is it alright (Jeff Lynne) (3:26)
A6: Sorrow about to fall (Jeff Lynne) (4:05)
A7: Without someone (Jeff Lynne) (3:51)
A8: Calling America (Jeff Lynne) (3:30)
A9: Endless lies (Jeff Lynne) (3:00)
A10: Send it (Jeff Lynne) (3:07)
A11: Heaven only knows (Jeff Lynne) (2:32) (alternative version)
A12: Opening (Jeff Lynne) (0:24)
A13: In for the kill (Jeff Lynne) (3:13)
A14: Secret lives (Jeff Lynne) (3:24) (alternative take)
A15: Sorrow about to fall (Jeff Lynne) (3:48) (alternative mix)
A16: Caught in a trap (Jeff Lynne) (3:44) (UK B-side)
A17: Destination unknown (Jeff Lynne) (4:10) (UK B-side)