ELO 7": Evil woman.
Released: 1975
Produced by: Jeff Lynne
Engineered by: Marc, Musicland, Munic, Jimmy & Dave, Record Plant, NewYork,
Recorded in: Musicland Studios, Munic, Strings recorded at De Lane Lea Studios, London, Re-Mixed
af The Record Plant, New York, Mastered af The Mastering Lab, Los Angeles.
Jeff Lynne: Guitar, Moog & vocals.
Bev Bevan: Drums & percussion.
Richard Tandy: Moog, guitar, backing vocals & piano.
Michael D´ Albuquerque: Bass.
Hugh McDowell: Cello.
Mik Kaminski: Violin.
Mike Edwards: Cello.
The single from Face the music, "Evil woman" achieves 17 January a 9 place in the UK and 14 February, a 10 place in the United States, 1975.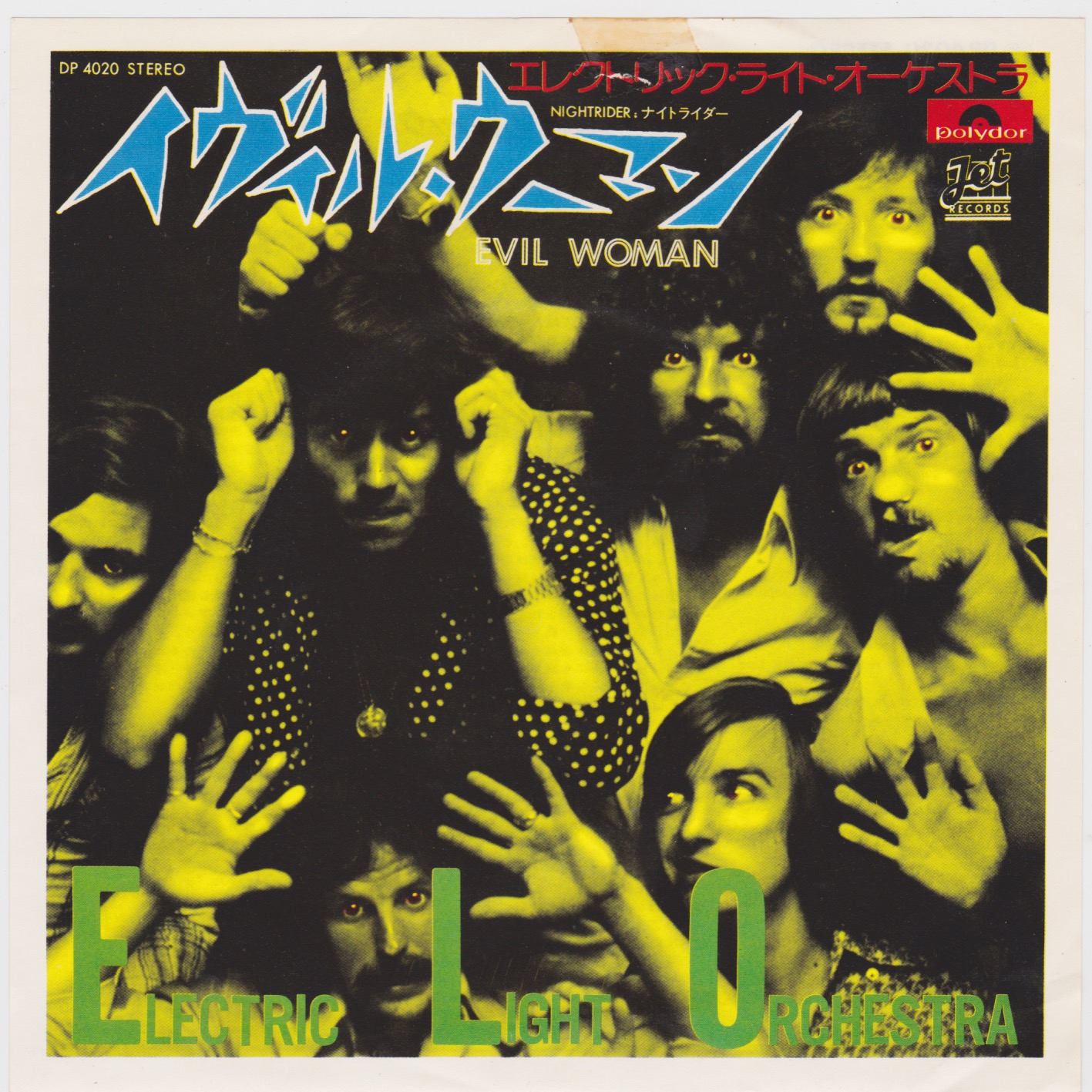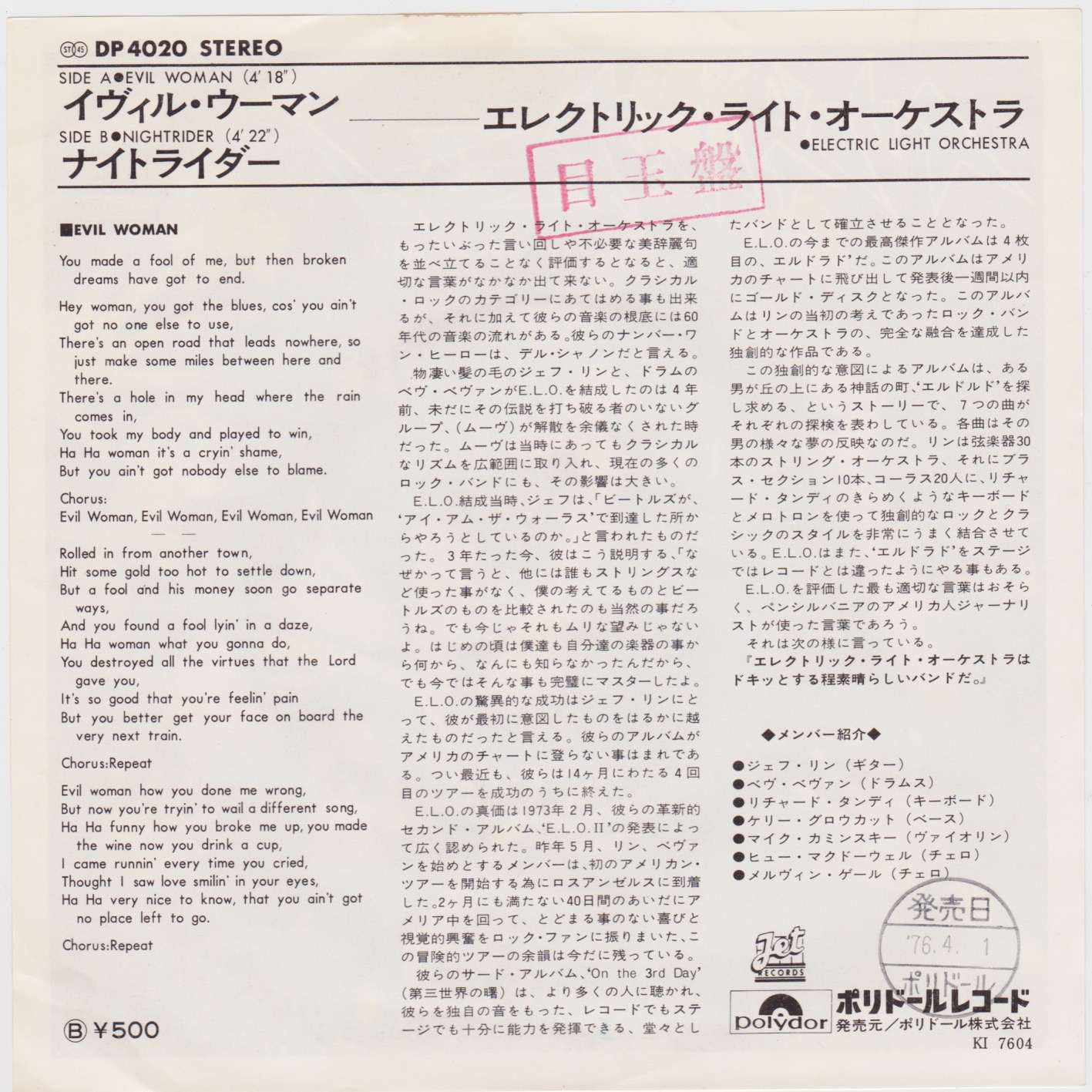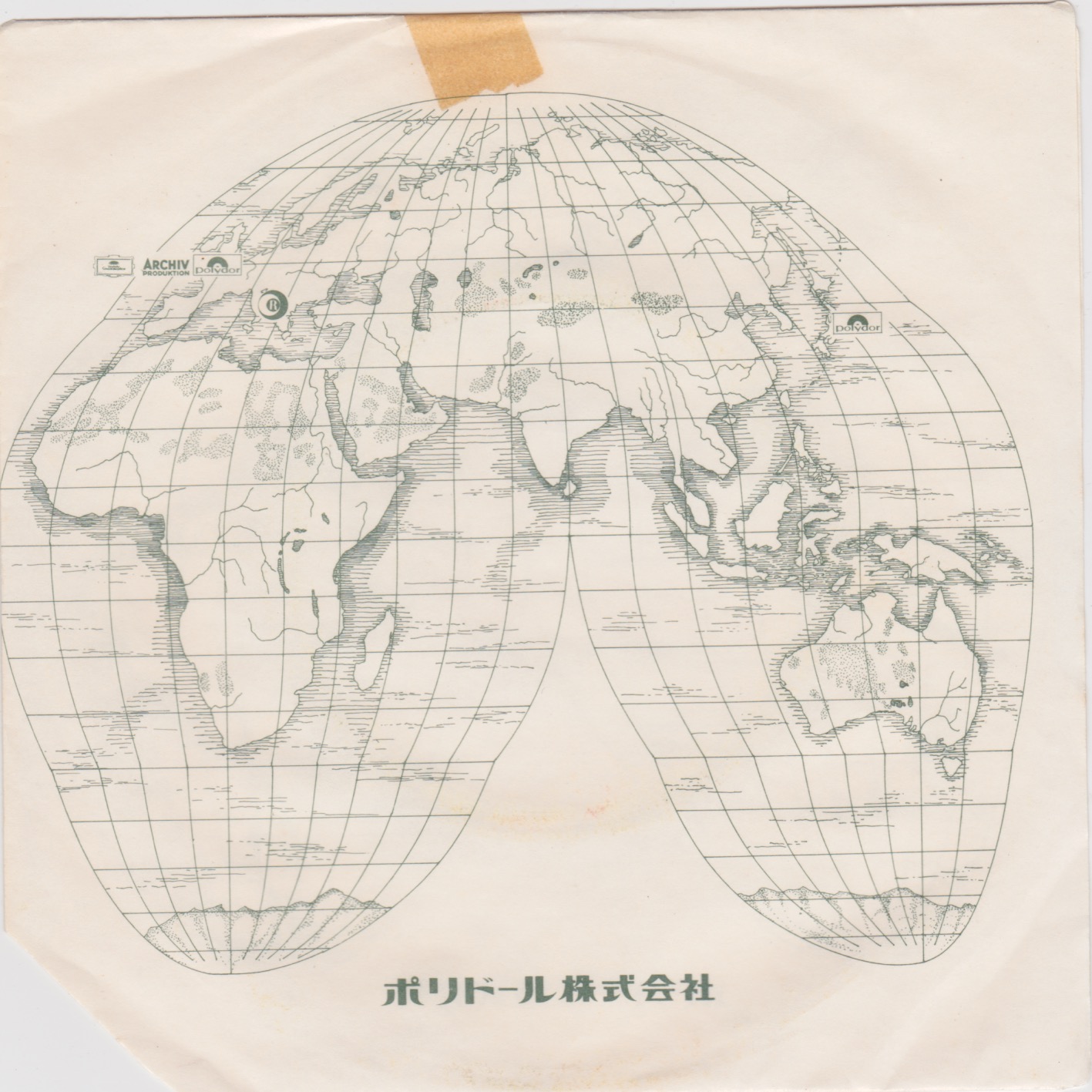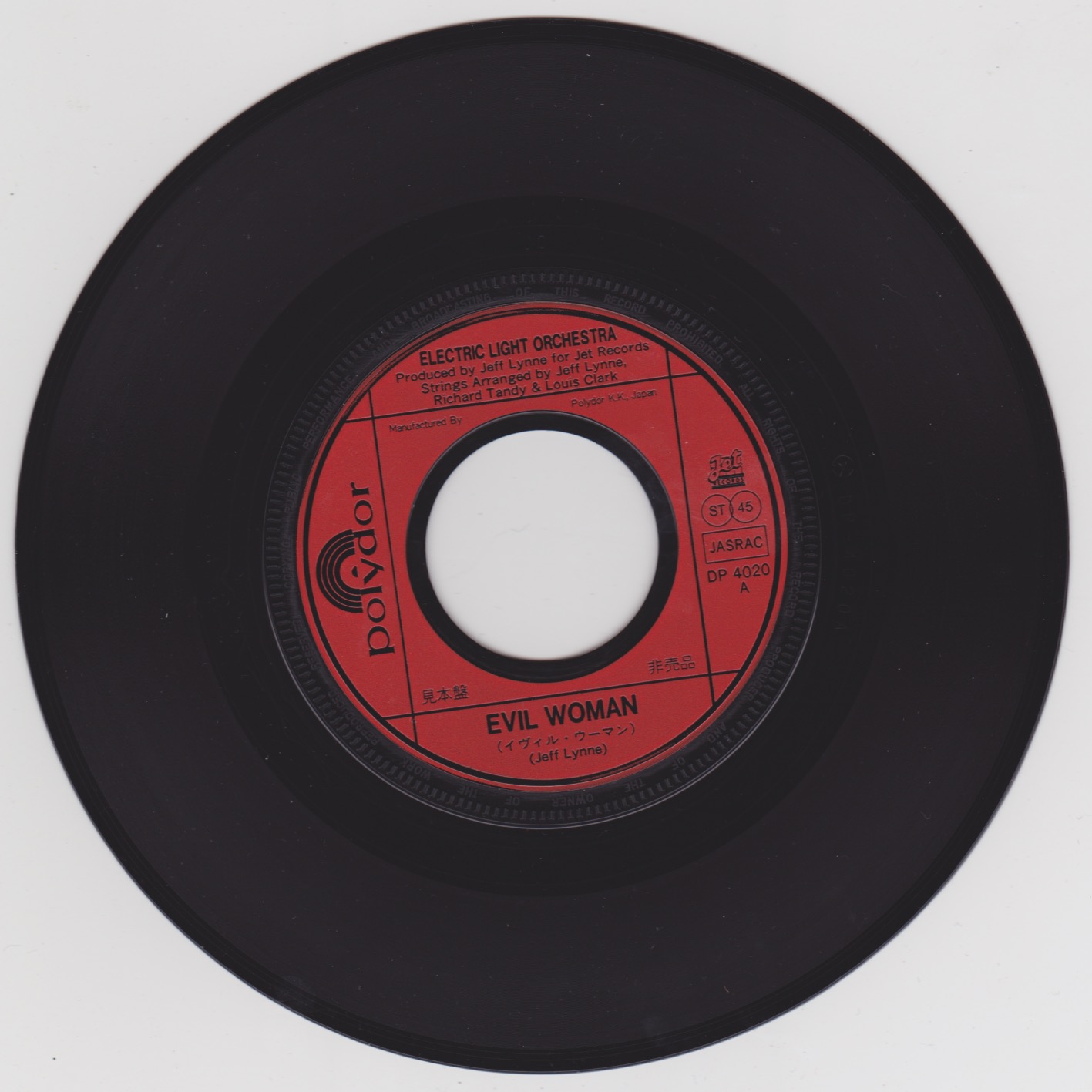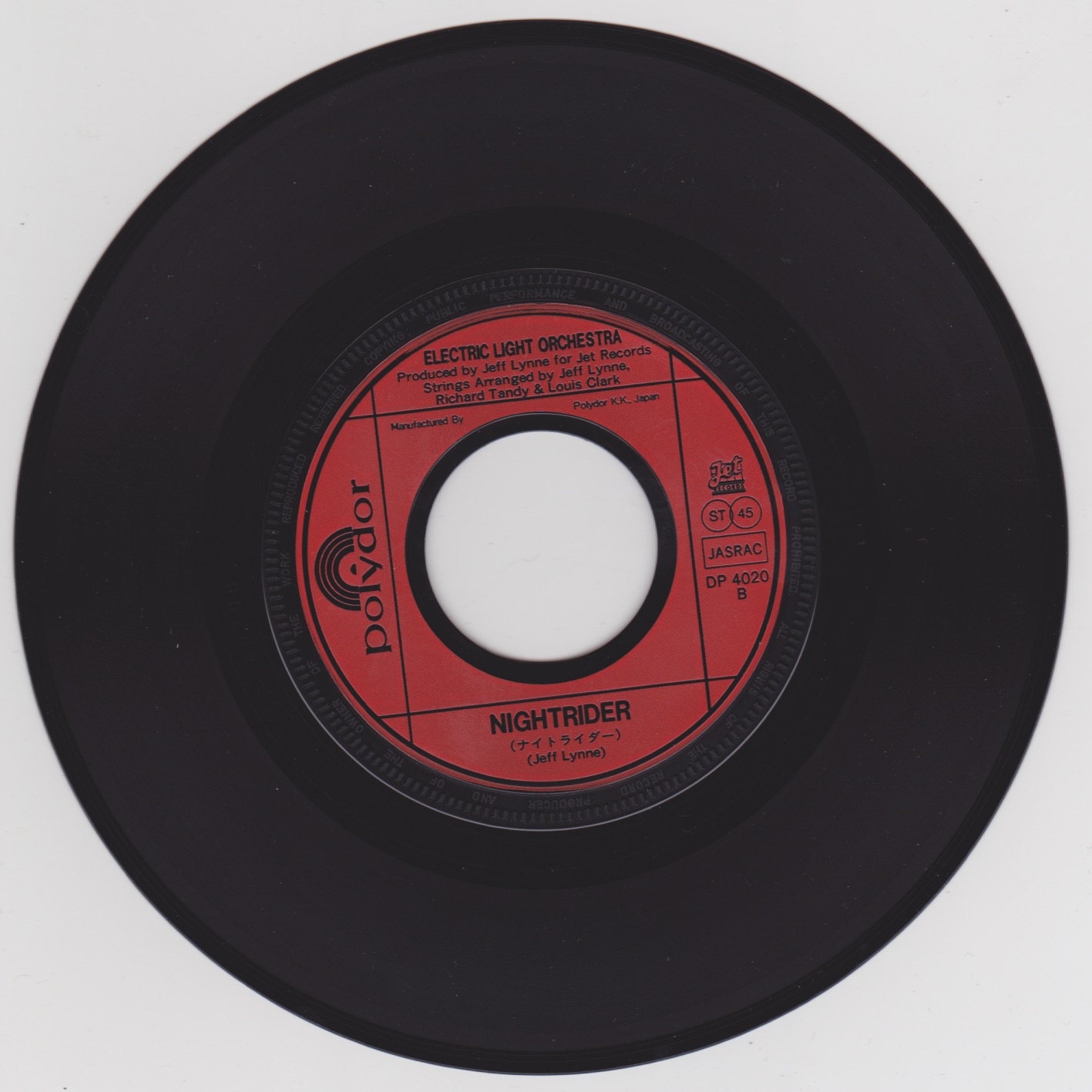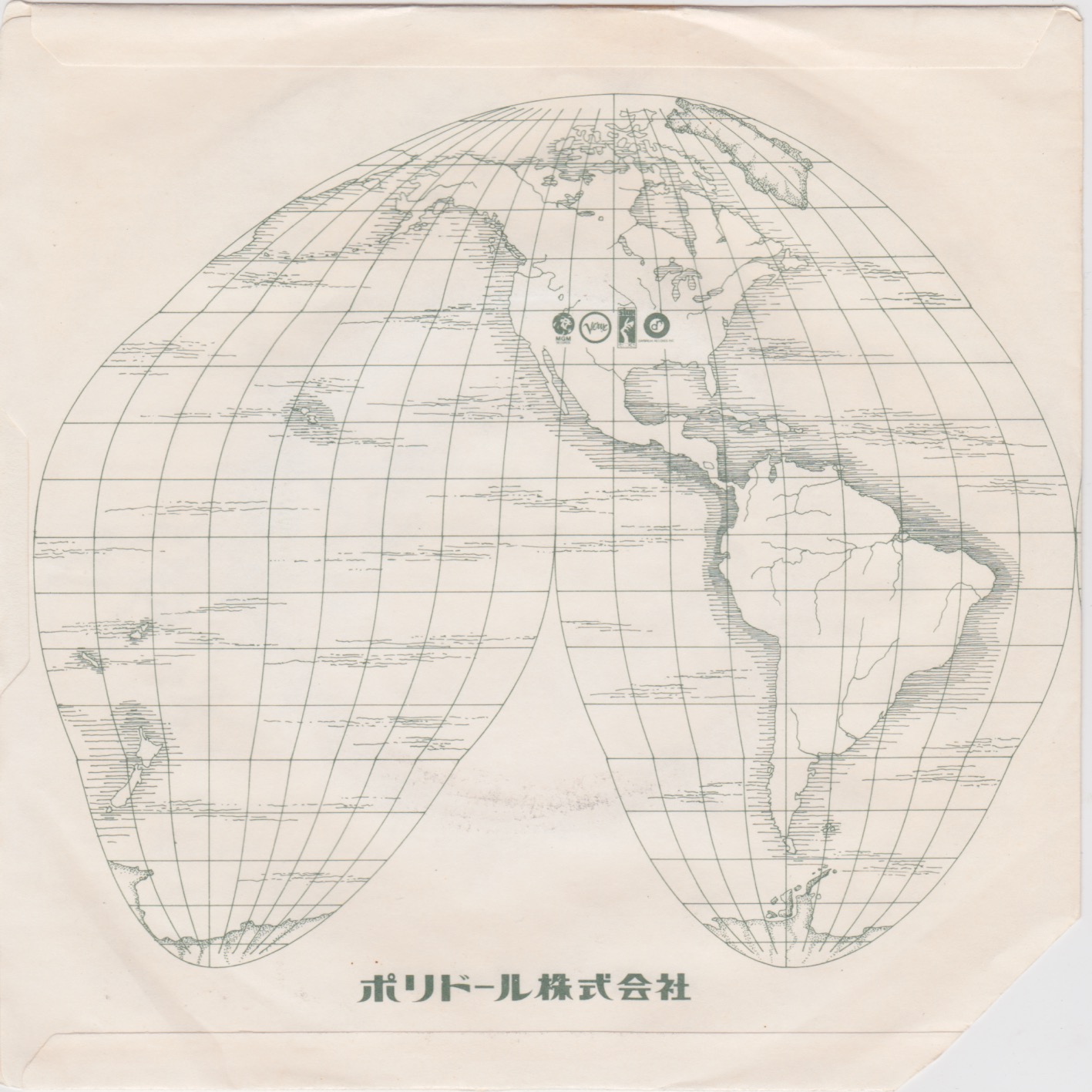 Cover design by: John Kehe / Mick Haggerty/Art Attack.
Label: Polydor, DP 4020
Country: Japan
Item: 155
Discogs: https://www.discogs.com/release/4711257-Electric-Light-Orchestra-Evil-Woman
Runout A: DP-4020A A-1-3 C6
Runout B: DP-4020B A-1-3
A1: Evil woman (Jeff Lynne) (4:18)
B1: Nightrider (Jeff Lynne) (4:22)
________________________________________________________________________________________________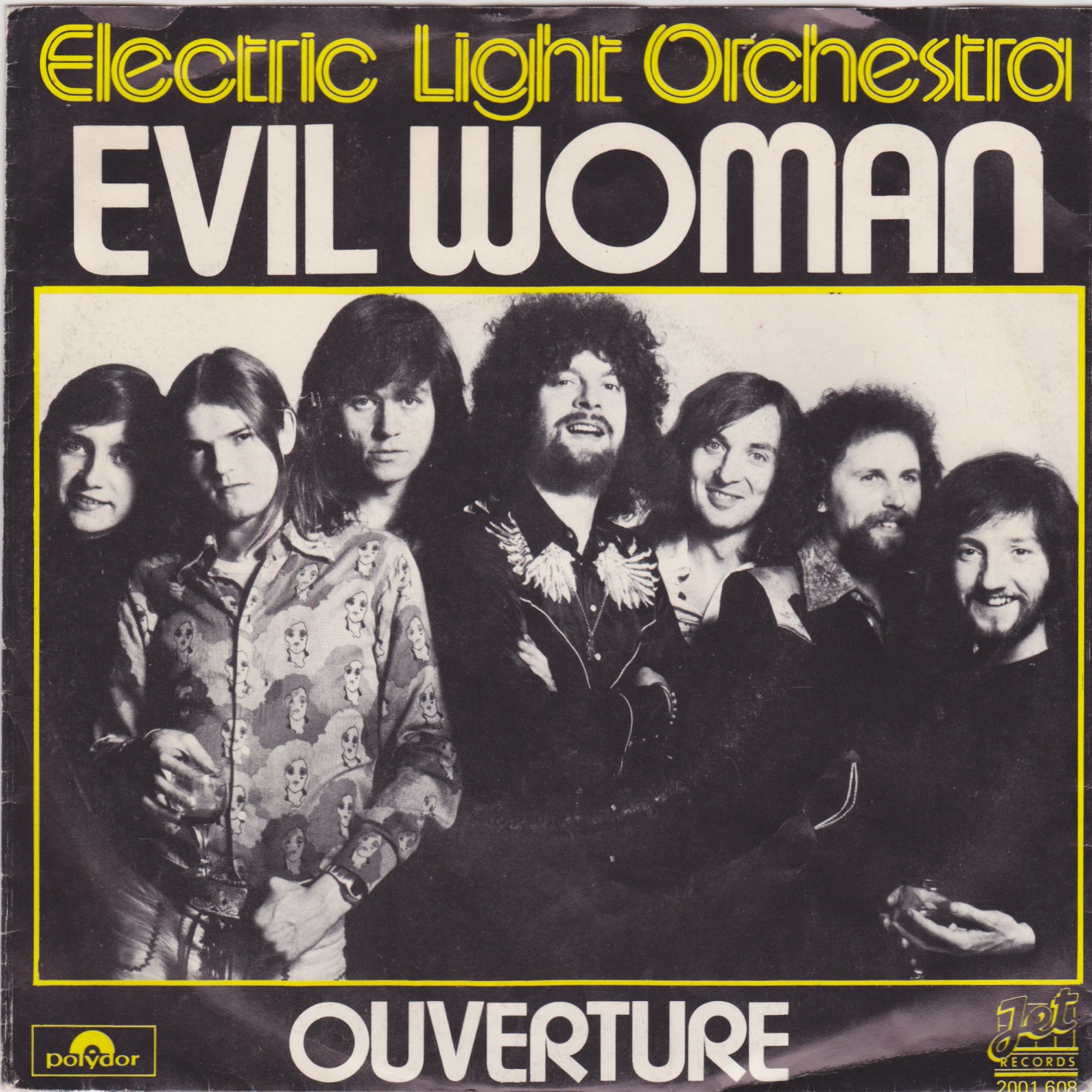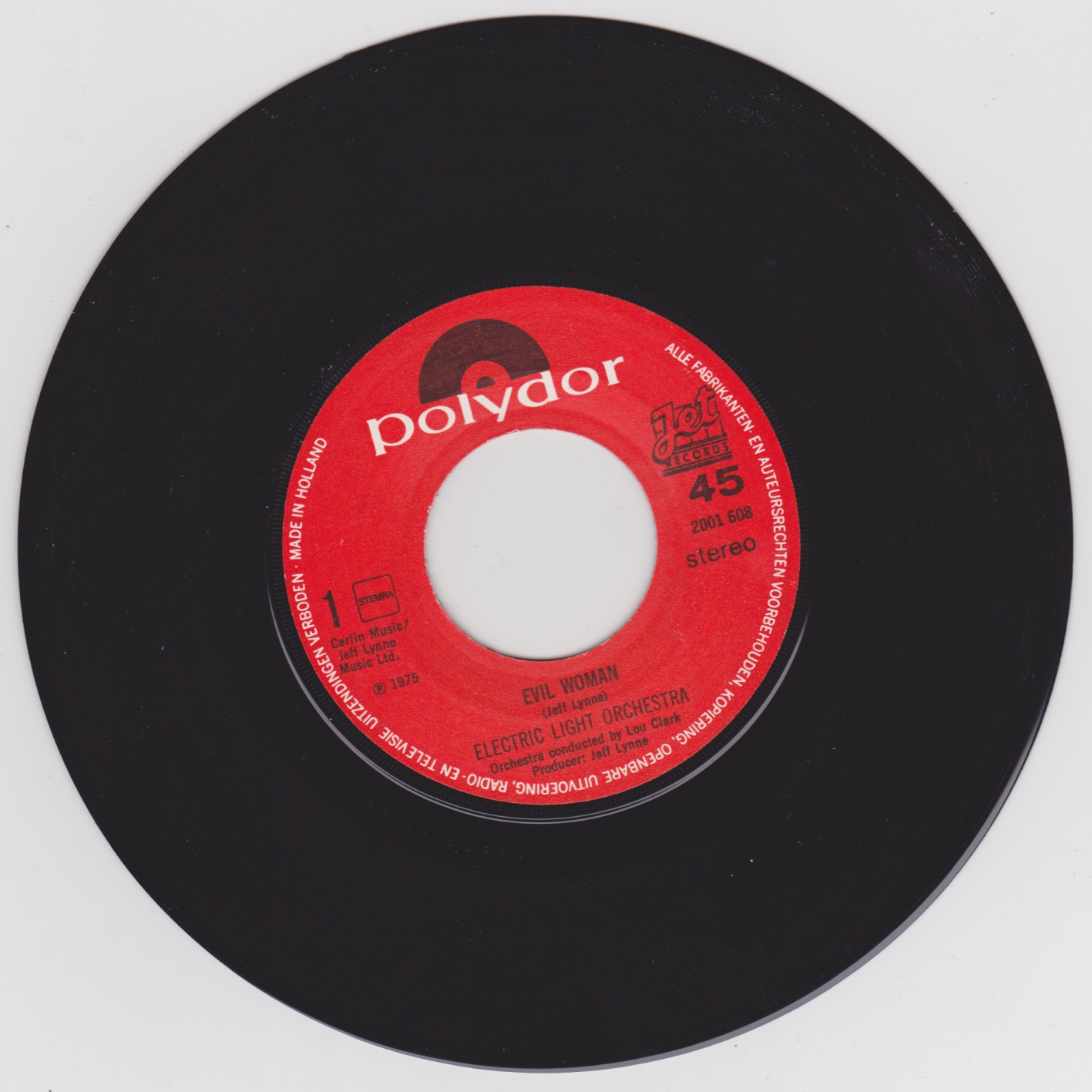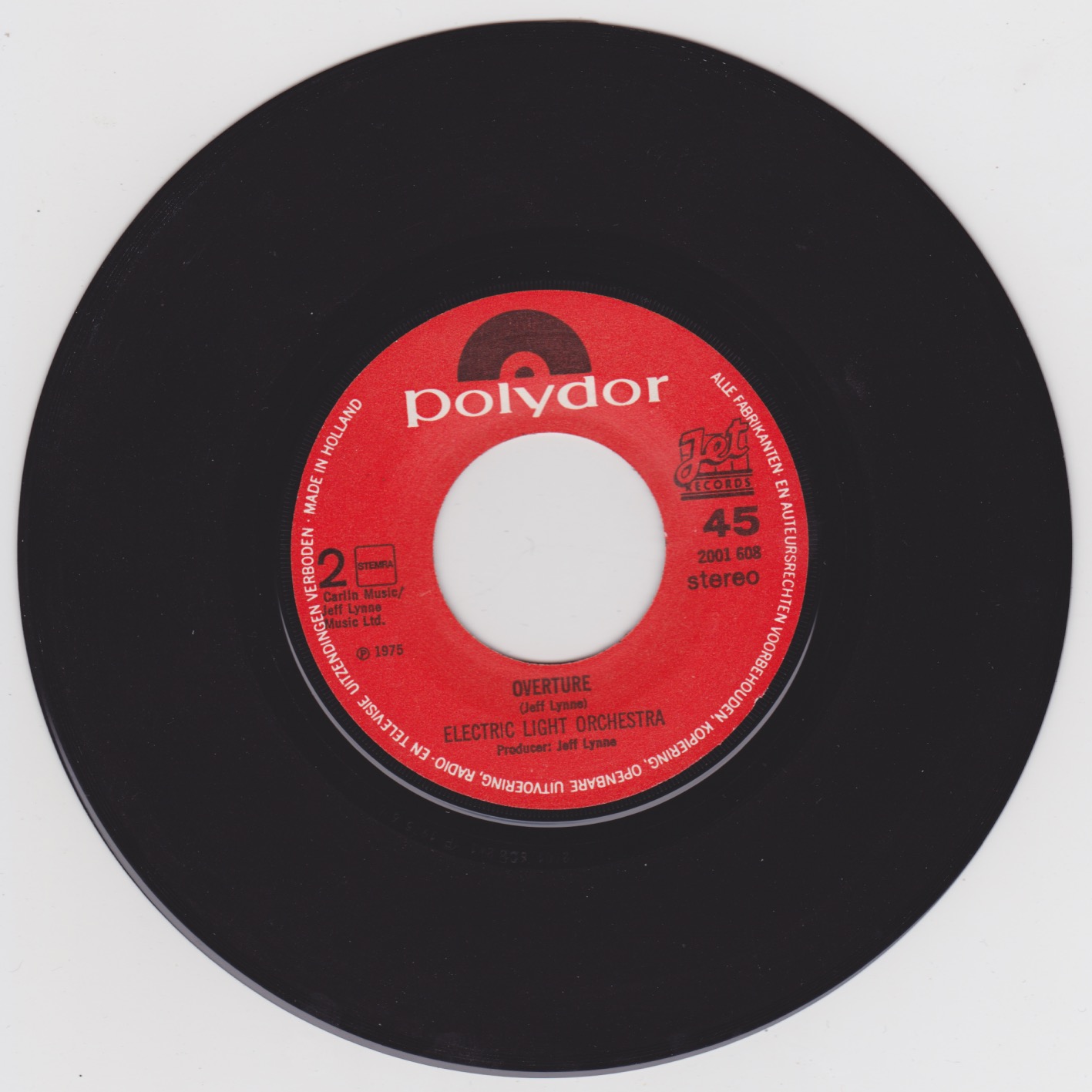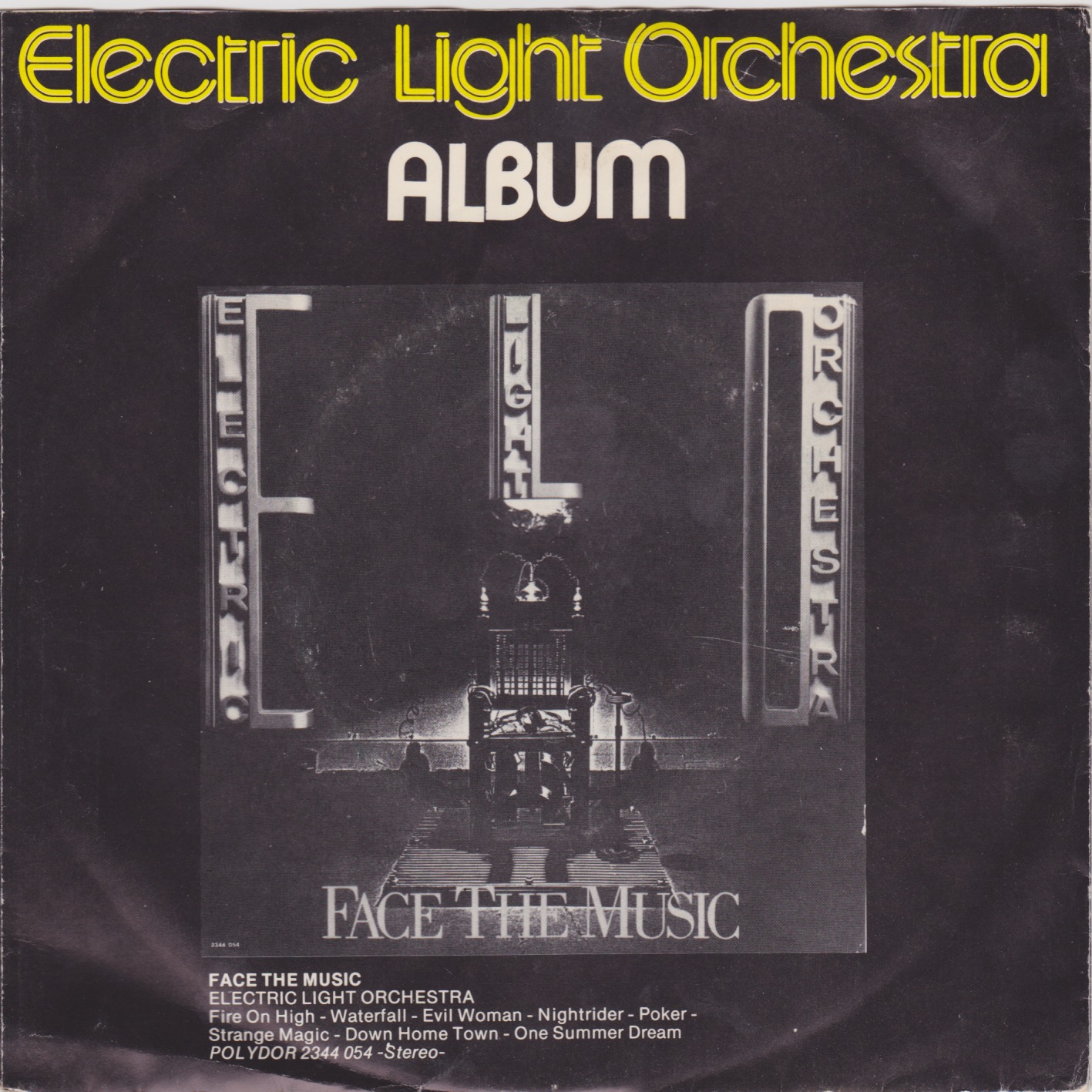 Cover design by: John Kehe / Mick Haggerty/Art Attack.
Label: Polydor & Jet Records, JET 2001 608
Country: Nederlande
Item: 156
Discogs: https://www.discogs.com/release/2210305-Electric-Light-Orchestra-Evil-Woman
Runout A: AA 2001 608 1W1 ℗ 1975 670 1 06
Runout B: AA 2001 608 2W1 ℗ 1975 670 1 06
A1: Evil woman (Jeff Lynne) (-:--)
B1: Overture (live) (Jeff Lynne) (-:--)
_______________________________________________________________________________________________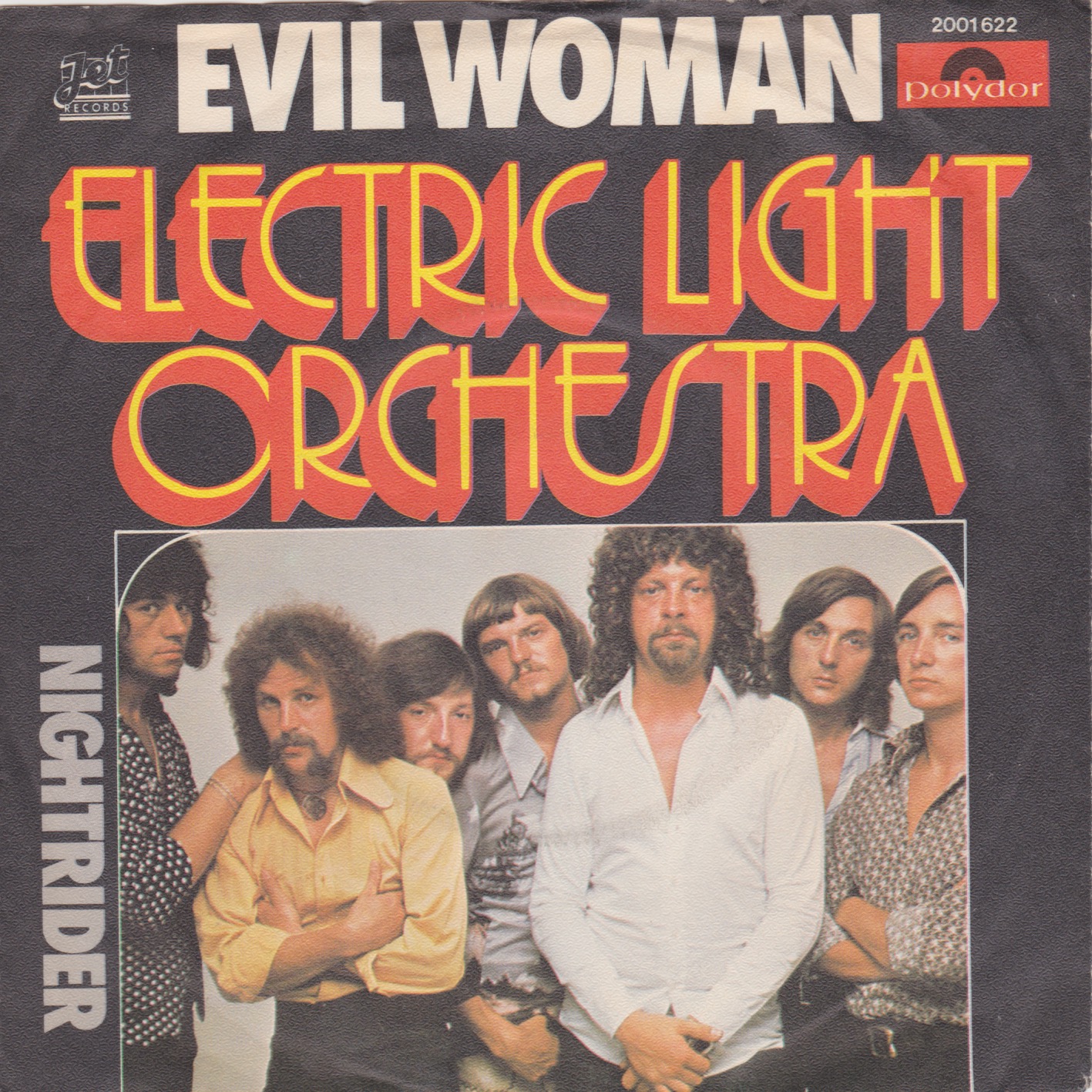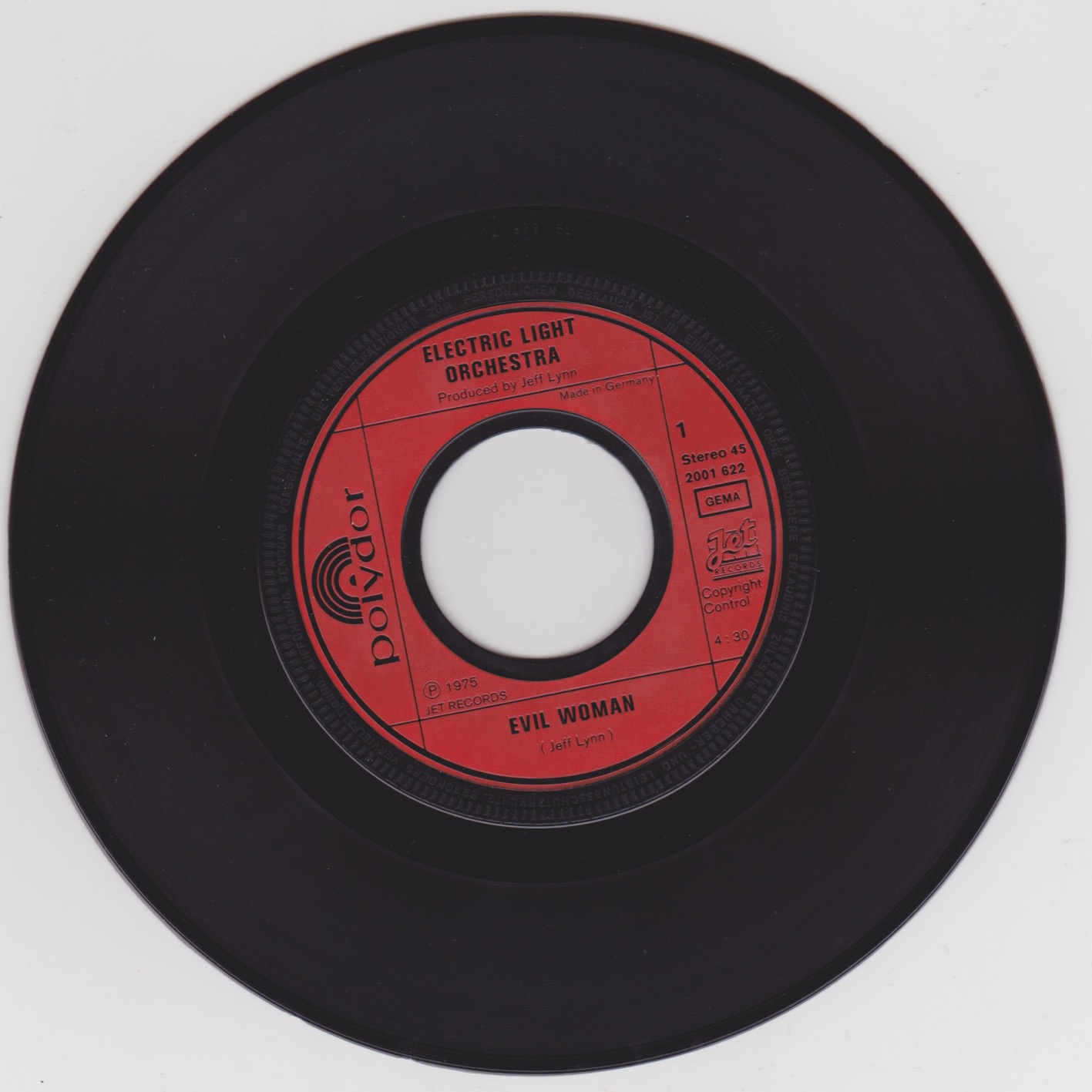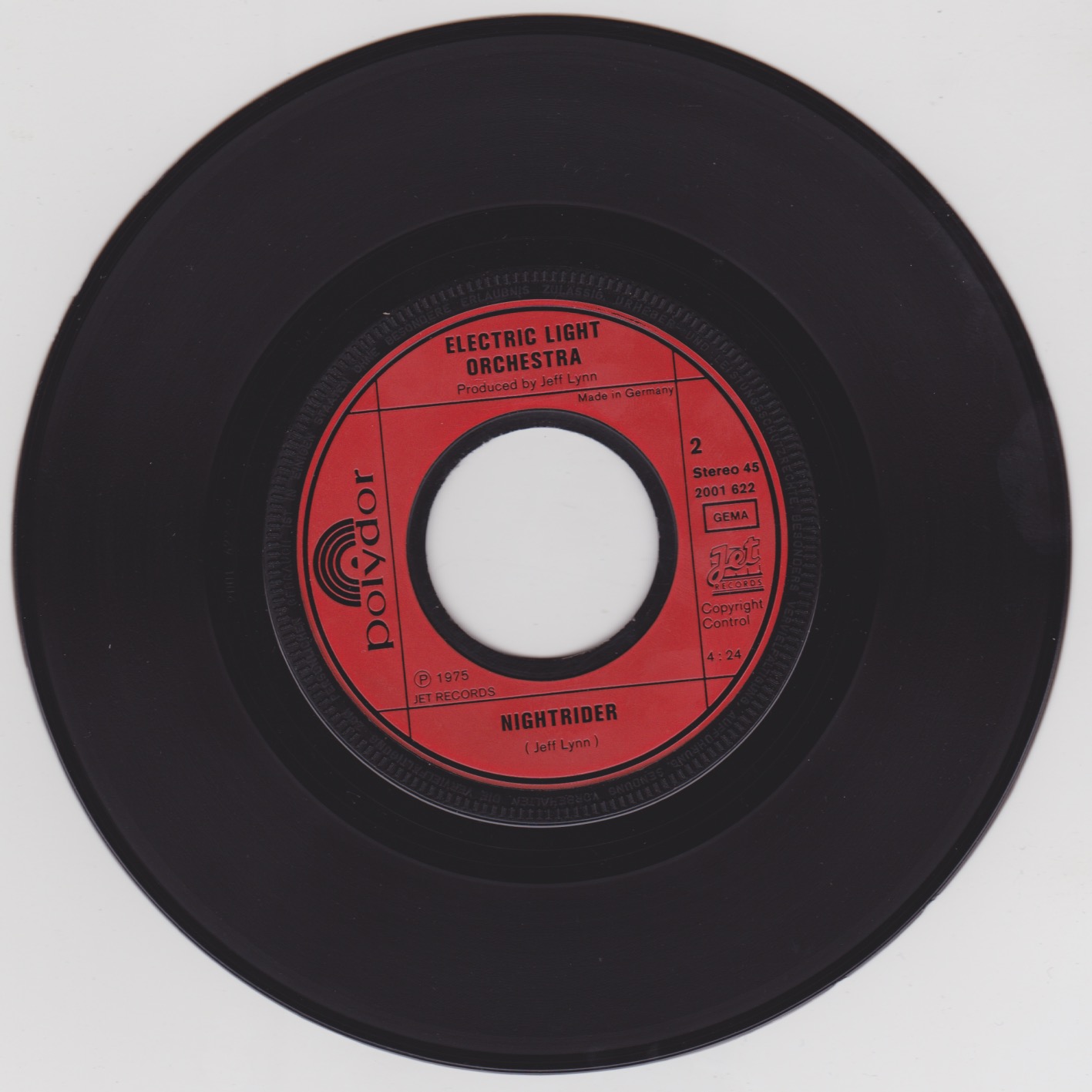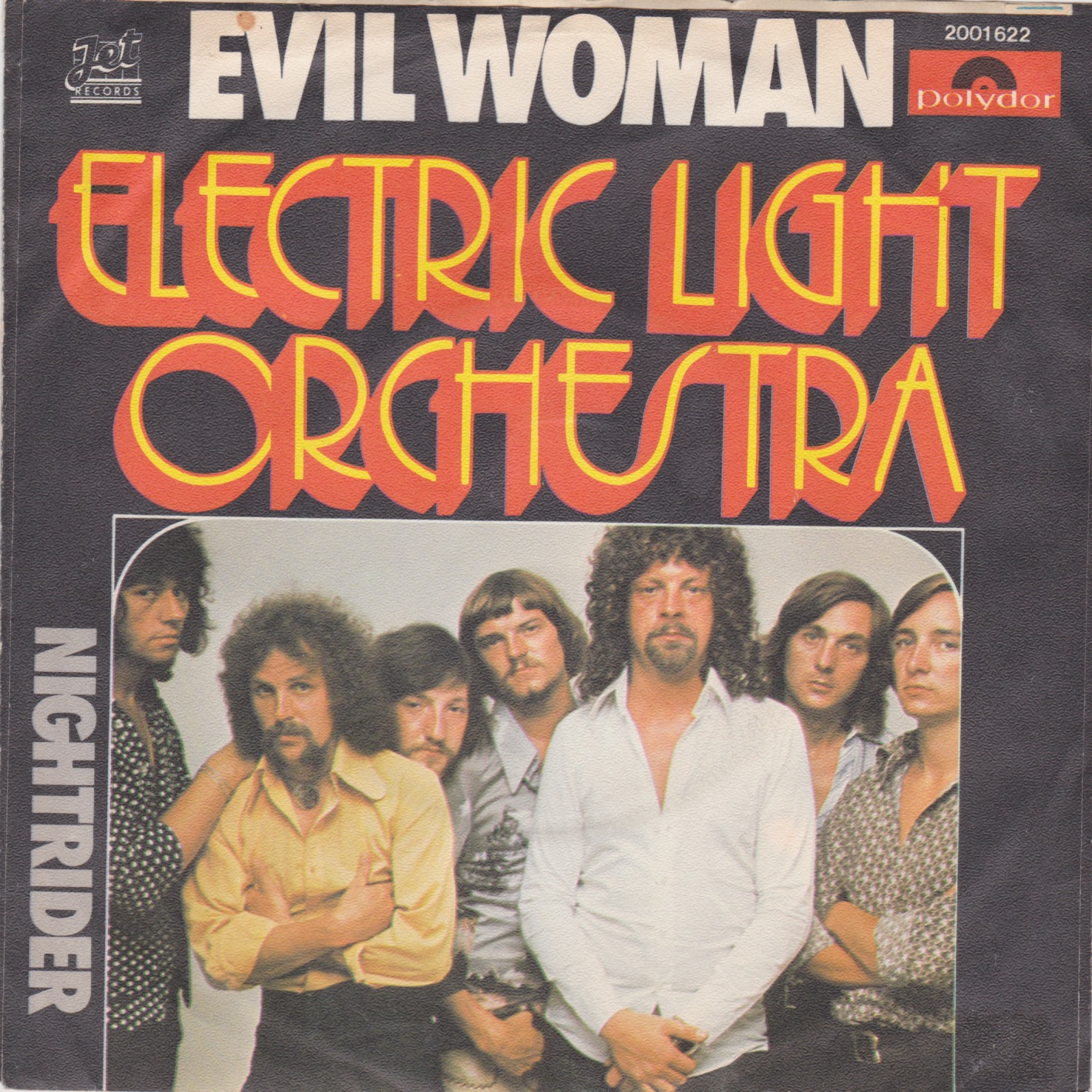 Cover design by: John Kehe / Mick Haggerty/Art Attack.
Label: Polydor & Jet Records, JET 2001 622
Country: Germany
Item: 157
Discogs: https://www.discogs.com/release/3687625-Electric-Light-Orchestra-Evil-Woman
Runout A: 2001 622 S1 320
Runout B: 2001 622 S2 320
A1: Evil woman (Jeff Lynne) (4:30)
B1: Nightrider (Jeff Lynne) (4:24)
________________________________________________________________________________________________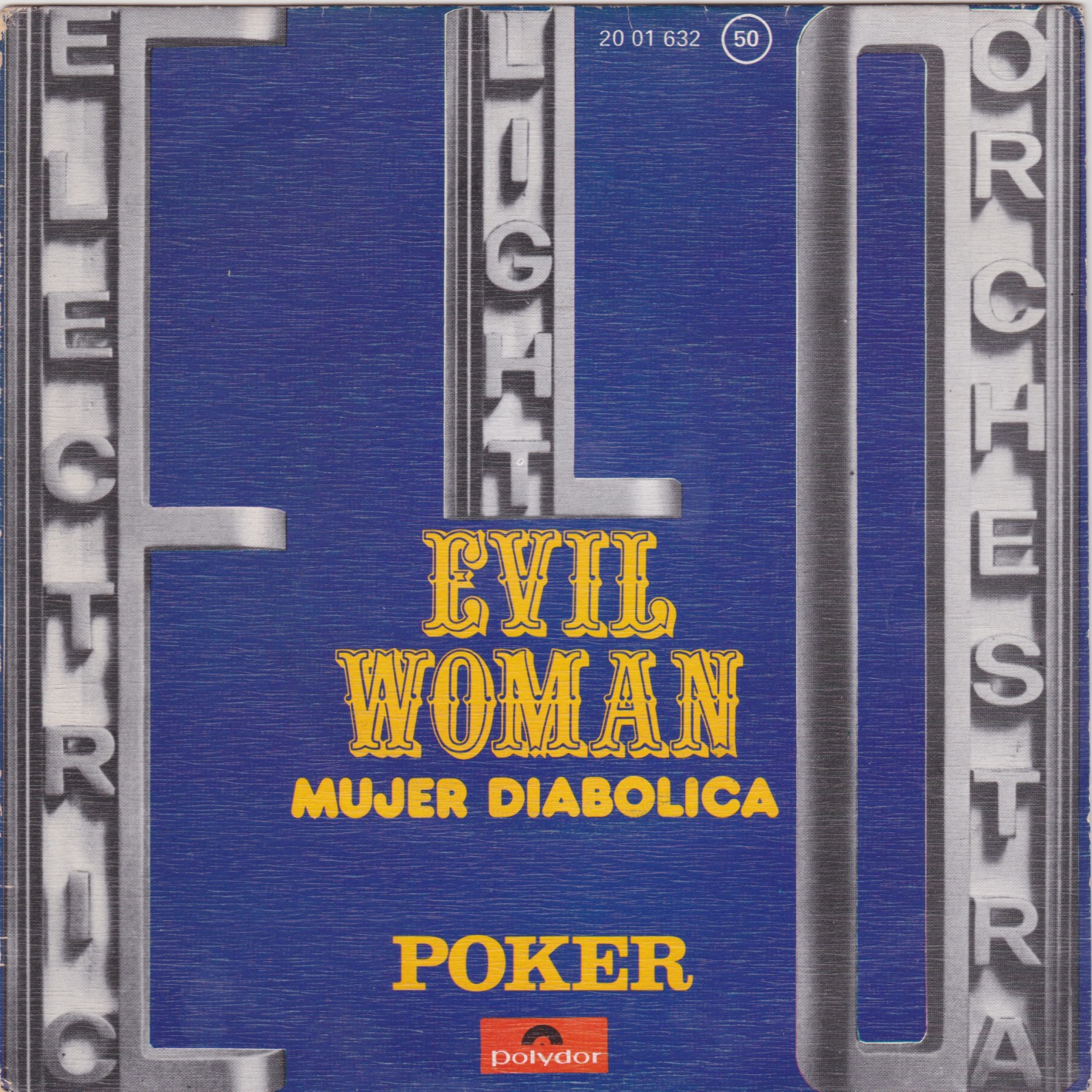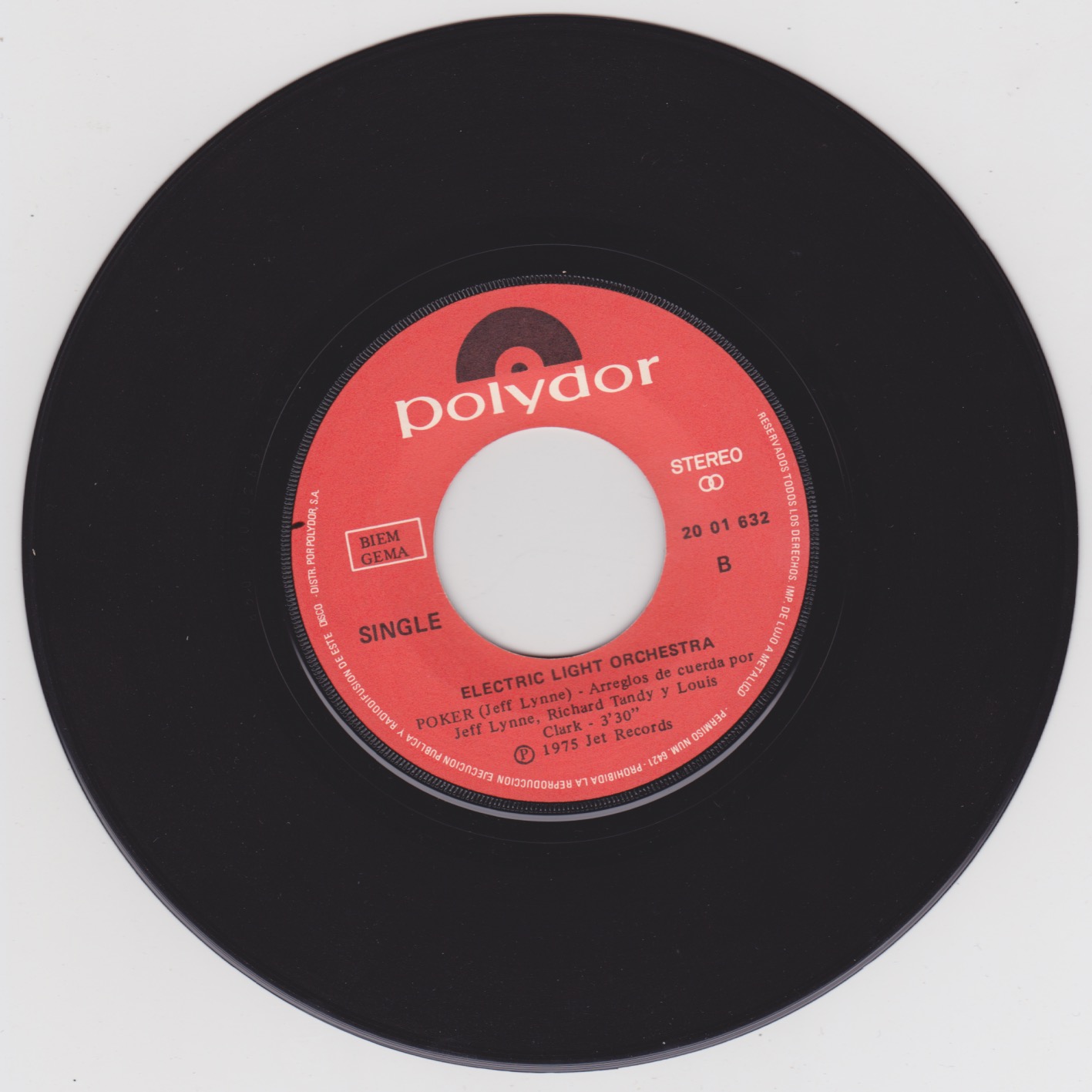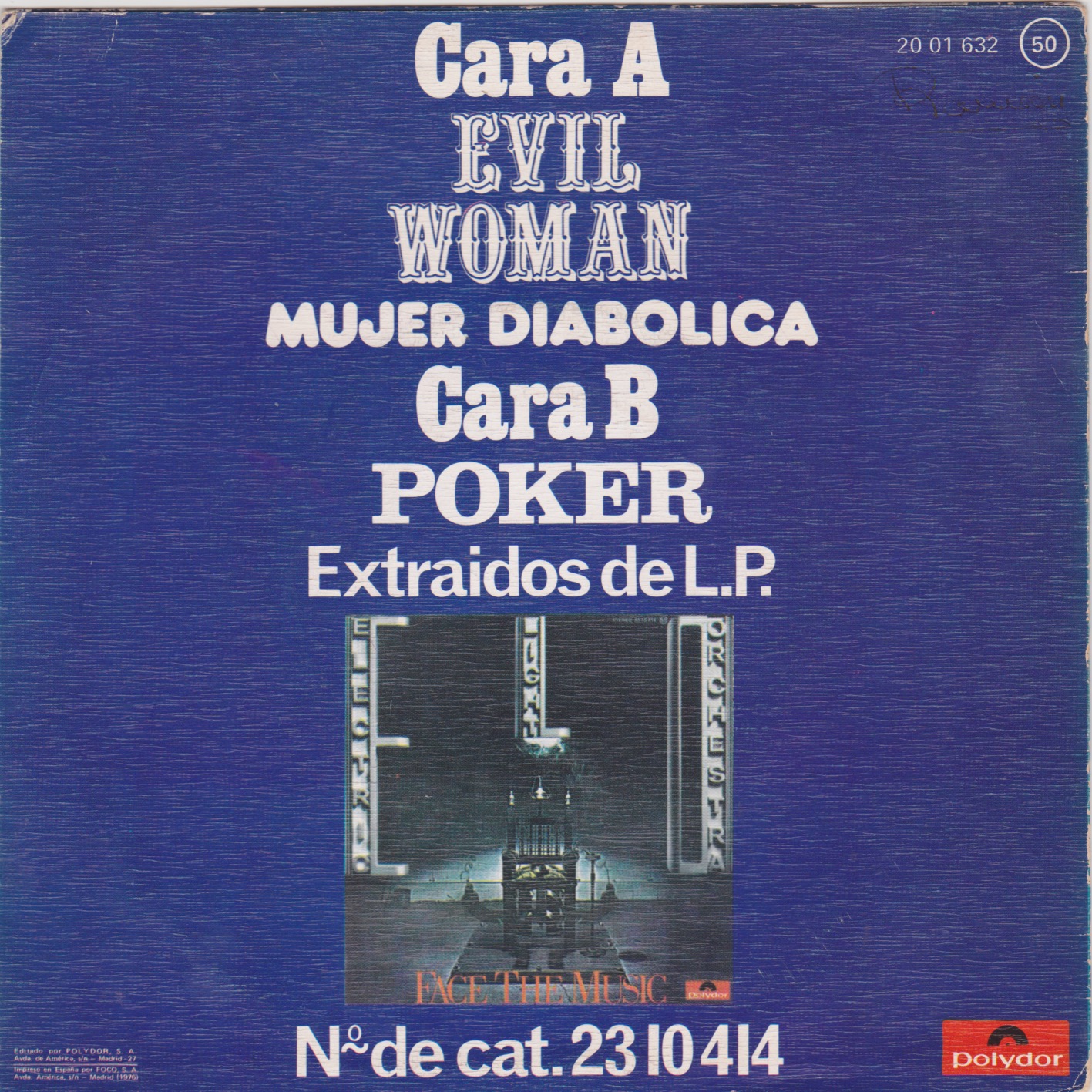 Cover design by: John Kehe / Mick Haggerty/Art Attack.
Label: Polydor & Jet Records, JET 2001 622
Country: Spain
Item: 158
Discogs: https://www.discogs.com/release/4641357-Electric-Light-Orchestra-Evil-Woman-Mujer-Diabolica
Runout A: 850 2001 6-3-2 ★A★1
Runout B: 850 2001 6-3-2 ★B★1
A1: Evil woman (Jeff Lynne) (3:35)
B1: Nightrider (Jeff Lynne) (3:30)
________________________________________________________________________________________________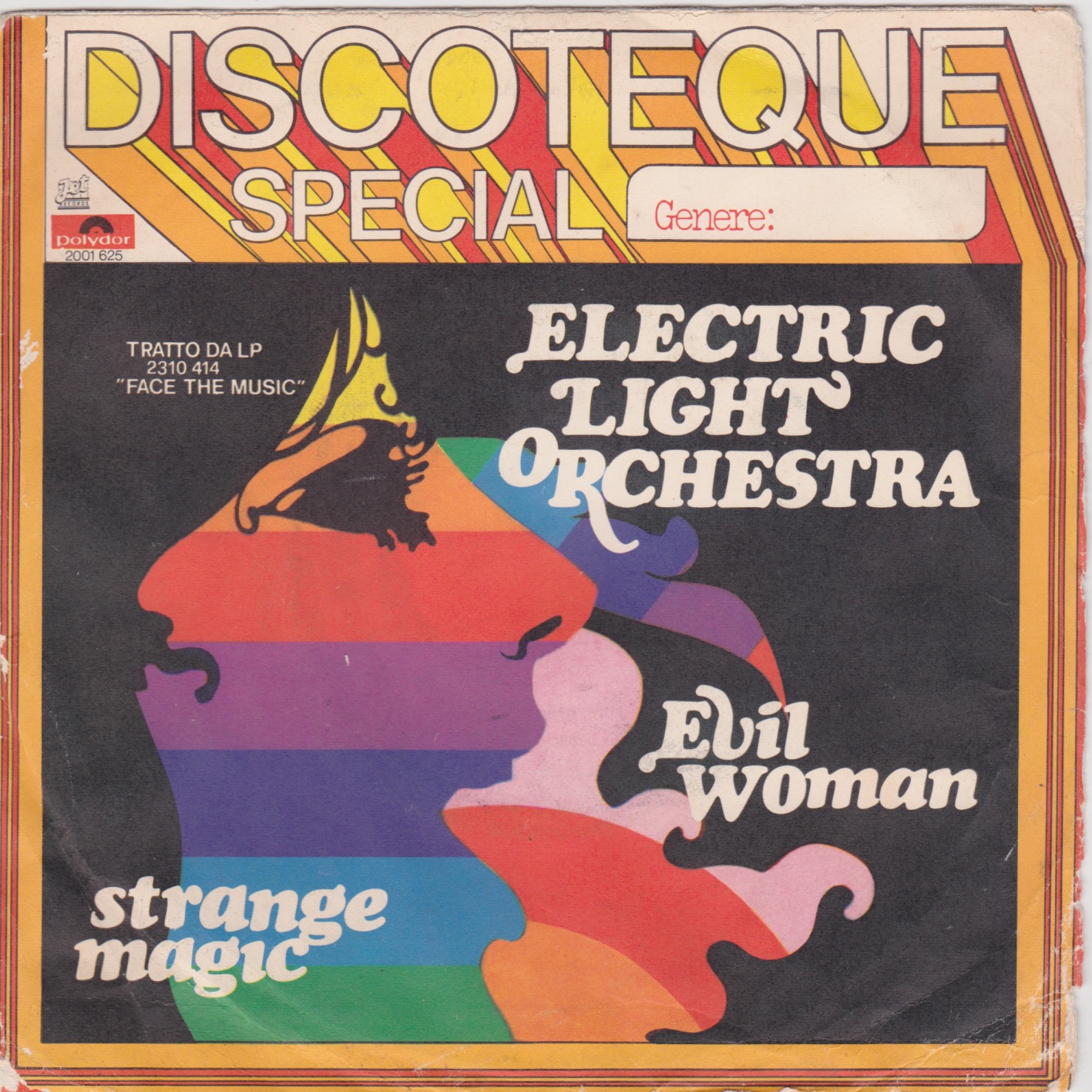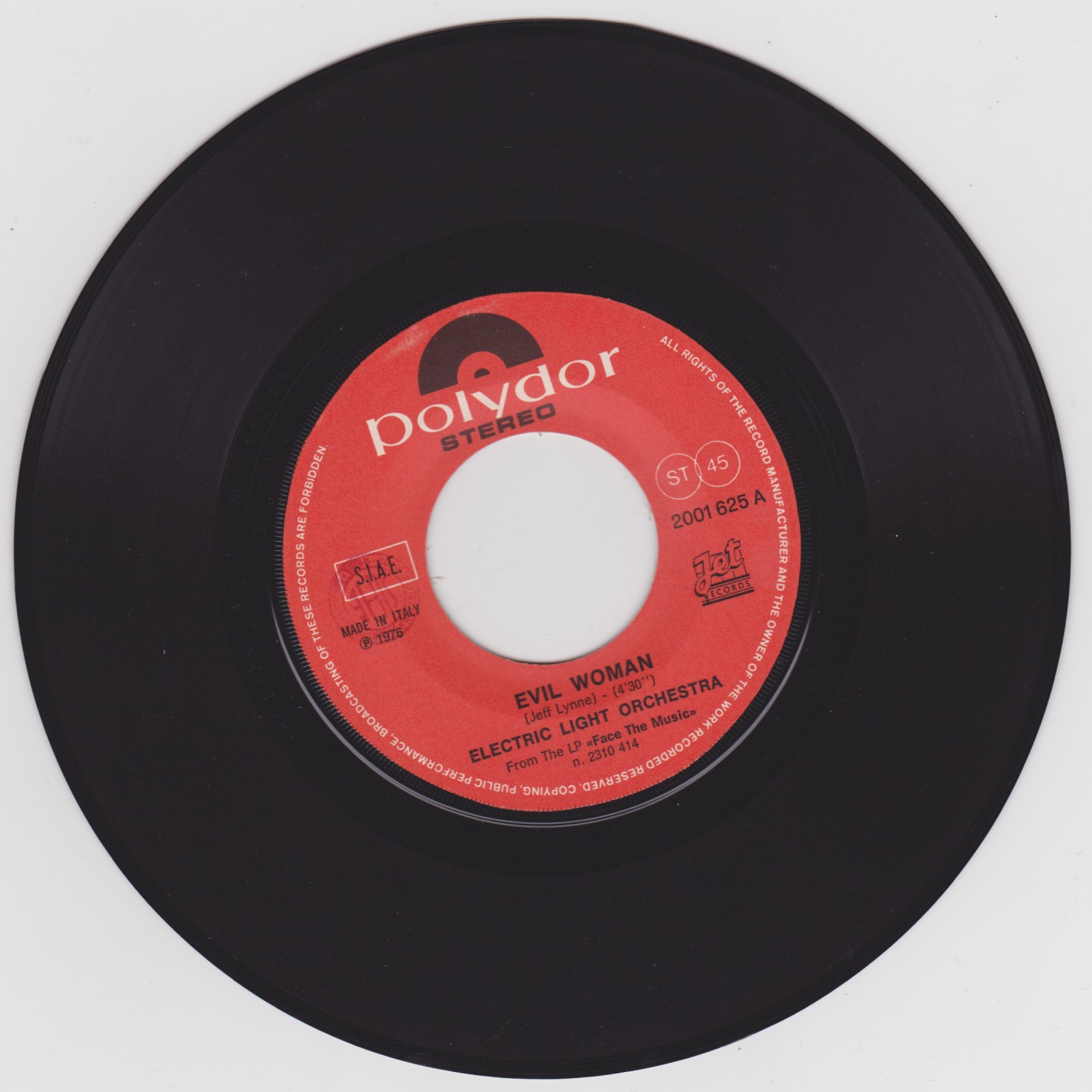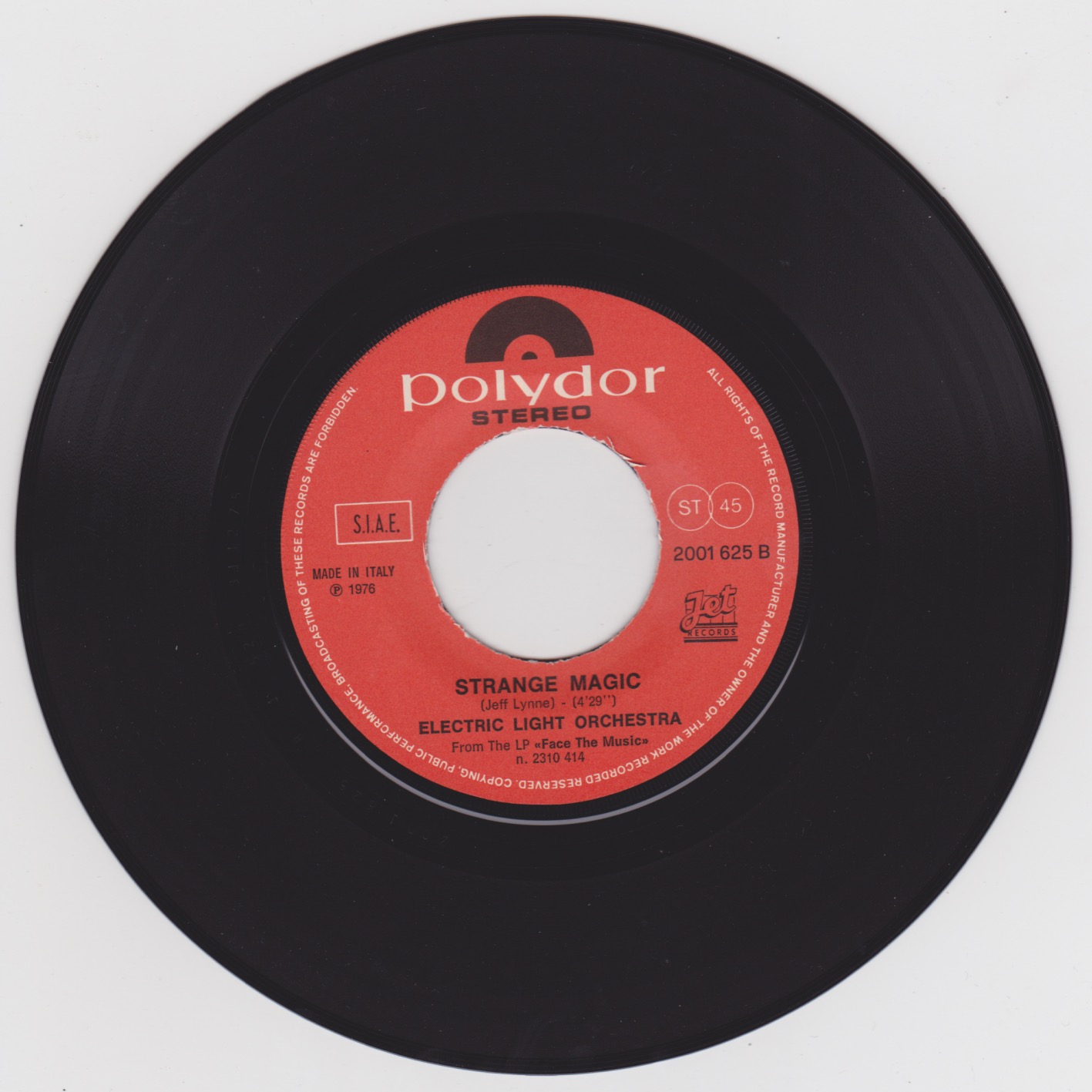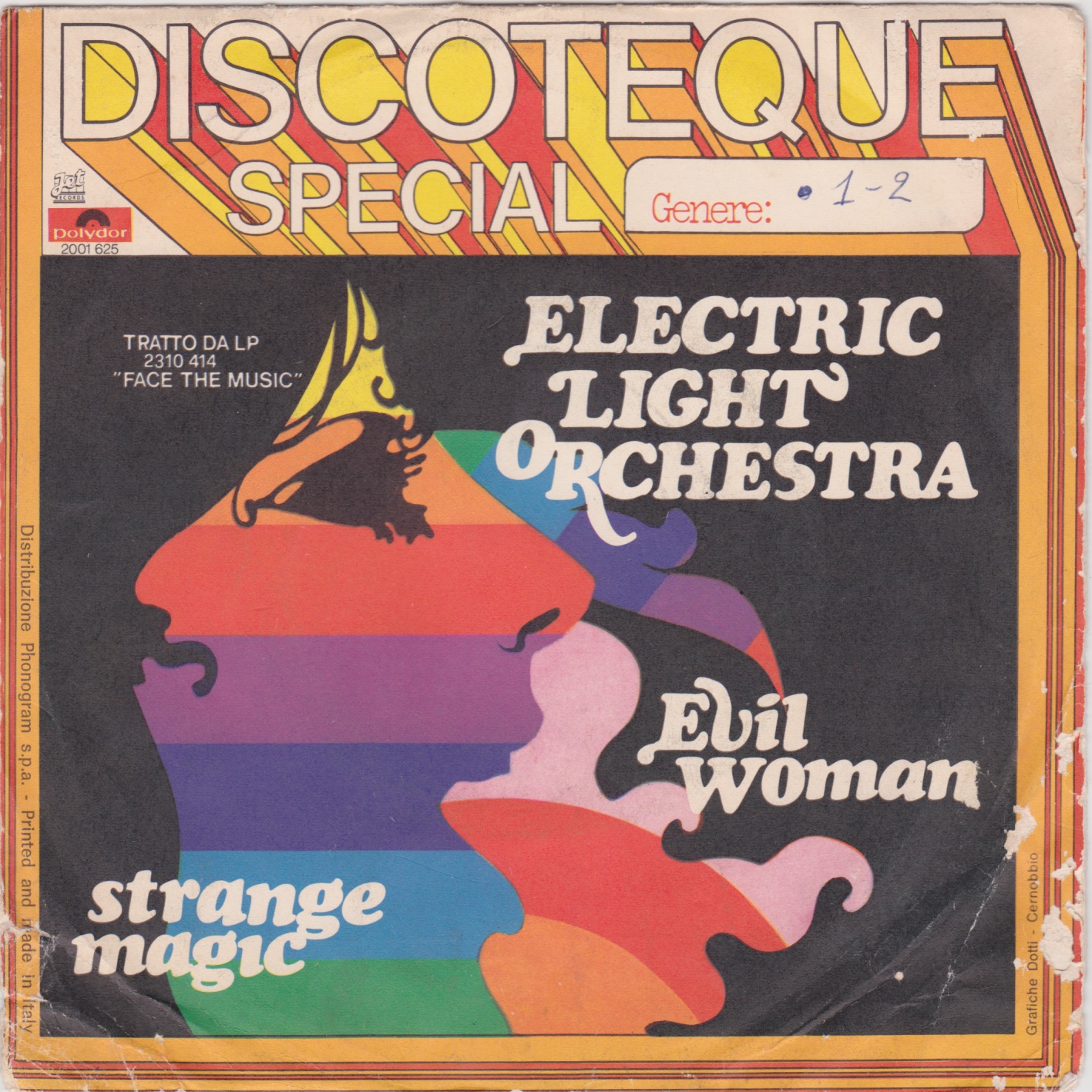 Cover design by:
Label: Polydor & Jet Records, JET 2001 625
Country: Italy
Item: 578
Discogs: https://www.discogs.com/release/3321999-Electric-Light-Orchestra-Evil-Woman-Strange-Magic
Runout A: 2001 625 A 1 520 31 12 75
Runout B: 2001 625 B 1 520 31 12 75
A1: Evil woman (Jeff Lynne) (4:30)
B1: Strange magic (Jeff Lynne) (4:29)