ELO 12": The Night the light went on in Long Beach.
Released: 1974
Produced by: Jeff Lynne
Engineered by: Tychobrahe Sound
Recorded in: Long Beach Auditorium 12-5-1974
Jeff Lynne: Guitar, vocals, Moog & harmonium.
Bev Bevan: Drums & percussion.
Richard Tandy: Moog, piano, guitar, harmonium & vocal harmonies.
Michael D´ Albuquerque: Bass & vocal harmonies.
Colin Walker: Cello.
Mik Kaminski: Violin.
Mike Edwards: Cello.
Wilf Gibson: Violin.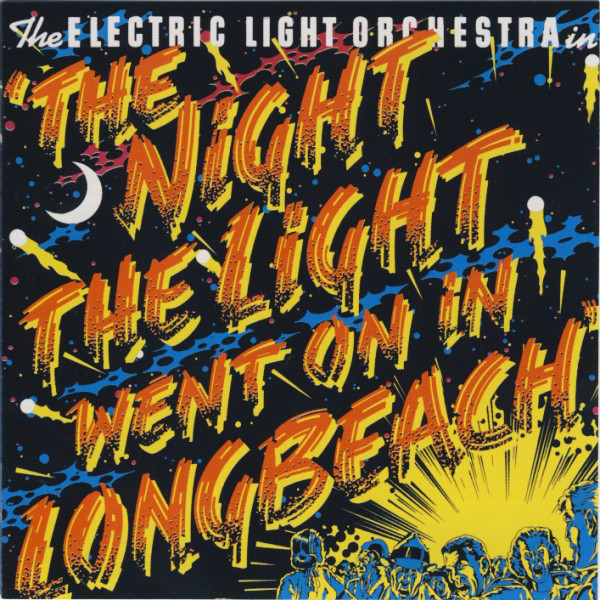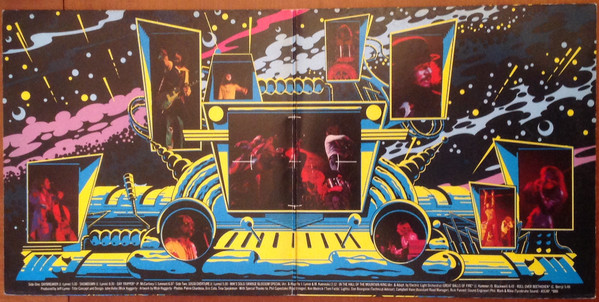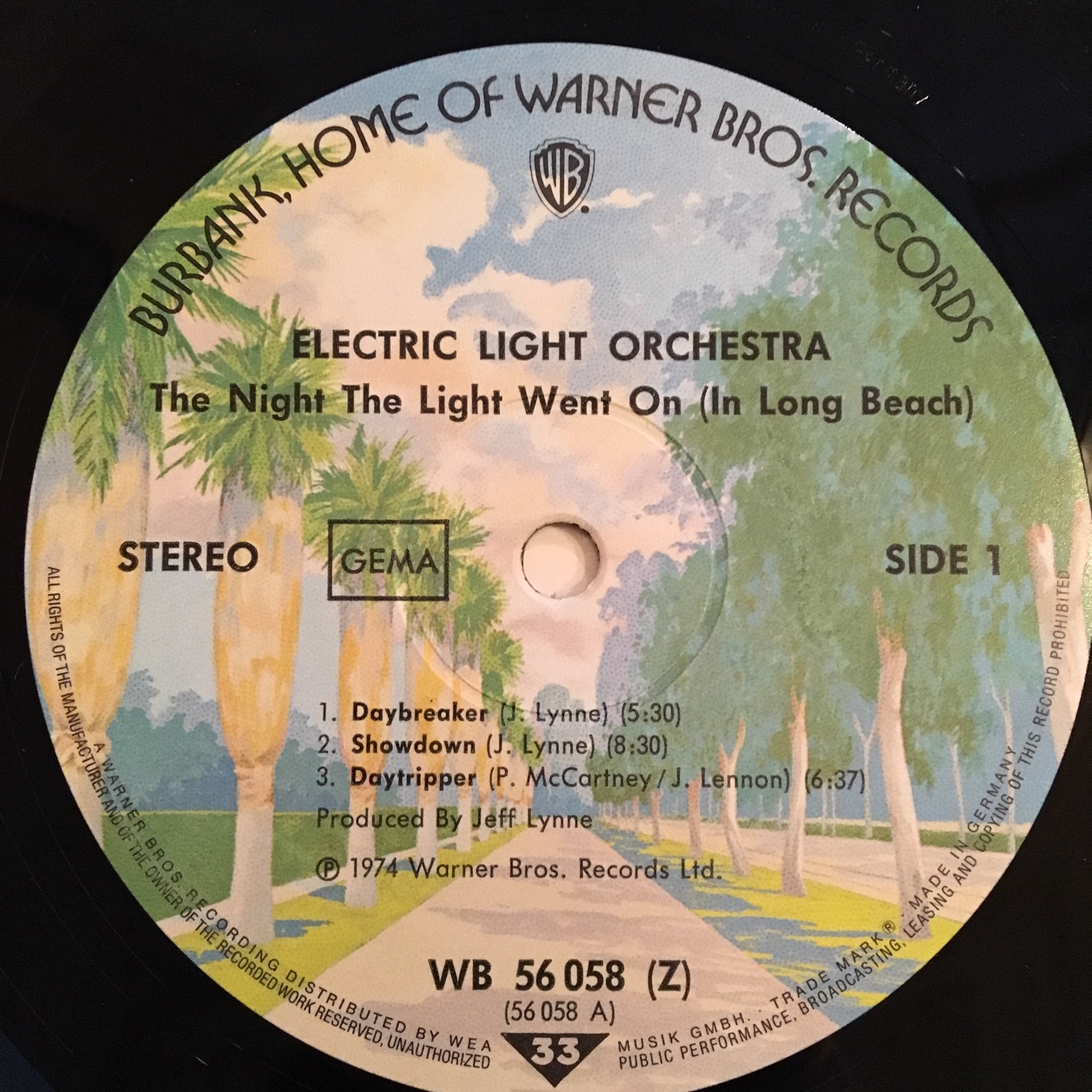 Cover design by: John Kehe/Mich Haggerty
Label: Warner Bros., WB 56 058
Country: D
Item: 94
Discogs: https://www.discogs.com/release/2167711-Electric-Light-Orchestra-The-Night-The-Light-Went-On-In-Long-Beach
Runout A: WEA 56058-A I PF Manufactured in Germany
Runout B: WEA 56058-B I PF Manufactured in Germany
A1: Daybreaker (Jeff Lynne) (5:30)
A2: Showdown (Jeff Lynne) (8:30)
A3: Daytripper (Paul McCartney) (6:37)
B1: 10538 Overture (Jeff Lynne) (5:30)
B2: Orange blossom special (Jeff Lynne & Mick Kaminski) (2:12)
B3a: In the hall of the mountain King (Jeff Lynne)
B3b: Great balls of fire (J.Hammer & O. Blackwell) (6:42)
B4: Roll over Beethoven (Chuck Berry) (5:40)
__________________________________________________________________________________________________________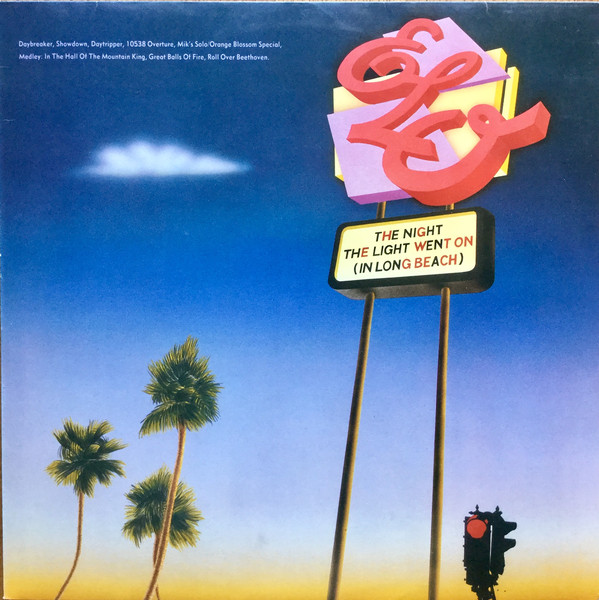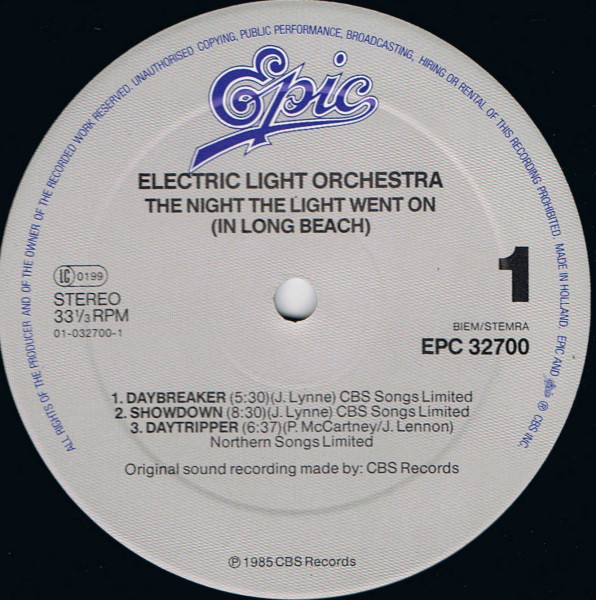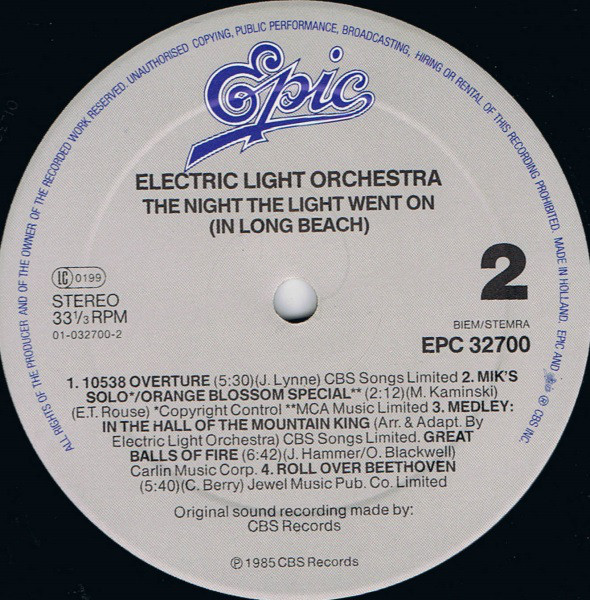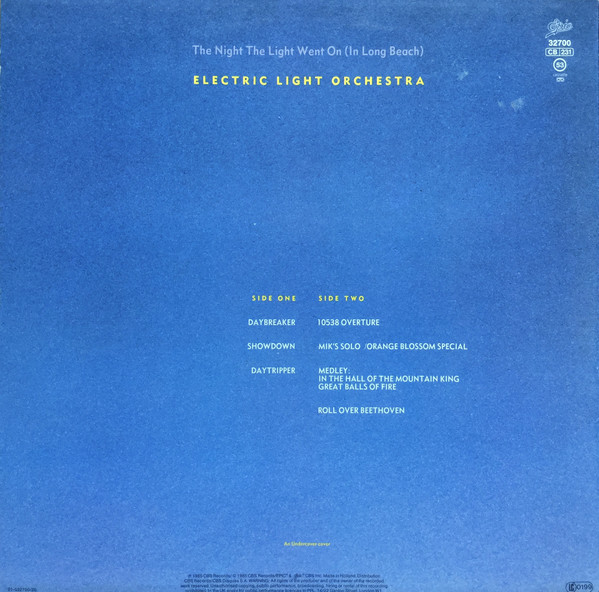 Cover design by:
Label: Epic, EPC 32700
Country: NL
Item: 95
Discogs: https://www.discogs.com/release/1554396-Electric-Light-Orchestra-The-Night-The-Light-Went-On-In-Long-Beach
Runout A: 01-32700-1A-1
Runout B: 01-32700-1B-1
A1: Daybreaker (Jeff Lynne) (5:30)
A2: Showdown (Jeff Lynne) (8:30)
A3: Daytripper (Paul McCartney) (6:37)
B1: 10538 Overture (Jeff Lynne) (5:30)
B2: Orange blossom special (Jeff Lynne & Mick Kaminski) (2:12)
B3a: In the hall of the mountain King (Jeff Lynne)
B3b: Great balls of fire (J.Hammer & O. Blackwell) (6:42)
B4: Roll over Beethoven (Chuck Berry) (5:40)