ELO 12": Greatest hits.
Released: 1979
Produced by: Jeff Lynne
Engineered by:
Recorded in:
Jeff Lynne:
Bev Bevan:
Richard Tandy:
Kelly Groucutt:
Mik Kaminski:
Hugh McDowell:
Melvyn Gale:
Michael D´ Albuquerque:
Mike Edwards:
Colin Walker:
This Greatest Hits album achieves (8 Dec. 1979), a 7 place in the UK and (22 Dec. 1979), a 30 place in the United States.
Having been brought as TV advertising from Telstar records (23 Dec. 1989) obtains the album a 23 place in the UK.
The album re-released in Oct. 1990 under the name The very best of the Electric Light Orchestra and achieves now a 28 place in the UK.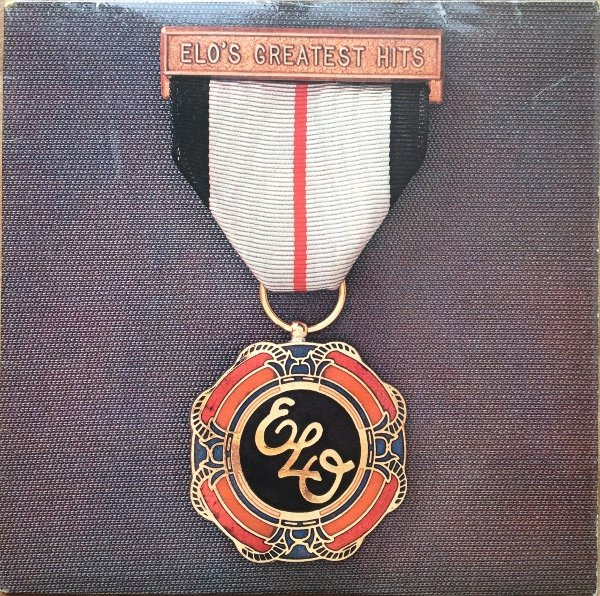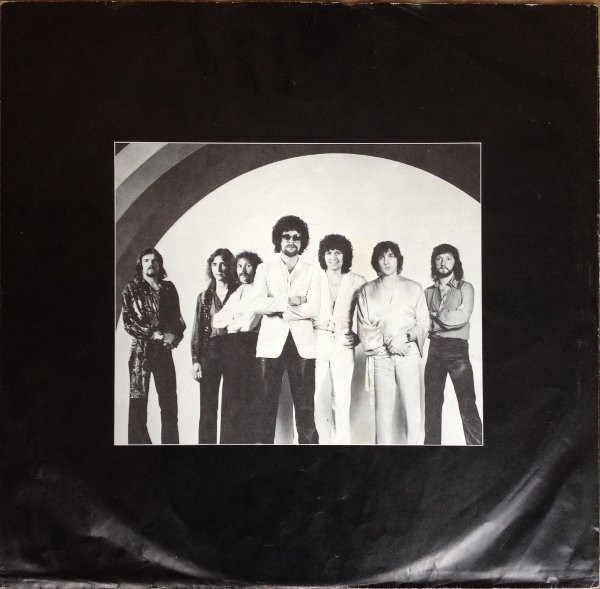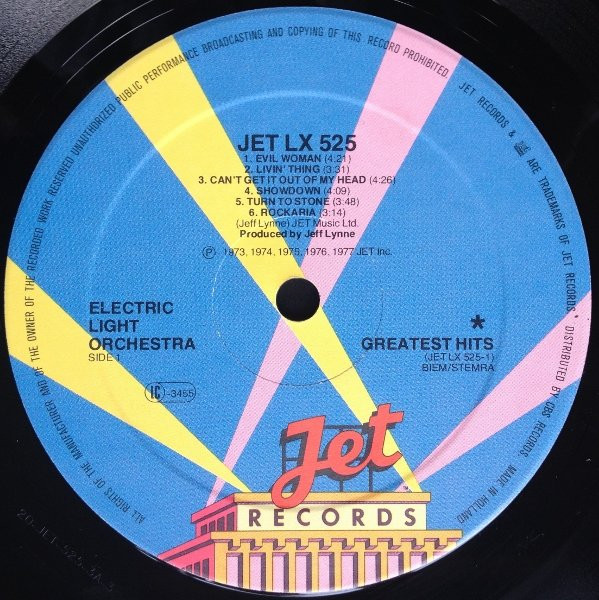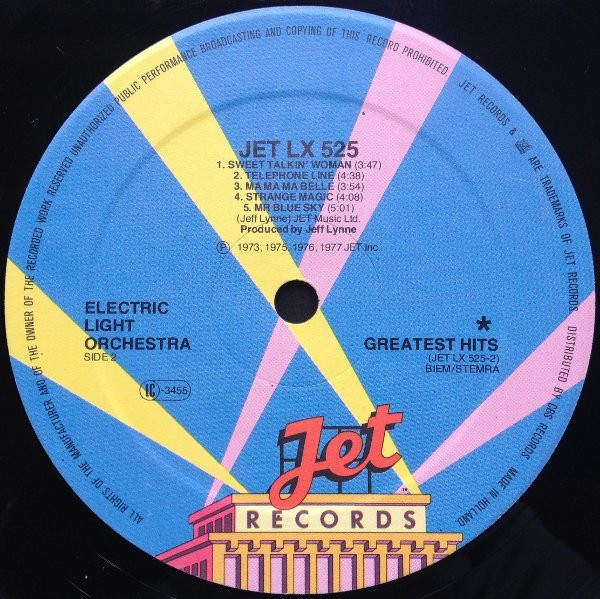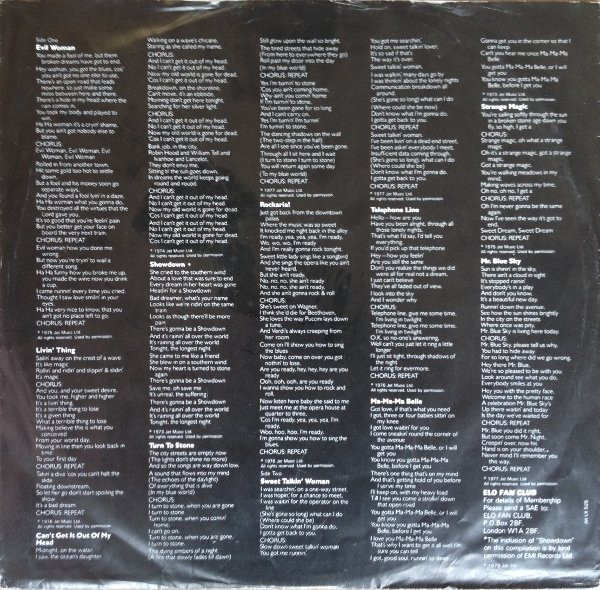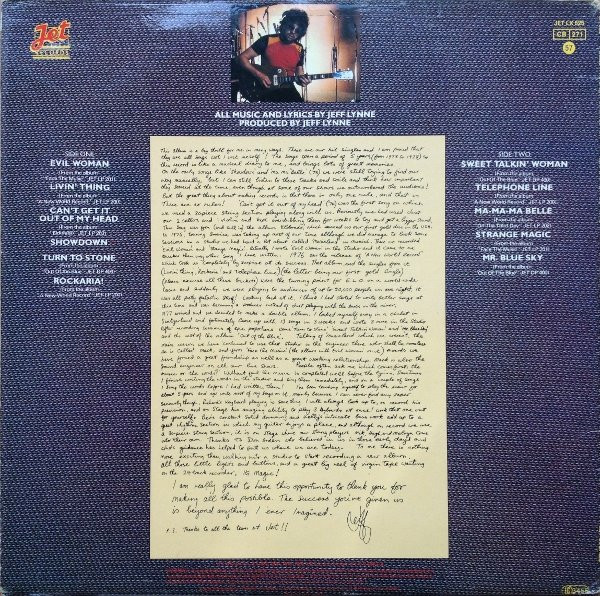 Cover design by:
Label: Jet Records, JETLX 525
Country: EEC
Item: 51
Discogs: https://www.discogs.com/release/5757111-Electric-Light-Orchestra-ELOs-Greatest-Hits
Runout A: 20-JET-525-3A-1 NL STRAWBERRY
Runout B: 20-JET-525-3B-5 NL STRAWBERRY
1: Evil woman (Jeff Lynne) (4:21)
2: Livin' thing (Jeff Lynne) (3:31)
3: Can't get it out of my head (Jeff Lynne) (4:26)
4: Showdown (Jeff Lynne) (4:09)
5: Turn to stone (Jeff Lynne) (3:48)
6: Rockaria! (Jeff Lynne) (3:14)
7: Sweet talkin' woman (Jeff Lynne) (3:47)
8: Telephone line (Jeff Lynne) (4:38)
9: Ma-Ma-Ma Belle (Jeff Lynne) (3:54)
10: Strange magic (Jeff Lynne) (4:08)
11: Mr. Blue Sky (Jeff Lynne) (5:01)

___________________________________________________________________________________________________________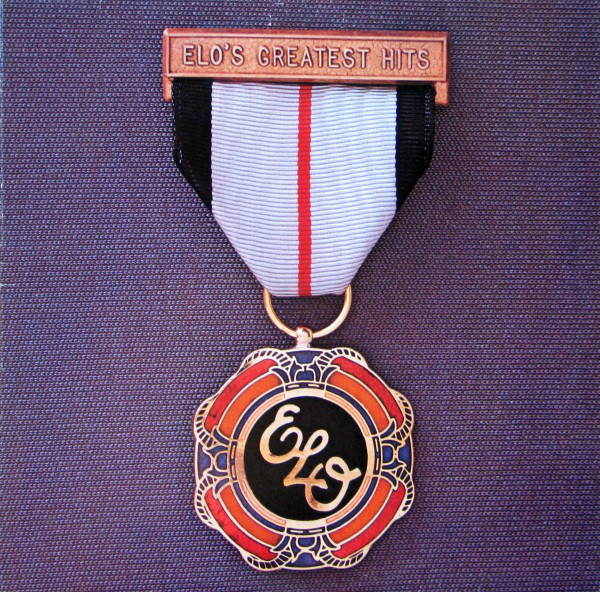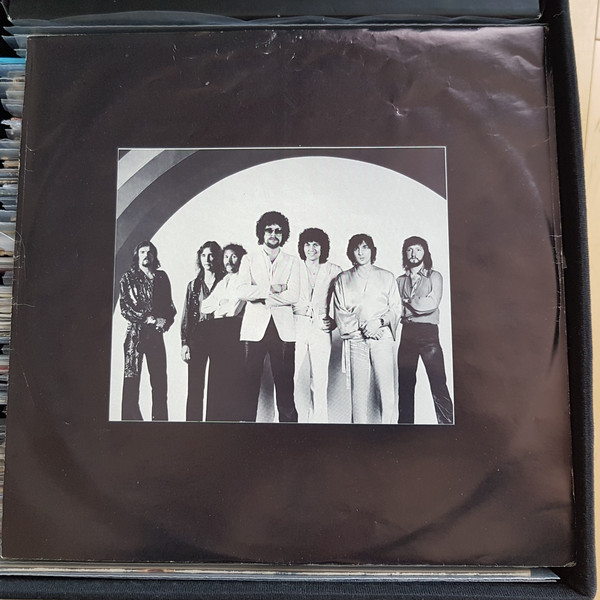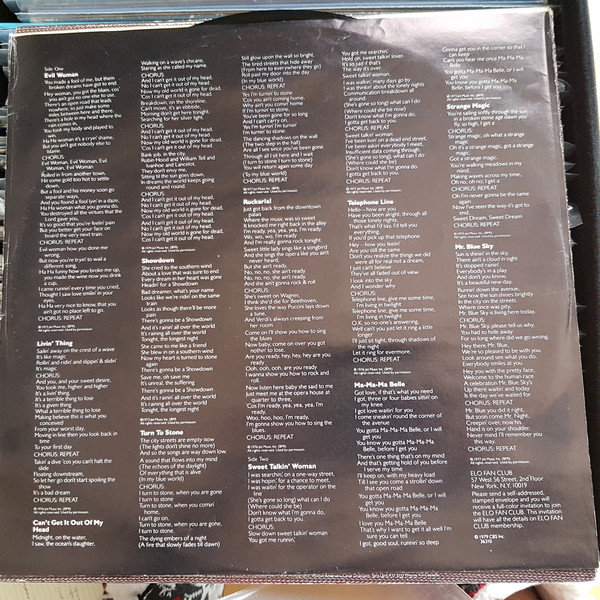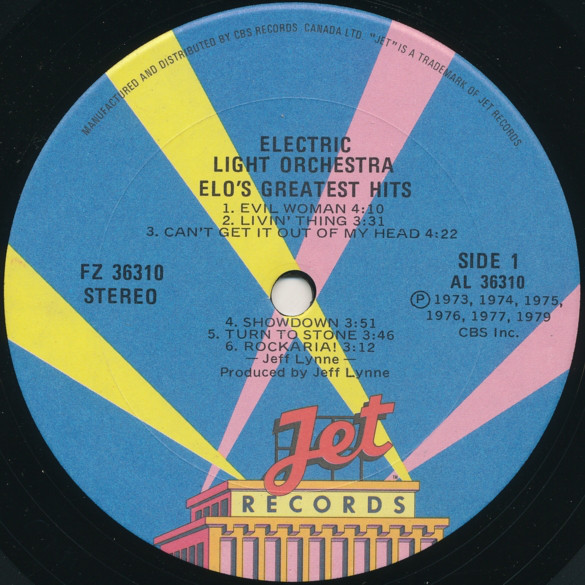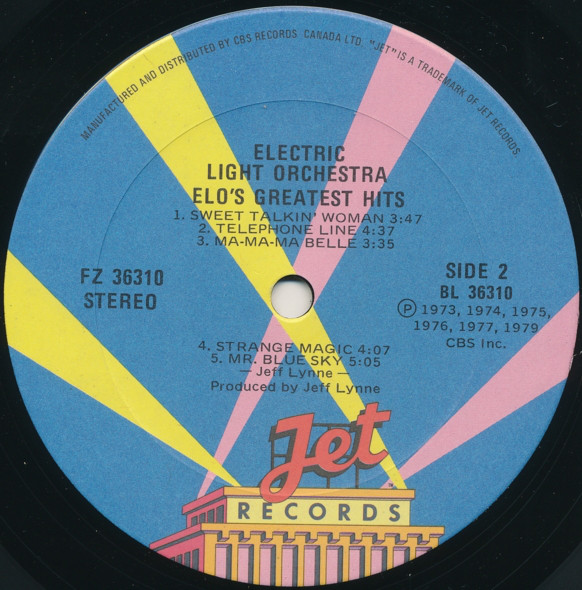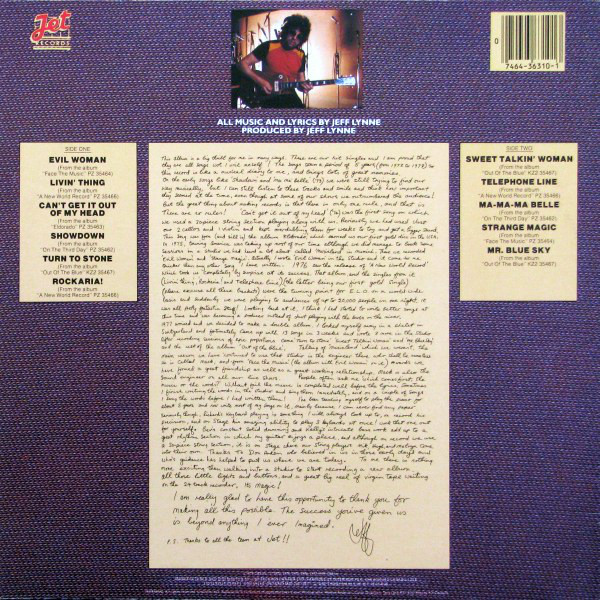 Cover design by:
Label: Jet Records, FZ 36310
Barcode: 07464363101
Country: CN
Item: 52
Discogs: https://www.discogs.com/release/1469440-Electric-Light-Orchestra-ELOs-Greatest-Hits
Runout A: CAN. AL 36310-1A-2HDZ:② DM 26
Runout B: CAN. BL 36310-1A-2HDZ: DM-20
A1: Evil woman (Jeff Lynne) (4:10)
A2: Livin' thing (Jeff Lynne) (3:31)
A3: Can't get it out of my head (Jeff Lynne) (4:22)
A4: Showdown (Jeff Lynne) (3:51)
A5: Turn to stone (Jeff Lynne) (3:46)
A6: Rockaria! (Jeff Lynne) (3:12)
B1: Sweet talkin' woman (Jeff Lynne) (3:47)
B2: Telephone line (Jeff Lynne) (4:37)
B3: Ma-Ma-Ma Belle (Jeff Lynne) (3:35)
B4: Strange magic (Jeff Lynne) (4:07)
B5: Mr. Blue Sky (Jeff Lynne) (5:05)

___________________________________________________________________________________________________________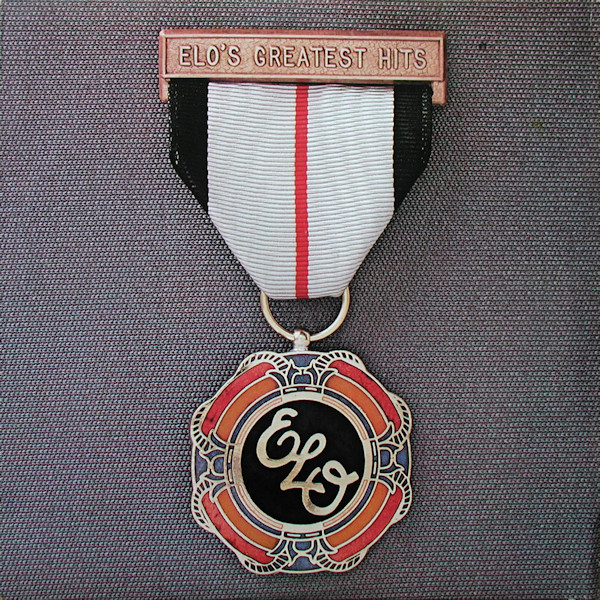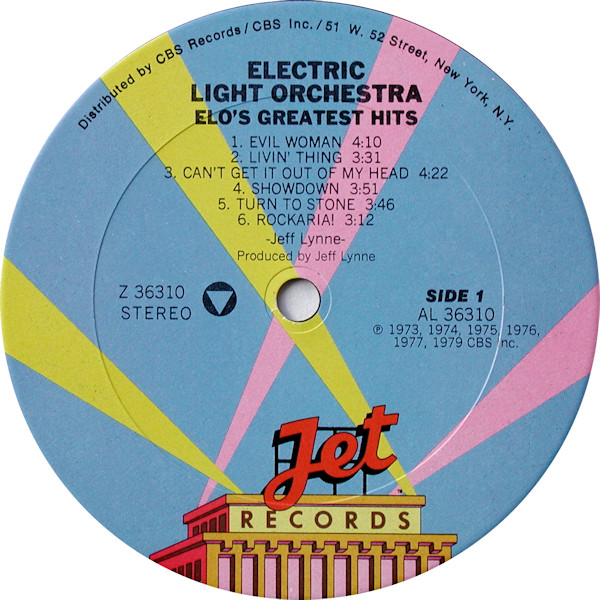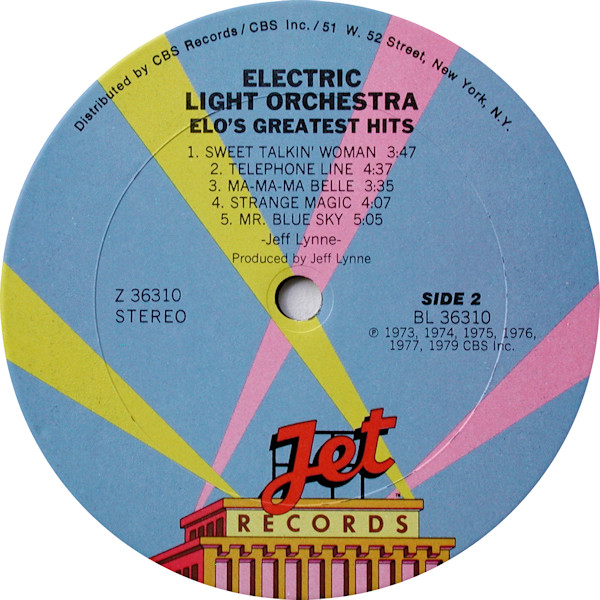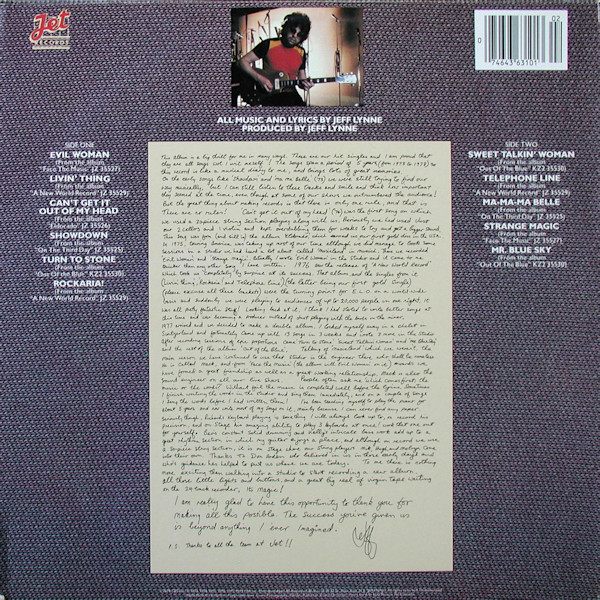 Cover design by:
Label: Jet Records, Z 36310
Barcode: 0746436310102
Country: US
Item: 53
Discogs: https://www.discogs.com/release/1082054-Electric-Light-Orchestra-ELOs-Greatest-Hits
Runout A: PAL-36310-1AJ C12 DP
Runout B: PBL-36310 G2B MXC B10
A1: Evil woman (Jeff Lynne) (4:10)
A2: Livin' thing (Jeff Lynne) (3:31)
A3: Can't get it out of my head (Jeff Lynne) (4:22)
A4: Showdown (Jeff Lynne) (3:51)
A5: Turn to stone (Jeff Lynne) (3:46)
A6: Rockaria! (Jeff Lynne) (3:12)
B1: Sweet talkin' woman (Jeff Lynne) (3:47)
B2: Telephone line (Jeff Lynne) (4:37)
B3: Ma-Ma-Ma Belle (Jeff Lynne) (3:35)
B4: Strange magic (Jeff Lynne) (4:07)
B5: Mr. Blue Sky (Jeff Lynne) (5:05)