ELO 12": Eldorado.
Released: 1974
Produced by: Jeff Lynne
Engineered by: Dick Plant / Mike Pela
Recorded in: De Lane Lea Studios, London
Jeff Lynne: Guitar, Moog & vocals.
Bev Bevan: Drums & percussion.
Richard Tandy: Moog, guitar, backing vocals & piano.
Michael D´Albuquerque: Bass.
Hugh McDowell: Cello.
Mik Kaminski: Violin.
Mike Edwards: Cello.
Louis Clark: Orchestra and choral arrangements and conducting
Peter Ford-Robertson: Prologue spoken by.
This album was released as "A Symphony By The Electric Light Orchestra" and achieved a 16 place in the US and sold gold.
The single Can´t get it out of my head (Mar. 1975) will be the band's first Top 10 hit in the US as a 9th place, here, for the first time they used a 30-man string section.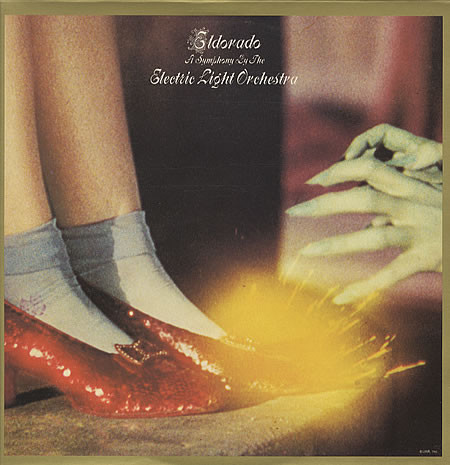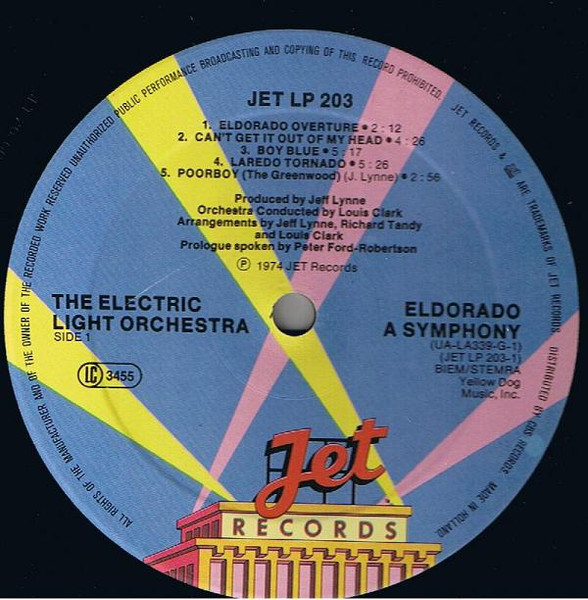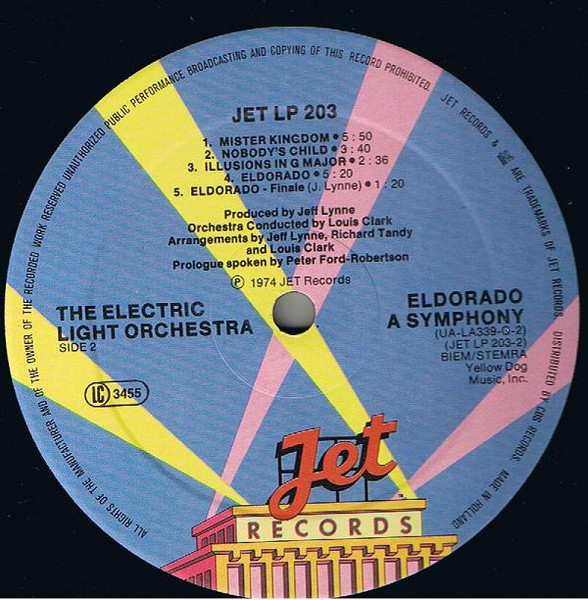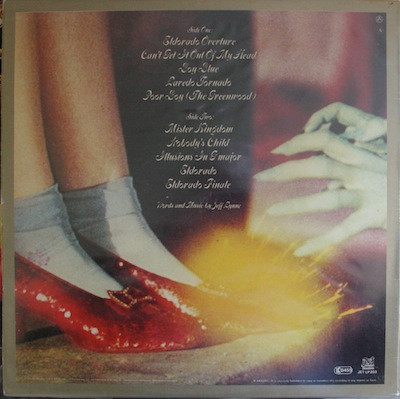 Cover design by: John Kehe / John Williams
Label: Jet Records, LP203
Country: EEC
Item: 29
Discogs: https://www.discogs.com/release/1541723-Electric-Light-Orchestra-Eldorado-A-Symphony-By-The-Electric-Light-Orchestra
Runout A: 20-203-1A-1 B
Runout B: 20-203-2B-1 A

A1: Eldorado overture (Jeff Lynne) (2:12)
A2: Can't get it out of my head (Jeff Lynne) (4:26)
A3: Boy blue (Jeff Lynne) (5:17)
A4: Laredo tornado (Jeff Lynne) (5:26)
A5: Poor boy (the Greenwood) (Jeff Lynne) (2:56)
B1: Mister Kingdom (Jeff Lynne) (5:50)
B2: Nobody's child (Jeff Lynne) (3:40)
B3: Illusions in G major (Jeff Lynne) (2:36)
B4: Eldorado (Jeff Lynne) (5:20)
B5: Eldorado finale (Jeff Lynne) (1:20)
________________________________________________________________________________________________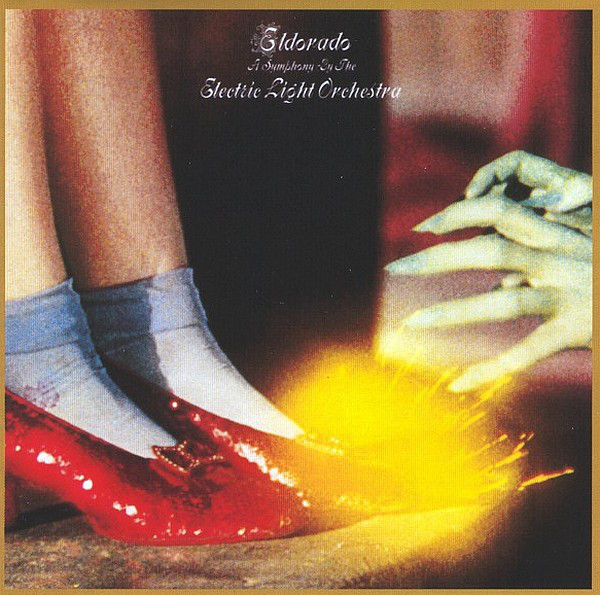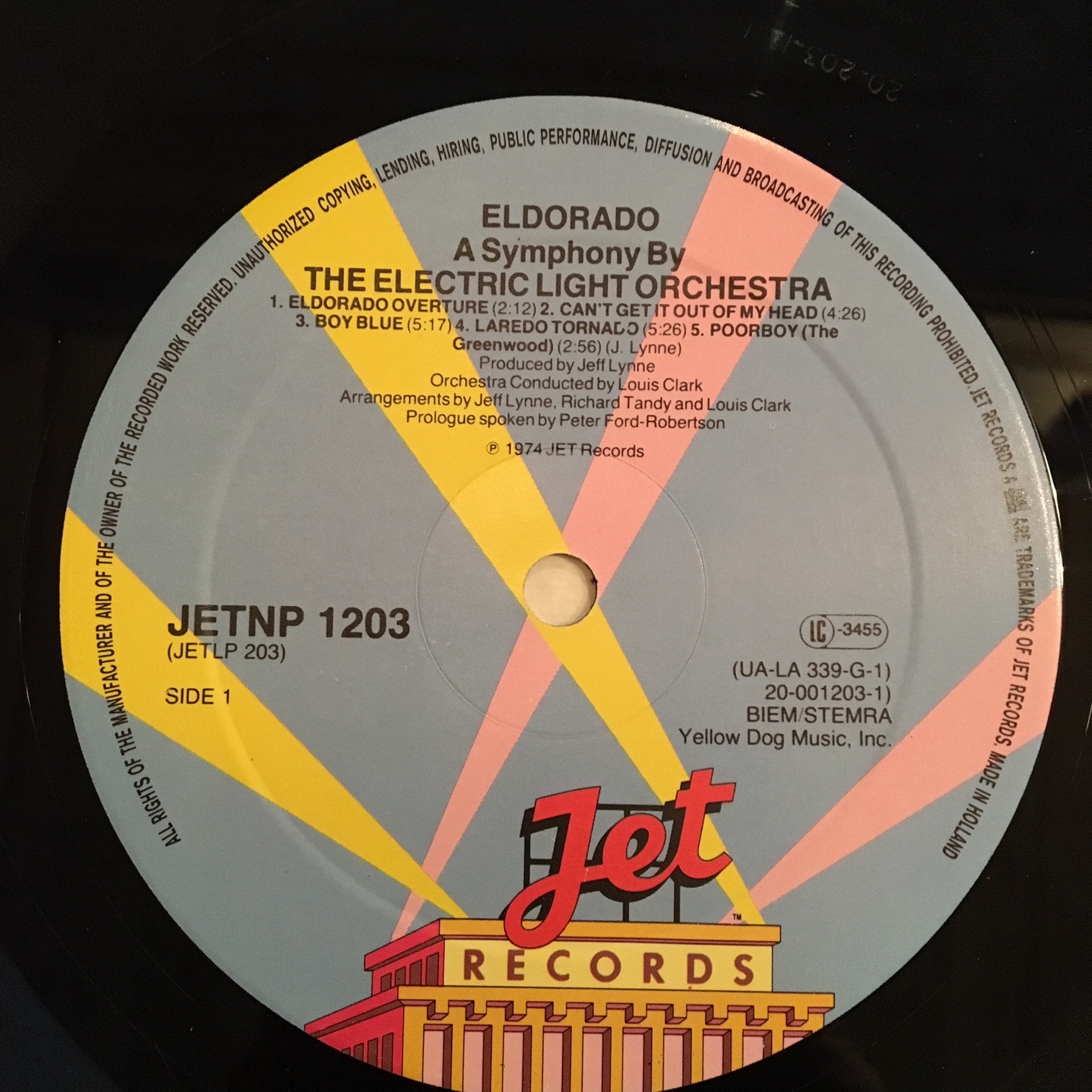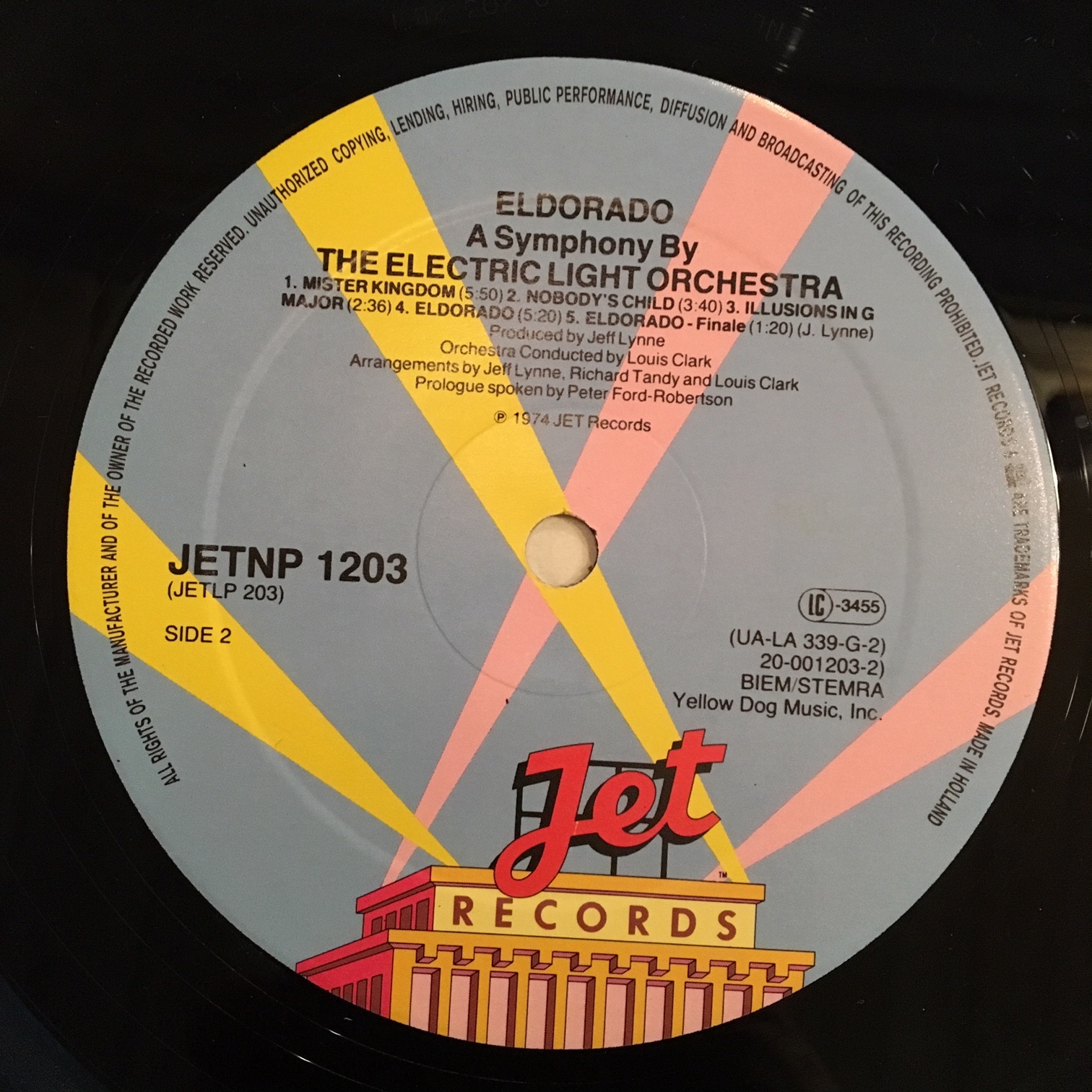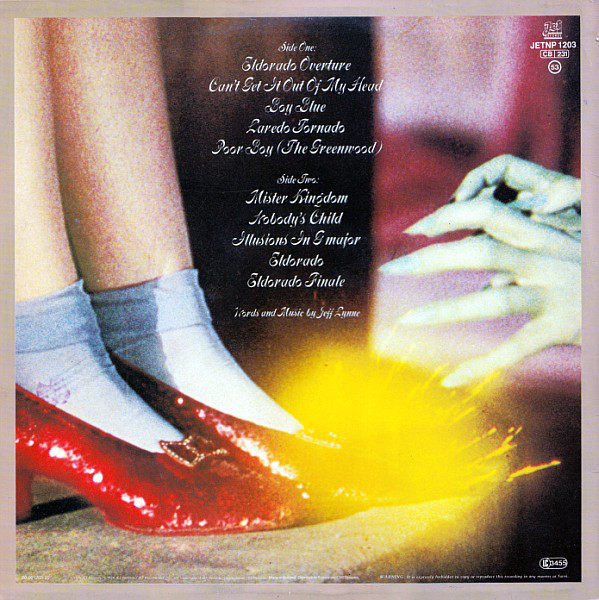 Cover design by: John Kehe / John Williams
Label: Jet Records, JETNP1203
Country: F / EEC
Item: 27
Discogs: https://www.discogs.com/release/646616-Electric-Light-Orchestra-Eldorado-A-Symphony-By-The-Electric-Light-Orchestra
Runout A: 20-203-1A-1 C
Runout B: NL 20-203-2B-1 B

A1: Eldorado overture (Jeff Lynne) (2:12)
A2: Can't get it out of my head (Jeff Lynne) (4:26)
A3: Boy blue (Jeff Lynne) (5:17)
A4: Laredo tornado (Jeff Lynne) (5:26)
A5: Poor boy (the Greenwood) (Jeff Lynne) (2:56)
B1: Mister Kingdom (Jeff Lynne) (5:50)
B2: Nobody's child (Jeff Lynne) (3:40)
B3: Illusions in G major (Jeff Lynne) (2:36)
B4: Eldorado (Jeff Lynne) (5:20)
B5: Eldorado finale (Jeff Lynne) (1:20)
________________________________________________________________________________________________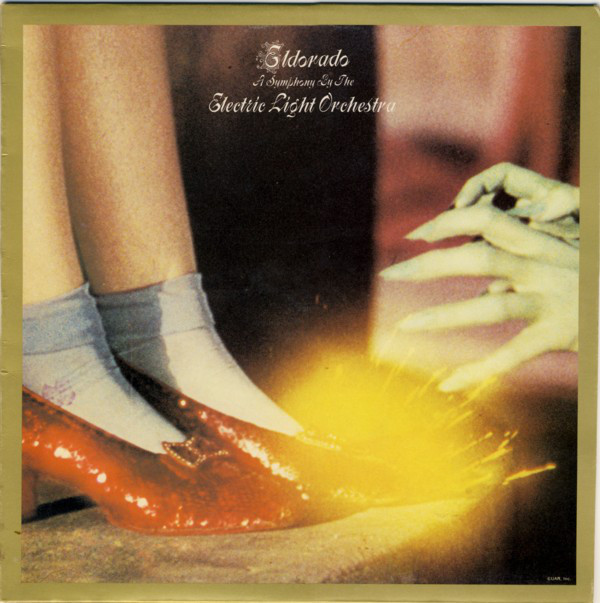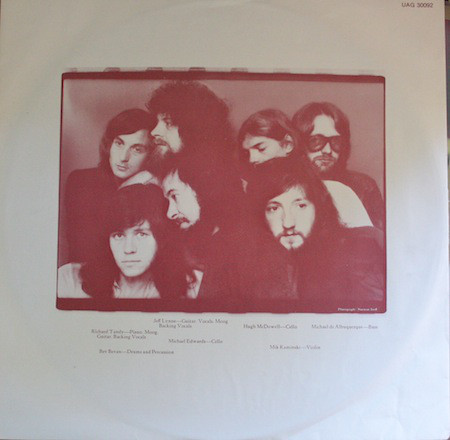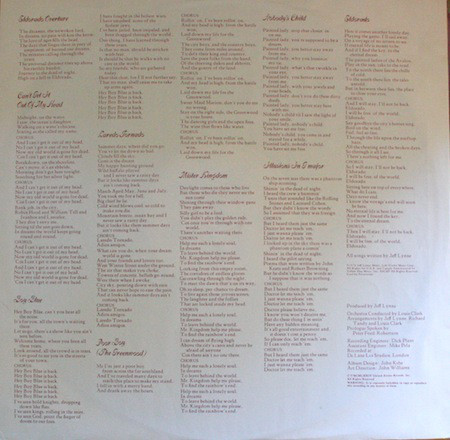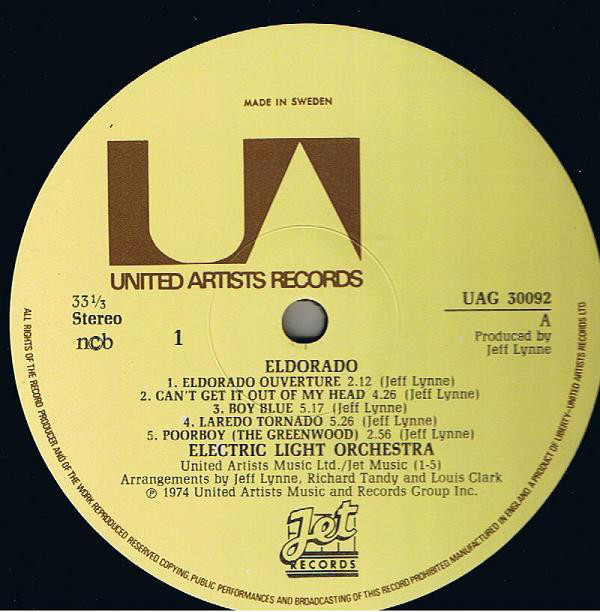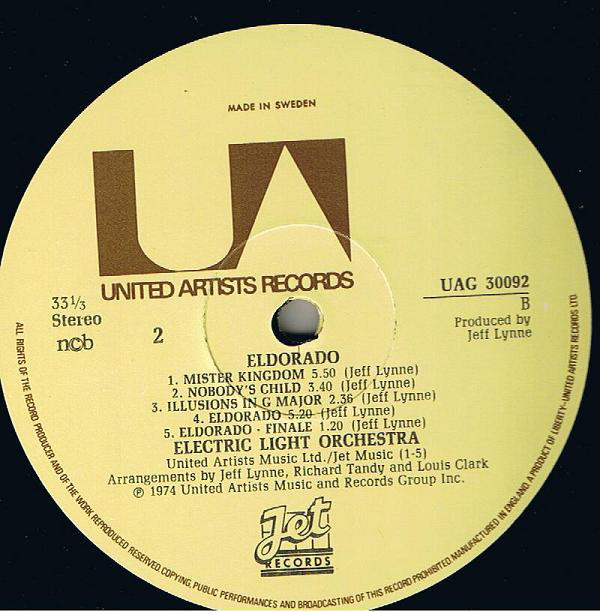 Cover design by: John Kehe / John Williams
Label: Jet Records & United Artists, UAG 30092
Country: France
Item: 28
Discogs: https://www.discogs.com/release/1541745-Electric-Light-Orchestra-Eldorado-A-Symphony-By-The-Electric-Light-Orchestra
Runout A: UAG 30092 A Å
Runout B: UAG 30092 B Å

A1: Eldorado overture (Jeff Lynne) (2:12)
A2: Can't get it out of my head (Jeff Lynne) (4:26)
A3: Boy blue (Jeff Lynne) (5:17)
A4: Laredo tornado (Jeff Lynne) (5:26)
A5: Poor boy (the Greenwood) (Jeff Lynne) (2:56)
B1: Mister Kingdom (Jeff Lynne) (5:50)
B2: Nobody's child (Jeff Lynne) (3:40)
B3: Illusions in G major (Jeff Lynne) (2:36)
B4: Eldorado (Jeff Lynne) (5:20)
B5: Eldorado finale (Jeff Lynne) (1:20)
________________________________________________________________________________________________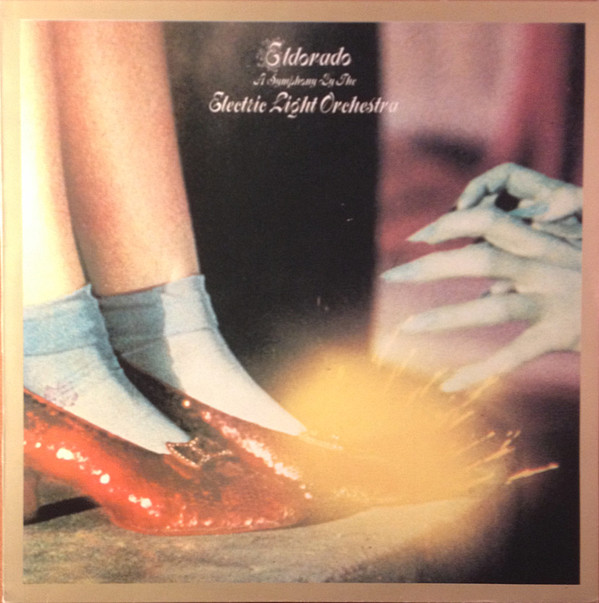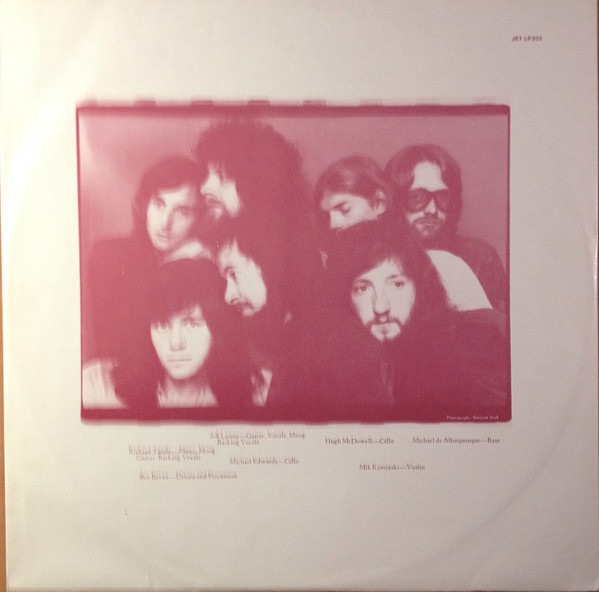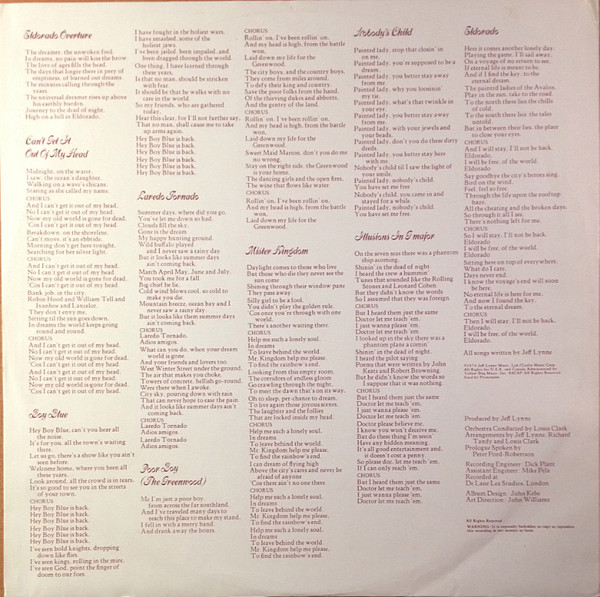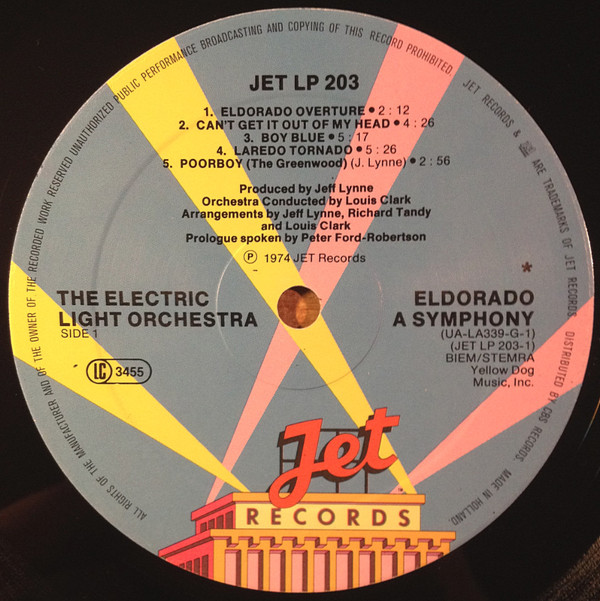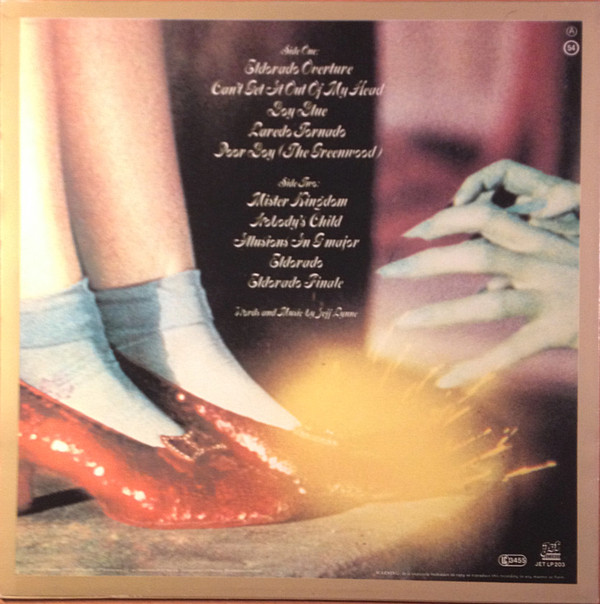 Cover design by: John Kehe / John Williams
Label: Jet Records, LP203 (innersleve from UK)
Country: NL / EEC
Item: 26
Discogs: https://www.discogs.com/release/1131477-Electric-Light-Orchestra-Eldorado-A-Symphony-By-The-Electric-Light-Orchestra
Runout A: JET 20-00203-1A-1
Runout B: JET 20-00203-1B-2

A1: Eldorado overture (Jeff Lynne) (2:12)
A2: Can't get it out of my head (Jeff Lynne) (4:26)
A3: Boy blue (Jeff Lynne) (5:17)
A4: Laredo tornado (Jeff Lynne) (5:26)
A5: Poor boy (the Greenwood) (Jeff Lynne) (2:56)
B1: Mister Kingdom (Jeff Lynne) (5:50)
B2: Nobody's child (Jeff Lynne) (3:40)
B3: Illusions in G major (Jeff Lynne) (2:36)
B4: Eldorado (Jeff Lynne) (5:20)
B5: Eldorado finale (Jeff Lynne) (1:20)
________________________________________________________________________________________________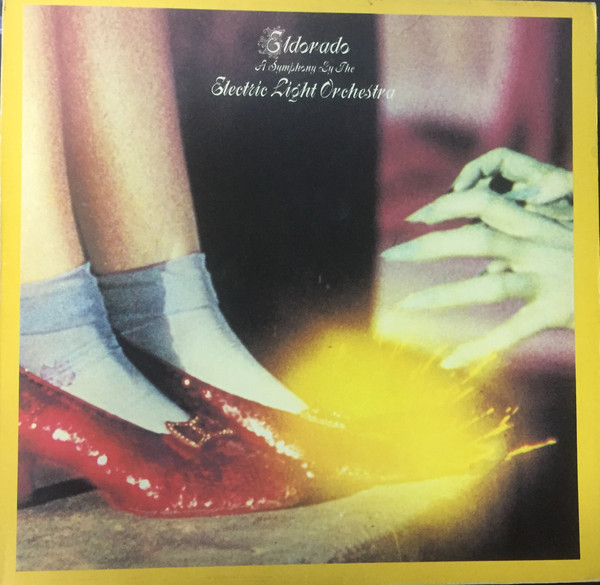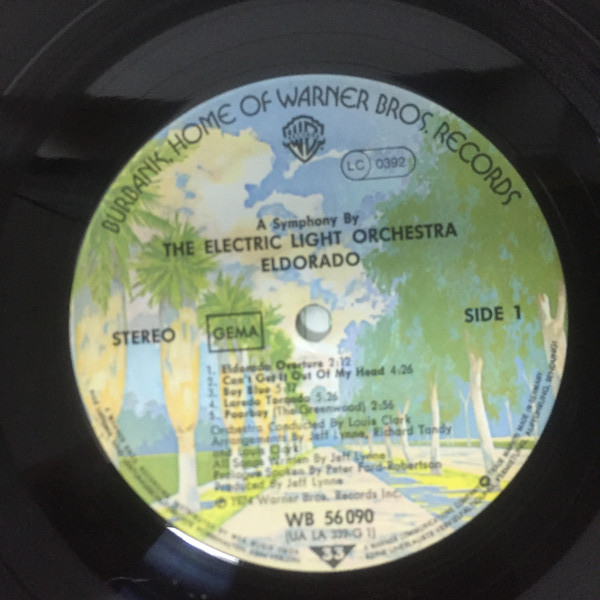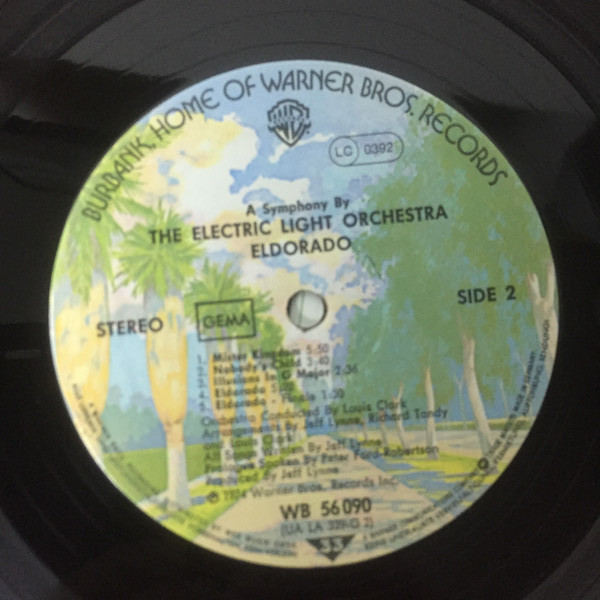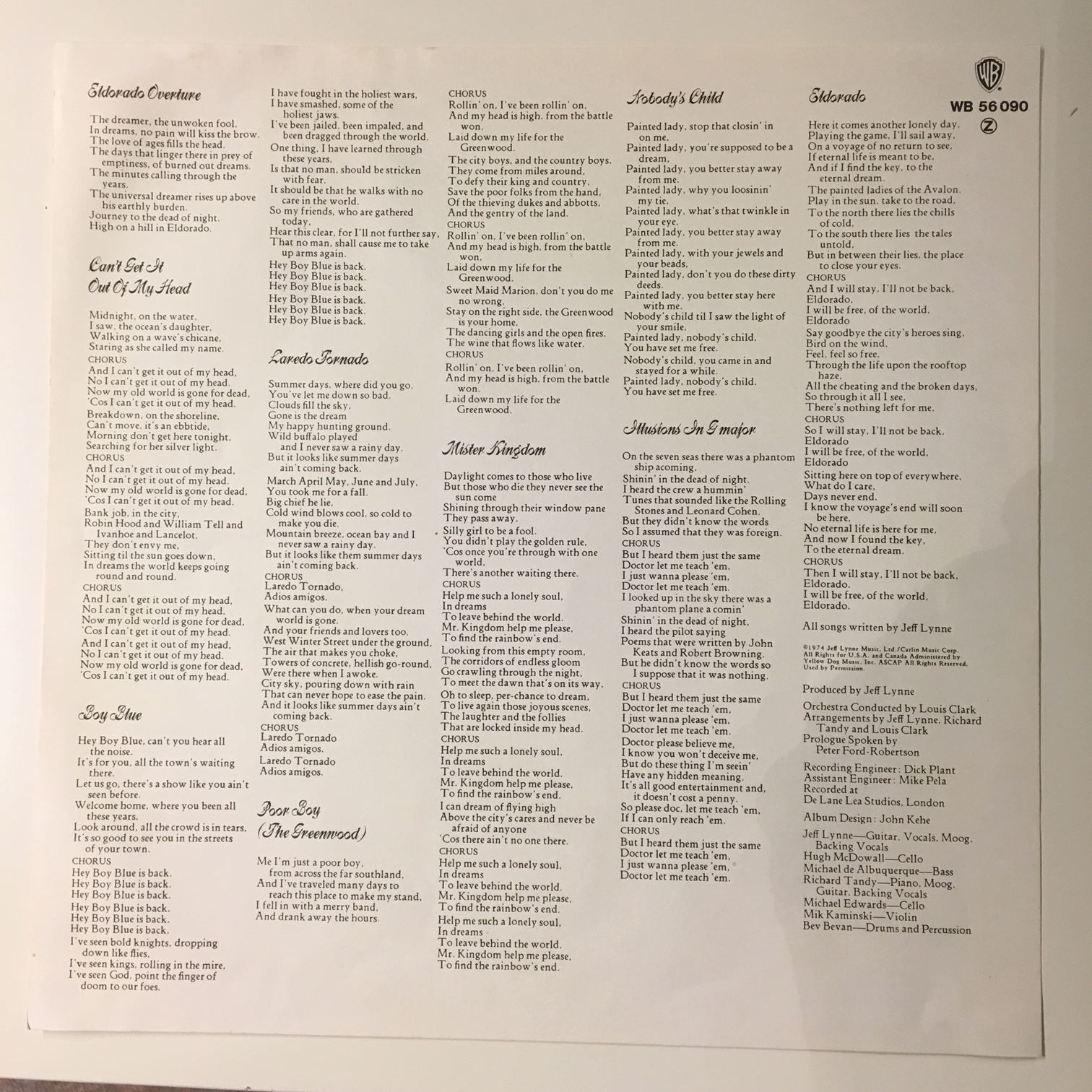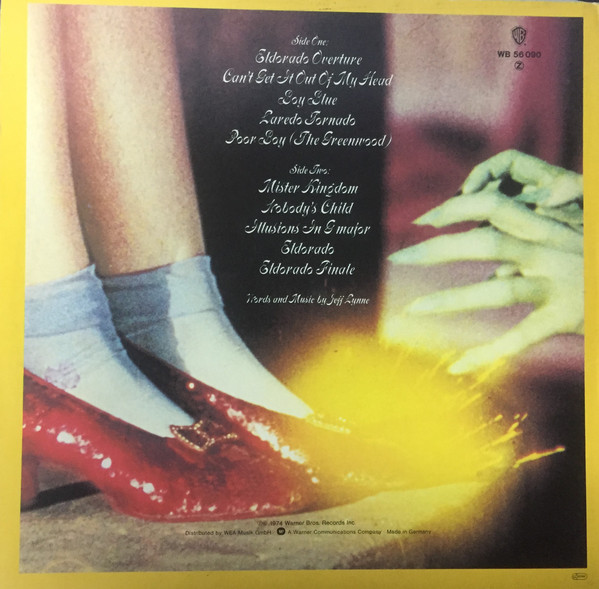 Cover design by: John Kehe / John Williams
Label: Warner Bros. Records, WB 56090
Country: D
Item: 30
Discogs: https://www.discogs.com/release/9865347-Electric-Light-Orchestra-Eldorado-A-Symphony-By-The-Electric-Light-Orchestra
Runout A: WEA UA LA 339-G1 (SET 3) TML-M (2)
Runout B: WEA UA LA 339-G-2 PF (SET 3) TML-M (2)

A1: Eldorado overture (Jeff Lynne) (2:12)
A2: Can't get it out of my head (Jeff Lynne) (4:26)
A3: Boy blue (Jeff Lynne) (5:17)
A4: Laredo tornado (Jeff Lynne) (5:26)
A5: Poor boy (the Greenwood) (Jeff Lynne) (2:56)
B1: Mister Kingdom (Jeff Lynne) (5:50)
B2: Nobody's child (Jeff Lynne) (3:40)
B3: Illusions in G major (Jeff Lynne) (2:36)
B4: Eldorado (Jeff Lynne) (5:20)
B5: Eldorado finale (Jeff Lynne) (1:20)
________________________________________________________________________________________________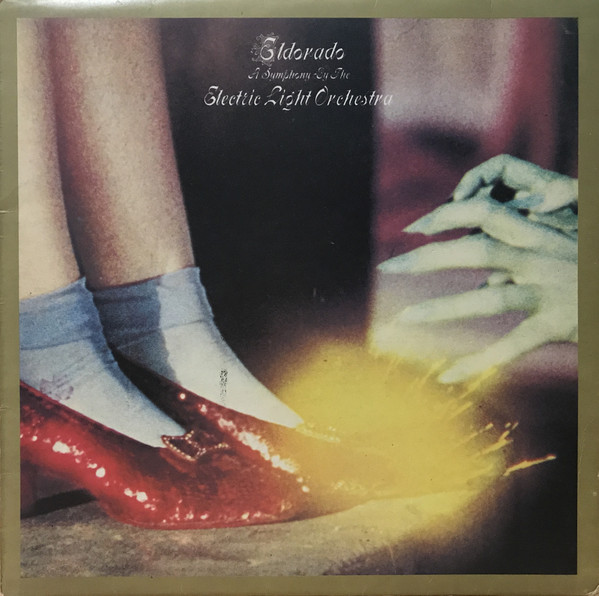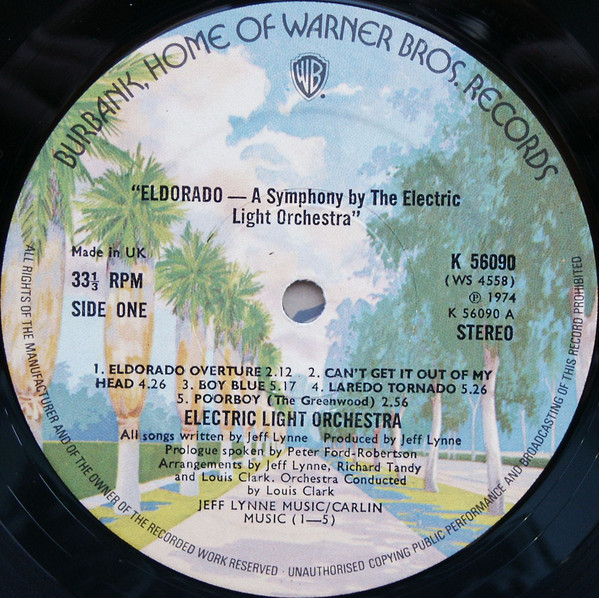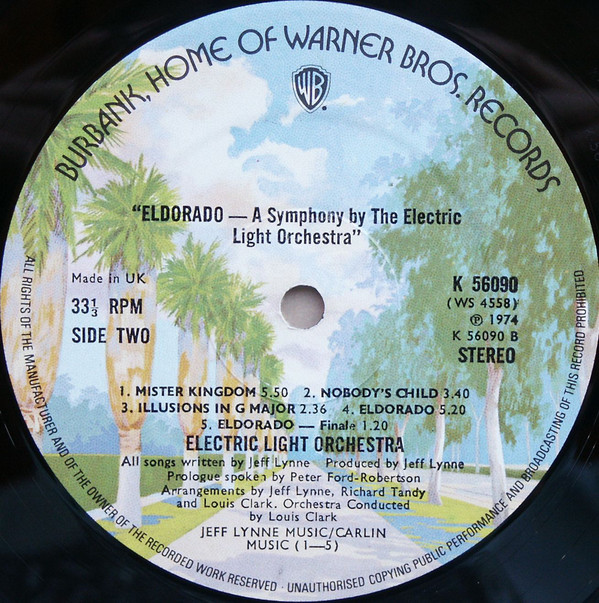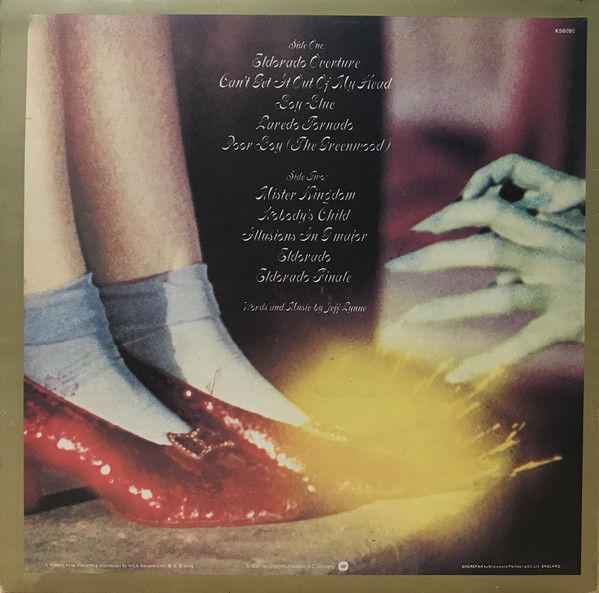 Cover design by: John Kehe / John Williams
Label: Warner Bros. Records, WB 56090
Country: UK
Item: 31
Discogs: https://www.discogs.com/release/2496629-Electric-Light-Orchestra-Eldorado-A-Symphony-By-The-Electric-Light-Orchestra
Runout A: K.56090.A3 TML-M UA-LA-339-G1 (SET 3) [UA-LA-399-G1 scratched out]
Runout B: K.56090.B3 TML-M UA-LA 339-G-2 (SET 3)

A1: Eldorado overture (Jeff Lynne) (2:12)
A2: Can't get it out of my head (Jeff Lynne) (4:26)
A3: Boy blue (Jeff Lynne) (5:17)
A4: Laredo tornado (Jeff Lynne) (5:26)
A5: Poor boy (the Greenwood) (Jeff Lynne) (2:56)
B1: Mister Kingdom (Jeff Lynne) (5:50)
B2: Nobody's child (Jeff Lynne) (3:40)
B3: Illusions in G major (Jeff Lynne) (2:36)
B4: Eldorado (Jeff Lynne) (5:20)
B5: Eldorado finale (Jeff Lynne) (1:20)
________________________________________________________________________________________________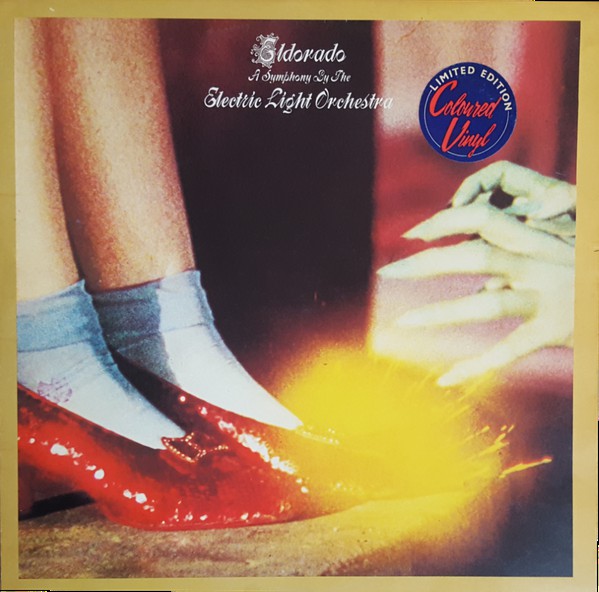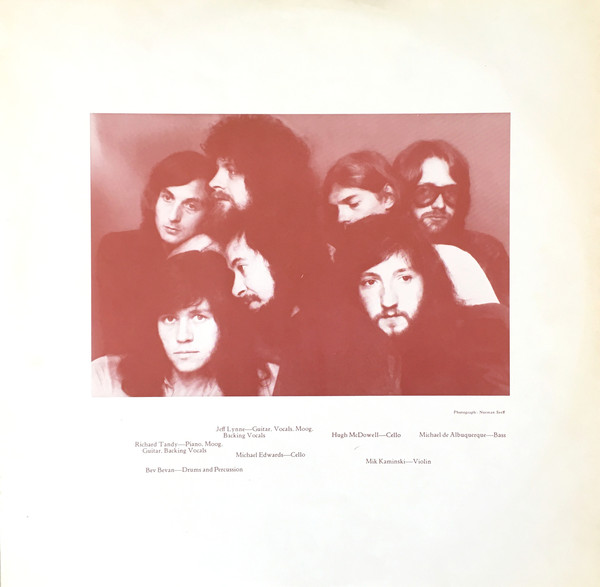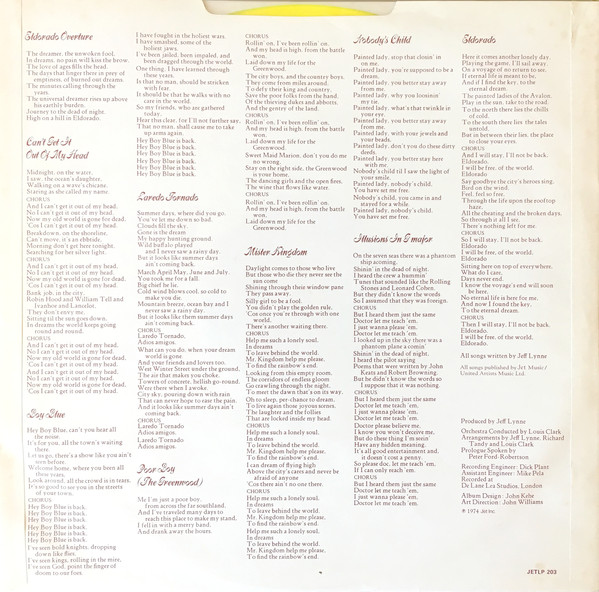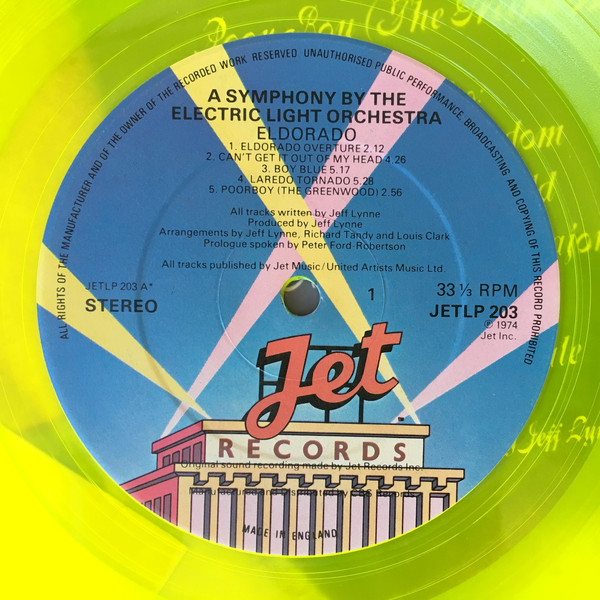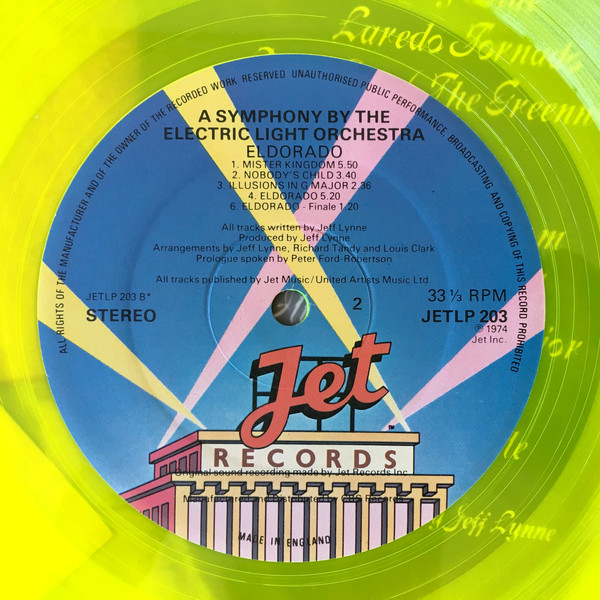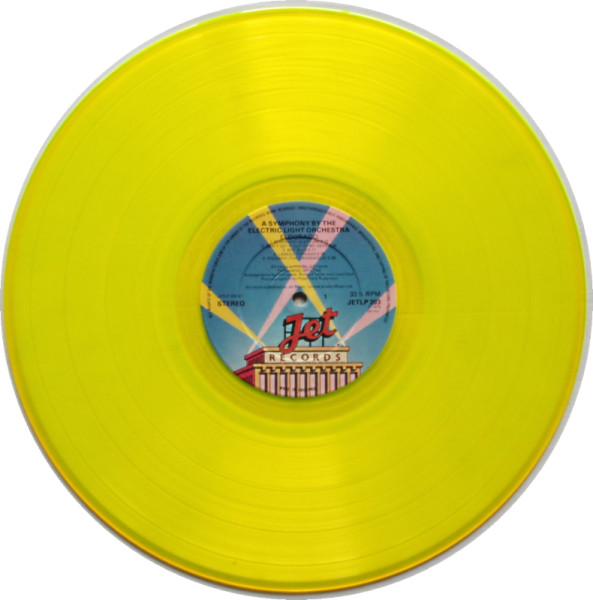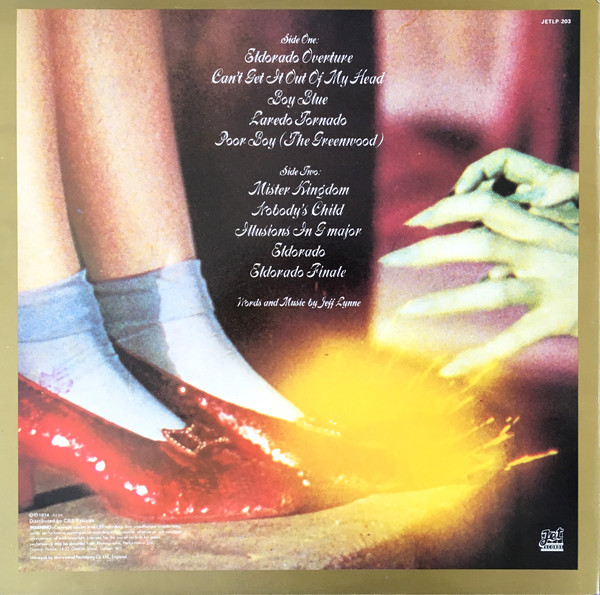 Cover design by: John Kehe / John Williams
Label: Jet Records, JETLP 203
Country: UK
Item: 32
Discogs: https://www.discogs.com/release/2298255-Electric-Light-Orchestra-Eldorado-A-Symphony-By-The-Electric-Light-Orchestra
Runout A: JETLP.203.A1 ALLEN
Runout B: JETLP.203.B2 ALLEN

A1: Eldorado overture (Jeff Lynne) (2:12)
A2: Can't get it out of my head (Jeff Lynne) (4:26)
A3: Boy blue (Jeff Lynne) (5:17)
A4: Laredo tornado (Jeff Lynne) (5:26)
A5: Poor boy (the Greenwood) (Jeff Lynne) (2:56)
B1: Mister Kingdom (Jeff Lynne) (5:50)
B2: Nobody's child (Jeff Lynne) (3:40)
B3: Illusions in G major (Jeff Lynne) (2:36)
B4: Eldorado (Jeff Lynne) (5:20)
B5: Eldorado finale (Jeff Lynne) (1:20)
________________________________________________________________________________________________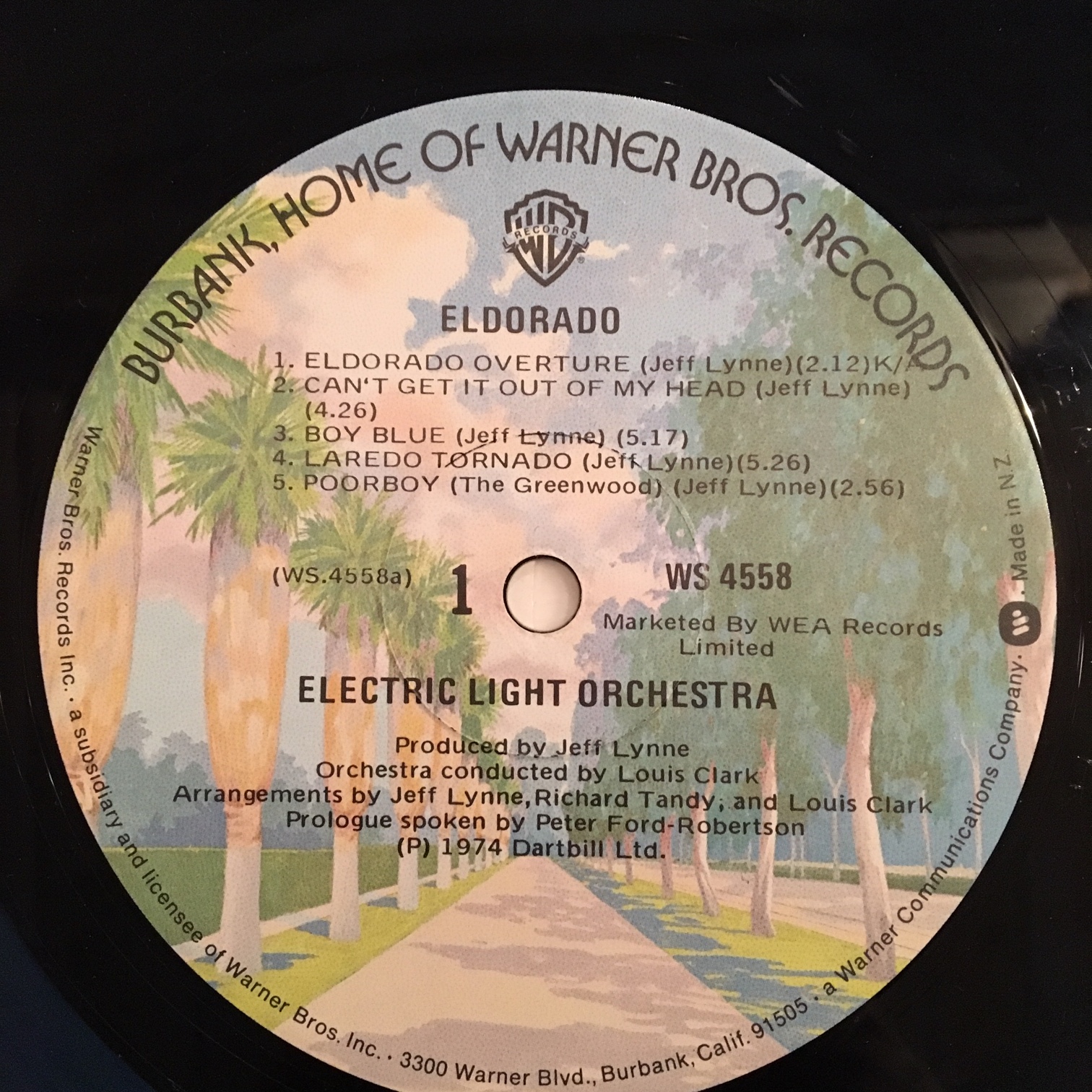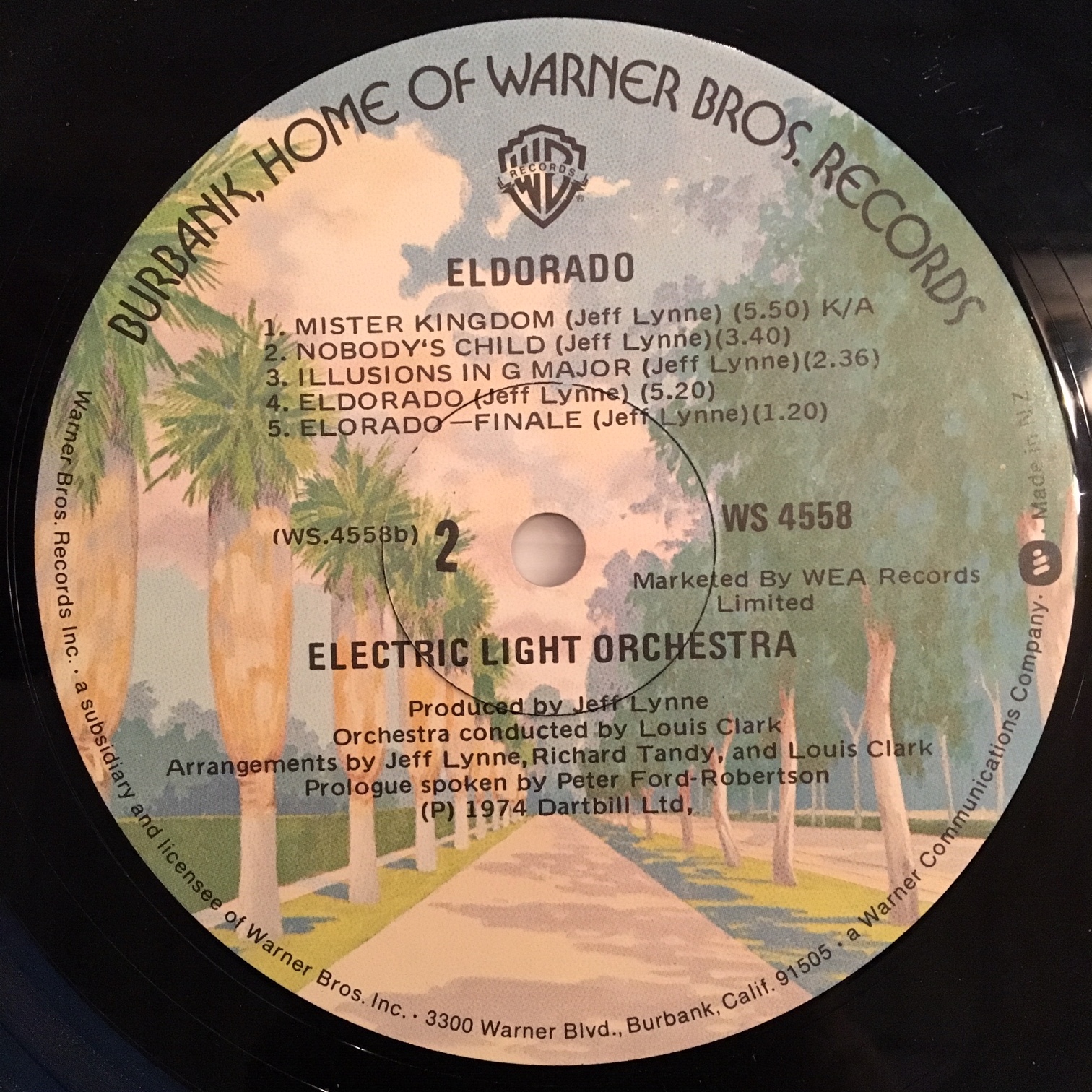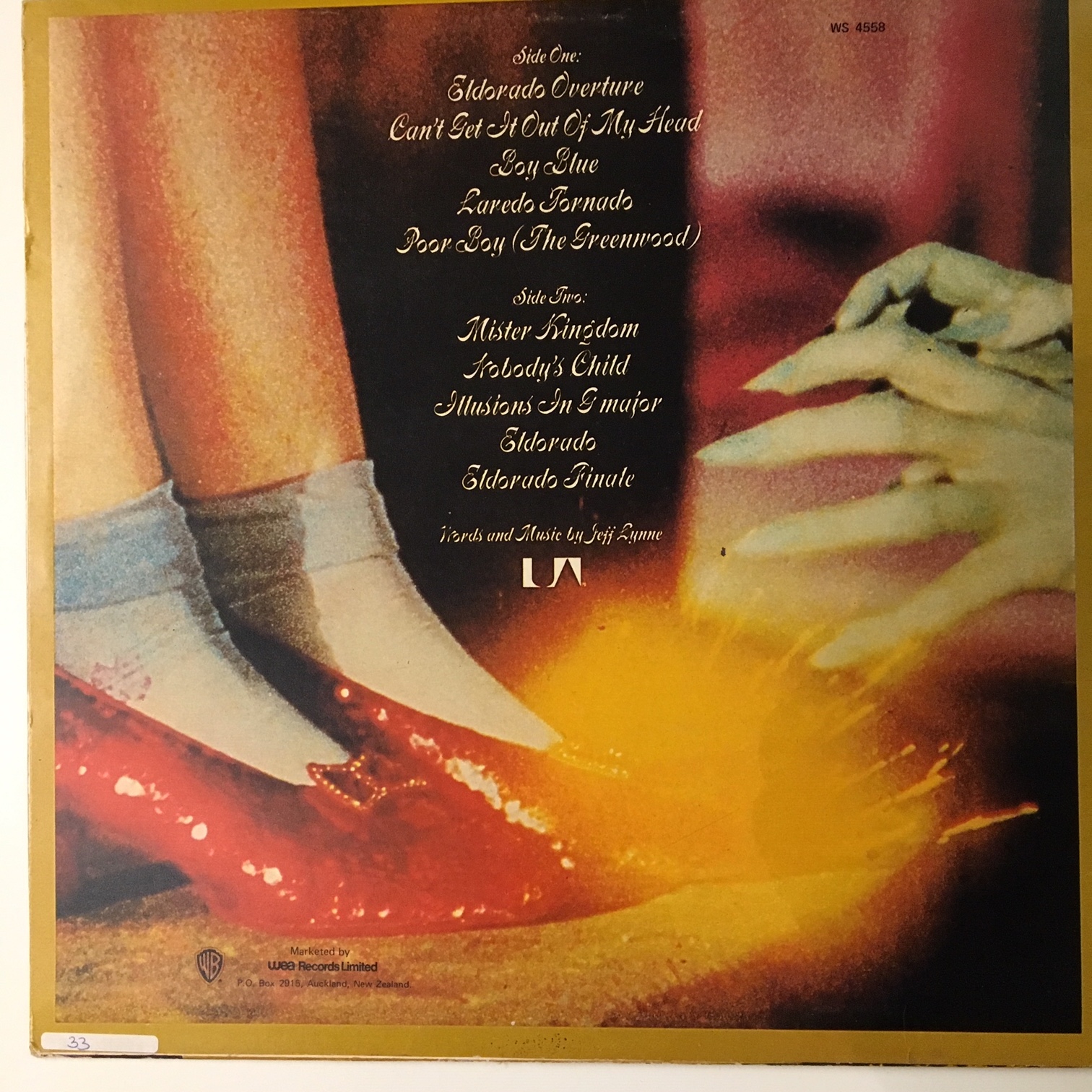 Cover design by: John Kehe / John Williams
Label: Warner Bros. Records, WS 4558
Country: NZ
Item: 33
Discogs: https://www.discogs.com/release/10170381-Electric-Light-Orchestra-Eldorado-A-Symphony-By-The-Electric-Light-Orchestra-
Runout A: WBR-11787-A #1+1
Runout B: WBR-11787-B #1+1

A1: Eldorado overture (Jeff Lynne) (2:12)
A2: Can't get it out of my head (Jeff Lynne) (4:26)
A3: Boy blue (Jeff Lynne) (5:17)
A4: Laredo tornado (Jeff Lynne) (5:26)
A5: Poor boy (the Greenwood) (Jeff Lynne) (2:56)
B1: Mister Kingdom (Jeff Lynne) (5:50)
B2: Nobody's child (Jeff Lynne) (3:40)
B3: Illusions in G major (Jeff Lynne) (2:36)
B4: Eldorado (Jeff Lynne) (5:20)
B5: Eldorado finale (Jeff Lynne) (1:20)
________________________________________________________________________________________________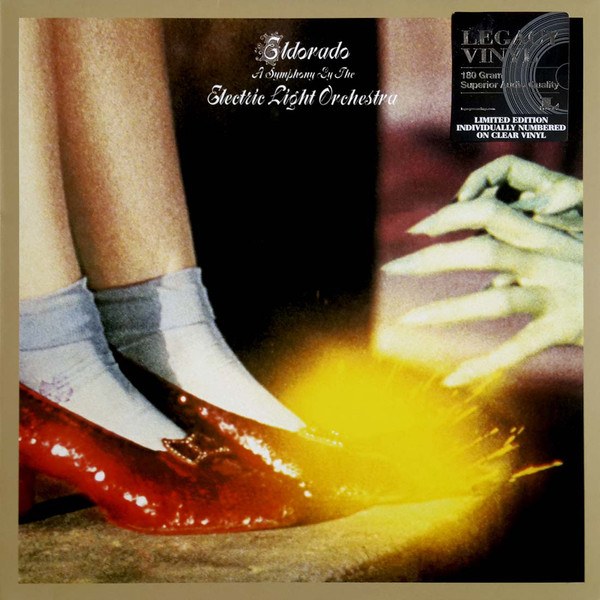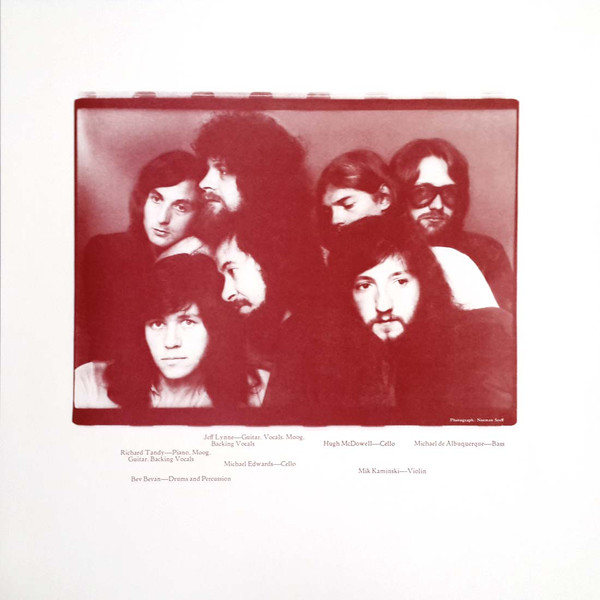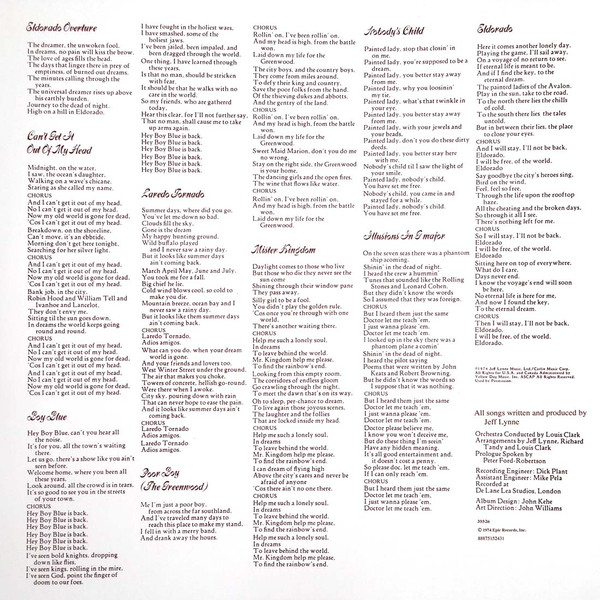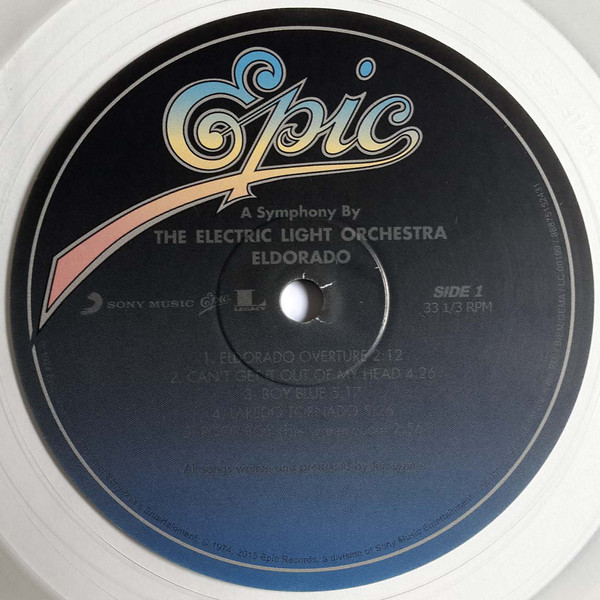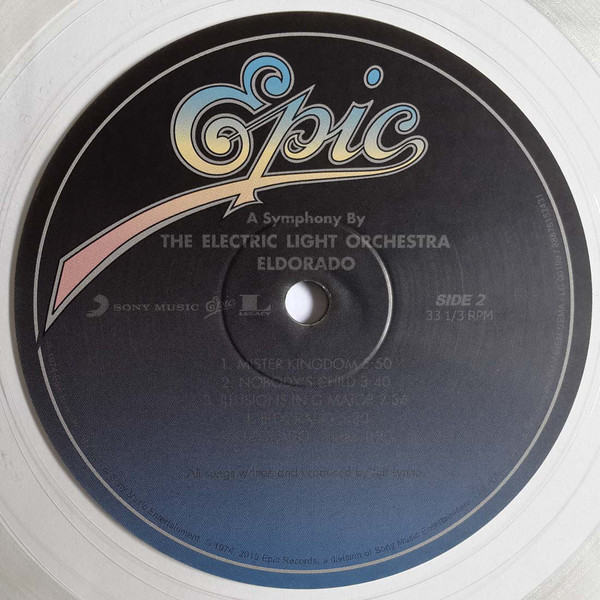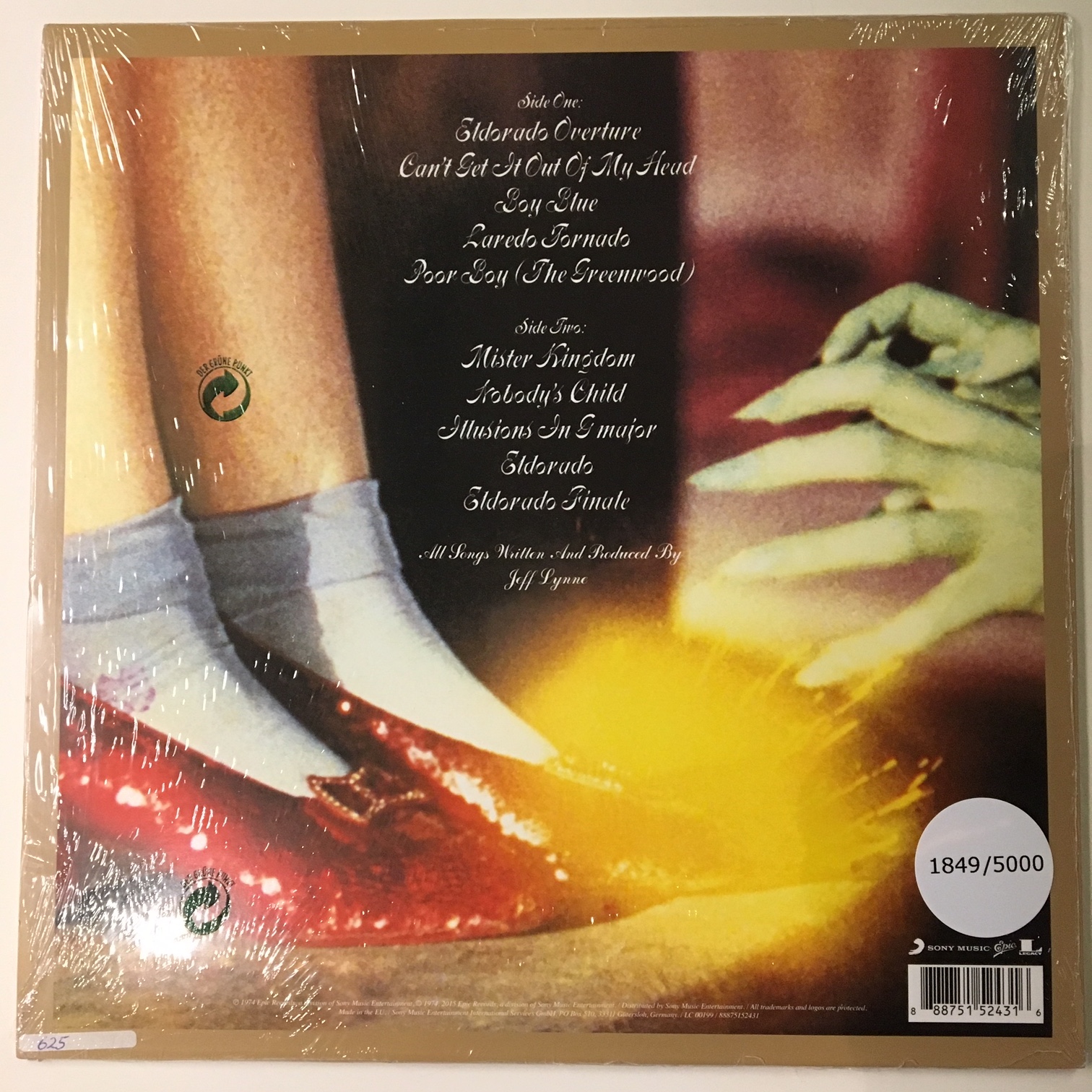 Cover design by: John Kehe / John Williams
Label: Epic Legacy 180g, Sony Music, 888751524316
Barcode: 888751524316
Country: D
Number 1849 / 5000, Clear 180g vinyl.
Item: 625
Discogs: https://www.discogs.com/release/7865423-Electric-Light-Orchestra-Eldorado-A-Symphony-By-The-Electric-Light-Orchestra
Runout A: 91134 1A MOVLP 469
Runout B: 91134 1B MOVLP 469

A1: Eldorado overture (Jeff Lynne) (2:12)
A2: Can't get it out of my head (Jeff Lynne) (4:26)
A3: Boy blue (Jeff Lynne) (5:17)
A4: Laredo tornado (Jeff Lynne) (5:26)
A5: Poor boy (the Greenwood) (Jeff Lynne) (2:56)
B1: Mister Kingdom (Jeff Lynne) (5:50)
B2: Nobody's child (Jeff Lynne) (3:40)
B3: Illusions in G major (Jeff Lynne) (2:36)
B4: Eldorado (Jeff Lynne) (5:20)
B5: Eldorado finale (Jeff Lynne) (1:20)
________________________________________________________________________________________________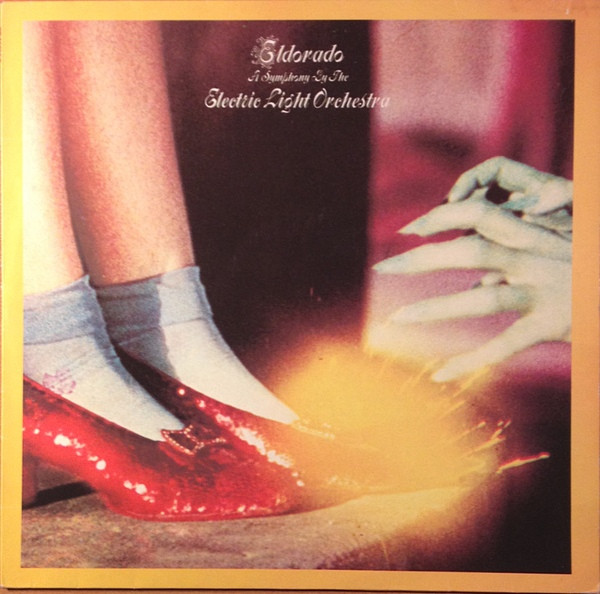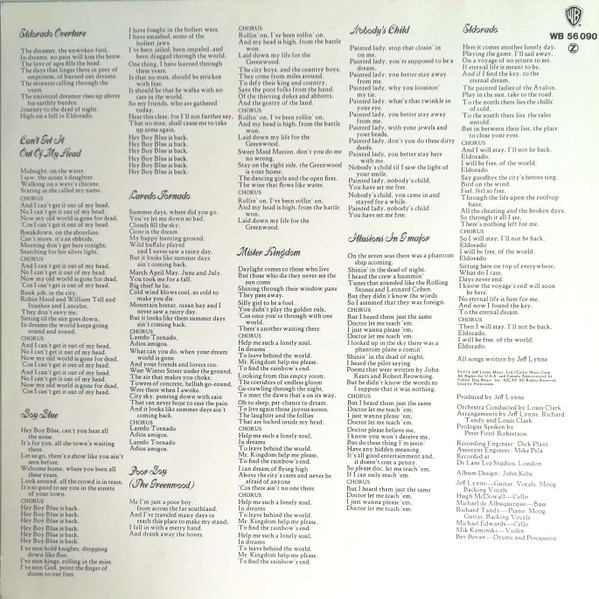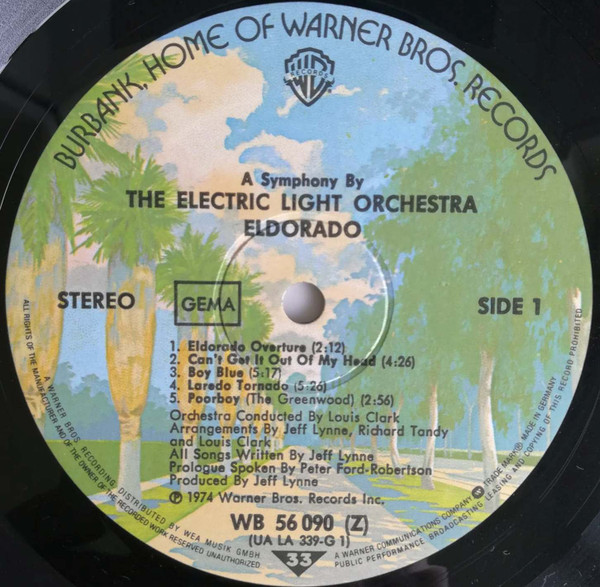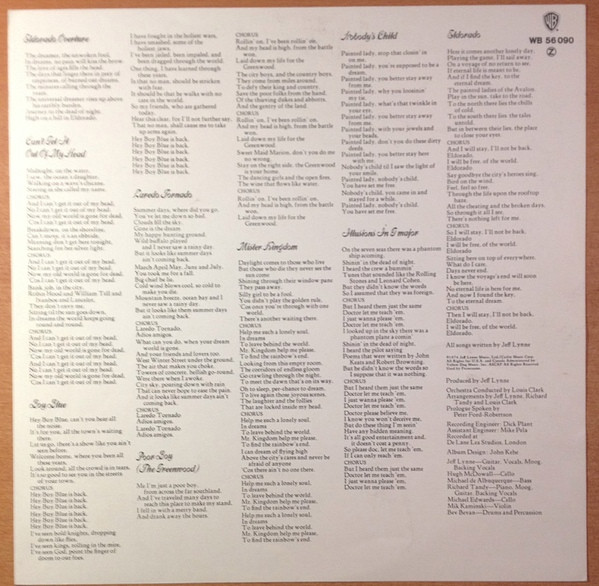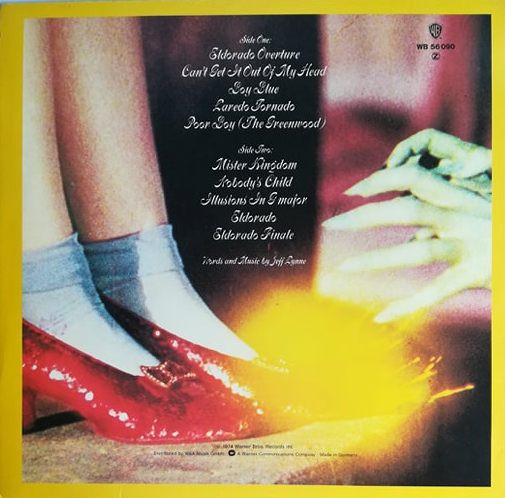 Cover design by: John Kehe / John Williams
Label: Warner Bros. Records, WB 56090 (Z)
Country: D
Item: 703
Discogs: https://www.discogs.com/release/7822682-Electric-Light-Orchestra-Eldorado-A-Symphony-By-The-Electric-Light-Orchestra
Runout A: WEA UA-LA-339-G-1 (SET 3) U̶A̶-̶L̶A̶-̶3̶9̶9̶-̶6G-̶1̶ {etched} TML-14 {stamped} (2) {etched} Manufactured in Germany {stamped}
Runout B: UA-LA-339-G-2 {etched} TML-M {stamped} (SET 3) (=) (3) {etched} Manufactures in Germany {stamped}

A1: Eldorado overture (Jeff Lynne) (2:12)
A2: Can't get it out of my head (Jeff Lynne) (4:26)
A3: Boy blue (Jeff Lynne) (5:17)
A4: Laredo tornado (Jeff Lynne) (5:26)
A5: Poor boy (the Greenwood) (Jeff Lynne) (2:56)
B1: Mister Kingdom (Jeff Lynne) (5:50)
B2: Nobody's child (Jeff Lynne) (3:40)
B3: Illusions in G major (Jeff Lynne) (2:36)
B4: Eldorado (Jeff Lynne) (5:20)
B5: Eldorado finale (Jeff Lynne) (1:20)