THE MOODY BLUES, 12":
Days of future passed
Released: 1967
Produced by: Hugh Mendel
Engineered by: Tony Clarke, Derek Varnals & Michael Dacre-Barclay
Recorded in: ?
Mike Pinder: Mellotrons, piano, harpsichord, cello, accoustic guitar, bass guitar & auto-harp.
Justin Hayward: 12 string guitar, accoustic guitar, electric guitar, sitar, tablas, piano, mellotron, bass guitar, harpsichord, percussions & vocals.
Graeme Edge: Drums, timpani, tambourine, tablas & piano.
Ray Thomas: 'C' flute, alto flute, soprano saxophone & vocals.
John Lodge: Bass guitar, cello, tambourine, snare drum accoustic guitar & vocals.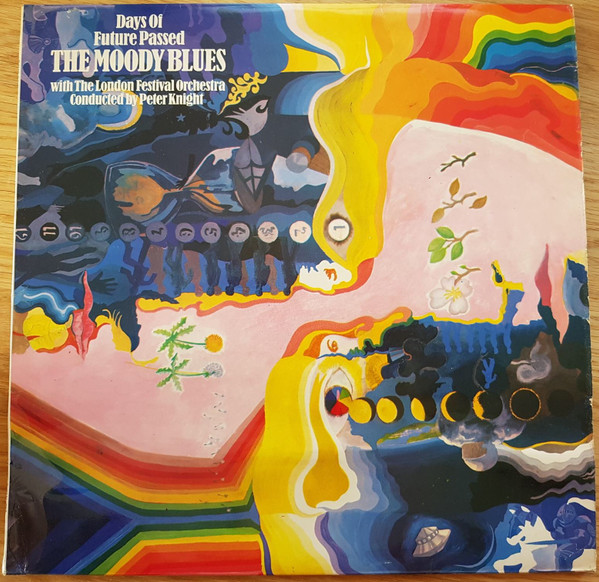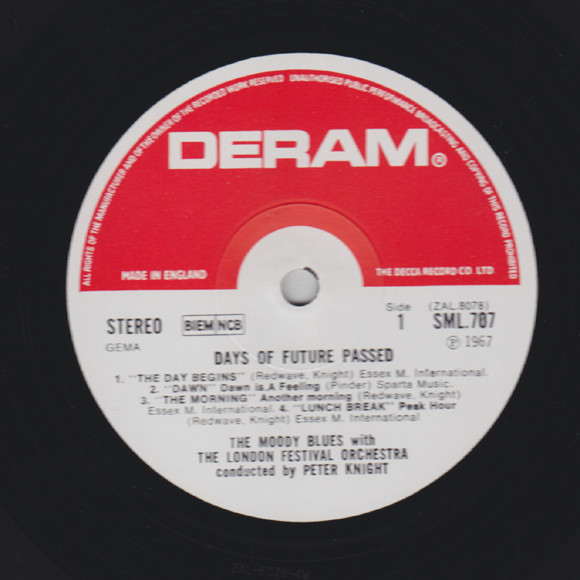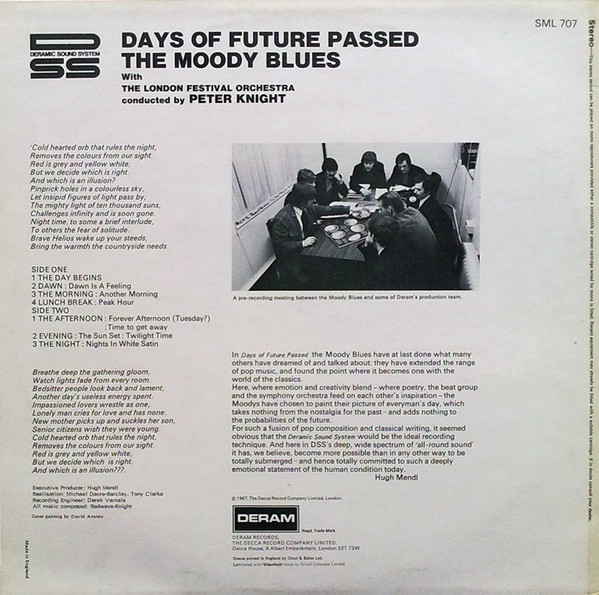 Cover design by: David Anstey
Label: Deram, SML707
Country: UK
Item: 716
Discogs: https://www.discogs.com/release/2078671-The-Moody-Blues-With-The-London-Festival-Orchestra-Conducted-By-Peter-Knight-Days-Of-Future-Passed
Runout A: ZAL-8078-4W
Runout B: ZAL-8079-4W
A1: "The day begins" (Redwave, Knight) (-:--)
A2: "Dawn" Dawn is a feeling (M.Pinder) (-:--)
A3: "The morning" Another morning (Redwave, Knight) (-:--)
A4: "Lunch break" Peak Hour (Redwave, Knight) (-:--)
B1: "The afternoon" Forever afternoon (Thusday?) (J.Hayward) (-:--)
B2: "The afternoon" Time to get away (Redwave, Knight) (-:--)
B3: "Evening" The sun set (M.Pinder) (-:--)
B4: "Evening" Twilight time (Redwave, Knight) (-:--)
B5: "The night" Nights in white satin (J.Hayward) (-:--)
________________________________________________________________________________________________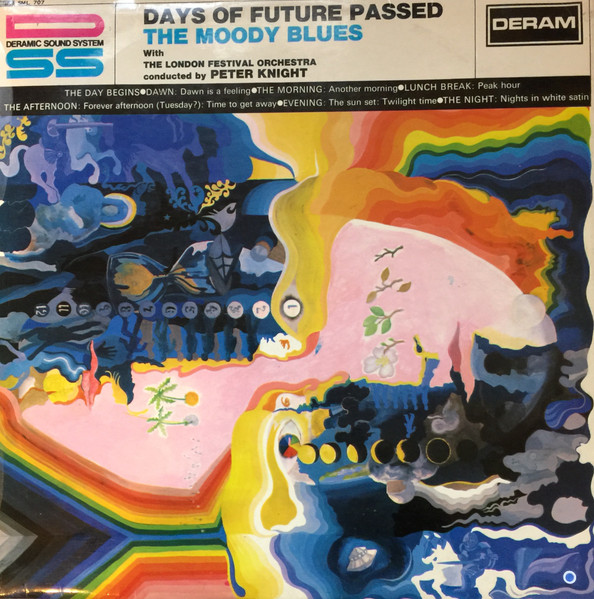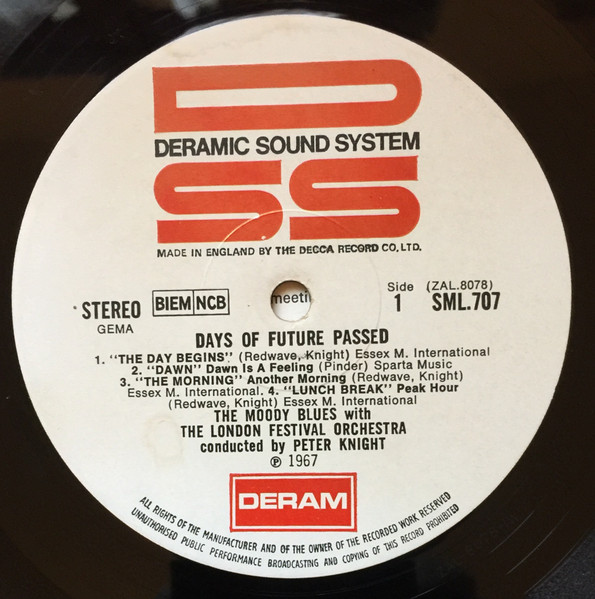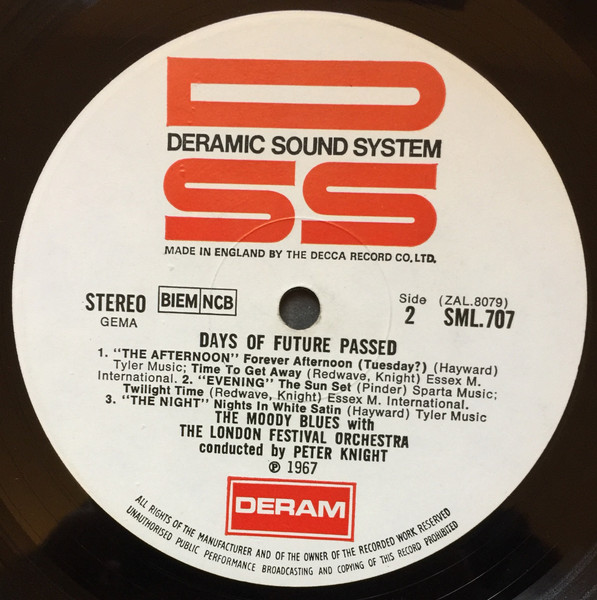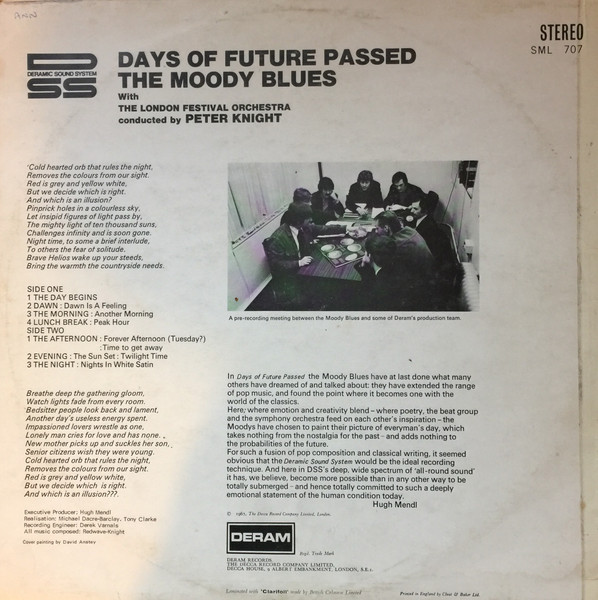 Cover design by: David Anstey
Label: Deram, SML707
Country: UK
Item: 717
Discogs: https://www.discogs.com/release/9925071-The-Moody-BluesLondon-Festival-Orchestra-Days-Of-Future-Passed
Runout A: ZAL-8078-1W 1 JT DD
Runout B: ZAL-8079-1W 1 JT M
A1: "The day begins" (Redwave, Knight) (-:--)
A2: "Dawn" Dawn is a feeling (M.Pinder) (-:--)
A3: "The morning" Another morning (Redwave, Knight) (-:--)
A4: "Lunch break" Peak Hour (Redwave, Knight) (-:--)
B1: "The afternoon" Forever afternoon (Thusday?) (J.Hayward) (-:--)
B2: "The afternoon" Time to get away (Redwave, Knight) (-:--)
B3: "Evening" The sun set (M.Pinder) (-:--)
B4: "Evening" Twilight time (Redwave, Knight) (-:--)
B5: "The night" Nights in white satin (J.Hayward) (-:--)
________________________________________________________________________________________________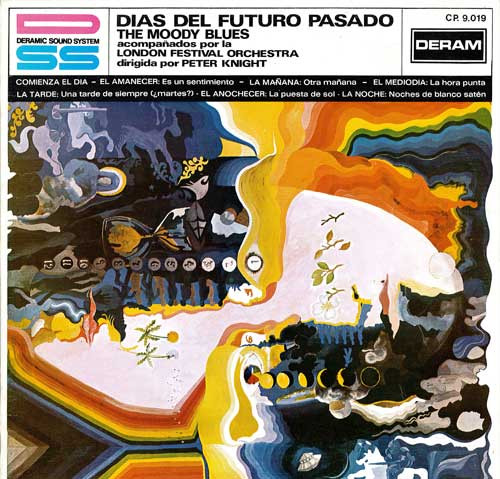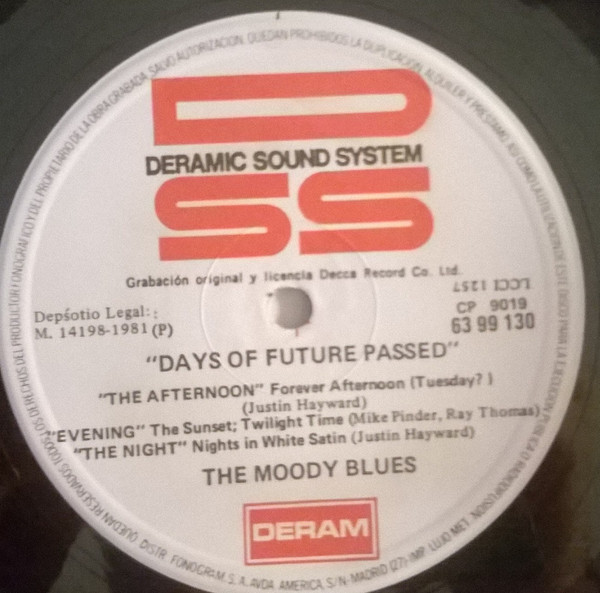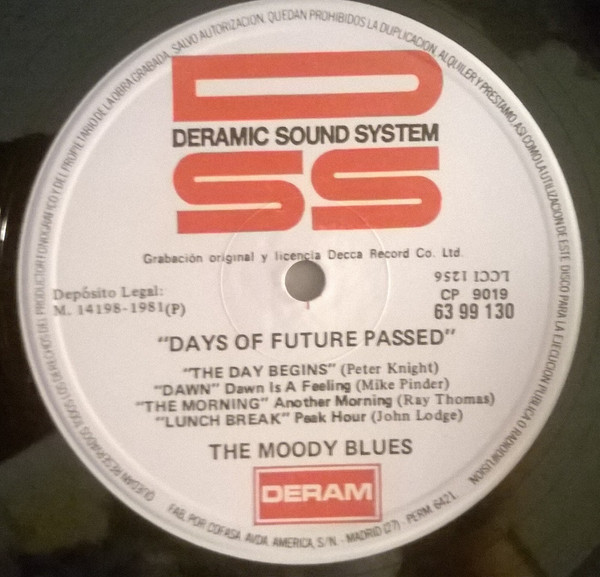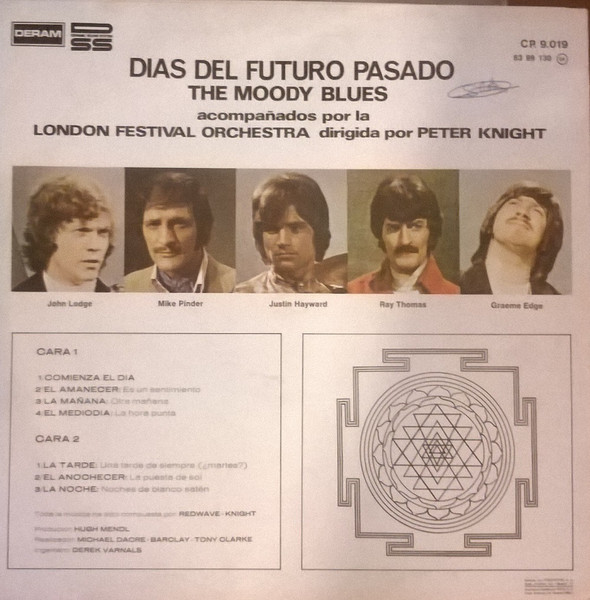 Cover design by: David Anstey
Label: Deram, CP. 9.019 6399130
Country: E
Released: 1981
Item: 718
Discogs: https://www.discogs.com/release/2757654-The-Moody-Blues-Acompañados-Por-La-London-Festival-Orchestra-Dirigida-Por-Peter-Knight-D%C3%ADas-Del-Fu
Runout A: 850 LCCI 1256 R R3 COL
Runout B: 850 LCCI 1257 R R3 COL
A1: Comienza El Dia. "The day begins" (Redwave, Knight) (-:--)
A2: El amanecer: Es un sentimiento "Dawn" Dawn is a feeling (M.Pinder) (-:--)
A3: La Manana: Otra manana. "The morning" Another morning (Redwave, Knight) (-:--)
A4: El Mediodia: La hora punta. "Lunch break" Peak Hour (Redwave, Knight) (-:--)
B1: La Tarde: Una tarde de siempre (martes?). "The afternoon" Forever afternoon (Thusday?) (J.Hayward) (-:--)
B2: El anochecer: La puesta de sol. "The afternoon" Time to get away (Redwave, Knight) (-:--)
B3: La noche: Noches de blanco saten. "The night" Nights in white satin (J.Hayward) (-:--)