ELO 12": Olé ELO.
Released: 1976
Produced by: Jeff Lynne & Roy Wood
Engineered by:
Recorded in: Div.
Jeff Lynne: Electric guitar, vocals, piano, percussion, moog, harmonium, backing vocals & bass.
Roy Wood: Vocals, cello, oboe, acoustic guitar, bass guitar, string bass, basson, clarinet, recorders, slide guitar & percussion.
Bev Bevan: Drums, percussion & backing vocals.
Bill Hunt: French horn & hunting horn.
Steve Woolam: Violin.
Richard Tandy: Moog, guitar, clavinet, harmonium, vocal harmonies, backing vocals, clavinet & piano.
Michael D´ Albuquerque: Bass & vocal harmonies.
Mike Edwards: Cello.
Colin Walker: Violin.
Wilf Gibson: Violin.
Mik Kaminski: Violin.
Hugh McDowell: Cello.
Melvyn Gale: Cello.
Kelly Groucutt: Bass & backing vocals.
This album was only released in the US as greatest hits and achieved 32 place in here.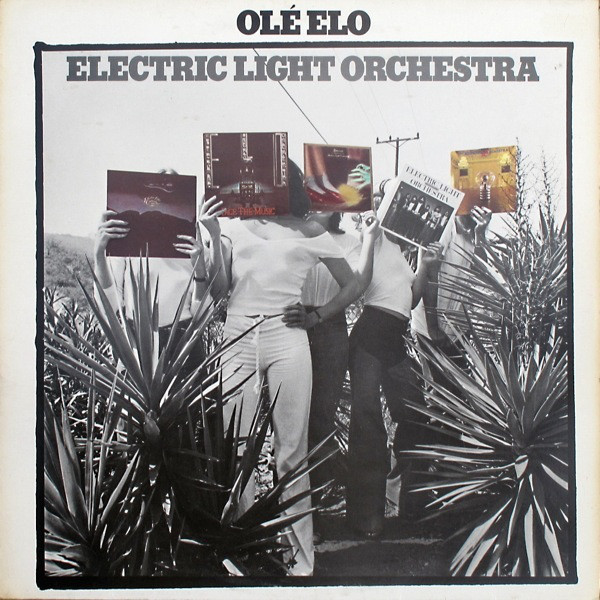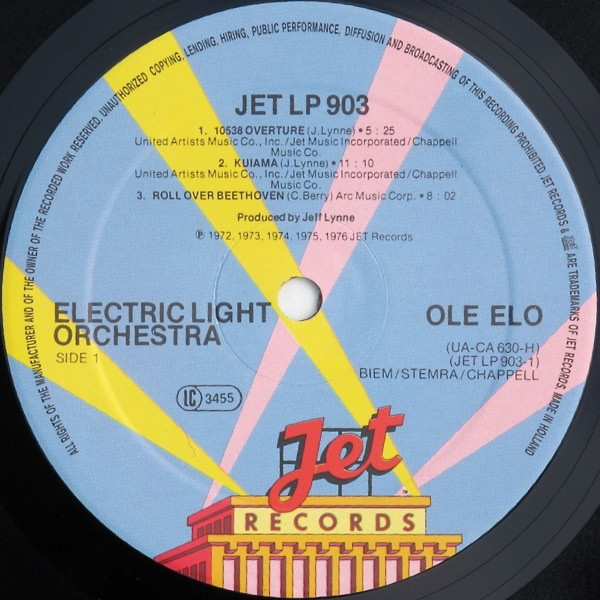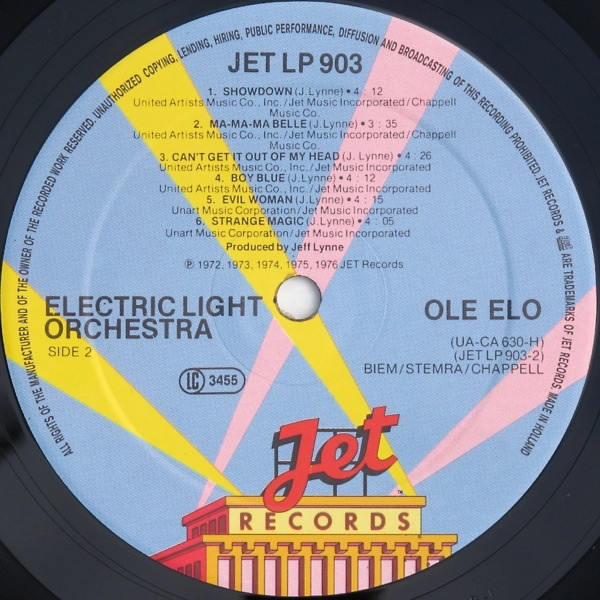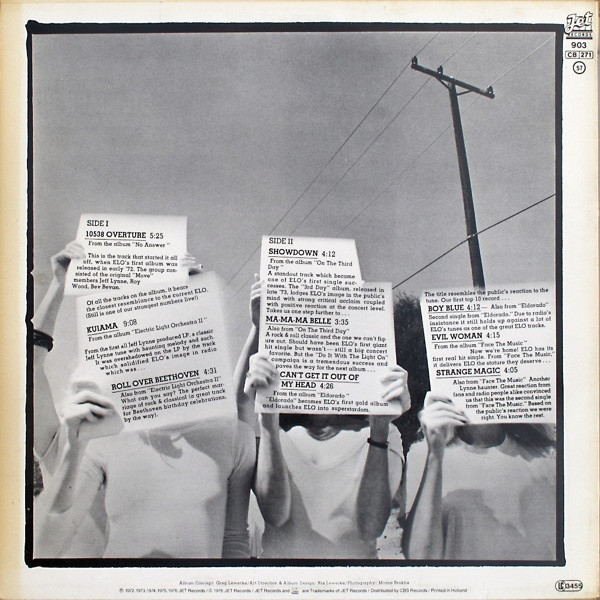 Cover design by: Ria Lewerke
Label: Jet Records, JETLP903
Country: NL
Item: 64
Discogs: https://www.discogs.com/release/4738153-Electric-Light-Orchestra-Olé-ELO
Runout A: 20-JET-903-1A1 A
Runout B: JET 20-903-1B-1
A1: 10538 Overture (Lynne) (5:25)
A2: Kuiama (Lynne) (9:08)
A3: Roll over Beethoven (Chuck Berry) (4:31)
B1: Showdown (Lynne) (4:12)
B2: Ma-Ma-Ma Belle (Lynne) (3:35)
B3: Can´t get it out of my head (Lynne) (4:26)
B4: Boy blue (Lynne) (4:12)
B5: Evil woman (Lynne) (4:15)
B6: Strange magic (Lynne) (4:05)
___________________________________________________________________________________________________________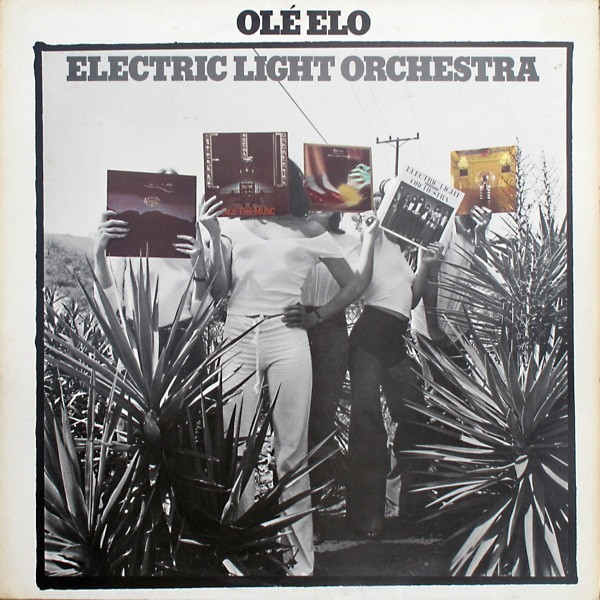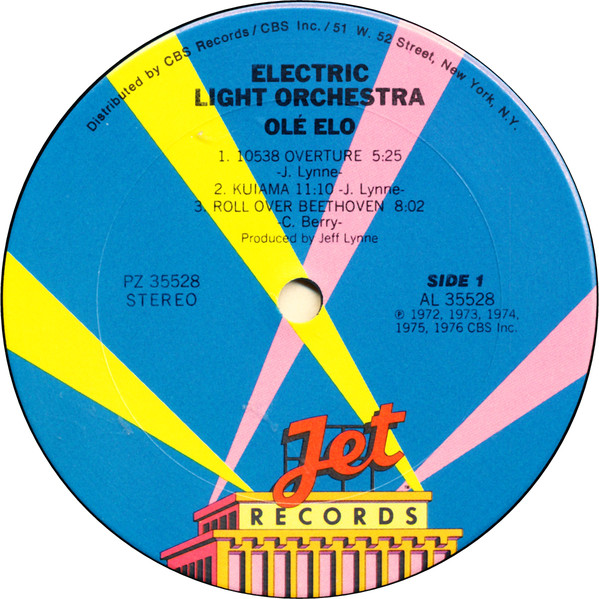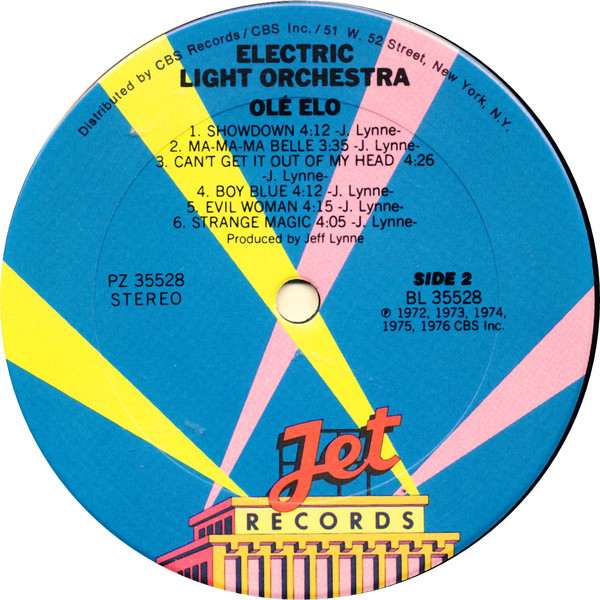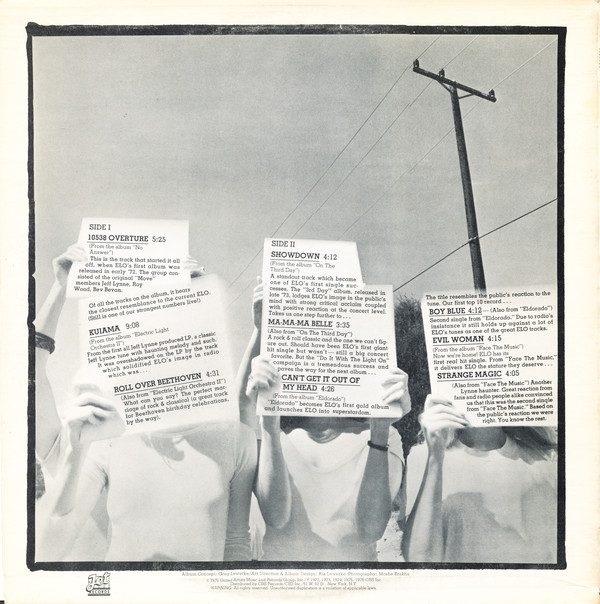 Cover design by: Ria Lewerke
Label: Jet Records, JET PZ 35528
Country: US
Item: 65
Discogs: https://www.discogs.com/release/1864013-Electric-Light-Orchestra-Olé-ELO
Runout A: PAL 35528-1C
Runout B: PBL 35528-1AC
A1: 10538 Overture (Lynne) (5:25)
A2: Kuiama (Lynne) (9:08)
A3: Roll over Beethoven (Chuck Berry) (4:31)
B1: Showdown (Lynne) (4:12)
B2: Ma-Ma-Ma Belle (Lynne) (3:35)
B3: Can´t get it out of my head (Lynne) (4:26)
B4: Boy blue (Lynne) (4:12)
B5: Evil woman (Lynne) (4:15)
B6: Strange magic (Lynne) (4:05)
__________________________________________________________________________________________________________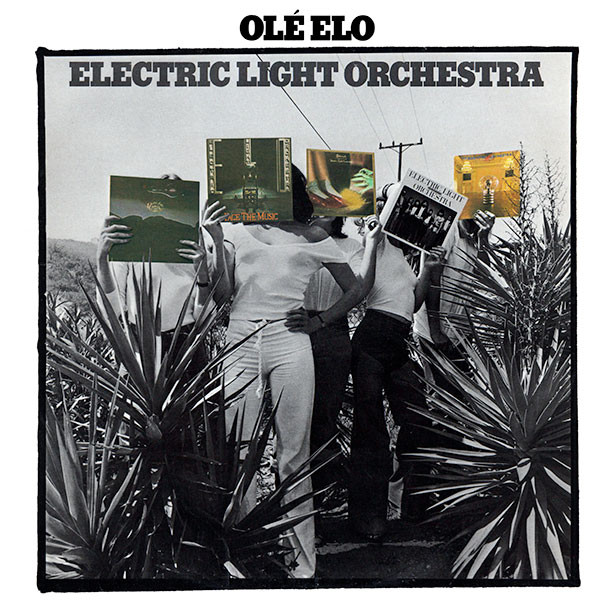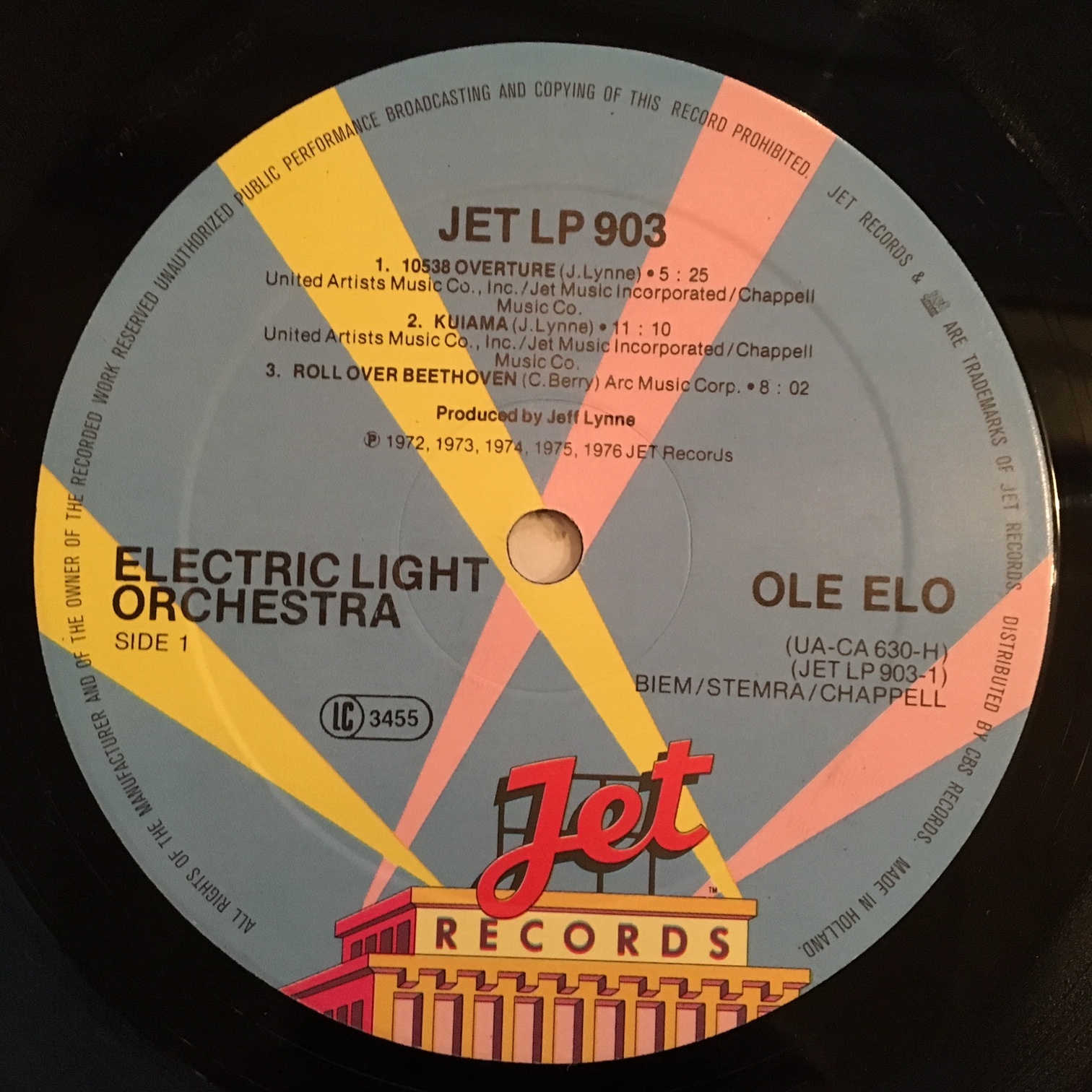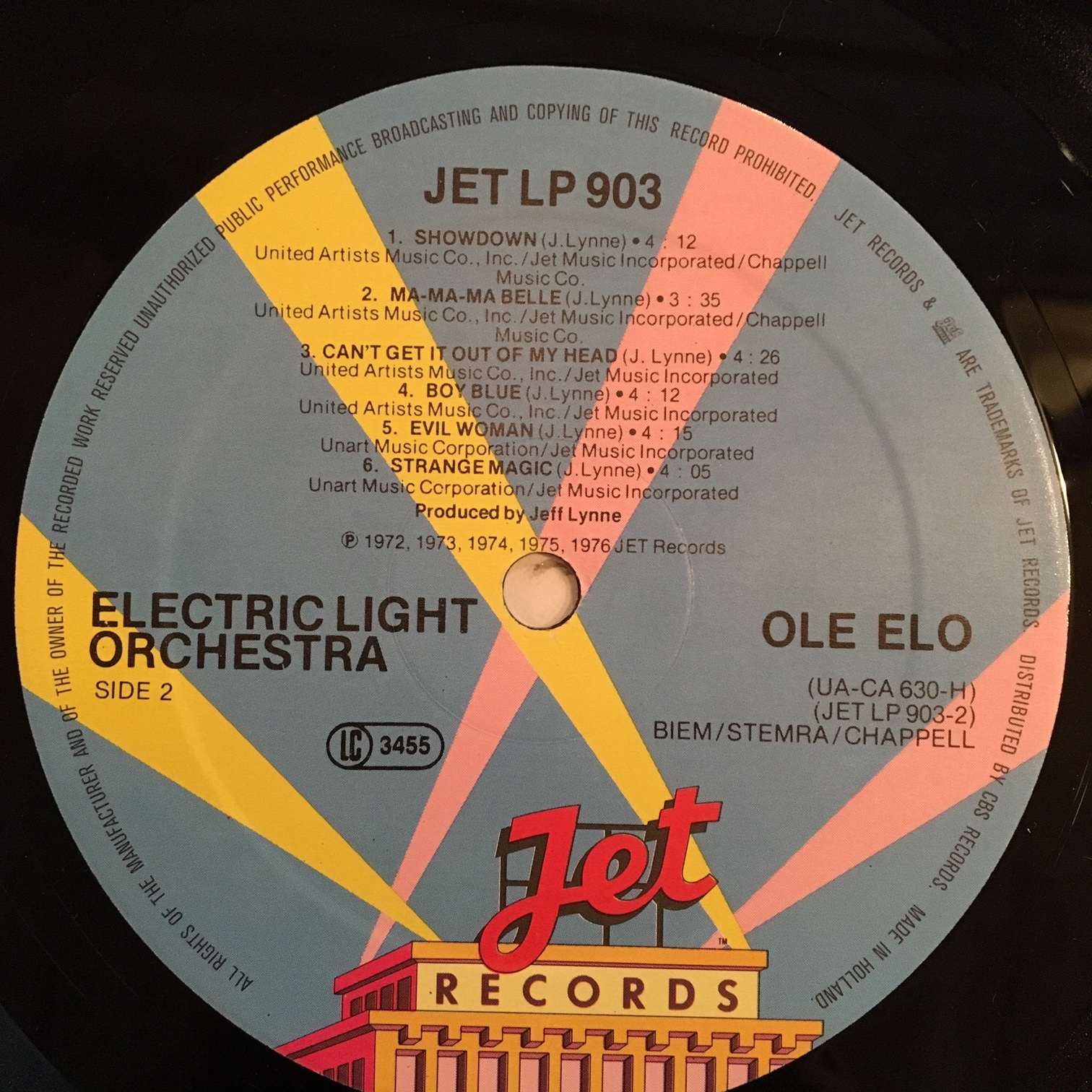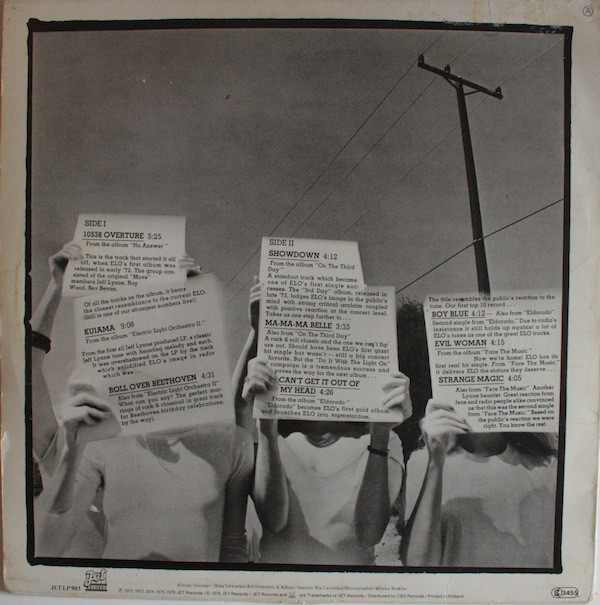 Cover design by: Ria Lewerke
Label: Jet Records, JETLP903 (different tekstfont on label)
Country: NL
Item: 66
Discogs: https://www.discogs.com/release/760642-Electric-Light-Orchestra-Olé-ELO
Runout A: JET 20-903-1A-1
Runout B: JET 20-903-1B-1
A1: 10538 Overture (Lynne) (5:25)
A2: Kuiama (Lynne) (9:08)
A3: Roll over Beethoven (Chuck Berry) (4:31)
B1: Showdown (Lynne) (4:12)
B2: Ma-Ma-Ma Belle (Lynne) (3:35)
B3: Can´t get it out of my head (Lynne) (4:26)
B4: Boy blue (Lynne) (4:12)
B5: Evil woman (Lynne) (4:15)
B6: Strange magic (Lynne) (4:05)