ELO CD: Secret messages.
Released: 1983
Produced by: Jeff Lynne
Engineered by: Bill Bottrell
Recorded in: Wisselord Studios, Hilversum, Holland
Jeff Lynne: Vocals, backing vocals, guitar, bass guitar, percussion, Oberheim DMX & synthheizers.
Bev Bevan: Drums & percussion.
Richard Tandy: Grand piano, electric piano, syntheizers, harmonica & Oberheim DSX.
Kelly Groucutt: Bass guitar & backing vocals.
Dave Morgan: Additional background vocals.
Mik Kaminski: Violin solo on Rock´n´roll is King.
Louis Clark: Strings conducted.
This album obtained (July 1983) a 4 place in the UK and only a 36 place in the United States.
The single Rock´N´Roll is King (June 1983) achieves a 13 place in the UK and (20 Aug. 1983) obtains the a 19 place in the United States.
2 single release Secret Messages (Sept. 1983) achieves only a 48 place in the UK.
3 single release Four little diamonds (8 Oct. 1983) achieves only 86 place in the US.
This track is the band's last hit in two years!
Facts:
The Secret Messages album cover was built from an original print by Hags Photography called "The Future's A Bit Fishy. We've Got A Hand In It."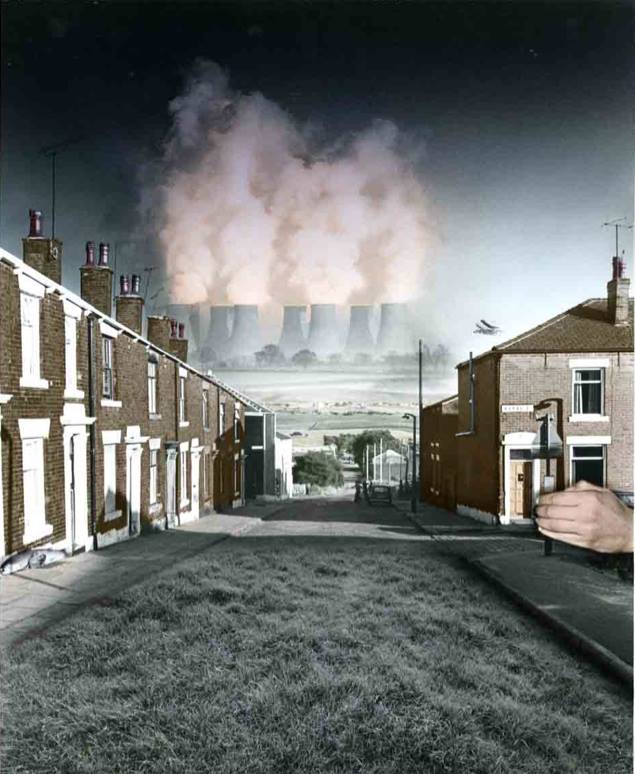 From this original print, images from various works of art were inserted (covering mot of the grass) and a pair of windows were added. From comparing the print for sale on their website to the ELO album cover, it appears that the print used for the ELO album cover was before the hand and the jets were added to the print (or were removed for the ELO cover).

Cover design by: David Costa
Label: Epic, 502496 2
Country: 325

1. Secret messages (Jeff Lynne) (4:44)
2. Loser gone wild (Jeff Lynne) (5:27)
3. Bluebird (Jeff Lynne) (4:13)
4. Take me on and on (Jeff Lynne) (4:58)
5. Time after time (Jeff Lynne) (4:01)
6. Four little diamonds (Jeff Lynne) (4:05)
7. Stranger (Jeff Lynne) (4:27)
8. Danger ahead (Jeff Lynne) (3:51)
9. Letter from Spain (Jeff Lynne) (2:50)
10. Train of gold (Jeff Lynne) (4:19)
11. Rock'n'roll is King (Jeff Lynne) (3:43)
12. No way out (Jeff Lynne) (3:26)
13. Endless lies (Jeff Lynne) (3:25)
14. After all (Jeff Lynne) (3:15)

Cover design by: David Costa
Label: Epic, MHCP 1162
Country: Japan
Item: 326

1. Secret messages (Jeff Lynne) (4:43)
2. Loser gone wild (Jeff Lynne) (5:27)
3. Bluebird (Jeff Lynne) (4:13)
4. Take me on and on (Jeff Lynne) (4:57)
5. Time after time (Jeff Lynne) (4:01)
6. Four little diamonds (Jeff Lynne) (4:05)
7. Stranger (Jeff Lynne) (4:27)
8. Danger ahead (Jeff Lynne) (3:52)
9. Letter from Spain (Jeff Lynne) (2:51)
10. Train of gold (Jeff Lynne) (4:20)
11. Rock'n'roll is King (Jeff Lynne) (3:46)
12. No way out (Jeff Lynne) (3:26)
13. Endless lies (Jeff Lynne) (3:24)
14. After all (Jeff Lynne) (2:23)

Cover design by:
Label: Epic, DIDP 104572
Country: United States of America
Item: 327

1. Secret messages (Jeff Lynne) (4:44)
2. Loser gone wild (Jeff Lynne) (5:27)
3. Bluebird (Jeff Lynne) (4:13)
4. Take me on and on (Jeff Lynne) (4:58)
5. Time after time (Jeff Lynne) (4:01)
6. Four little diamonds (Jeff Lynne) (4:05)
7. Stranger (Jeff Lynne) (4:27)
8. Danger ahead (Jeff Lynne) (3:52)
9. Letter from Spain (Jeff Lynne) (2:51)
10. Train of gold (Jeff Lynne) (4:21)
11. Rock'n'roll is King (Jeff Lynne) (3:15)
12. No way out (Jeff Lynne) (3:25)
13. Endless lies (Jeff Lynne) (3:23)
14. After all (Jeff Lynne) (3:15)